Threekit Gives: The 1000 km Challenge
About Threekit Gives:

At Threekit, we know that we didn't get where we are alone. We participate in and benefit from our communities in many ways, from the infrastructure we use to build our platform to the educated workforce that keeps us on the cutting edge. We believe we have an obligation to return that support in kind. With the Threekit Gives initiative, our team organizes frequent opportunities for volunteering, fundraising, and giving back.
Let's face it, we all could stand to get outside a little more these days. A little sunlight and a little exercise can go a long way to helping us feel better. For the next 30 days, Threekit's team will be making an extra effort to get outside, because by doing so we'll also be helping support Oxfam in their mission to alleviate poverty worldwide.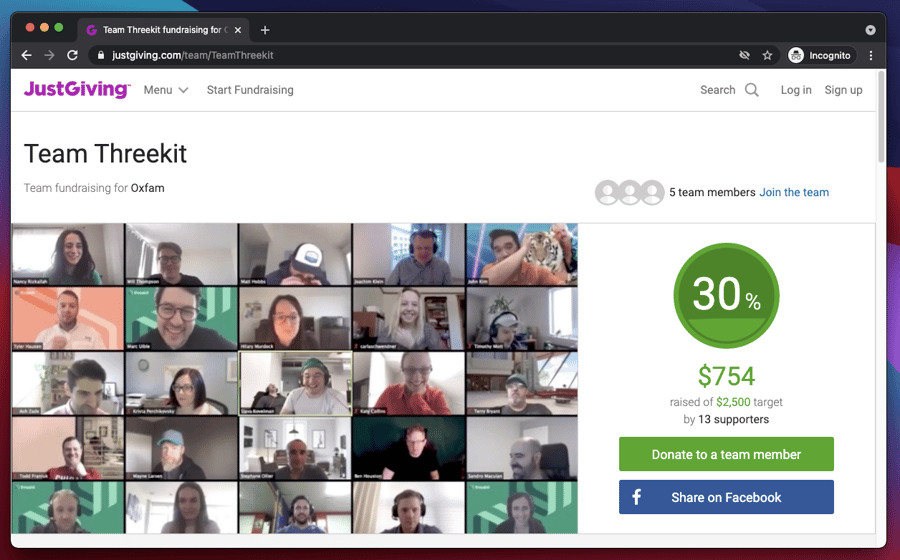 From April 15 to May 15, our team has committed to walking/running a collective 1000 km and raising at least $2500 from generous sponsors as we do it. It's a modest goal to start, but with your support, we're hoping to race right past it.
Ismail Karabulut, one of our Account Executives, summed up the reason he's participating:
"I decided to take part in this challenge because it is important to take a step back and look at your privilege and realize that not all have the opportunity to be safe in such a tumultuous time in the world."
Well said, Ismail. We could all stand to not just recognize the needs of those around us, but to take action to address those needs and strengthen our communities as a result.
Please consider donating to Team Threekit's 1000km challenge on our Just Giving profile. Just Giving makes the donation process simple and 100% of your donation goes directly to Oxfam. Stay tuned both there and here for updates on our progress and to learn about future Threekit Gives initiatives.