The Right Product Configurator for Small Businesses
Choosing the right product visualization solution for your business is very important, given that you'll have to stick to the decision you make for a very long time. The solution you choose will determine whether your business will be rewarding or nothing but pain and challenges.
Mission-critical solutions like 3D configurators have a significant impact on the bottom line. You have to choose wisely since your product configurator can either make or break your online business. So, how do you choose the right one?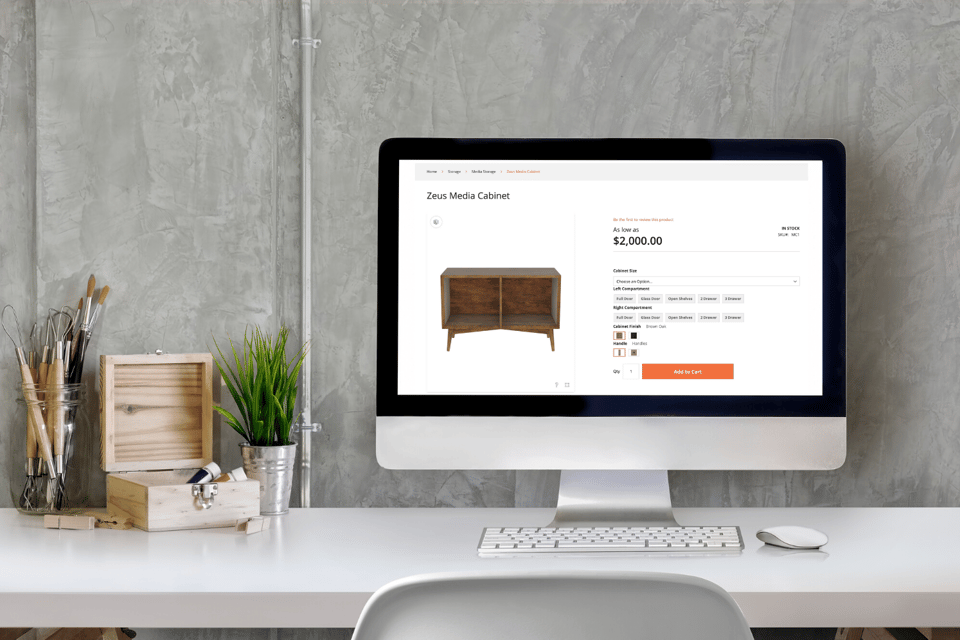 Product configurator for e-commerce (threekit.com)
The perfect solution should meet the needs of your business and customers' needs. For starters, modern consumers demand the best experience online. According to PwC, one bad experience can push away one-third of customers from a brand they love, and around 92% may leave permanently after 2 or 3 negative interactions. But delivering the best user experience consistently is complex since it can require 3D configuration, Virtual Photography, Augmented Reality, and factors like integration to enable all technologies and solutions to come together seamlessly. Threekit meets all these requirements and the needs of small businesses and their customers online. It is the right solution for your e-commerce product configurator, regardless of the platform.
Why is Threekit the Right Solution for Your Product Configurator?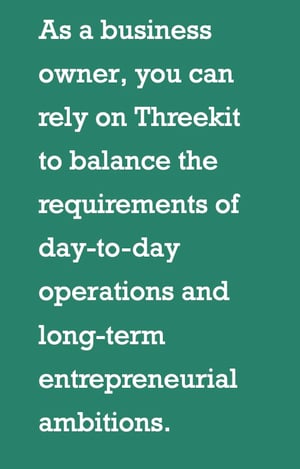 Threekit is a unified product visualization platform that offers a 3D configurator, AR, and virtual photographer. It provides immersive experiences, unparalleled integration, advanced analytics, and allows small businesses to visualize their products online. As a business owner, you can rely on Threekit to balance the requirements of day-to-day operations and long-term entrepreneurial ambitions. It is designed to resolve current needs in your business and anticipate growth-related challenges that you may face in the future.
With Threekit, you can leverage the capabilities of both 3D and AR technologies simultaneously along with virtual photography and accomplish more, quicker, and cost-effectively than ever before. Here are four reasons why Threekit is the right product configuration solution for your business:
1. Trusted leader in 3D and AR
When it comes to online shopping, the capabilities of 3D and AR technologies can help you deliver great immersive experiences. Threekit is the trusted leader product visualization for small businesses. It is a three-in-one SaaS platform including:
3D Configurator
Threekit's cutting-edge 3D configuration is easy to update, navigate and is powered by a rules engine. This means you can customize your products in so many ways without coding. Its features include a parametric configuration that offers unlimited flexibility in width, height, and depth, which allows for engineering-to-order to meet your unique design parameters. For example, you can deploy a 3D configurator to help customers design their ideal helmet.

Light Helmets' 3D configurator (lighthelmets.com)
If you offer closely related products, you can increase your average order size using product bundling. This feature allows you to combine multiple SKUs into a single configuration. When dealing with complex products, nested configuration simplifies the process by merging configured products. You can upload 3D configurations instantly since Threekit plugs directly into your ERP.
Virtual Photographer
As a small business, you need the most cost-effective, scalable, and time-sensitive solutions to compete favorably against established brands online. Threekit virtual photographer uses one design file to create millions of photorealistic computer-generated images (CGI). Virtual photography delivers high-quality product images quicker and cost-effectively than traditional product photography. You can upload images and personalize them with unlimited designs and color shades in real-time. The platform has a wide variety of custom APIs to automate workflows with imports, exports, mass renders, edits, product image updates, and more. Computer-generated images allow you to create virtual photos without technical training or expertise.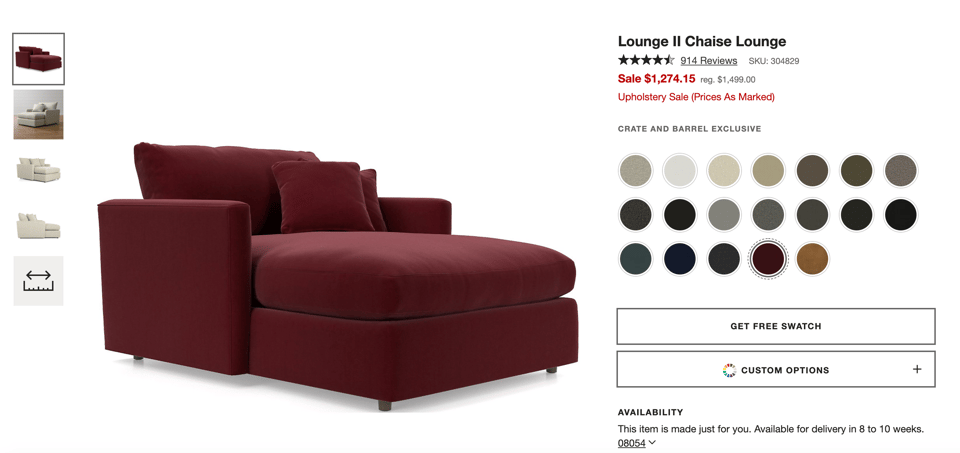 Virtual photography (threekit.com)
You can also reuse virtual photos of your products to create 3D models for your product customizer and AR for customers to interact, explore, and customize products. Interactive imagery presents your products perfectly with the highest level of detail.
Augmented Reality
AR is a powerful tool for delivering great immersive experiences and the future of online shopping. According to statistics, 71% of customers are likely to shop more often if you offered AR shopping. You can rely on Threekit to leverage the capabilities of AR in your online store and give your customers the ability to see your products in their environment.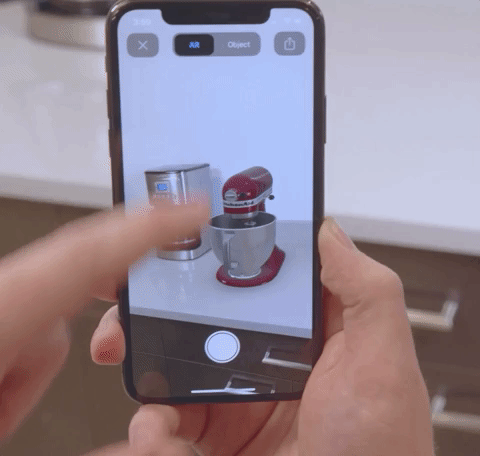 With Threekit, shoppers can place the product in their home to see how it fits with other pieces. They can dive into complex features to enhance understanding. Threekit AR can bring your products to life, streamline the user experience, enhance confidence, reduce product returns, and increase conversion rates by 40%.
2. Robust e-Commerce Integrations
As a business owner, you should have the option to focus on the needs of your customers without any interruptions in your processes. Threekit eliminates interruption in e-commerce processes by offering robust plug-ins and pre-built connectors that allow for seamless integration with Shopify, Magento, WooCommerce, SAP, Salesforce, and all major e-Commerce platforms. Integration and plug-ins can streamline your processes and allows for instant updating, and simplifies complex processes like the generation of parts for customizable products. For example, if you offer adaptable desks, you can create all parts you need for a product customizer quickly.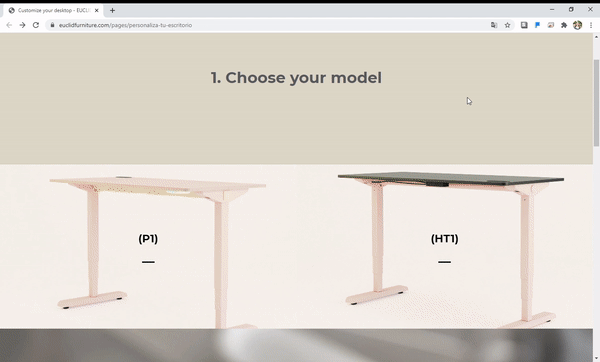 The platform is designed with a highly advanced pricing system that visualizes price changes to the customer in real-time as they customize the product to meet their needs. You can leverage existing plug-ins and analytics to enhance engagement, accuracy, inventory management, and reduce time to market.
3. Customer Support
Threekit understands the needs of small businesses and strives to provide responsive support. If you need technical assistance, the Threekit support team is always on standby to help you. Its customer support model ensures you have access to live help 24/7. Once you get in touch with the support team, you only need to provide a brief description of the issue. This allows the team to log your case and set "Priority" based on the urgency of the situation. One experienced team member is assigned to oversee a single issue until it is resolved, which eliminates the frustration of being tossed from one agent to another. The agent assigned to your case immediately will update regularly and work with your team for a quick resolution.
4. Tiered Pricing to Meet Your Budget
Affordability is particularly important for small e-commerce businesses. You need the most cost-effective solution to ensure all your profits contribute to the growth of your business. Threekit's tiered pricing model is perfect for small businesses. Threekit Starter plan starts at $6,000 annually and can be adjusted depending on your needs. It allows you to pay for only what you need, when you need it. You can start with Threekit Starter then upgrade your plan as your business grows.
Overall, Threekit's unified product visualization platform is the right solution for small businesses. It offers a 3D product configurator, AR, and virtual photographer that push the boundaries of immersive shopping experience. Threekit's customer support model is effective, while its tiered pricing model is cost-effective. A 3D product configurator from Threekit can benefit and transform your e-commerce store across the board.
If you're a small business owner looking to level-up your product visuals, get in touch with our team today.