Why Use a Threekit Product Customizer?
See the difference a product customizer makes.
Want to dig deep on product customization? We got you.
What do you want to know about?
What is a 3D product customizer?
A 3D product customizer allows shoppers to view the product in three dimensions, and visualize different customizations in augmented reality from all angles. The customizer allows the selection and modification of product customizations in real time, and provides a price quote for the custom product.
What is product customizer software?
Product customization software helps customers tailor products to better serve their needs and wants. Product customizer software is engaging and fun to use for shoppers, and can be a foundational part of any eCommerce customer experience strategy.
With product customizer software, you can upload image files in PNG format to create and visualize the product design.
What is the difference between a product customizer and a product configurator?
While product configurators and customizers are both useful to streamline and scale online shopping, there are a few key differences between the two.
A product configurator helps shoppers choose different options when buying a product. Configuring a product involves assembly of available materials to build a product that can fulfill a very specific need. For example, someone shopping for a sectional couch can not only select different combinations of fabric and color, but can also add and move around different sections of the couch to find the best layout for their space. Check out Threekit's 3D product configurator examples. It can be useful to offer product configuration for business-to-business (B2B) needs, or for more savvy shoppers in your industry who are more familiar with your products.
Unlike a product configurator, a product customizer is not an out-of-the-box product with certain configurable options. Product customization lets consumers tailor the product to their own preferences by selecting among different variants. The result of product customization is a unique, highly tailored product that reflects the shopper's needs and desires. Custom products are ideal in industries such as jewelry, clothing, and furniture.
Product configurators streamline online shopping, especially in an increasingly virtual retail landscape, and as such, can boost sales. Product customizers have the additional benefit of boosting consumer loyalty by providing a unique, personalized product. Furthermore, research shows that shoppers are willing to pay 20% more, on average, for a customized product.
Can I see some examples of online product customizers?
How does a product customizer affect pricing options?
Customized products are more likely to be met with satisfaction, since the buyer chooses the options that suit them best. Because there is a made-to-order aspect to the product customizer, the product costs more to make; however, since shoppers are getting exactly what they want, they're happy to pay a premium.
If your product has many different options, one benefit of a product customizer is that it allows shoppers to choose options and obtain real-time pricing information. Threekit's product customizer updates price information as the customer selects different options.
How do I customize products on a Shopify store?
These days, many people are selling their own products online. One popular platform is the eCommerce website Shopify. Sellers can set up shop via the Shopify website.
It is possible to use a product customizer on your Shopify store. You can create customized options manually, by adding the product options from the Shopify dashboard. However, this can be very tedious and time-consuming, as you will need to add in every variation by hand.
Fortunately, there's a simpler way to add customization to your Shopify product. You can use a website plugin that adds the functionality to your online store.
You can also look to Threekit for assistance with listing customizable products on your Shopify store. One great app to add customization functionality is the Threekit 3D and AR Shopify app. Threekit's product customizer app adds augmented reality and 3D technology to your online store. As Shopify writes, online merchants that use augmented reality and 3D technology see a 250% increase in conversion rates.
How do I customize products on Woocommerce?
WooCommerce, like Shopify, is a popular eCommerce website. Online merchants can offer product customization on WooCommerce, which is a free, open-source website. A WooCommerce product customizer helps shoppers visualize products and their options from all angles, which can improve shopper satisfaction. As a result, WooCommerce product customization confers a competitive edge for a company over its competitors, increases sales, and promotes engagement and time on merchants' websites.
Threekit can work with WooCommerce merchants to build a visual product configurator. The WooCommerce platform integration developed by Threekit includes 3D visualization, augmented reality, and virtual photography.
Case Study

"Threekit's 3D configurator allowed us to show our products beautifully but also hand over the reigns to our shoppers and let them make each 'Sactional' their own. It's an awesome customer experience!"
- Shawn Nelson, Lovesac CEO
Lovesac chose Threekit to power their product customizer experience for their highly-configurable (and comfy) furniture. Now it's helping drive their traffic and close online sales.
There's a reason they call them "custom-ers."
When e-shoppers can customize products, they buy more, pay more, and return less. An online product customizer powered by Threekit turns your eCommerce store into a virtual showroom experience.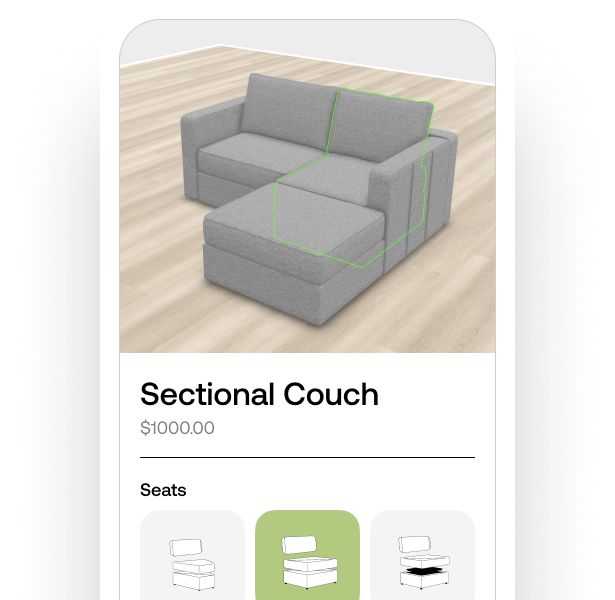 Product Customizer Solutions Built for You