Your Last Communication Breakdown is Behind You
The process of generating good product visuals is inherently a creative one. But in any creative process, there is the chance for miscommunications and setbacks. Give yourself the best chance to avoid these pitfalls with these tips.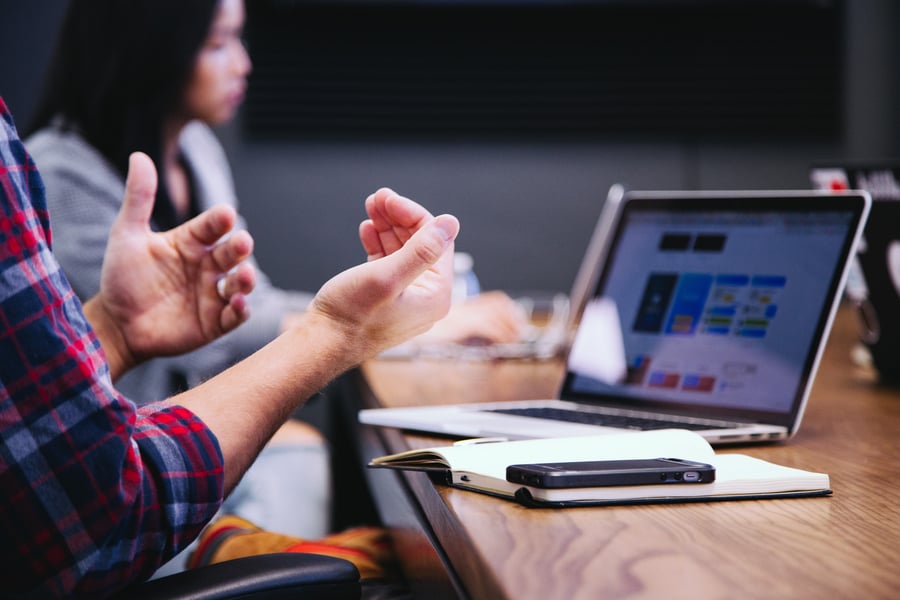 For marketing leaders, getting the product images you want for your marketing collateral can be a frustrating process. First, there is the issue of how to tackle product photography depending on the stage your growing business is in and what your growth goals are (we actually wrote a guide on that exact thing.) But then there is the dreaded challenge of a bad outcome. If a photo doesn't match your expectations, you have the choice of either living with it or paying to do everything again: re-ship, re-shoot, re-edit.
Even worse are the times when the images you get just aren't that good. Designers and photographers have emotions, so it's never easy to tell them their work doesn't cut it. And even if you manage to communicate that delicately, there's a decent chance they'll push back and defend their work, which can lead to countless trips to the ibuprofen bottle.
But even when things are going great, the operational burden of getting the product visuals you want is significant: first the emails to set up calls, then the feedback for version one, then the feedback for version two, and so on.
At the end of the process, you may be so tired of attempting to communicate your ideas that you settle for less than what you'd hoped for. For obvious reasons, that's not ideal for your customer experience or your bottom line.
The good news is that there's a better way to create visual assets. Before we get to the details, let's take a look at solutions that have solved some of these communication problems.
Partway Communication Solutions
Communication breakdowns during the design process are not new, which means there's plenty of software on the market that helps address them.
InDesign gets points for providing a much more streamlined way for stakeholders to offer rapid-fire feedback on working drafts of various visual assets, which can save lots of headaches and hundreds of lines of unnecessary email description.
Tools like Slack and Calendly make quick communication and call scheduling much simpler, especially among people in different organizations.
DIY tools like Canva and Lucidchart make it easier for non-designers to mock up their visions in a visual way, so that professional designers and photographers can understand the concept before diving in.
But none of these tools get at the real underlying issue: the communication breakdown that often happens between marketers and designers isn't really a workplace communication problem; it's a problem of mismatched skill and incentive.
A Product Visualization Tool Built for Marketers
While marketers and merchandisers are measured on the performance of their product imagery, they're often not the ones actually creating that content. Instead, they must rely on designers, photographers, and developers to translate their vision into a reality that customers can interact with.
The teams tasked with creating this content, then, aren't actually measured on its performance. More often, their job ends when they've delivered materials to the marketing team.
When you stop to think about it, that setup doesn't make much sense.
The ideal scenario for most marketers would be near infinite configurations of various visual elements that they could A/B test to discover which configurations perform best.
The ideal scenario would be a world where they could say, "Let's swap out this image for that one" – for any of their products – and have that new image ready to go instantly.
The ideal scenario would be a world where the people who are measured on customer engagement with visual content could be responsible for creating that content.
That's exactly what Threekit's software enables.
Our software, which lets marketers create photorealistic 2D images, interactive 3D, and 360-degree product viewers, is designed for use by people with a background in business. You don't have to be a photographer, designer, or 3D scientist to create the product images you need to power your marketing materials.
You don't even have to wait for products to actually be manufactured, thanks to our Virtual Photographer, which uses a 3D model of your product plus visual effects like those used in movies to generate images from any angle you could want.
This means you don't ever have to wait for someone from another team to help you create the visual assets you need to do your job.
The Power of Better Product Images
Of course, the reason marketers and merchandisers want immersive product experiences is that it drives conversions. One electronics parts retailer saw a 40 percent revenue bump by adding rich visual content (including video and 360-degree images) to product pages.
Better product imagery also reduce returns, which is crucial in ecommerce: returns of online products are more than double what they are in brick and mortar, which is expensive for retailers.
For Threekit customers, it's common to see a 40 percent conversion rate improvement and an 80 percent reduction in product returns as they incorporate the visual content our platform makes possible.
Crucially, Threekit customers are able to achieve these results relatively fast: after testing the performance of various types of visual content, marketers using the Threekit platform can easily and quickly create similar assets for an entire product line.
Compare that with the old way of doing things, which involved dreaming up an idea, setting up a photo shoot, getting products and a photographer in a room together, waiting for the photographer to edit the images, and then working with a designer and / or developer to incorporate them into marketing assets.
That process is expensive and time-consuming. It also often results in the kind of back-and-forth and even communication breakdowns that frustrate everyone involved. And it doesn't have to be part of the lives of eCommerce and marketing leaders anymore.
For more details on how Threekit can eliminate miscommunications between the marketing team and the visual artists they rely on, set up a demo today.
---
Threekit is product visualization software that creates photorealistic images, interactive 3D and augmented reality experiences that help businesses sell more. To learn more, please schedule some time with one of our teammates.