Why a Visual Configurator Is a Top Accessory in the Fashion Industry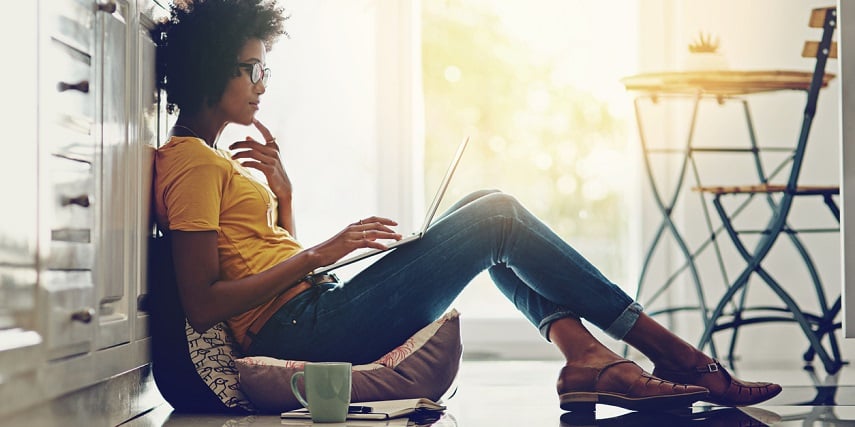 Don't go down the runway without this season's hottest fashion accessory — a visual configurator, of course.
eCommerce is a rapidly growing, competitive arena. Few niches are more profitable than the fashion industry when it comes to the online customer experience.
While fashionistas used to browse the pages of magazines for the latest trends, Instagram, Pinterest and other social media platforms have replaced mailers as the most up-to-date source of fashion inspo.
For eCommerce vendors, this means that digital marketing is what generates the clicks that boost revenue. Conversion rates are dependent on a virtual reality world in today's sales ecosystem.
Embrace the augmented reality world we live in with a visual configurator to showcase next season's wardrobe. Displaying new products has never been easier with synchronized pricing across platforms, sleek 3D images and simple customization.
The thrill of opening a brand new fashion catalog is recaptured for the next generation of style hunters with a digital gallery of customizable products that shoppers can rotate, compare and visualize in their own closets.
Make next season your company's best quarter yet with fashions that dazzle and the perfect add-on accessory for any eCommerce platform. Check out how a visual configurator can help your eCommerce business strut the runway of success.
How Product Configuration Empowers Inclusive Fashion
The fashion industry is far from skin deep. Complex products go far beyond the sales cycle to promote ethical operations and more inclusive styles for every customer.
You're not only managing a powerhouse sales team. You're making people everywhere feel inspired, feel confident and feel good about themselves.
A visual configurator brings a designer's vision to life for the next generation of fashionistas. These buyers aren't confined by a label. They're seeking clothing options as unique as they are, and that begins with product visualization in real time, on real bodies.
For example, many find it surprising to note that plus-size fashion and size-inclusive fashion are not the same things.
What's the difference between plus-size and size-inclusive?
The former is an outdated, exclusionary term that makes a large demographic of customers feel alienated and "othered." The former promotes a positive customer experience that serves all buyers equally.
Refinery's Eliza Huber notes:
"Plus-size" is defined as any size above 16. This separates the 67% of women in the U.S. who wear a size 16 or up from the 33% who don't. Despite being in the minority, the latter group's size range, referred to as "straight" sizing, is considered the standard.
How can online stores better promote inclusive product lines?
Customization and visual configuration are key when it comes to delivering options. The power of 3D models creates a more inclusive ecosystem than the often limited world of flat stock images.
Through one simple plugin, an array of customizable products are available to rotate, view, zoom and configure to the customer's exact preferences. The add-on also allows customers a better product visualization of their own body with the ability to compare 3D images of the latest styles.
Creating a more inclusive buying experience is not just the best choice for promoting fashionable equity. With a growing demand for inclusive sizing, business managers are also sure to see a boost in conversion rates.
Design a Virtual Reality Catwalk With a Visual Product Configurator
In 2019, Navar polled 3,519 global consumers, ages 19-65, who have made an online purchase at least once in the last year. They generated some surprising data on the number one reason why customers return products.
When it comes to the fashion industry, online fashion retailers deal with far more returns than traditional storefronts. The most common reasons why a customer returns a clothing item were wrong fit, wrong size or simply a change of mind.
So how do traditional clothing boutiques mitigate returns, and how can your store get ahead of customer satisfaction before rolling out next season's new products?
The answer may be only a click away with a visual configurator plugin!
Outfit your WordPress site with a robust product customizer that gives buyers an augmented reality experience. 3D product configuration allows customers to "try on" clothing prior to purchase, just as they would in a traditional fitting room.
Where fitting rooms are often intimidating for shoppers, the online buying experience is relaxing and fun with a virtual reality catwalk made possible by configurable products. Your customers can be sure they absolutely love an item before adding it to their shopping cart.
Happy customers mean more repeat customers and — you guessed it — more sales.
Click here to learn more about using our visual configurator for apparel.
Improved Functionality Across Platforms Is the New Look for Online Stores
Salesforce describes social media as "the key to successful digital marketing," and we couldn't agree more.
Promoting brand originality is one of the best ways to boost revenue in the online fashion world. Take the quirky clothing company, Blackmilk.
This small brand leveraged the power of social media influencers to become an industry titan. So if there's one lesson online fashion retailers can learn from this success story, it's to never underestimate the power of 3D product visualization and seamless automation.
A visual configurator can disrupt a stagnant sales cycle by creating fluid, 3D visual content across platforms. Social media is a vital part of the customer experience in today's digital age.
Shareable content helps your sales team out by creating cross-platform recognition as customers show off their most recent fashion finds. So think of a visual configurator as extra advertising!
Furthermore, a visual configurator expands your website's automation. You can easily integrate product customization with custom pricing to generate a price quote instantaneously.
This means your sales team can save time on:
Responding to customer communications

Seeking approval for a price quote

Facilitating complex customization contracts
This helpful tool seamlessly syncs with the shopping cart to generate a sale in no time.
No more being "fashionably late" due to lags or slow response times! After all, the longer a sale goes unfulfilled, the more time a customer has to rethink their purchase.
Look down that sale and lock in the season's latest fashions with the help of a 3D product configurator.
Reach out to our experts for more hot tips on boosting sales and staying on trend in the growing world of online fashion retail with our visual configurator.