How A Shopify Configurator Elevates the eComm Experience
In 2019, Shopify overtook eBay to become the second-largest e-commerce platform in the U.S., after Amazon, boasting an estimated 1M merchants using its service. It's not just home to mom-and-pop or medium-sized businesses; the likes of Nestle, Tesla, Red Bull, Penguin Books, Pepsi, and Budweiser all have a presence on the platform.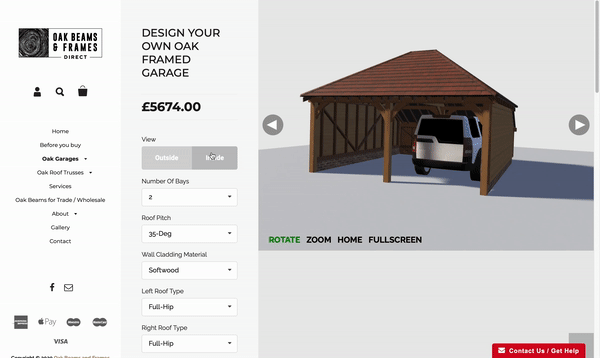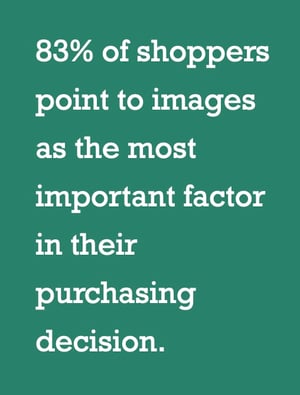 At its 2019 Shopify Unite conference, the platform announced one of its major product developments: a "reimagined digital experience" with the help of 3D modeling. Like a lot of e-commerce platforms, Shopify's merchants relied on static photography to showcase their products. The importance of traditional product shots shouldn't be underestimated: 83% of shoppers point to images as the most important factor in their purchasing decision. Photos were considered more important than recommendations and reviews, two factors often considered to be crucially influential in the decision to buy.
Beyond static images: the Shopify configurator
It's great to see this upgrade but there are two other technologies that can enhance product images even further and they are 3D product configurators and augmented reality (AR). A product configurator allows users to view their product as a 3D photorealistic image of the kind being rolled out by Shopify, but it also gives customers the ability to make real time customizations to that product.
Throughout the customization process customers can rotate the product 360 to get an idea of how it looks from all angles, zoom in and out, and even use "product explosion" views—exploding the individual components of a product to see the internal structure or makeup; a great feature when dealing with complex products with lots of moving parts.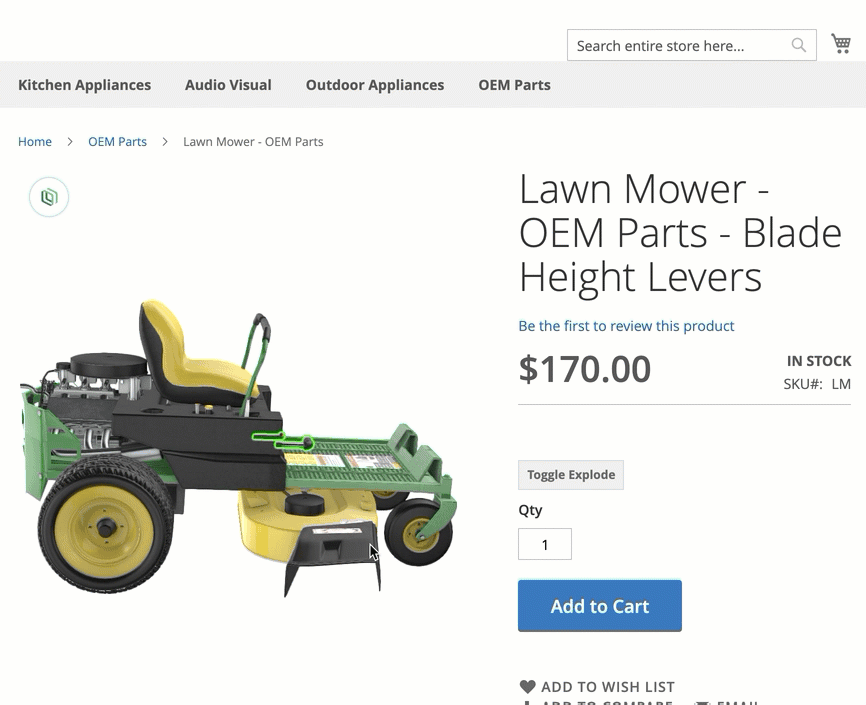 Once a user has made their customizations, augmented reality technology allows them to 'superimpose' a 3D image of the product into their home, offices, or wherever else. This gives them the ultimate "try before you buy" as users get a sense of how a product looks in situ, it's spatial dimensions, and how it does (and doesn't) complement their existing environment.
Users can easily integrate a Shopify product customizer and AR into their stores and take advantage of the 250% increased conversion rates as a result.
Let's take a look at two merchants who've done just that.
Kichler lighting
Lighting makes or breaks the atmosphere of a room and retailer Kichler uses the Shopify configurator to give users the chance to create the perfect lighting fixture for their homes.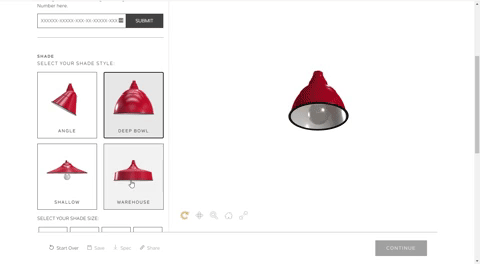 The build process is done in three easy steps:
1) Choose the style, shade, color and finish
2) Form the fixture by selecting lengths, finish, and wall attachment
3) Add optional accessories including jelly jars, swivel or cages.
There's technically a fourth step which involves Kichler creating a quote based on the customization and connecting customers to an approved dealer.
The emphasis on simplicity is one of the key benefits, for sellers and buyers, of using product configurators. For sellers, configuring a set of products and product components helps simplify the sales and fulfillment process; giving users a limited number of product choices helps sellers make strategic stock decisions and speeds up the buying process.
Generating a quote based on the customer's customization removes, or at least reduces, the need for sales reps to contact the buyer and the potential back-and-forth communication that typifies manual quote creation.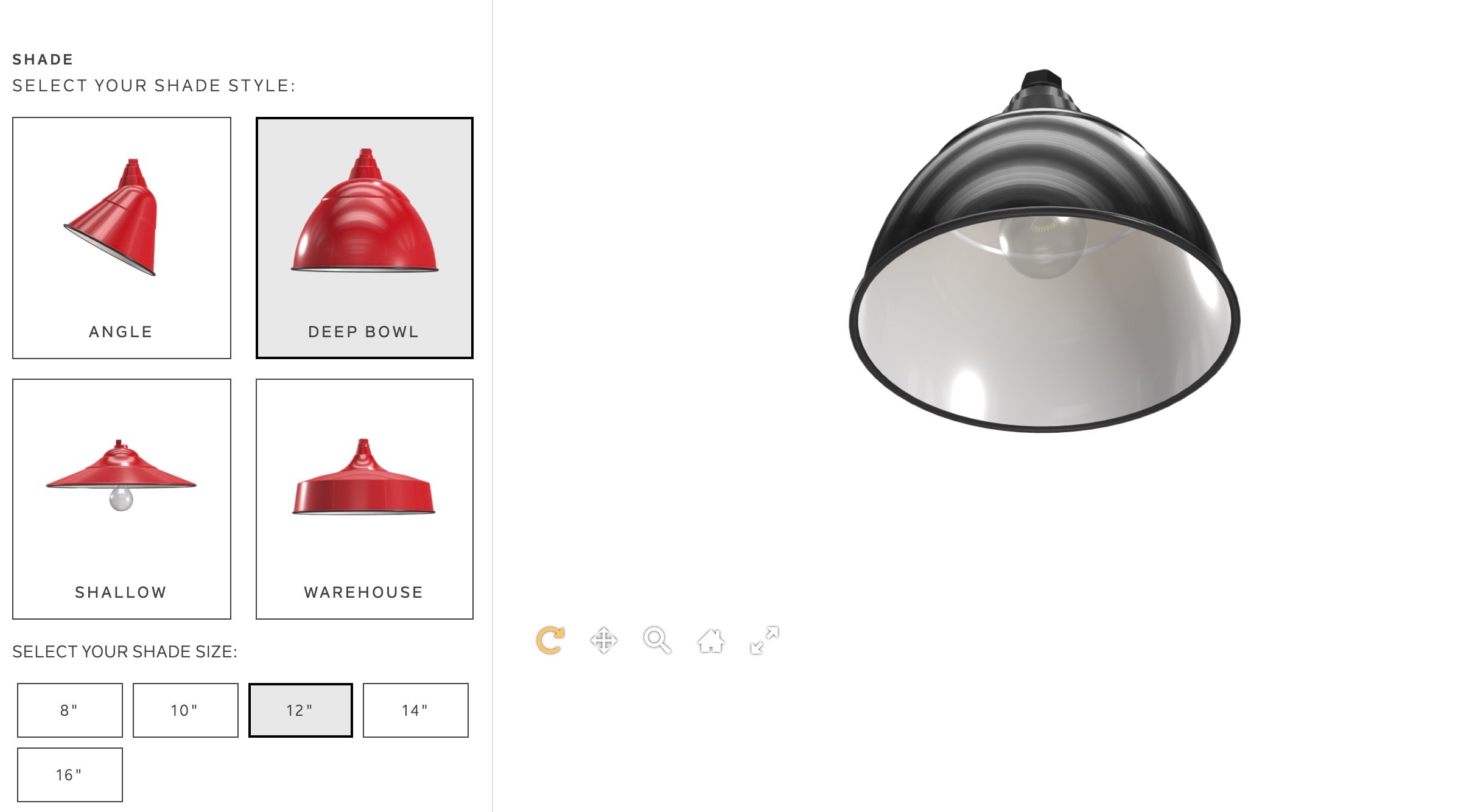 There can often be a lot of redundancy in the quotation process. Sales reps usually deal with information siloed in spreadsheets which can lead to quoting incorrect pricing or offering products that are no longer available. Using the Shopify configurator means that stock levels and up-to-date pricing are entered into the product configurator's backend—quotes are generated instantly and accurately.
Kichler offers two configuration options: the user can continue customizing a product by entering their "SmartPart" code or start a new design. This allows users to come back and make changes or adjust the product following quotation. The former is a great feature that isn't implemented on most product configurators; most just ask the user to start the process from scratch.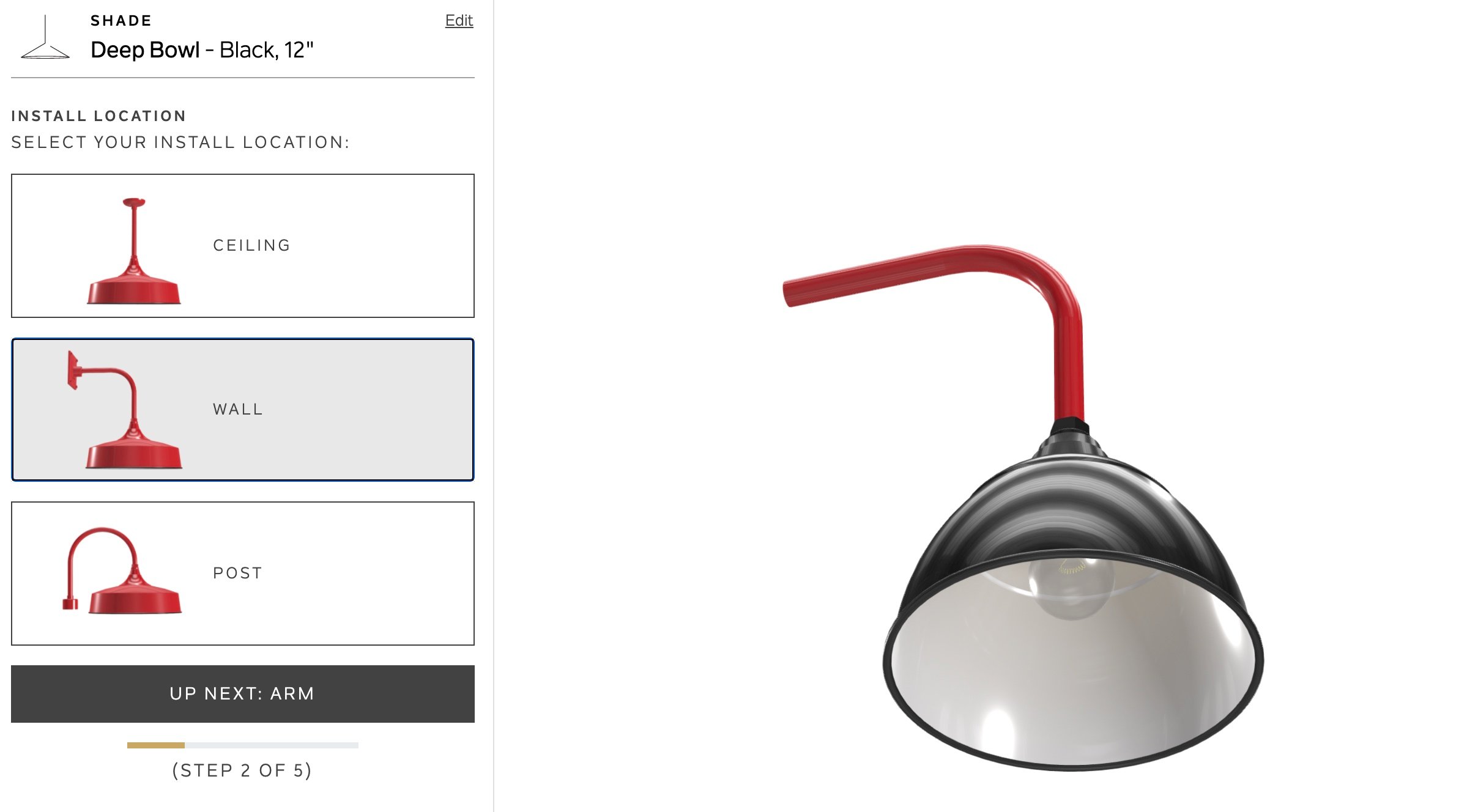 The configurator itself is clean and intuitive. The 3D photorealistic image is crisp and can be rotated 360 degrees, viewing the product from the top and bottom, and there's a detailed zoom in function. Once customizations have been completed the user can save their design (to adjust later), share via a link, and/or download the item specifications. Throughout the process there's an auto-updated price that keeps costs transparent.
Modarri
Another company taking advantage of the Threekit Shopify configurator extension is the toymaker Modarri. The USP of the company is the ability to customize toy cars—the ideal use case for a product configurator. Modarri also takes advantage of the explosion view function.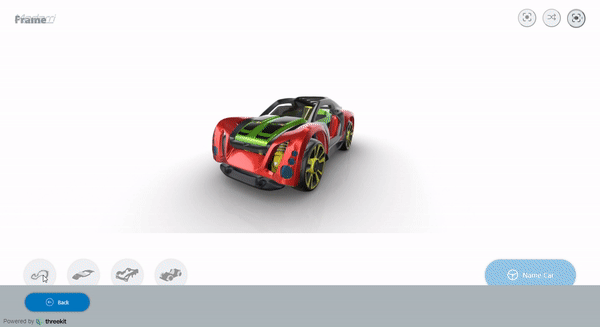 Users can choose to customize different elements of their toy car, including the chassis, roof, bed, and colors. Hitting the explosion button displays each element separately which can then be zoomed in on and rotated to see the photorealistic 3D image in perfect detail.
Modarri knows exactly how to use configurator technology to enhance its business model. It encourages its young target audience to build their own toy vehicles by collecting individual components. Their messaging makes this pretty clear, as users are invited to "Meet the Parts" and "Have your child collect them all!".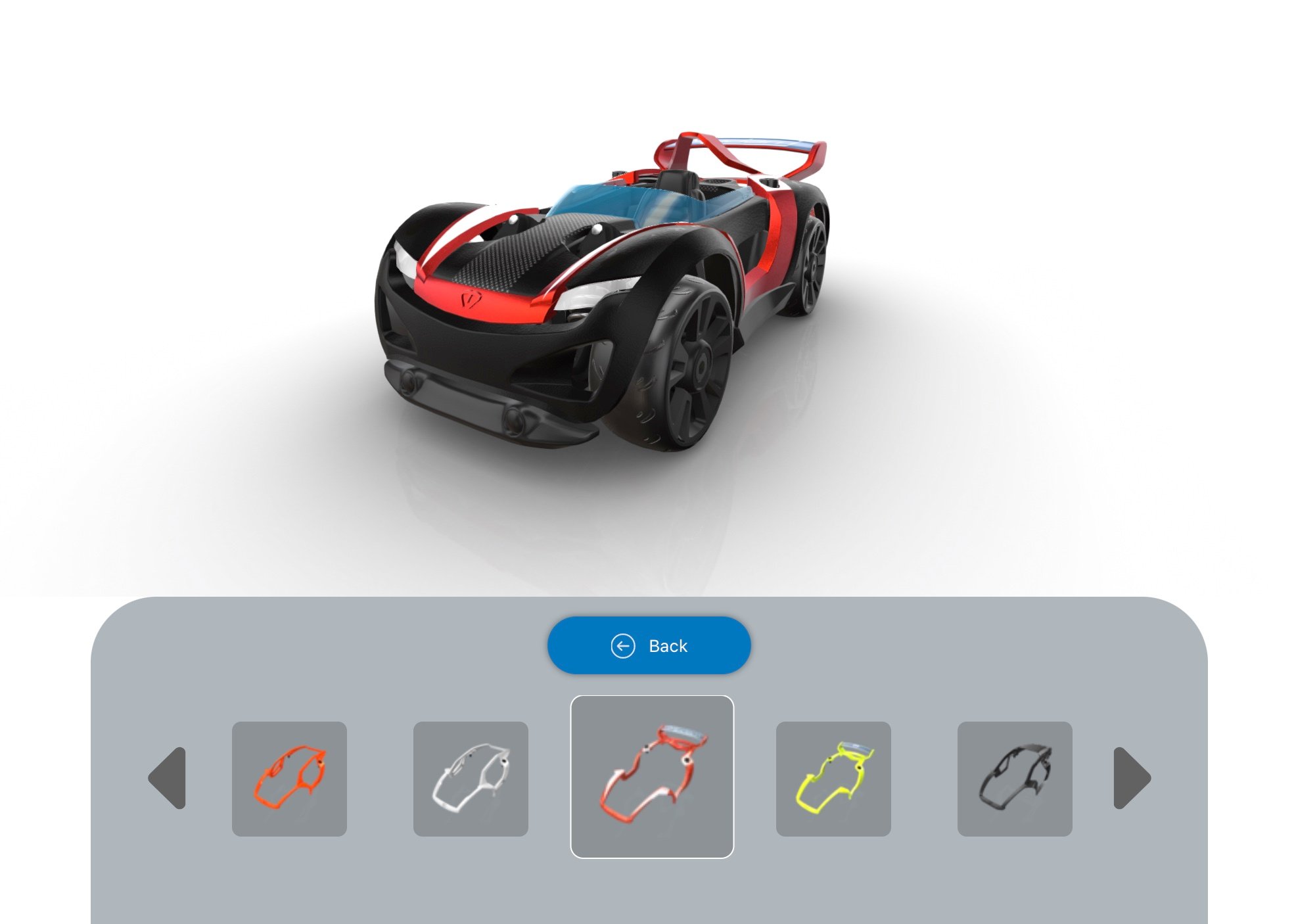 Using a configurator has a couple of subtle advantages. Firstly, not only have they picked the right tech to showcase their products and encourage sales, they've also kept the customization incredibly simple. This simplicity enables kids to use the configurator themselves and have fun while they do it. This kind of user engagement, or user-engagement as play, no doubt increases conversions. The play starts before the sale is even mad. Secondly, children love to have things that are truly their own, apart from their parents or their siblings.
The customizer gives them the opportunity to create something that is uniquely theirs, a powerful sales motivator for both children and adults. The value of creating something uniquely your own translates into cash: products that are customized can sell up for 50% more than those bought in store.
Shopify merchants can now take advantage of some powerful sales technology. If you're considering integrating a 3D configurator and/or augmented reality into your store, Threekit's integrations can be set up and launched quickly and simply. Check out our dedicated Shopify page for more information.