Serve the Scrubs Shopping Market With a Magento Product Configurator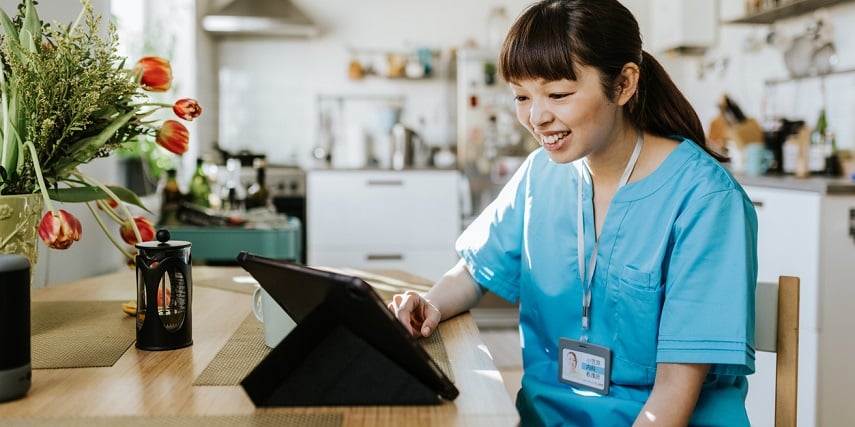 Discover how a Magento product configurator can provide unlimited products in real time for amazing medical professionals.
In an industry where 12+ hour shifts are simply part of the routine, these shoppers need scrubs built for functionality. Scrubs are the one constant that take healthcare workers from their morning coffee to their last patient of the day with ease.
Our care teams are anything but basic, so scrubs shouldn't be boring either!
Healthcare heroes wear lots of different capes. From entering vital data to checking vitals, caring for the young and old with endless patience, to being our first point of contact when we need a smiling face, our outstanding medical professionals take on a variety of roles throughout their busy day.
A Magento custom product builder doesn't need a user guide to turn healthcare workers into the product designer with their own unique templates and product images.
From the perfect fit to the perfect style, the power of a simple plugin can deliver big results on the front end of your eCommerce page. A Magento product configurator enhances the user experience and empowers online store owners to give their customers the first-class treatment they deserve.
Browse the world of personalized products powered by Magento.
Let Shoppers Have Fun With Customization in Magento
High-stress professions deserve a little fun and a personal touch to get them through the day. A Magento product configurator allows the product designer to play with a range of customization features.
Design functionality and a 'build your own product' model are in high demand for every online store. Custom options are important to shoppers.
71% of consumers report feeling frustrated when a shopping experience is impersonal, with 36% reporting that eCommerce retailers need to do more to create a personalized user experience. Our healthcare workers are so much more than a number.
A configurable product allows shoppers to design unique styles in their favorite Magento 1 and Magento 2 stores. Shoppers can:
Add monograms and embroidery
Browse a range of patterns, colors and designs
Even upload their own pictures with simple JPG and PNG files
These product images are displayed on the 3D templates in real time. Then shoppers can gain an exact idea of the item they're purchasing.
Customization is a great gift-giving tool for friends, family and anyone looking to say thank you to our amazing healthcare heroes!
Create a Virtual Fitting Room With a Magento Product Configurator
The right fit is paramount when you're on your feet for 8 to 12 hours a day. A good pair of scrubs should have optimal functionality for meeting all hygiene standards, as well as optimal comfort.
Of course, comfort looks and feels a little different for everyone.
Some of us prefer cooling materials, while others would rather stay cozy and warm. Our height, waist, shoulders and overall body type are as unique as we are.
In fact, half of all Americans reported wanting more custom product options and are willing to pay more at checkout for their own product.
A Magento product configurator offers enhanced product visualization through realistic templates that users can try on in a virtual reality environment. Shoppers can simply upload a standard JPG or PNG image and let the Magento product configurator do the rest.
The shopper can:
Rotate the image
View each product feature from a different angle
Make sure their choice fits perfectly
Users can also select different materials from the product options dropdown menu, giving the product designer full creative freedom on the front end.
These changes are automatically recorded on the backend to make checkout even easier with transparent pricing and decreased returns for retailers.
Click here to learn more about our Magento product configurator.
Cross-Platform API Compatibility for On-the-Go Customization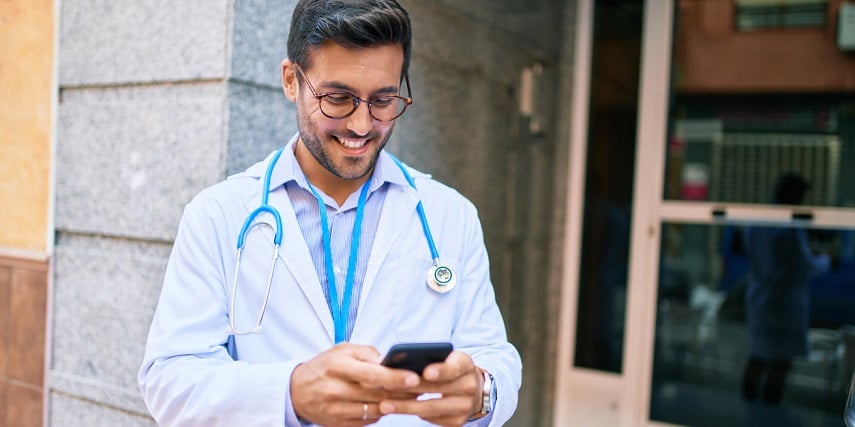 A good eCommerce vendor understands their audiences and works to tailor their product page to their shoppers' needs and convenience.
For busy healthcare professionals, sitting down for a relaxing hour of browsing their favorite online store on their laptop may not always be an option. This is why cross-platform compatibility is so important.
A Magento product configurator features API functionality so users can browse from their iOS or Android device with ease.
Many medical professionals find time to restock on essential PPE, scrubs and daily work needs during downtime. This means retailers should prioritize mobile device browsing in a variety of ways.
A few key points include:
Ensuring a fast-loading product page with iOS and Android compatibility
Checking to make sure

product visualization, including zoom and enhance capabilities, function on mobile devices, computers and tablets
Providing the same sense of unlimited products on every platform with continuous scrolling and a configurable product model
Guaranteeing consistency on the front end to provide the best possible shopping experience
The pricing and checkout process should also run smoothly throughout a product page. Luckily for eCommerce vendors, the user experience of a Magento product configurator is top-notch.
The product customizer features state-of-the-art, streamlined automation for a faster, more efficient purchasing process. So busy shoppers don't need to wait around for a product customization quote.
There's no emailing the help portal or waiting for a quote on bulk orders for clinics and private practices. Real-time backend automation allows your inventory, pricing and product type to align perfectly with the product designer vision.
Shoppers will appreciate the ease of the buying experience. Retailers can also enjoy the efficiency of purchasing personalized products through their websites.
Get Started With a Magento Product Configurator From Threekit
We wish everything in life could be as simple and fun as designing your own products with a Magento product configurator. From going to the dentist to seeing our primary care physician for our yearly exam, health and wellness can sometimes feel complicated, stressful and even a little hectic.
So you can celebrate the healthcare heroes who make everyone's journeys a little easier by providing a top-of-the-line shopping experience for the scrubs industry.
Curious about what else a Magento product configurator can do for your online store? Reach out to our team to learn more or request a demo.