How can I let my customers configure my product?
Before making a purchase, customers want to feel confident that your product will meet their needs. This can be more difficult to do when shopping online than when seeing and handling physical products in a store.
With Threekit's 3D Product Configurator, eCommerce shop owners can easily create photorealistic digital representations of an entire catalog of products with any number of customizations, making shopping easier, more personalized, and more reliable for their customers.
What is product configuration?
Products that can be configured are highly customizable and can easily be adjusted to meet the unique needs of a particular customer or business. Several categories of sales can be configured, including physical products, software, and intangible services.
No matter what industry your eCommerce shop specializes in, selling a variety of customizable products can boost eCommerce sales by offering adjustable options that fit a wider variety of needs.
Common Reasons to Utilize a Product Configurator
Using a product configurator can benefit eCommerce businesses and their customers in a variety of ways. A quality product configurator can be a particularly worthwhile investment for eCommerce shop owners who are interested in optimizing scalability, showing customers what their finished custom products will look like, and streamlining their configuration options to make them easier to use.
Growing businesses require scalable products.
Startups and small businesses may not immediately need everything your product has to offer, but knowing their purchase has the scalability to grow alongside their business can give them the peace of mind to choose your brand over your competitor's. Even if your eCommerce shop only sells a handful of products to a limited customer base right now, that may change over time, and choosing the right product configurator is a must when it comes to efficiently keeping up with the demands of a growing product catalog over time.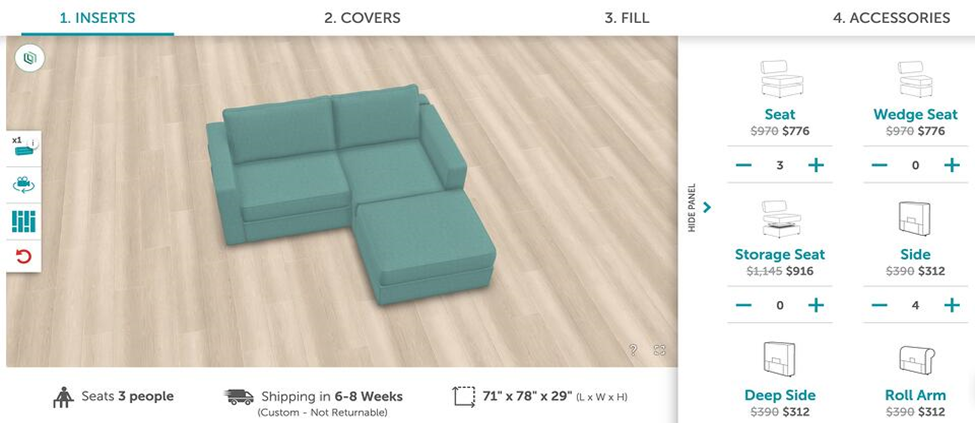 Quality configurable visuals benefit businesses.
When shoppers are able to visualize a custom product before making the decision to purchase, they're more likely to hit the "Buy" button and less likely to make a return. Quality digital prototypes that incorporate your customers' specifications and adjust in real time increase their confidence that your product offers what they're looking for and will meet their needs.
Depending on the types of products you sell, the complexity of your products, and the configuration software you choose, configurable visuals can include basic 2D photos or rotatable 3D images. Although simply posting photos of several sample products can be a helpful starting point, approximately 60% of eCommerce customers surveyed indicated that they appreciate the ability to see a digital representation of what the product will look like when created to their exact specifications.
This concept has become even more important over the past year as many customers have become more likely to shop entirely online instead of viewing real sample products in a store. This can make it more challenging for shoppers to be sure of exactly what they're getting, which can lead to more returned products if eCommerce shop owners don't put in the effort to provide the best configurable visuals possible.
Competitive businesses need software programs that streamline configuration.
Many eCommerce shops utilize more than one software program to manage various aspects of their business, and choosing programs that work well together can go a long way toward improving your efficiency and organization. Opting for a product configuration software platform that has the ability to streamline multiple configuration options in several formats at a time, such as photos and augmented reality images, makes it easier for your customers to get all the information they need in as few steps as possible.
Some product configuration software options also streamline better with Shopify and other major eCommerce platforms than others. Choosing product configuration software that was designed to integrate seamlessly with your eCommerce platform can increase the amount of data you're able to maintain and analyze about patterns and statistics surrounding your customers' product configuration preferences and trends.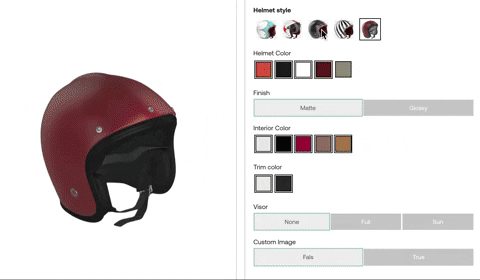 How can my customers configure my product?
Allowing your customers to configure your products themselves before making an online purchase can be surprisingly easy. Although there are several product configuration software options available that your customers can use to design customizable products on their own, such as ConfigureMyProduct, Threekit's 3D Product Configurator is an innovative and versatile tool that best meets the needs of a variety of eCommerce shop owners.
Our 3D Product Configurator provides real-time 3D images that show your customers a digital representation of the adjustments they make to your base products. That way, your customers can apply various color, size, material, and style options to your products to see what every side of their finished product will actually look like, rather than having to imagine how color swatches, dimensions, and other personalization options will look.
Customers who are able to view these options are approximately 20% more likely to make a purchase because they feel more confident that the product they order will look how they think it will. In addition, utilizing 3D configuration instead of regular photographs increases brands' conversion rates by approximately 40%. Threekit has partnered with a variety of well-known clothing, furniture, travel, fitness, and other brands, and their success stories transfer reliably to eCommerce businesses of every size.
At Threekit, we are committed to helping our clients increase eCommerce sales by providing more options for knowing what configurable products will look like. We work with companies across a variety of industries that are looking to replicate the benefits of in-store shopping online as much as possible. Contact us today to learn more about your options or to schedule a demo.