How Product Configurators Are Revolutionizing Custom Trophies
Many companies that design and manufacture custom trophies offer a similar online experience. But one innovation that's changing the way people purchase these products is a product configurator.
A majority of online stores that sell custom trophies use basic product pages with fields that allow for customization. However, product configurators can make the customer experience fresh and exciting while removing doubt during the buying process.
If you want to more effectively sell custom trophies or other configurable products, a product configurator can differentiate you from other businesses in a number of ways. Here we'll explore some of the specific ways in which product configurators are revolutionizing custom trophies.
Configurators Engage Customers During the Customization Process
Most eCommerce platforms for custom trophy products feature simple generic product pages that list the available options. Customers may be able to browse a selection of trophy designs and go through a list of different options for each, including:
The size

Figure designs

Base designs

Colors

Custom engravings
However, they may not be able to get a clear picture of exactly how the final product will look after they customize it. There's just a single product image showing them the base design.
With a 3D product configurator, people can get a better sense of how the product will look. They'll also likely be more engaged with real-time visuals that update based on their selections.
When someone selects a new figure for the top of the trophy, the picture can update to show the figure atop the base design. Additionally, when they enter text for the custom engraving, they'll be able to see it as it would appear on the base. A configure price quote (CPQ) solution can also ensure that customers know how much their custom product will cost, with pricing that updates with each add-on option.
How Product Configurators Boost Engagement and Confidence
If customers can more easily see what the end product will look like during the customization process, they'll be more likely to complete their purchase. This is largely because they'll be more confident that they're getting what they want, which eliminates hesitancy in the buying experience.
More confident customers translate to fewer abandoned shopping carts and less frequent product returns as they're more likely to remain satisfied with their purchase.
All of these benefits also make things easier for your sales teams, as salespeople no longer need to reassure customers and lead them toward a purchase. You can think of product configurators as virtual sales reps, walking customers through your products while configuring them.
3D Models Allow Customers to Explore Every Inch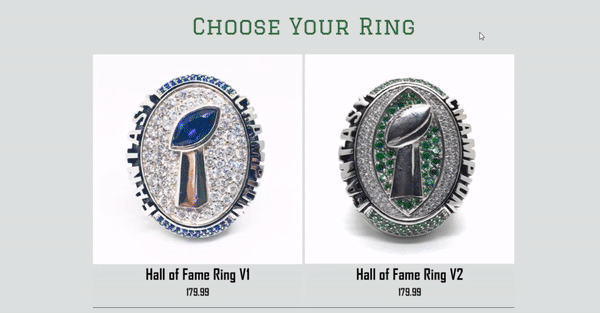 Although high-quality configurable 2D product images can help paint a clear picture of custom trophies for consumers, 3D images that customers can view from every angle are potentially even more powerful.
Consider the fact that businesses see a 40% increase in conversions when they implement interactive 3D. If a 3D view is included on a product page, 82% of visitors are also likely to activate it.
3D models offer a level of interactivity that truly helps them get a feel for trophies and other products. Customers can see every part of the design from each angle, giving them a better sense of its size and shape.
While most product pages feature a simple 2D image from the front, customers will further understand what they're buying when they can see a photorealistic 3D model of the trophy. When the customer makes any changes to the trophy model, they'll also be reflected in the 3D product visualization.
Ultimately, with high-quality 3D images in a product configurator, you'll be able to drive even more sales as you give customers more confidence while buying. This streamlines the sales process.
If you would like to learn more about our 3D product configurator, click here.
Augmented Reality Brings Trophies to Life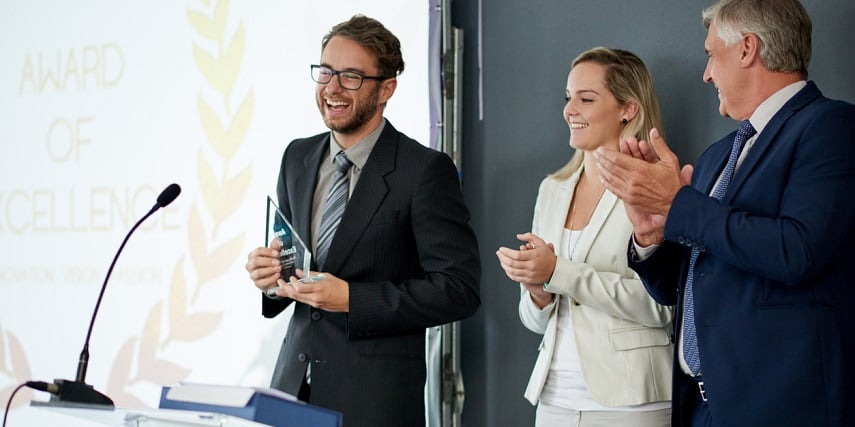 3D models can take a product configurator to another level. But augmented reality (AR) technology can push it even further. Today's AR APIs and applications offer customers the chance to almost seamlessly blend virtual products with the real world. In the process, customers can see how items would look in person before buying them, without the need for a physical sample at any point.
Using trophy models in AR with apps on their mobile devices, customers are able to project their custom products in a physical space, such as on a display shelf with limited space. This can further give customers a feel for how well the product will look and fit in an existing space.
For instance, a customer might want to see how tall a trophy actually appears. They may also need to know the width given certain base and figure design features. 3D models, coupled with AR applications, will make it easy to see precisely what a product will look like. Customers can make buying decisions based on how it would look at home or anywhere else.
How Threekit's Product Configurator Software Can Help Trophy Makers Stand Out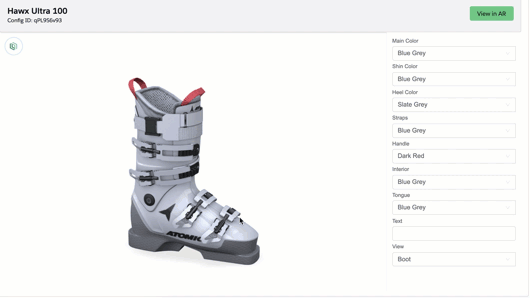 Do you want to benefit from automation in the sales cycle and an improved customer experience? Then integrating a product configuration solution can give you the results you want. For one of the best product configurators available, consider turning to Threekit's unique, innovative solution.
Additional Features
What sets Threekit apart is the combination of solutions that we offer through our platform. Using our Virtual Photographer™ software, you can easily capture your entire inventory with top-quality 2D photos. We can then use them to create 3D models of your trophy designs.
All we need is either an existing CAD file or another 3D image file type. We can also use material samples.
Then, we can use these starting points to craft accurate 3D representations of your inventory. One of the key advantages of this process is the eliminated need for a physical photoshoot.
You can use our 3D product configurator plugin on WooCommerce, Shopify, or another eCommerce website to engage customers. We also enable customers to integrate 3D models with our AR solution to further connect with shoppers through AR apps.
With the help of these solutions for trophies and other complex products, you'll be able to drastically increase sales and attract more leads. This reduces the risk of abandoned shopping carts and costly returns.
Getting Started
Want to learn more about our solution and find out how Threekit can help your business grow? Reach out to us, and we'll get you started on a custom configurator and CPQ solution for your eCommerce platform.