How a Guitar Configurator Helps New Guitarists Find the Right Guitar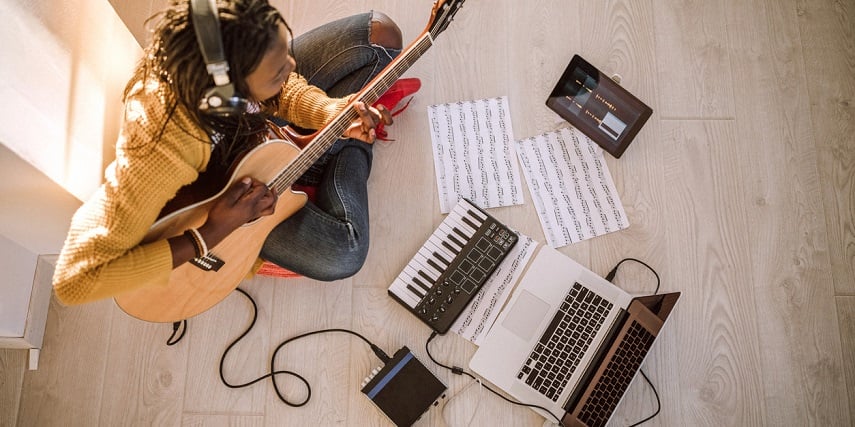 Different product configurator tools offer features for different types of use cases. Furniture shoppers need to mix and match sectionals. Apparel shoppers need to find the perfect fit. Guitar shoppers also need to customize their instruments with the right array of features, and that gets a lot easier with the help of a guitar configurator.
Purchasing a guitar is no easy feat, even for the most experienced player. There are so many features to consider that finding the perfect option can seem overwhelming for newer players who don't have the same level of sophistication.
When you include a guitar configurator as part of your eCommerce store, it's a valuable tool for any guitar player — but especially for newer ones. It's a tool you can implement into your online store that lets users both see and adjust the guitar they're purchasing as they see fit, depending on the capabilities your eCommerce store allows for.
For a new guitar player, it can help them better understand the guitar-buying process and figure out exactly what they want. Here are four ways your guitar configurator helps new guitar players find the right guitar for them.
1. The Power of Customization
For many new guitar players, buying a guitar is more than just a purchase. It's like buying an extension of their own body.
New guitar players may be starting a new hobby or pursuing something that will become a lifelong calling. Buying the perfect guitar is critical no matter what type of guitar-playing journey they plan to go on.
That requirement creates a shopper with a high standard. After all, this isn't just a throw-away buy. It represents something they're going to invest a significant amount of time on.
With a guitar configurator, you can help your customers create a custom guitar customized specifically for them.
The guitar configurator's "build your own" capability allows users to build their dream guitar. That sort of freedom is what keeps customers happy. They're much more likely to be satisfied with a product they helped design.
For example, they can adjust the fingerboard radius on their electric guitar. If they're a lefty, they can customize their electric guitar to better accommodate a left-handed player.
Other customization opportunities include allowing customers to identify the right top wood for their particular playing style. Maybe they also want to polish it with the perfect body finish. They can adjust the scale length or even change the design or shape of their pickguard.
2. It Allows for Experimentation
Another benefit afforded by a guitar configurator is that it opens up a new world of possibilities for guitar players. A custom build represents an opportunity to explore new dimensions, features, or aspects of a guitar they previously may not have thought were possible.
It's also possible that a new guitar player is shopping for guitars without knowing exactly what they want. A guitar configurator can help them figure that out as they work through the process, step by step.
Other guitar shops may be able to offer a variety of options when it comes to guitars, which you can likely offer, as well. Where you'll differentiate yourself from your competitors with your guitar builder, however, is that you allow your customers to mix and match different features in virtual space.
There is no shortage of places customers can go for a high-quality guitar. But being able to build their own means they can experiment with innovative styles and features they can only find at a custom shop like yours.
Some elements of a guitar are standard. But a guitar configurator enables your customer to create something a little less conventional. If they want to add or subtract the number of strings or alter the guitar's body shape, they can do that.
Click here to learn more about our product configurators for guitars and more.
3. Your Customers Can Visualize the Guitar in Their Hands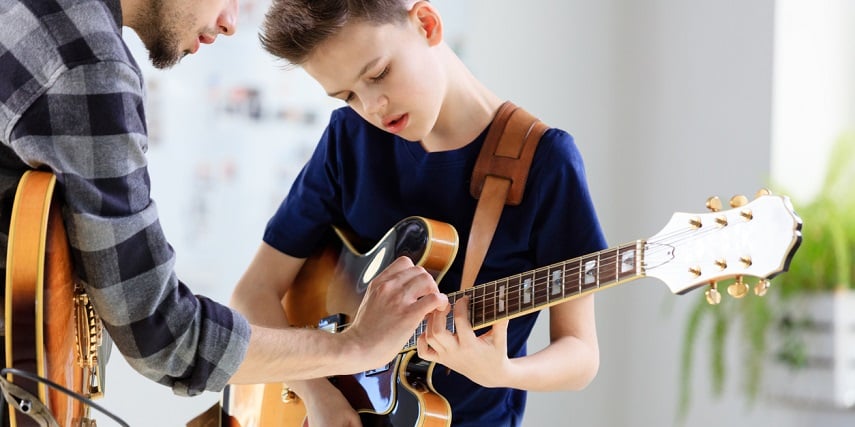 Hearing about a great guitar is one thing. But being able to visualize the instrument helps persuade customers to go from perusal to purchase when they don't have a lot of experience buying guitars.
With photorealistic images and augmented reality, a guitar configurator gives customers the ability to really visualize how the guitar will look and feel in their hands.
Suppose a customer opts to buy a guitar in a traditional eCommerce store. They'll get to look at a picture of the guitar. They may even get a few images showing it from different angles.
The problem with this approach is that while it shows you different aspects of the guitar, it's not comprehensive. It doesn't allow you to view these different angles in the proper context.
With a guitar configurator, you'll have access to 360-degree views of the instrument. This provides a better feel for how it will actually look.
New guitar players may have an understanding of how a guitar generally looks. But they may not know the intricacies of individual guitars and how those variations in each one may affect how it plays.
With a 360-degree viewer, AR, and stunning photos, they can use 3D visuals to fully grasp how they can expect the guitar to appear.
4. A Guitar Configurator Can Personalize a Guitar's Look and Feel
New guitar players want something with the right specifications that can help them create great music. They also want something that expresses their individuality.
With a guitar configurator, they can personalize the appearance of a guitar in countless ways. They can make it feel and look unique beyond the features that impact how it plays.
Things like picking the right hardware color may not impact how the guitar sounds. But it does affect how the guitar feels in the player's hand.
These kinds of features make a guitar more than a purchase. They turn it into a priceless keepsake, unique to the player and no one else.
Personalization is another way to separate yourself from your competitors. Small little touches can add up in a big way that creates a one-of-a-kind guitar the player can't get at other guitar shops.
Of course you can give your customers a great guitar, but they can get that anywhere. Where you put yourself ahead of the pack is in your ability to give your customer THEIR guitar.
If you want to find out more about how a guitar configurator can help you create a winning customer experience for more of your customers, reach out to us today.