How a Visual Configurator Will Empower Your Customers
Visual configurators are transforming the landscape of eCommerce and for good reason.
Just one short decade ago, brand managers had to invest top dollar and massive amounts of time into big studio photoshoots. In the B2B category, sellers needed to pay sales teams massive salaries and commissions to clearly explain their broad, complex offerings to clients. The truth is that B2B buyers would rather pass on the sales process all together and visual product configurators are making that possible, while also reducing photoshoot needs to a minimum. The key for sellers will be learning how to incorporate this kind of technology into their process.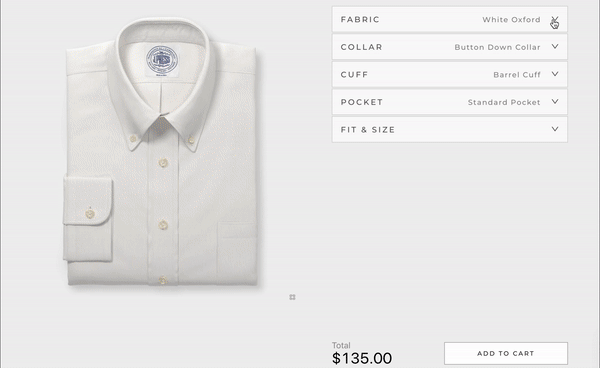 Today's consumer has been trained to expect more control in their online shopping experiences in virtually every category. In the traditional brick-and-mortar scenario, they would have a chance to look at what's available to them up-close and in person. They want that same experience online, and when there are multiple permutations in a retailer's inventory, they also want to see every possible variation. Luckily, technology has been able to keep up with this constantly evolving demand for empowerment.
What is a Visual Configurator?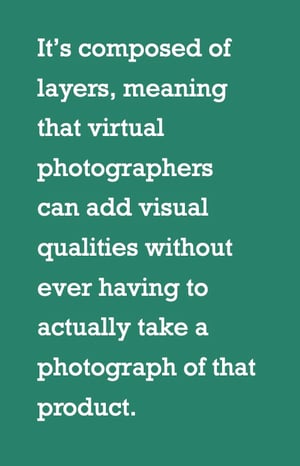 A visual configurator is a 3D digital rendering of a product that appears to be a real photograph to the naked eye. It's composed of layers, meaning that virtual photographers can add visual qualities without ever having to actually take a photograph of that product. The most common variable is color. After the virtual photographer has created a high-quality 3D rendering, they can apply every color a retailer offers, or even plans to offer, to this layer giving shoppers a chance to try every available option out before making a decision.
This new approach to satisfy rising customer expectations is changing the game for eCommerce. The digital shopping experience has been rising at a breakneck speed for years and the pandemic has only accelerated the need to learn and adapt. Let's take a look at how visual product configurators are giving consumers the power they crave while also saving marketers time and money.
More Options, Fewer Questions
With high quality visual product configurators, online shoppers get to take self-guided tours through a marketer's inventory. When consumers have a chance to navigate their journey on their own terms, they spend more time with the products and are more likely to buy. With the advent of build-your-own experiences, consumers get to dream up their ideal version of what a retailer has to offer and see it come to life in real time. Rather than simply getting a description of what's available, today online shoppers can get as close to trying before they buy as possible without literally testing the product out and seeing it in person.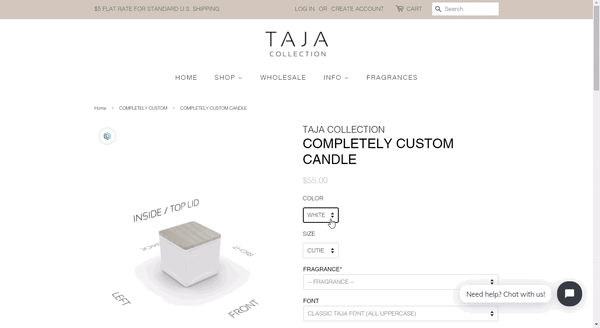 Fewer Sales Interactions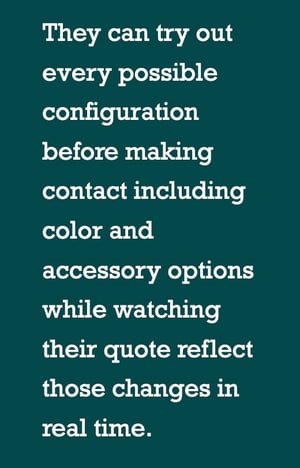 As mentioned earlier, in the traditional B2B space, salespeople were necessary to work with clients to establish a quote and walk them through the often complex offerings available for their business. Let's not forget, B2B buyers are human like the rest of us and today they do their personal shopping in the same place as their business shopping: online. They want the same control they experience when shopping for athletic sneakers or furniture when they're pursuing product purchases on the job.
In fact, most buyers prefer to get as far down the sales funnel as possible without having a single interaction with a salesperson, which means visual product configurators are the perfect tool for such transactions. They can try out every possible configuration before making contact including color and accessory options while watching their quote reflect those changes in real time. Visual product configurators can also be seamlessly integrated with CPQ software like Salesforce meaning B2B sellers can make the transition from traditional sales models to the modern process with minimal effort.
There's More to Browse
Let's say a retailer is considering offering a product in a new color. This option doesn't exist yet, but they're curious about how popular that product may be before making it available. We'll say that this retailer deals in men's suits and the color — one of over one hundred — is sea foam green. With visual product configurators, this menswear brand can enable shoppers to view seafoam green versions of their suits before they've even acquired the fabric. If they don't get a single bite, it might not be worth pursuing. If they get a huge response, not only do they know this color will be a hit but they also might even adjust their marketing plans accordingly.
Let's consider another common example. The furniture category has seen big success with visual product configurators. Think about it. Furniture is a big-ticket purchase. Shoppers likely intend to hold onto those items for years, or even decades, and they need to be sure it will fit into their existing interior decorating scheme. Also, most furniture retailers offer direct shipping and since the pandemic, more and more consumers are seeking out opportunities to make purchases without ever setting foot in a physical retail store. With high-quality visual product configurators, online shoppers can try out every possible color and pattern while also getting a 3D view of every angle. It's as close as they can come to sitting on a couch or knocking on an oak dining room table — and they can have it all brought right to their doorstep.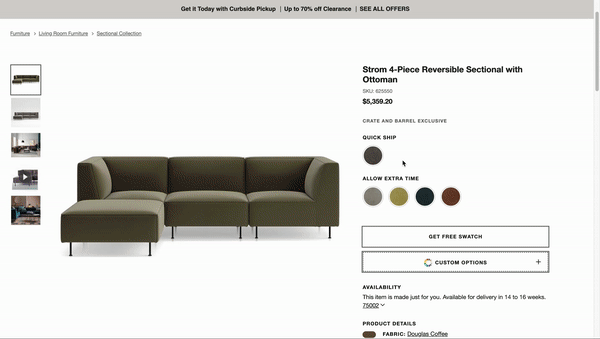 If you're going to make the most of visual product configurators you need a partner with a track record. The team at Threekit has been building 3D product renderings to create visual product configurators for years and partner with some of the best digital marketing agencies in the world to ensure the overall experience will be as positive as possible. Our virtual photographers work closely with clients to ensure they're building precisely what they need to meet their specific eCommerce needs. If you're ready to give your eCommerce consumers the power, control, and satisfaction they've come to expect when shopping online, get in touch with us today for a consultation or demo.