How 3D Product Customization Helps Brands Adapt in the COVID Era
This post is part of our Threekit Webinar Series, a blog series where we recount the most pertinent takeaways from the Threekit insiders and guest experts who are thought leaders in the 3D and augmented reality space.
---
Unless your business was deemed essential at the start of the pandemic, COVID-19 likely disrupted sales, halted production, and slashed budgets. However, the ability to adapt, evolve, and embrace e-commerce trends like product customization, augmented reality, and 3D configuration have paved the way for a growth in sales that can make the difference.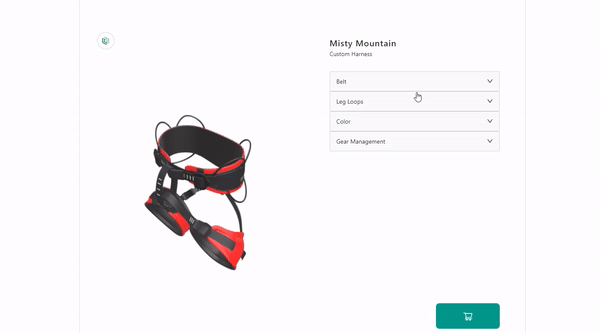 3D Configurator for a climbing harness (www.mistymountain.com)
Many manufacturers, distributors, retailers, and other online sellers have fared better than others because they've been quick to make a plan, implementing new technology and marketing procedures that are tailored to manage the short-term effects of the pandemic. In a recent webinar, Marc Uible, vice president of Marketing at Threekit and Rick Miller, commerce and marketing leader at Zilker Technology, discussed a selection of tips for growing your business in a post-pandemic era.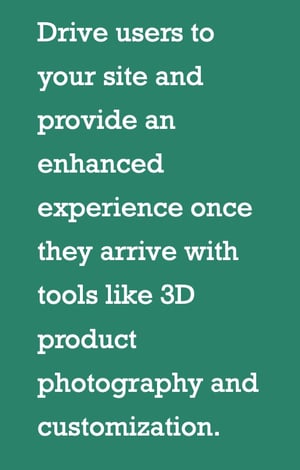 Open the Top of the Funnel
"Instead of hoping that prospects go to your website and fill out that 'contact us' form, and type you a whole bunch of sentences about what they want," explains Uible, "you could consider letting your customer configure their product themselves, and then get in touch with you. They come a lot more qualified and they come a lot more interested."
Don't just hope traffic will find its way to your website, Uible continues. Leverage Google Analytics. Invest in search engine optimization (SEO). Optimize AdWords. Drive users to your site and provide an enhanced experience once they arrive with tools like 3D product photography and customization.
Watch the webinar here.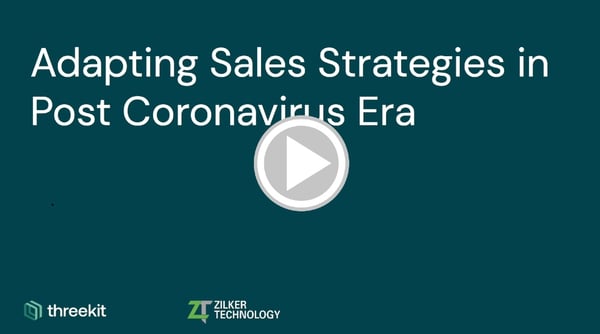 Let people build your product from the ground up with 3D product customization
Enable sales, customers, and distributors to build your product based on exact customer requirements. To do this, product customization is essential.
"The buyer has must-haves," explains Uible. "This is the reason [the customer] came to you in the beginning. These are requirements that they need for their product. That lets you establish a baseline product. You get the customer and they're nodding their head, saying, 'yep, that solves my needs.'
"But the other thing is that a keen salesperson will be listening throughout the conversation and they'll hear other pains and other opportunities. And during that time, you can add features, and materials to that baseline product, the customer's all of the sudden thinking, 'oh, that's pretty cool, I want that thing.' And now you're up-selling — getting additional margin and revenue from that sale."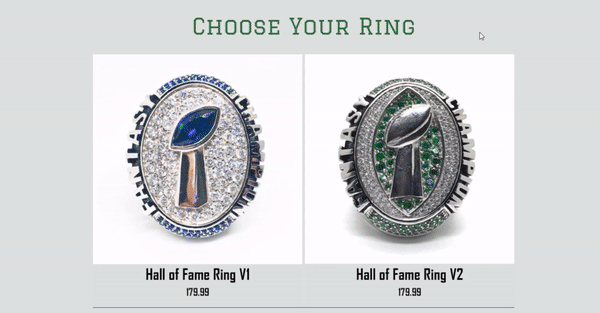 Engage Buyers with a Variety of Channels
Studies show buyers today prefer engagement across a wider range of channels, and the opportunities for doing just that are certainly not lacking. For starters, encourage your salespeople to go beyond their smartphone when interacting with consumers.
One effective medium that continues to prove its value is the use of video. After all, seeing is believing. Research supports video's ability to build trust and rapport with buyers. Second — texting. It's faster than email while introducing the use of more free-flowing communication with prospects. Another valuable tool are QR codes. Whatever the content, this delivery method allows for easier sharing across different devices and between multiple users.
Remember the Entire Customer Lifecycle
"The whole lifecycle matters," Miller explains. "Not just up to the point of ordering. The full end-to-end process and all the integration — from consultants and your owner management systems and your manufacturers and the whole supply chain — that's affecting your brand. That's affecting the overall customer experience."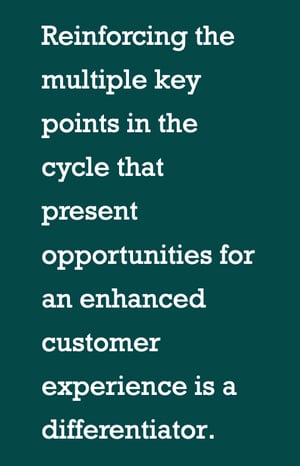 This is apparent now more than ever with the challenges brought on by COVID-19. The Coronavirus Crisis Report notes, for example, the time to fulfill orders has risen considerably since the outbreak began. One business notes an increase in fulfillment time of almost 40%, as measured by the length of time between when a shopper hits 'buy' to when the order is picked up by the carrier for delivery — a difference of 15.1 hours to 21.2 hours.
Reinforcing the multiple key points in the cycle that present opportunities for an enhanced customer experience is a differentiator. Beyond the ordering process, the request for quote process, getting purchasing approvals, and the return processes can still impact the customer experience greatly. Providing those good self-service tools from an end-to-end capability and having integration within your supply chain are key.
Invest in Solutions with Significant Payback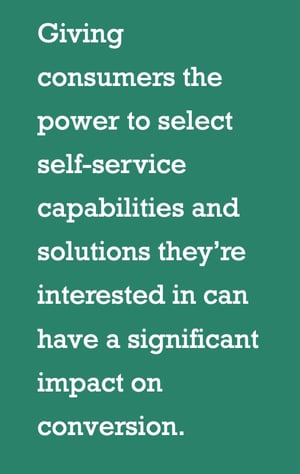 "When people do invest in these solutions, there's payback in so many ways," Miller says. "At Zilker, we look at the whole equation. We look at all the metrics that are going to be impacted, and we begin to take your features and functions, and find the gaps that you might have in your solutions as we work with you, and we put those into buckets that are going to be meaningful and have an ROI."
Miller is speaking to the plethora of advanced, self-service tools available that range from loyalty campaigns, online promotions, convenient payment options and paid versus organic search drivers to product configuration and comparisons, targeted content, and usability or A/B testing. Giving consumers the power to select self-service capabilities and solutions they're interested in can have a significant impact on conversion.
Consider the Lines Between B2B and B2C Officially Blurred
Miller hits on the increase in B2B customers expecting the same seamless experience that B2C customers have grown accustomed to. Uible echoes this shift in customer behavior and expectation in a mega-trend he calls the Consumerization of IT.
"Corporate buying and selling is going to become as fast, easy, and engaging as consumer buying and sell is today," he says. "That experience you have on Amazon needs to be delivered in the B2B and manufacturing environment now. That's the expectation and that's being further accelerated by this COVID-19 disruption.
Moving forward, e-commerce penetration will increase significantly as more consumers become comfortable and confident in their buying experience across both the B2B and B2C segments. Opportunities for innovative companies will quickly fill the void of others that don't weather the storm, and many new jobs will be created in the amplified world of digital commerce.
Whether you're unsure where to get started or feeling fully confident in your next steps, a partner like Threekit can help your business stay ahead of the curve in the post-coronavirus era and beyond. From augmented reality to 3D product photography, find what's right for your business now and moving forward. Reach out for a demo or consultation with Threekit here.