5 Advantages of a Guitar Configurator for Selling Custom-Sized Guitars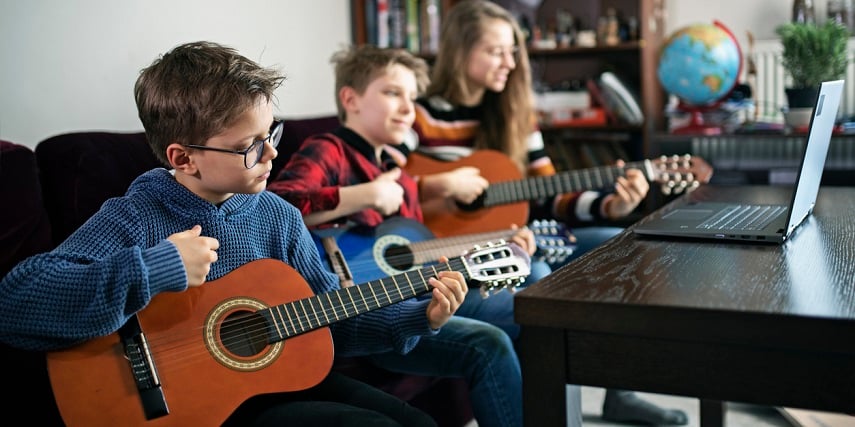 When musicians start shopping for custom-sized guitars, they are getting serious about their craft. Rather than sticking with static images and wordy descriptions, use a different product configurator to offer a unique experience while aiding them in their search. Outfit your eCommerce website with a guitar configurator that can offer a customized shopping experience to help buyers search online.
How can a guitar configurator help you with custom-sized guitar sales? Let's take a look:
1. Reveal a Guitar's Dimensions From Every Perspective
Rather than a stagnant two-dimensional view of your custom-sized guitars, let the shopper view them from all angles. Whether they're shopping for a classic, baritone, Hawaiian, or electric guitar, a guitar player will appreciate seeing all aspects of the guitars you have to offer.
A key goal of the guitar-shopping experience is ensuring the beauty of the instrument, along with its functionality. Let the musician explore both elements through a guitar configurator.
Using 3D images and 360-degree views, musicians can explore every nuance of your guitars. Those 3D images offer easy online interaction.
In fact, about 82 percent of page viewers will visit a 3D view when offered. Also, according to VentureBeat, ninety-five percent of customers offering feedback prefer interactive 3D to video playback.
To attract shoppers, guitar builder shops need a strong online presence. A few custom guitar shops have turned to 3D configurator imaging. To be competitive in today's market, it is a must.
Allowing musicians to try out their potential custom-sized guitar online (as well as enabling the experience of a custom-fit for a right-hander or a lefty) is the next best thing to putting the guitar directly in their hands.
2. Enhance Online Engagement
Through the use of 3D imagery, you offer the best possible engagement from the get-go. It grabs the guitarist's attention. It inspires the musician to interact with your custom-sized guitars and want to learn more. You are immediately enhancing sensory perception and influencing your customer's decision-making.
Show off your guitar building options, such as length, hardware color options for electrics, and top wood tones for acoustics. Even allow a choice for the color of the pickguard.
Guitarists enjoy their individuality and having a one-of-a-kind guitar. Custom configurators highlight why you should be the one to create that for them.
Estimates show that 22% of all purchases will be made online by 2023. That includes the sale of musical instruments.
3D is leading the way in technology that aids in shopper decision-making. And, let's face it, interacting in 3D is fun!
3. Augmented Reality Is a Must-Have for Custom-Sized Guitars
Augmented reality (AR) is the next best thing to being somewhere in person.
But only one percent of retailers say they are using augmented reality. This gives you the chance to stand out from the crowd. Providing AR allows musicians to try on and try out your custom-sized guitars.
Offer a Dream Guitar Test Run
As a custom-sized guitar merchandiser, you know that the typical guitar measures between 38 and 40 inches long. The scale length is about 25½ inches. But these specs don't work for everyone.
The scale length is crucial for professionals, avid amateurs, and right-handed and left-handed guitar players alike. So is the fretboard radius and the body shape.
There are about ten generalized sizes available in acoustic guitars, from the ukulele and guitalele to the halfie for kids. Electrics such as Fender, Gibson, and Balaguer guitars are a bit more compact, although they weigh a lot more.
As a custom-size guitar shop, your business can offer more than pre-made options. Customization of a guitar designed specifically for an individual's ease and comfort is more than just appealing. It is necessary for many.
AR allows the guitarist the opportunity to see a custom-sized guitar in their hands. Such a customized experience can then lead to a sale.
4. Establish Your Product Quality
Minimize the risk of customers abandoning your site for another by offering the ultimate views through 3D images and AR. Then they can see the quality of your artisanship, which is important for the feel and sound of a custom-sized guitar.
Through a guitar configurator, your customer can get the best "hands-on" experience, no matter their location. It instills buyer confidence not available from more traditional two-dimensional images.
Click here to learn more about implementing a 3D product configurator.
5. Build Your Reputation and Improve Your Branding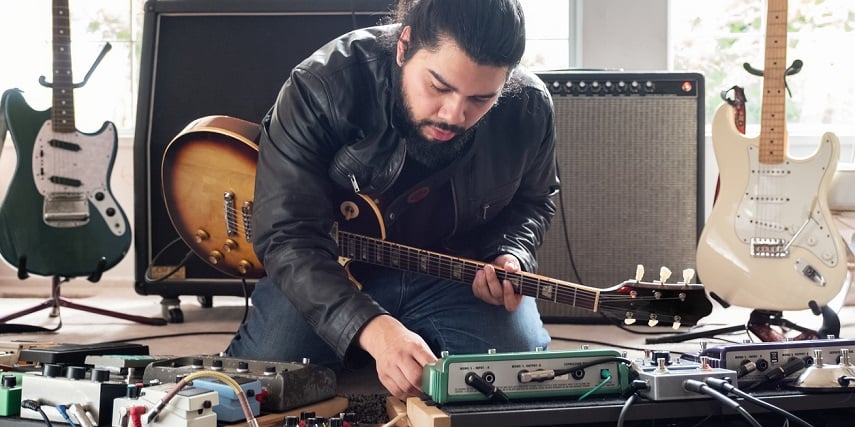 Customers are trusting their hard-earned dollars more and more to online shopping. They are shopping online for higher-priced items, including top-notch custom musical instruments.
Encouraging growth by investing in your imagery is a smart move.
Adding 3D images and AR provides the ultimate view of your guitars to the potential buyer. It shows what makes your guitars stand out from the rest while enhancing your reputation.
Interactive 3D generates a 40% higher conversion rate than traditional marketing images, according to PureWeb. When a musical consumer appreciates your site, rest assured they will pass the information along to a friend or fellow musician.
3D imagery provides the optimum feel possible for online sales. It also shows that your business is on top of technology while maintaining a time-honored tradition in old-fashioned craftsmanship.
Offer a Memorable Shopping Experience With a 3D Guitar Configurator
Few can afford the opportunity to travel the world in search of the perfect custom-sized guitar match. But they can sit in the comfort of their own home while enjoying the use of a 3D guitar configurator. To sell in today's world, providing the best online shopping experience is imperative. Threekit will help you do just that.
Threekit's configurators and augmented reality tools can help you give your business that extra boost, attracting customers directly to you. So contact us today to learn more. Let us help meet your customers' needs in today's musical instrument sales world.