4 Ways a Product Customizer Makes Websites Wedding Registry-Friendly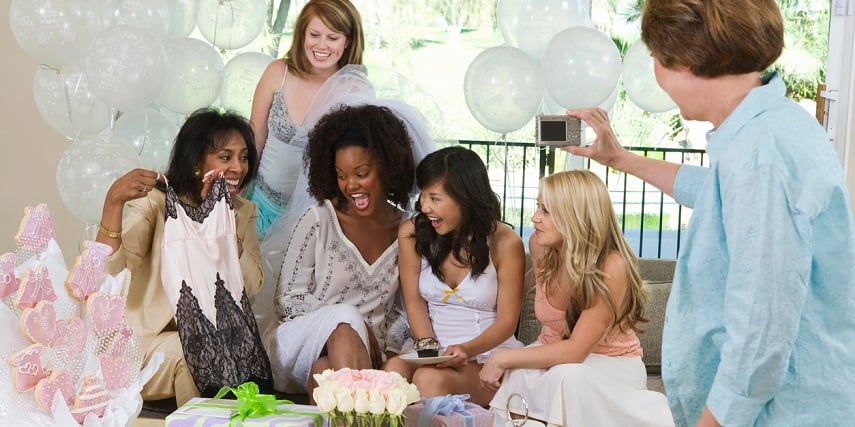 When it comes to purchasing gifts, one-size-fits-all is a thing of the past. Customization is king, with more than 50% of consumers wishing to personalize products for themselves, family members, and friends. For eCommerce shops hoping to top wedding registry lists, this is good news — as long as you have a product customizer.
Customizable products make sense for newlyweds beginning a life together. Still, customizing gifts for someone else can be a challenge. Traditionally, much of the customization process occurs during the purchase process. Translating this to a wedding registry can be difficult.
Luckily, there's a simple solution. A product customizer automates the building of photorealistic 3D visuals for custom variations of your own products. This means the happy couple can customize their wishlist, and buyers can easily make the right purchase.
What Kind of Websites Use Wedding Registries?
Many eCommerce shops overlook wedding registries as a potential source of customer activity. Today's newlyweds are changing the face of wedding gifts and registry lists. Instead of the often duplicated traditional gifts that might end up on a return list, couples are opting for gifts they'll actually enjoy. The average age of first marriages is increasing, and many couples already own traditional household items.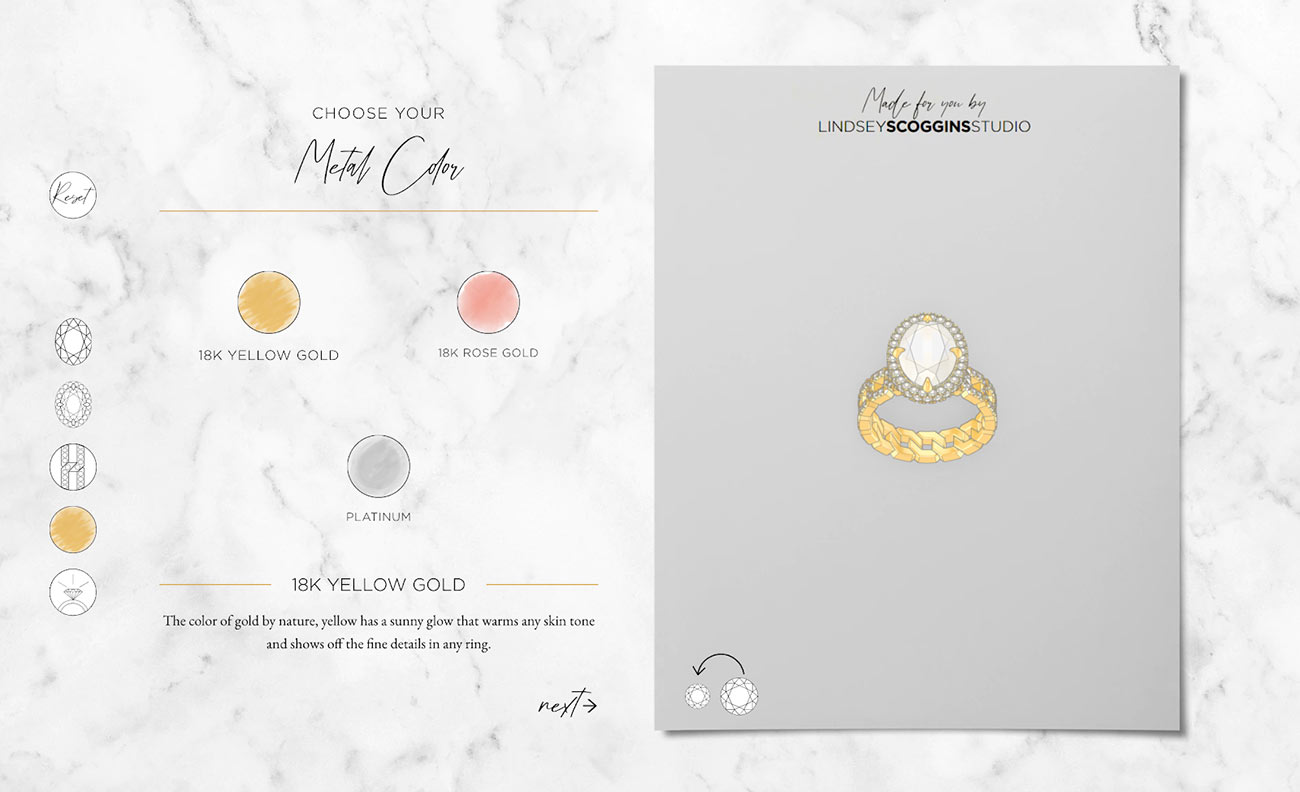 So, what do couples want? Experiences, honeymoon supplies, and things they can enjoy together top the lists of most couples. This means all types of online stores carry products suitable for wedding registries. As customizable items become more popular, your Shopify product could become a wedding list standby.
Since 2018, Amazon has had the highest share of the wedding registry market. You may be thinking that there's no way you can overturn Amazon (and you're probably right). However, it proves an important fact.
Wedding registries are moving online.
When you add the desire for customizable products into the mix, your Magento or Shopify store could become a wedding registry staple. Utilizing a product customizer can take your wedding registry compatibility to the next level.
Click here to learn more about Threekit's product customizer.
4 Ways a Product Customizer Makes Your Website More Wedding Registry-Friendly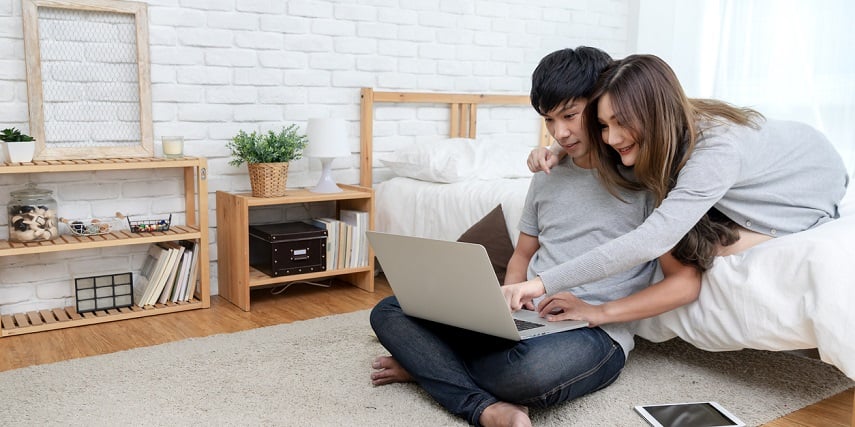 A trend toward online purchases, along with the impact of the pandemic on brick-and-mortar shopping, put online stores in the spotlight for wedding registry opportunities. However, you still need a way to stand out from the competition.
Many eCommerce shops and even big box stores offer product customization. Creating an attractive and simplified ordering process with a product customizer allows you to stand out from the crowd.
Consider these ways a product customizer can make your website more wedding registry-friendly:
1. Couples Can Register for the Exact Items They Want

Custom products are a way for couples to signify the beginning of their life as a couple. But for most eCommerce shops, the customizing process requires several steps to create a product that is uniquely yours. This can make personalized shopping feel like a minefield for gift-givers. Even worse, couples who register can be expecting a very specific gift and receive something quite different.
When couples have the opportunity to select customization options and see a product preview before adding it to their list, they know exactly what they're getting. This simple step makes the buying process easier for gift-givers, as well. Instead of attempting to guess the right options, they can simply make a purchase.
2. Gift-Givers Get a Simplified Shopping Experience
E-commerce shops are built for convenience, but a confusing layout can turn buyers away. Typical choices for customized products offer templates and dropdown menus with a variety of choices for materials, colors, and text fields.
This can be a fun process when shopping for yourself or creating a personalized gift for someone you know very well. However, gift-givers at weddings might not have this close relationship with the bride and groom, forcing them to turn away from customized products and seek a generic gift.
When customized gifts are ready for purchase and include a product preview, all the guesswork is eliminated for the buyer. The functionality of the product customizer makes getting the perfect gift as simple as clicking on the desired item and waiting for it to arrive.
Wedding registries are designed to make wedding gifting convenient and worry-free. Adding a product customizer streamlines the process even further, allowing all guests to provide gifts that will be cherished.
3. Gain Referrals
Weddings are often huge events with many guests. When a couple uses your online store for their wedding registry, you have the opportunity to impress a variety of new customers with your product design and visually appealing images. The ability to utilize 3D configuration and augmented reality on your product page creates an enjoyable shopping experience for gift-givers who might be planning a wedding or know someone who is.
With the use of accurate, high-quality visuals to accurately represent your customizable products and a streamlined shopping process that simplifies the process for buyers, you can create natural brand ambassadors.
Returning to your online eCommerce store for repeat gift registries or personal purchases will become automatic. When your new customers share these purchases, additional new customers could be attracted to your website.
4. Illustrate Transparent Pricing for Customized Products
As a store owner, attempting to display a variety of product options from a dropdown menu or a series of checkboxes for a single item can be a challenge. The most common way to display custom choices is to begin with a base price. Sometimes, customers choose a variety of add-ons and are surprised by the final price. Pricing disputes caused by confusion can lead to you losing money, receiving bad reviews, or worse, losing customers entirely.
Threekit's product customizer app includes built-in pricing that updates automatically with each customization. This means your simple file upload allows your customers to see the real-time pricing changes and know the cost before they reach the checkout. This transparent pricing model also helps newlyweds plan accordingly when creating a wedding registry.
Provide Customers With the Online Customization Experience They Expect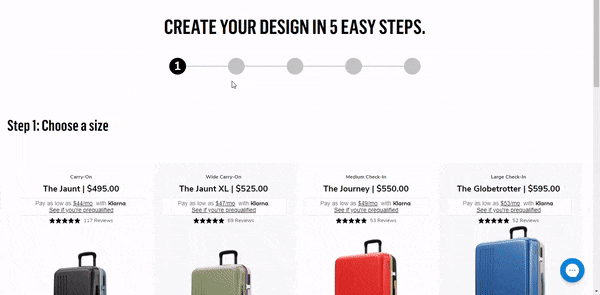 Consumers today expect online shopping experiences to rival the experience they find in the store. This means you need to produce a visually appealing, accurate representation of the products your customers will receive. While this seems like a strategy limited to the resources of big businesses with personal product designers, start-ups and SMBs can access this technology with our product customizer.
Product configurator software from Threekit provides plugins compatible with many of the most commonly used eCommerce platforms, so you and your customers get seamless functionality on the Shopify app, through Salesforce, and more. Our customer support team is standing by to assist with difficulties. Also, free installation of frequent updates is included.
The Threekit platform allows you to upload product information, images like clipart, JPEGs, and PNGs, and design files to inexpensively configure interactive visuals of customizable products. To learn more about how the Threekit platform works, get in touch with our software experts today.