3 Types of Visuals That Shopify Customers Demand (And How to Deliver)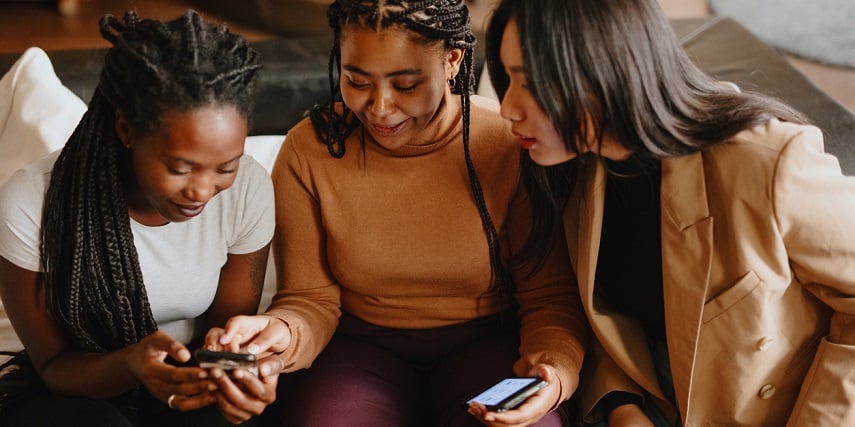 The eCommerce landscape is shifting toward personalized customer experiences and custom products. As design tools like Shopify product customizers increase in popularity, it looks less like Shopify stores with customizers are ahead and more like everyone else is falling behind.
Consumers want to customize their own products. They expect a seamless process with quality customer support options—from contacting support teams via phone, live chat, and social media to intuitive self-service options. They're willing to pay more for customization and quality visuals. So as their expectations grow, it's worth it to meet them.
3 Types of Visuals Shopify Customers Are Demanding
The eCommerce experience needs to improve to keep custom orders rolling in. According to customers, the right visuals are key. If consumers are going to shop online for customizable products, then the visuals must be trustworthy and instill confidence that what they're seeing is accurate.
So they're demanding some pretty specific, high-quality visuals. As pioneers in the visual field, we know what they're looking for. Let's discuss the visuals eCommerce customers really want to see:
1. Various High-Quality Images of Each Product Option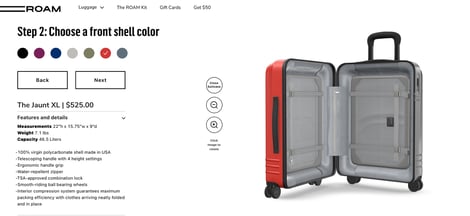 Believe it or not, many eCommerce retailers only have a few 'eh'-quality images, and they're often not the kind consumers want. In 2016, the average consumer only expected three photos on each product page.
Only three years later, in 2019, they expected an average of six photos and three videos! So, why the spike? Well, customers are shopping at online stores for important items and customizing their own products more often. So, it's more important than ever that they know what they're getting.
Many customers shop in-store then buy online so they can see and touch items beforehand. That's fine for retailers with physical and online stores, but what about Shopify store owners?
Since you don't have that advantage, you have to provide enough high-quality images to make them feel the same way. After all, 30% of eCommerce sales are returned—versus less than 9% in stores—with 22% saying the product looked different online.
Types of Product Photos eCommerce Customers Want:
High-quality images that can withstand zooming

Photos of every product option—including all customization options

Photos from multiple angles

Shots of details and features

Photos of the product in use as a demonstration

Images with clear product scale

Photos on white backgrounds for contrast

Lifestyle images in natural settings (i.e., hiking boots worn on a hiking trail)

Flat-lay images
2. 3D Product Design Models
Buyers want to view products in 3D and see every angle to know they're making the right choice—especially when it comes to product customization and configuration. They want 3D models with real-time updates as they customize and toggle between product options.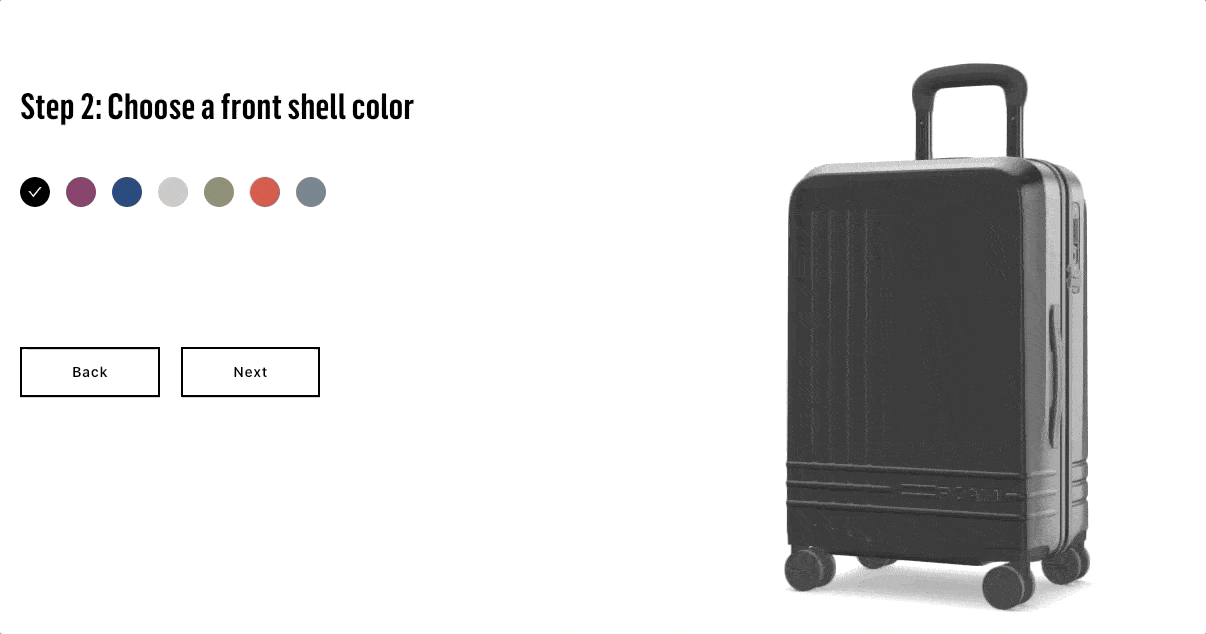 They also want the ability to spin the models 360 degrees to feel like they're walking around their custom products, making 3D models preferable to videos.
Effects of 3D Visuals and Product Configurators:
3. Visual Augmented Reality Experiences
Augmented reality (AR) is a show-stopper. This game-changing technology lets customers preview products before buying them. As you can imagine, it's great for Shopify store owners and customers. AR leads to less purchase anxiety and fewer returns.
Most Jaw-Dropping AR Stats:
66% of customers feel more confident in purchases.

71% of customers named AR as the technology they're most likely to use in the future.

61%

prefer online stores with AR.

40% believe AR is

worth higher pricing

.
How to Deliver the Visuals Your Shopify Customers Really Want
Any marketer will tell you that you need professional product photos. However, many Shopify store owners can't afford them. A professional product photographer charges $100-$400 per photo! Considering all the variations consumers want, that would be prohibitively expensive.
Plus, most Shopify store owners don't know how to code or create 3D product models. Luckily, there's a way to get better quality visuals and added functionality, avoid complex coding, and pay 1% or less of the cost of a traditional product photographer. Get a Shopify product customizer!
What Is a Shopify Product Customizer?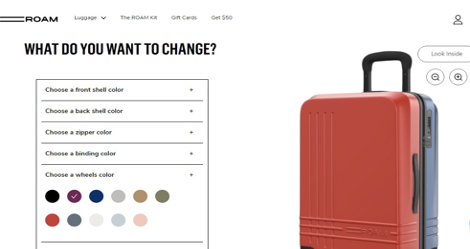 A Shopify product customizer lets shoppers view customization options, showing what the customized product would look like by changing the visuals as they customize each element of the product design.
Plus, Threekit's Shopify product customizer easily integrates with your Shopify store with the free installation of our product customizer app from the Shopify app store. Here are some of the things that make it such a great app and an amazing platform.
One Platform, Three Amazing Visual Software Products:
Our Virtual Photographer™ can render tens of thousands of beautiful, high-fidelity, photorealistic product images, so your shoppers can customize their own products. As they're customizing, the software renders the changes in real-time to bring their custom order to life right before their eyes.
Give your customers the power to shape reality by configuring and customizing their own product designs with this powerful product builder. The Product Configurator can display billions of real-time configurations and customization options.
With the ability to change the shape, color, material, and accessories of the product design, your users could potentially create unlimited products. Send us a 3D CAD file via simple file upload, or we can create one from your representative photos.
Then, we'll import your models, materials, and assets and use your product catalog rules to create the conditional logic.
Augmented reality shows customers what products would look like in use. It's as if AR creates the possible reality where they own the product into the present.
They can see if items fit well in the space or try on clothing and makeup. So give your customers the confidence to make a purchase by showing them a risk-free version of reality where they have already made it.
Customize Any Product:
Customize t-shirts with clip art and other images (JPG, PNG, or SVG).

Configure and customize furniture by arranging pieces and viewing different fabric swatches, colors, and styles.

Customize business cards with logos and use the text field to allow custom text inputs.

And so much more!
User-Friendly Options:
Code-free admin panel for backend control

The hide options feature prevents accidental overselling.

Bulk actions allow customization at scale.

Product customization made easy with simple checkboxes and dropdown menus

Many other benefits and additional functionality
Click here to learn more about Threekit's Shopify product customizer!
Use the Visuals of the Future to Take the Lead Today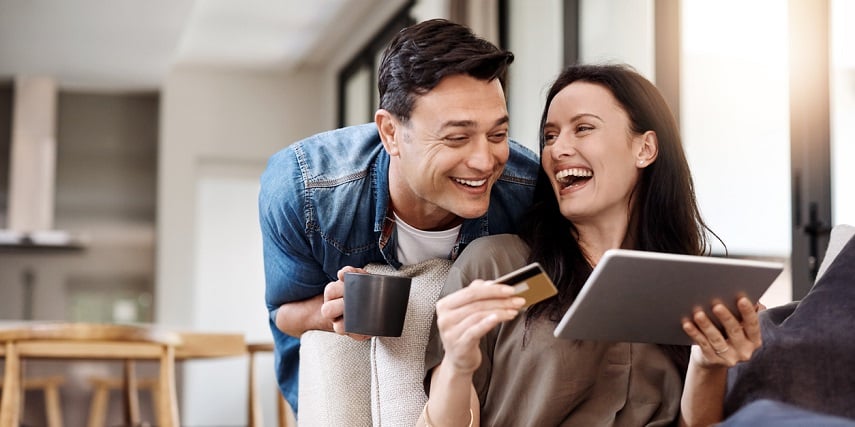 As wishes and requests become expectations and demands, more Shopify stores deliver custom product designers and stellar visuals. They're becoming the standard template for good eCommerce. Customers know what they want. They also have millions of other online stores to choose from if you can't deliver.
You can't afford to not meet visual demands, especially when 75% of consumers rely on them the most to make purchase decisions. In the race to the future of eCommerce, the last one there bets the farm, and that's not a bet you can win. To find out how we can help you achieve your eCommerce goals with our Shopify product customizer, get in touch today!