11 Lessons From Brands Doing Product Customization
Until recently, most online retailers didn't have the technology to make product customization feasible. Now that it's possible to create real-time images and interactive 3D depicting shoppers' customized products, many brands are taking advantage.
We scoured the web and discovered that lots of brands are doing it...and doing it well. Here are eleven examples of brands using product customization that any eCommerce retailer can learn from.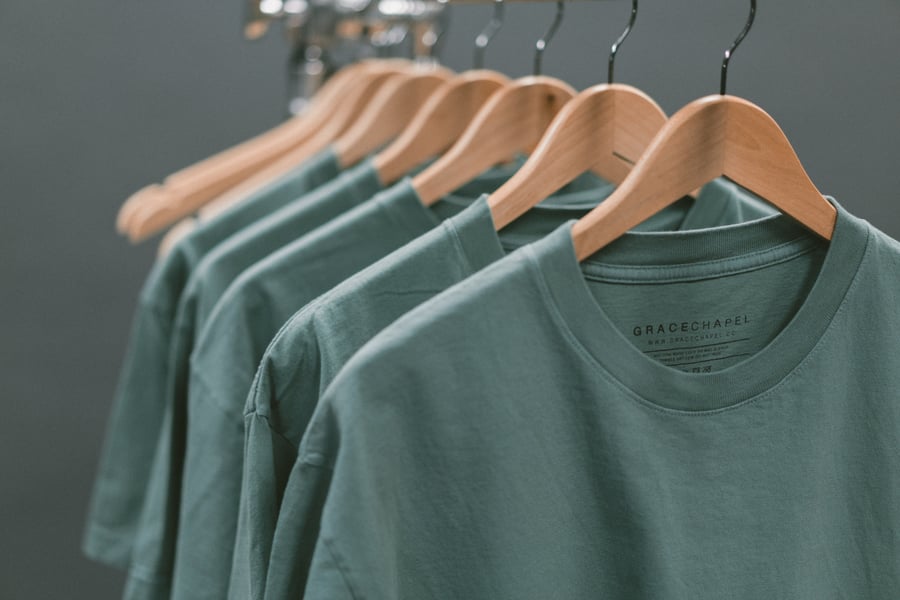 1: Start with a Template
Sometimes, more is too much. Offer too many options, and product customization can become overwhelming. One way to keep your shoppers engaged (and prevent choice fatigue) is to give them a baseline that's more than an empty screen. Even if you ultimately give shoppers the option to change every feature, guiding them toward a useful starting point is helpful.
Nearly every brand we considered was doing this, which is one reason we think they're such great examples.
2: Make it Easy to Share
Nike by You lets shoppers customize sneakers. The product customizers start with a template, then walks shoppers through various elements they can personalize. At the end, there's a "share" button that gives shoppers the option to share on Facebook, Twitter, or Pinterest and copy a link to the custom creation.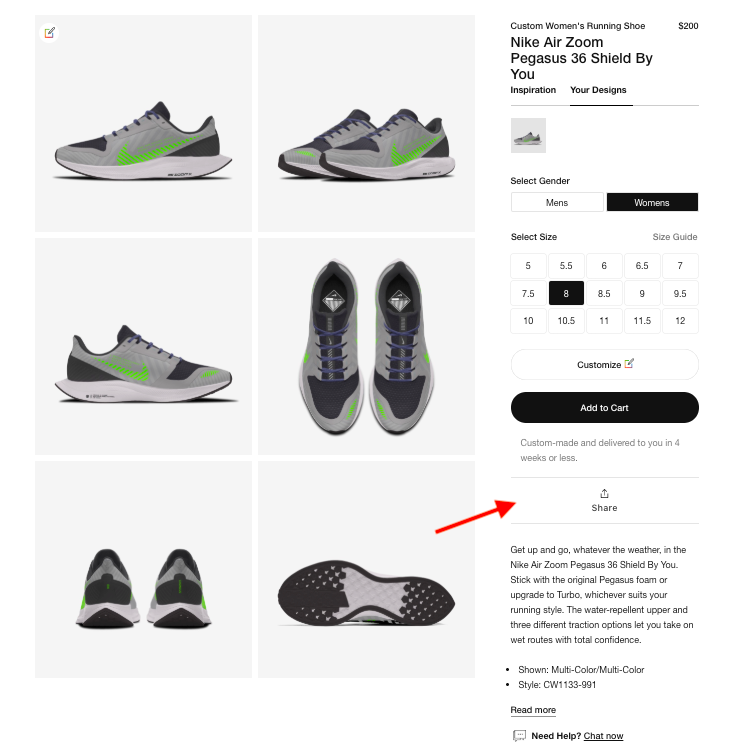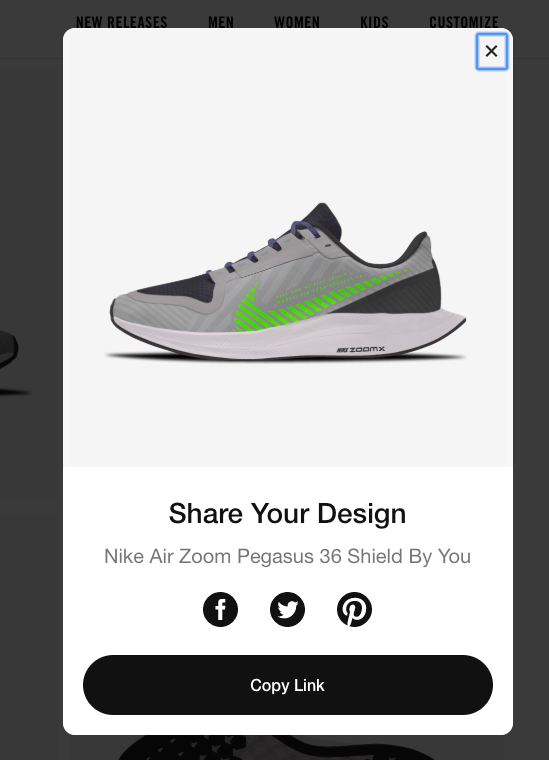 This is a great feature to offer with online product customization. Making it easy for your customers to share their creation is an easy way to drum up excitement about your product among people likely to want it. In other words: offering a share button amounts to free advertising.
Learn 12 Benefits of Product Customization Software
3: Set Customer Expectations About Shipping Time
One reason real-time images of customizable products work so well is because they convey far more information than it's possible to do otherwise. The more information shoppers have about a product, the more comfortable they feel making a buying decision.
To that end, be sure to supplement the visual information with essential details that a product image can't convey. Crate and Barrel does a great job of this by noting which of its sofa fabrics will add to a product's shipping time and which are available for standard delivery.
Do the same if some of your customizations affect when a customer gets a product.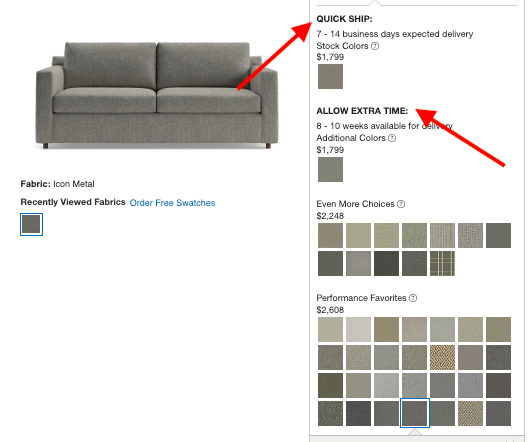 4: Frame Features as Benefits
When you're customizing a product in store, it may be easy to tell which materials are spill-proof and which are higher-maintenance. The same isn't always possible with square snippets of color on a webpage. Help your customers understand these features by framing them as benefits relevant to their lives.
Crate and Barrel, for example, lets shoppers filter fabrics by the following categories:
Family friendly
Velvet
Woven in the USA
Stain resistant
UV resistant
Easy care
Highly durable
Textured
Linen look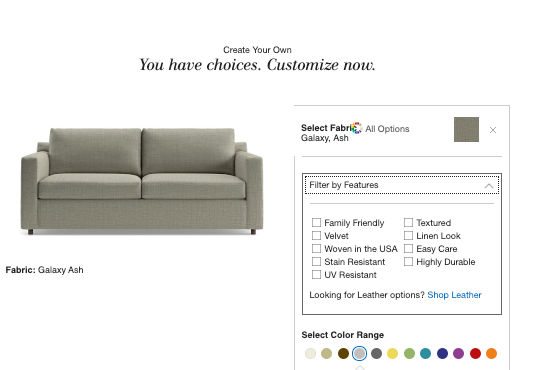 (Read more about how to use 3D product configurators for furniture.)
5: Let Shoppers Set a Price Range
In an earlier era, nobody expected customers to buy high-end items like fine jewelry online. But as our ability to convey visual information has improved, that's changing. One case in point is James Allen, which lets customers build and buy customized engagement rings online.
In addition to offering excellent zoom and rotation capabilities, the site lets shoppers set a price range. This is an excellent way to ensure that customers are able to find products they love within a price range they can afford.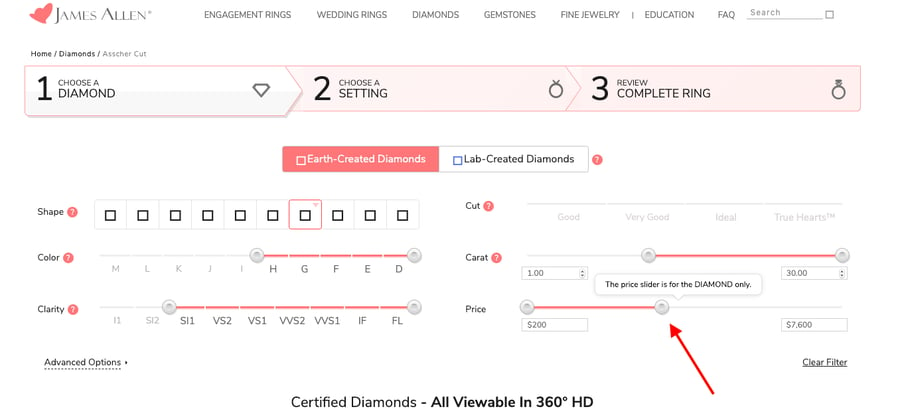 6: Offer In-Context Education
Another effective feature to include for product customizers – especially with high-end goods – is to include in-context education. This lets your website offer the same kind of consultative experience a sales rep would provide in a store, which is particularly helpful for items like an engagement ring that most people only plan to buy once.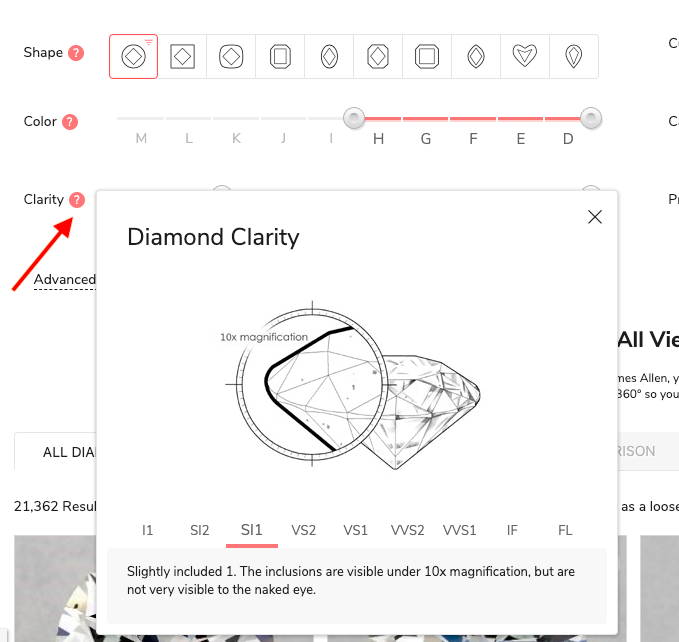 With handy pop-ups, you can anticipate and answer customer questions as they customize their products, making them less likely to leave your site to track down information (and maybe not find their way back).
7: Let Customers Save Their Creations
Bain found that brands that offer product customization see repeat customers at higher rates. One way to inspire your customers to return again and again is to let them save the products and styles they customize.
Women's fashion site eShakti does that, offering not only custom sizing (you can enter your measurements!) but also the option to save a design for future purchases. The result: customized products that are as easy to buy as off-the-rack.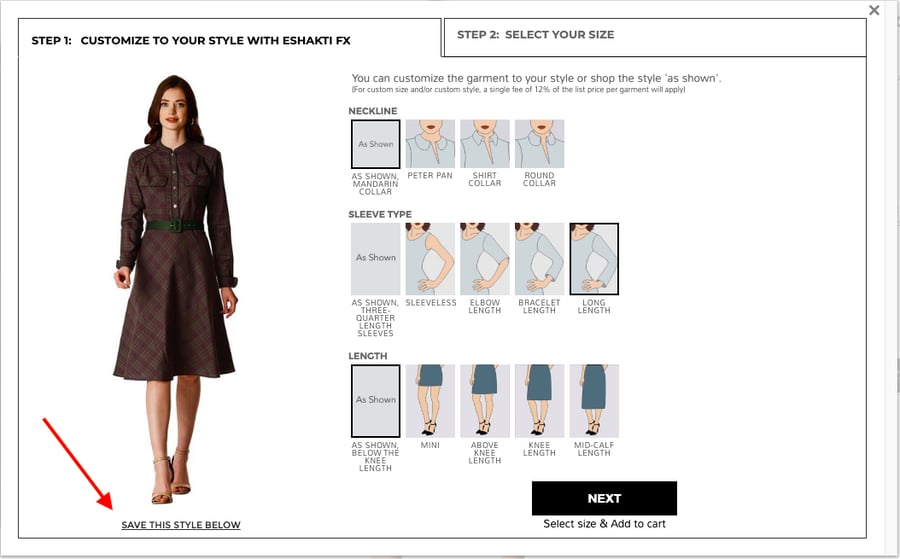 8: Let Customers Sell Themselves
At first glance, trucks may not seem like the ideal product to sell online with customizable features. But Toyota is making this model work. By letting shoppers consider various features in the comfort of their home, away from what might feel like a high-pressure sales situation, the brand empowers customers to get to know what's available and how much it costs.
Research shows that this is exactly what most buyers want: 80 percent of respondents to a HubSpot survey said they wanted to talk to a sales rep either in the consideration stage (after researching products and coming up with a shortlist) or the decision stage (when they were ready to buy).
Mimic this strategy by providing plenty of visual and textual information in your product configurator, along with pricing, especially for bigger-ticket items.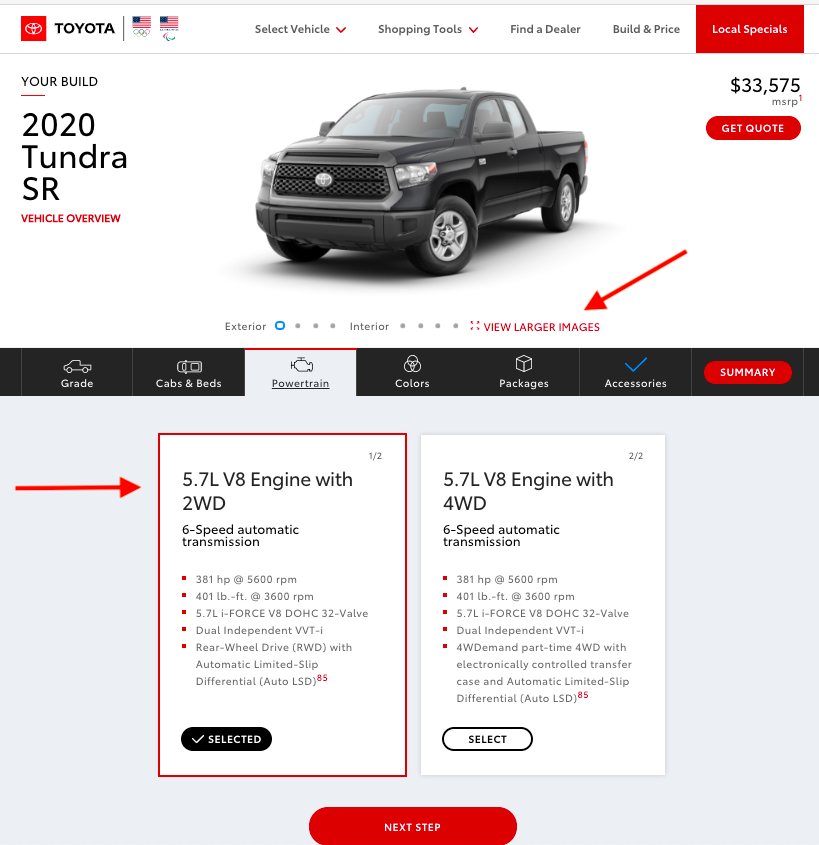 9: Highlight What's Popular
While self-serve product customization is great for giving shoppers exactly what they want, it can prevent shoppers from discovering new features – i.e., the things they didn't know they wanted. This can be a problem for retailers hoping to introduce new products or upsell shoppers on newer add-ons.
The solution is one demonstrated by Bostontec, maker of desks and worktables: in addition to their WooCommerce product customizer, they offer a "Popular Accessories" section to highlight what other customers have chosen. Like Nike's social share button, this helps build excitement around product customization options.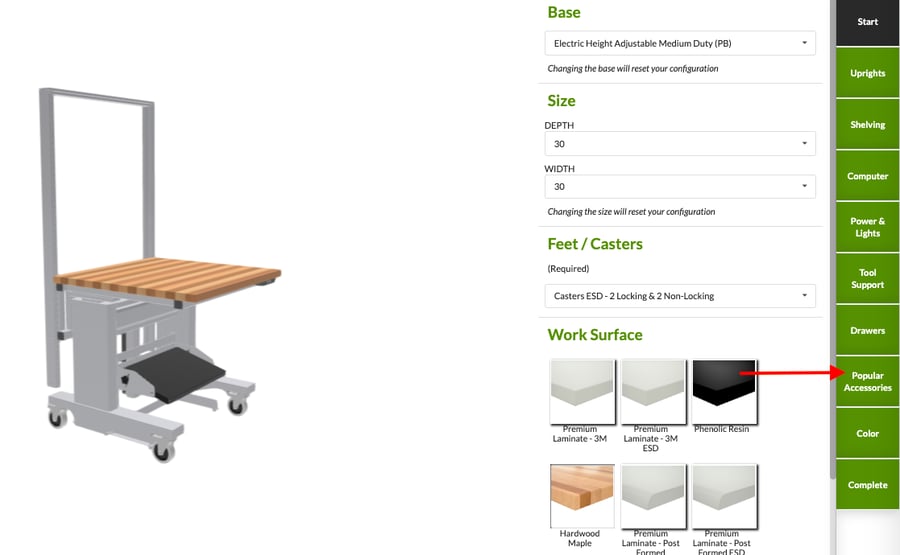 10: Offer an "Explosion" View
Interactive 3D is a great way to see a product from every angle. But if your product has internal features that set it apart in terms of quality or safety, a 3D image of the completed product may not be sufficient to illustrate its value.
This is where the "explosion" view, used by helmet maker Xenith, can be useful. Through their Shopify custom product builder, they offer a 360-degree view of the helmets' components pulled apart. Xenith clearly illustrates the details that go into its helmets. Note that this explosion can also be rotated 360 degrees.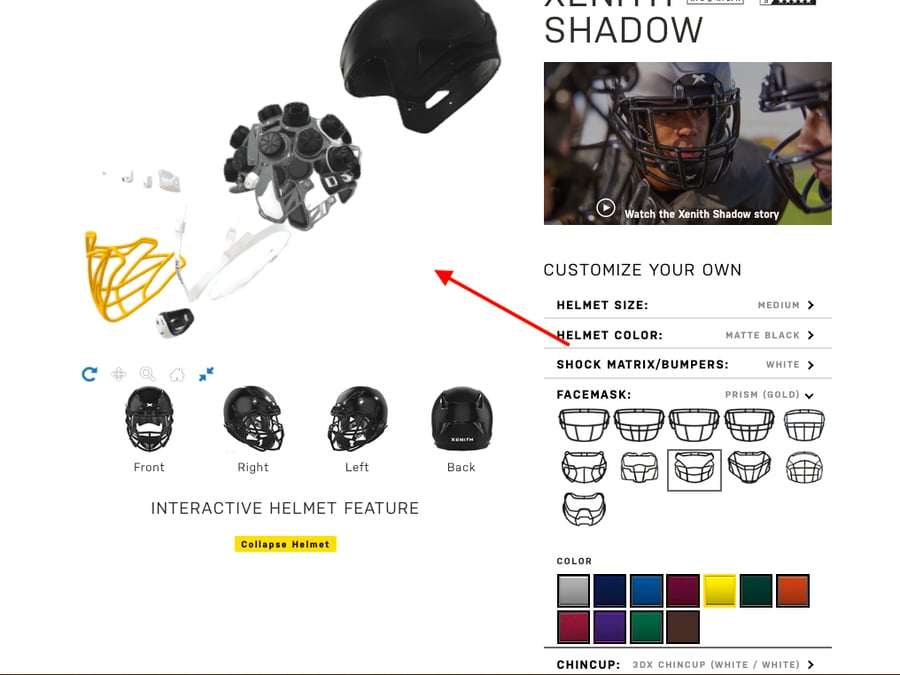 11: Show Reviews
Another product customization move to steal from Xenith: make customer reviews visible on the customization page. For greatest credibility, pull reviews from a third-party review site to illustrate that your customers are happy with the products they're building on your site.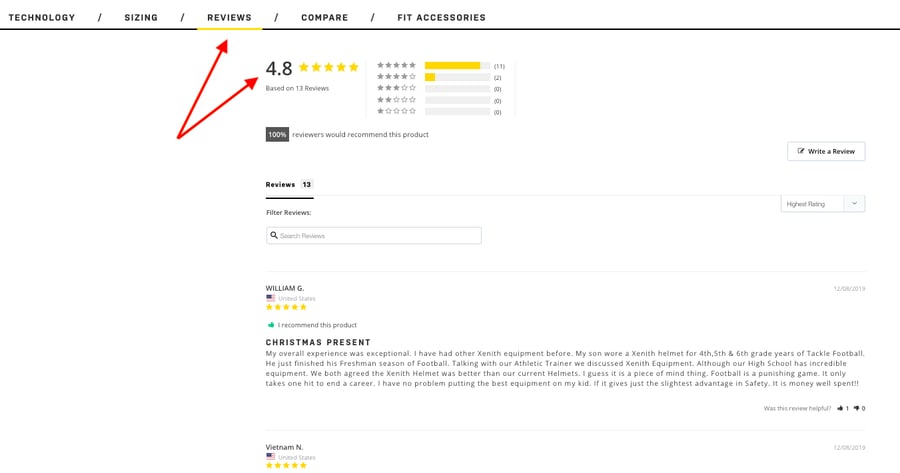 Make Product Customization Work for You
As long ago as 2013, researchers from Bain knew that offering a product customization option to customers increased loyalty, drove up repeat purchases by 22 percent, and increased the amount shoppers were willing to pay for a product by 28 percent.
And better yet, the basic tools of online product customization – a real-time 3D configurator supported with photorealistic 2D images – are now widely available to online retailers. To ensure the best possible results for your configurable products, be sure to make the process as easy, intuitive, and rewarding as possible for your customers.
Interested in hearing more about how real-time product customization might look on your site? Set up a demo and we'll show you!