Build a Shopify Plus Product Configurator with Threekit
What can make or break your eCommerce business? According to the data, user experience is the first place to look. About 71% of consumers will experience some level of frustration if their shopping experience is impersonal. In 2020, two-thirds of companies are competing on customer experience, and stores that provide better experiences can generate 4-8% higher revenue than the rest.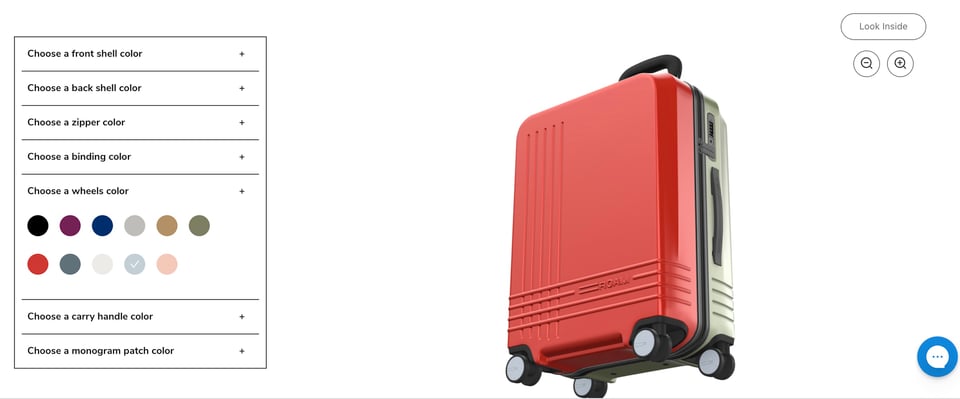 ROAM's luggage customizer gives the customer control (roam.com)
As a Shopify Plus merchant, improving user experience online should be a priority. So, how do you start? Well, a Shopify Plus 3D configurator can streamline and improve your customer's experience. Each eCommerce store has its own unique challenges, right? You can use Threekit to build a product configurator based on the needs of your store. Custom-built 3D configurators can help you overcome the challenges of doing business online, empower your customers, and differentiate from the competition.
The Benefits of Shopify Plus Product Configurator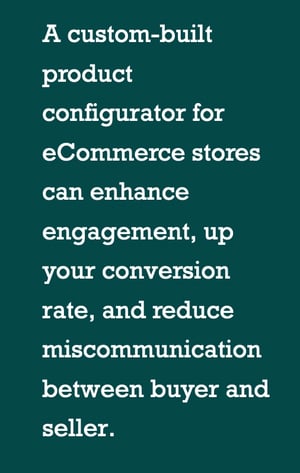 Building a Shopify product customizer for your store will give your customers more control over their purchase decisions. It delivers a smooth and intuitive user experience. A custom-built product configurator for eCommerce stores can enhance engagement, up your conversion rate, and reduce miscommunication between buyer and seller.
1. Improved customer engagement
3D configurations can hold the attention of window shoppers long enough for them to more seriously consider your product. The longer they engage with your site, the more time you have to convert them into first-time buyers. Product customizers powered by live 3D models can add visual interest to your website. A recent study found that people are likely to remember only 10% of textual information and 65% of content with great visuals after three days. A custom-built product configurator can deliver great visual content and improve engagement online on so many levels.
2. Higher confidence and increased conversion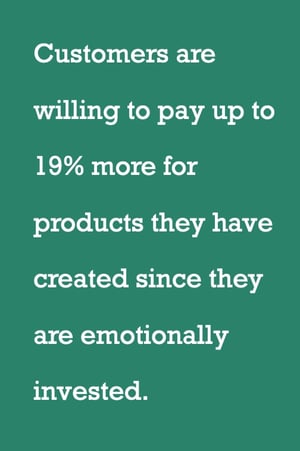 Online shoppers feel more confident when they are in control and have enough information to make informed decisions. A Shopify product customizer will enable your customers to create their own products. Customers are willing to pay up to 19% more for products they have created since they are emotionally invested. Configurators also enable understanding of how the product will address their needs. Higher confidence in the product translates to higher sales and lower returns.
3. Reduces miscommunication and customization mistakes
A custom-built 3D configurator not only provides valuable information for quick decision-making but also allows the customer to inform you what exactly they need. Shopify product customizers with a 360-degree viewer and zoom capabilities allow for an in-depth inspection of the product from all angles. It ensures your customers understand your products better than from pictures, images, or playback videos. Realistic visualizations of the product and the ability to customize the product in real-time eliminates miscommunication and customization mistakes.
Three Examples of 3D Configurators on Shopify Plus
When it comes to Shopify Product Customizer, the configurator has to address the unique challenges in your store. As a Shopify Plus merchant, you need a configurator with unique features and custom options that cater to your inventory. Several brands on Shopify Plus are benefiting immensely from useful and user-friendly product configurators custom-built using Threekit. Here are three examples of brands using Threekit configurators on Shopify Plus:
1. ROAM Luggage
ROAM Luggage is a direct-to-customer brand that manufactures stylishly customizable suitcases. The company adopted Threekit's 3D configurator on the Shopify Plus store to allow customers to design the suitcases based on their personality, fashion needs, and lifestyle. ROAM's configurator is a perfect example customization that is useful, usable, and delivers an immersive experience. Even though ROAM offers the Jaunt, Jaunt XL, Journey, and Globetrotter, its product configurator provides the customer with all the information they need to choose one of the carry-on suitcases that will meet their needs.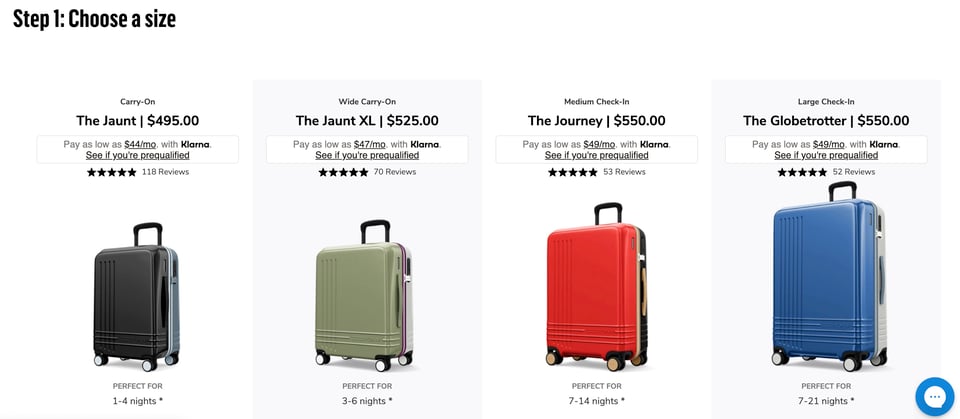 Information offered by ROAM's configurator (roam.com)
ROAM's configurator offers useful information about each of the four suitcases like the weight, size, load capacity, price, specs, features, and reviews to help the customer in their decision-making process. The configurator is designed with user-friendly navigation and tools like zoom in/out and open suitcase to allow the customer to explore the product and customize uniquely.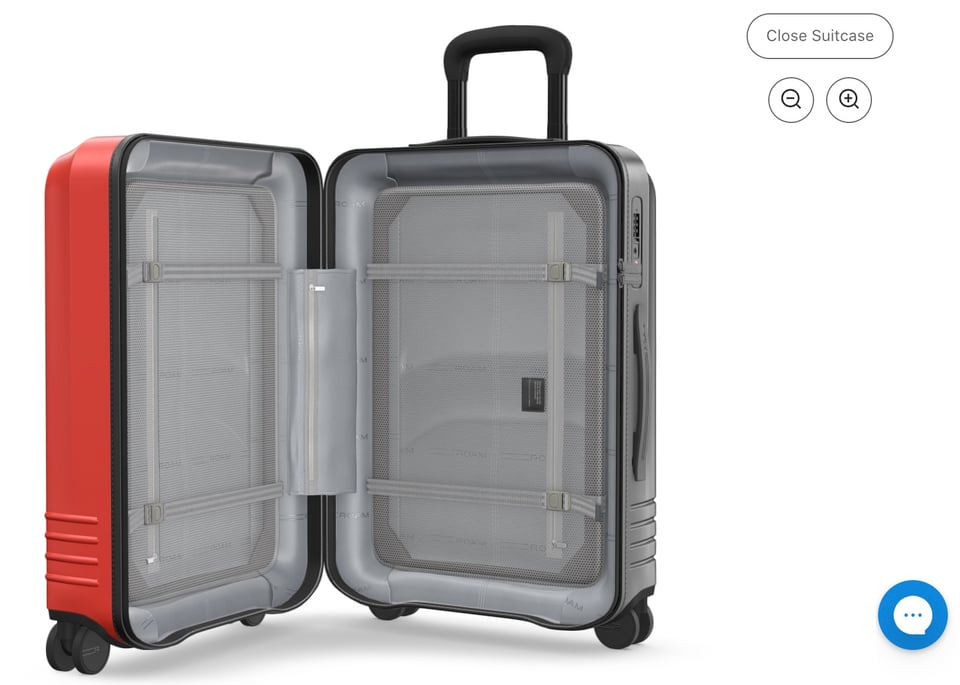 The configurator also allows the customer to design the suitcase of their dreams in five simple steps. You choose the type of suitcase you need in step 1, then proceed to customize the front shell and back shell with your favorite color in steps 2 and 3, respectively. In step 4, potential customers can customize the trim color, wheels, handles, and more by choosing from 11 color accents. The design process ends in step 5, which offers a free monogram to personalize the suitcase, and then review the fully-customized carry-on before placing the order.
ROAM's configurator eliminates complex decisions to ensure the customer is immersed in a thrilling experience from start to finish. It makes the customer feel like a real designer who has just completed designing their own unique carry-on from scratch. They can't wait to place their order.
2. Liberty Safe
Liberty Safe offers a wide range of safes like Lincoln, Presidential, Centurion, Colonial, and more on the Shopify Plus platform. The company is using Threekit's configurator on its site to help potential buyers to customize safes based on their unique needs. It provides a brief description of the safe, price, and customers' reviews. Liberty's configurator is designed with a simple layout and user-friendly navigation that allows the customer to create a safe they need quickly. You first choose the type of safe you need like Lincoln and then choose the size from either Lincoln 25, 40, or 50.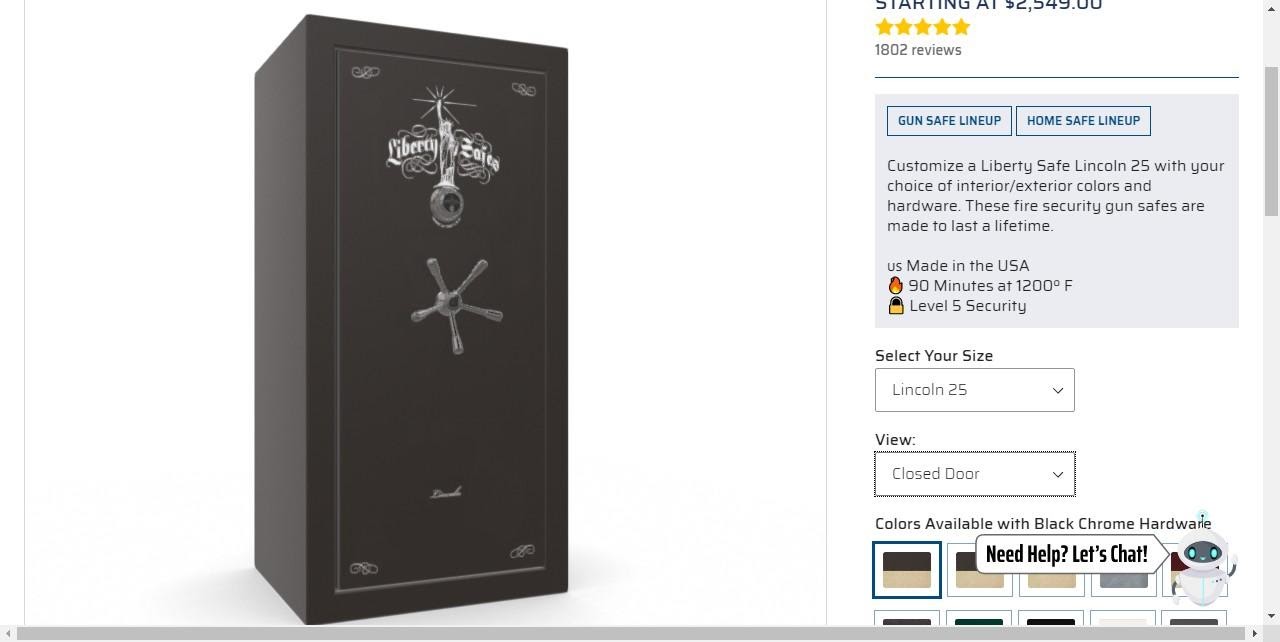 The first step in Liberty's safe customization (libertysafe.com)
The configurator has several features that allow potential customers to scrutinize the safe from all angles using a 360-degree viewer. They also enlarge or zoom in on complex features like the lock system to get a better understanding.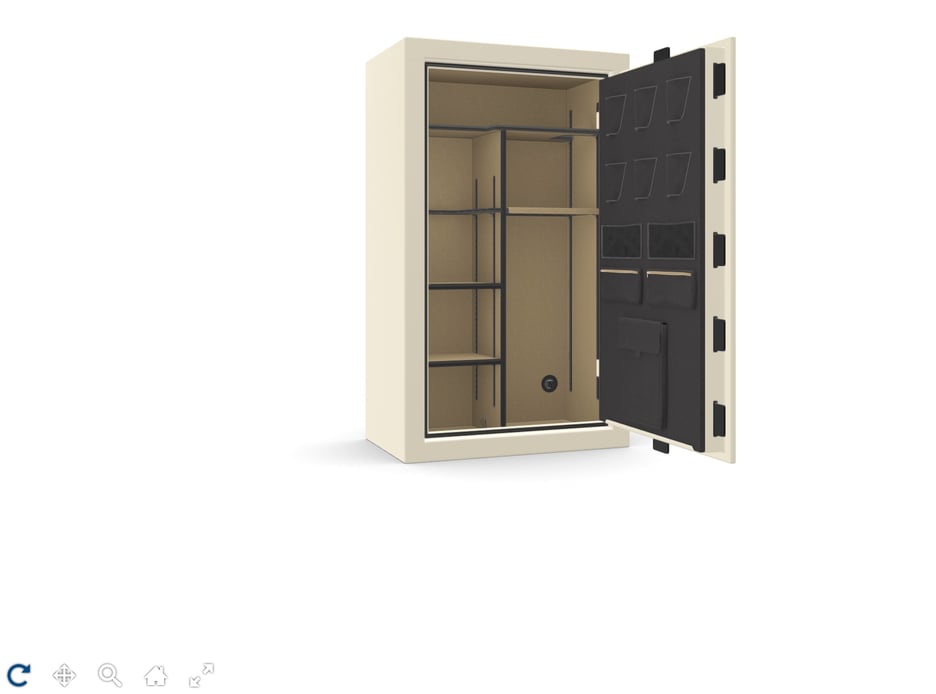 Features of Liberty's configurator (libertysafe.com)
You can click on a check box on the right to open the safe and inspect the compartments and shelves.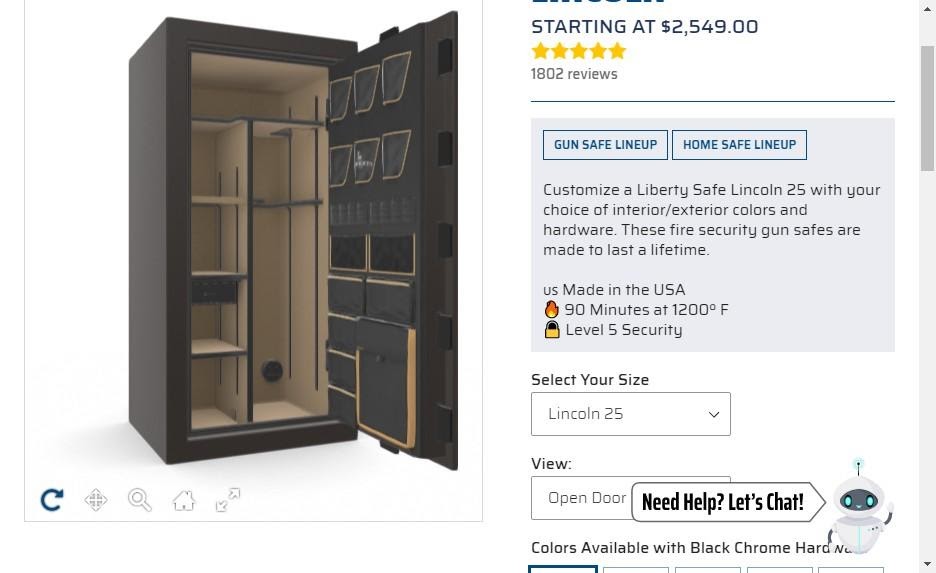 Liberty's configurator allows for open inspection (libertysafe.com)
Liberty's configurator offers several options to customize the color of the interior and exterior as well as the hardware. You can choose your favorite colors available for black chrome hardware, brass hardware, and chrome hardware. Lastly, you complete customization of the safe by choosing the perfect chrome lock to meet your security needs. The simplicity of the process enhances user experience, understanding of complex features and can entice the customer to purchase.
3. Xenith Helmets
Xenith is a manufacturer of industry-leading football helmets and adopted a product configurator on its website. It is designed to allow for real-time viewing in 3D to help potential customers explore and customize helmets online before they purchase. Xenith's configurator uses Threekit's interactive 360 product viewer that delivers a highly responsive 3D model for quick and seamless customization. You can also zoom in or enlarge the helmet's 3D model for in-depth inspection, and a video is attached to provide additional information and enhance understanding.
Xenith's helmet customizer, features, and video (xenith.com)
First, you choose helmet size and then customize with your favorite color from several options. The second step is choosing the color for the bumpers from either white or black. In the third step, choose the design of the facemask and color.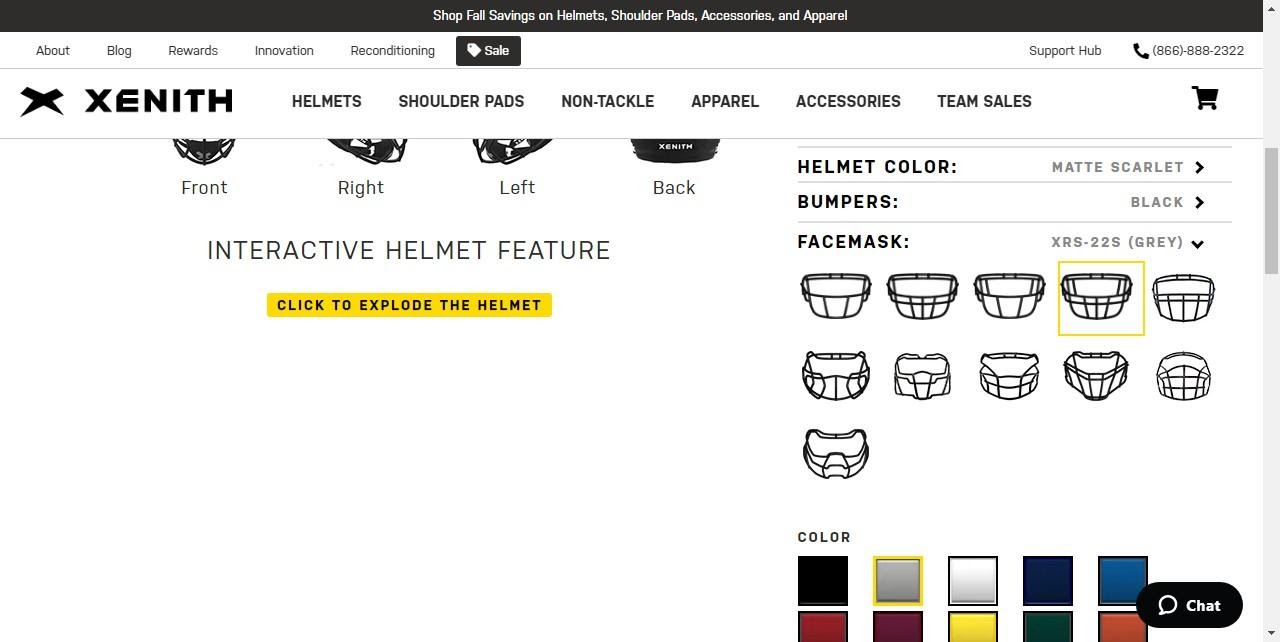 Xenith's configurator facemask custom options (xenith.com)
The last step is customizing the chin cup of the helmet before placing the order. Xenith's helmet customizer gives the customer control and the information they need to customize the product based on their needs. It is simple, useful, user-friendly, and enhances user experience, which results in higher sales.
Want to experience more 3D magic? You can check out some product demos using the QR code below
Use your phone camera to scan the code. When the link comes up, click it.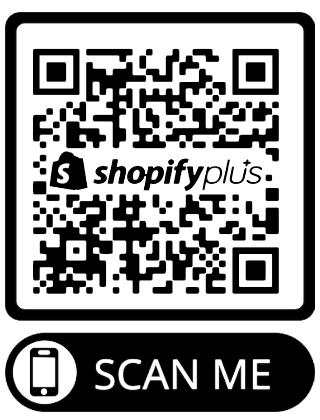 In short, a product customizer can help you streamline the user experience and drive valuable engagement. Of course, it certainly helps with conversions as well. Threekit and Shopify Plus have partnered to build industry-leading 3D experiences, and we look forward to pushing the envelope in the future. Maybe it's the right move for your eCommerce store. To learn more, please contact us to schedule some time with one of our experts.