How Augmented Reality for Retail Takes Profits to the Next Level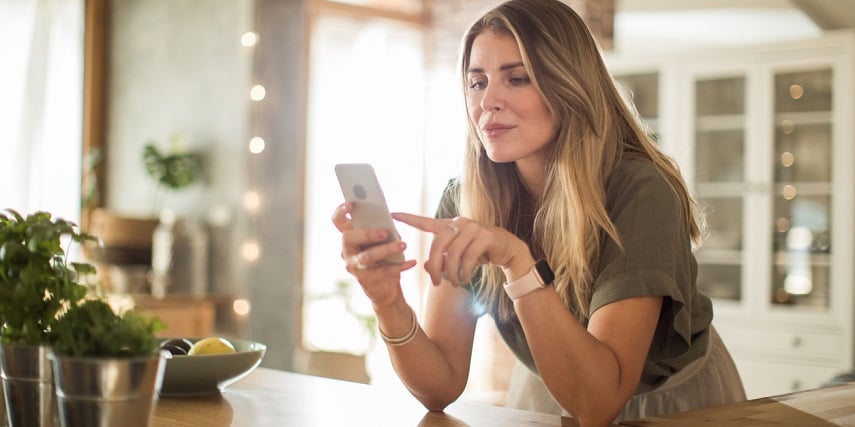 If there was ever a time to focus on increasing efficiency and reducing returns rates, it's now. As we enter another possible recession, sales are likely to fall for many, and staying in business will get harder.
That means you need to find new ways to boost efficiency, ROI, and sales—and stand out from the crowd.
Fortunately, augmented reality for retail gives customers a personalized, more engaging shopping experience with the chance to interact with products and even "try" them on for size. AR can also drive customer loyalty and increase what shoppers are prepared to pay*.
Using augmented reality in your online or physical stores also increases store efficiency and reduces return rates. This is because customers are more invested in their purchasing decisions and are able to buy more autonomously.
In this post, we'll look at the benefits of AR technology for both in-store and online retail. We'll outline how it can help you run a more streamlined and profitable business. And how you can combine a 3D configurator with AR to create an amazing retail experience that'll have them coming back for more.
Want to create a revolutionary immersive shopping experience?
Threekit's augmented reality solution maximizes consumer engagement and boosts sales.
* Ecommerce Relevance Report 2022, Coveo.com
The biggest benefits of augmented reality for retail
Because AR places virtual objects in a physical space, it brings many benefits to brands in the retail industry in terms of improving the customer experience and cutting costs. Seventy-one percent of consumers have stated that they would shop more frequently if they could use AR. Despite this, only 1% of retailers are using AR.
Let's take a look at the main advantages of AR technology for both online and physical stores.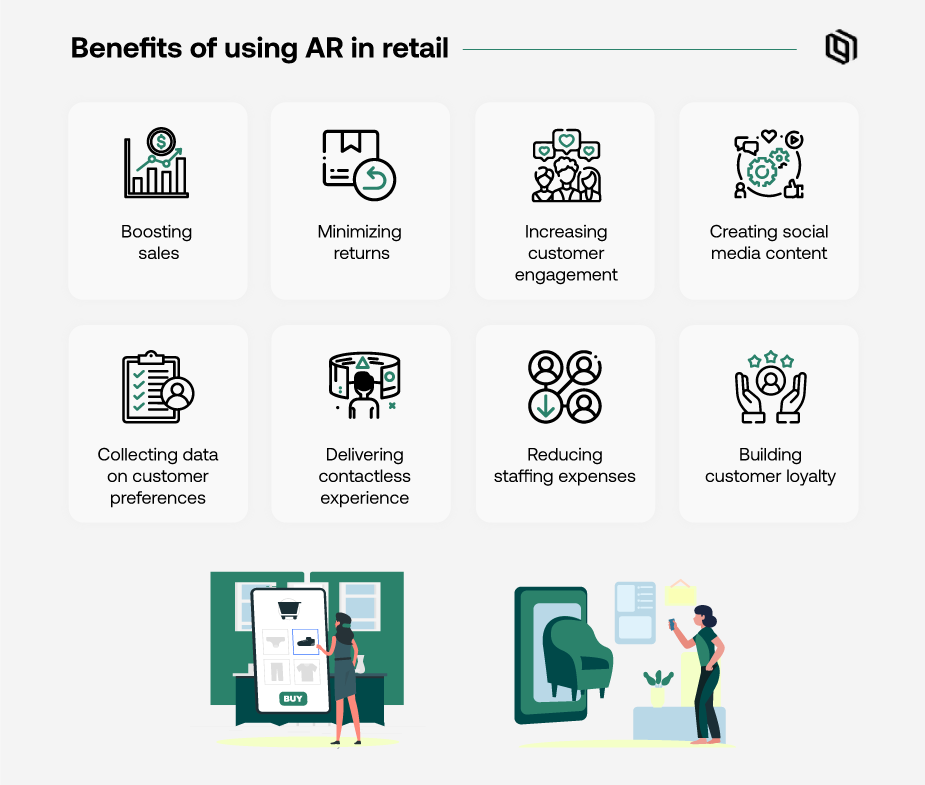 Augmented reality for retail gives customers the chance to see how products look outside a webpage or bricks and mortar store.
Reduced returns
Typical in-store returns tend to be around 9%, while ecommerce return rates are much higher at 30%, depending on the product type. But when customers use AR to help choose products that suit them best, they're more engaged with the purchasing experience and less likely to regret their buying decision and return the product.
Increased sales
By using AR technology, customers can try out products before they buy. For example, if clothes will fit or how a table looks in their dining room. For both in-store and online shopping, this speeds up time-to-purchasing decisions, which leads to more sales and better ROI on sales and marketing.
Improved customer experience
People love interacting with all types of products through AR. And it lets your brand stand apart from less innovative competitors.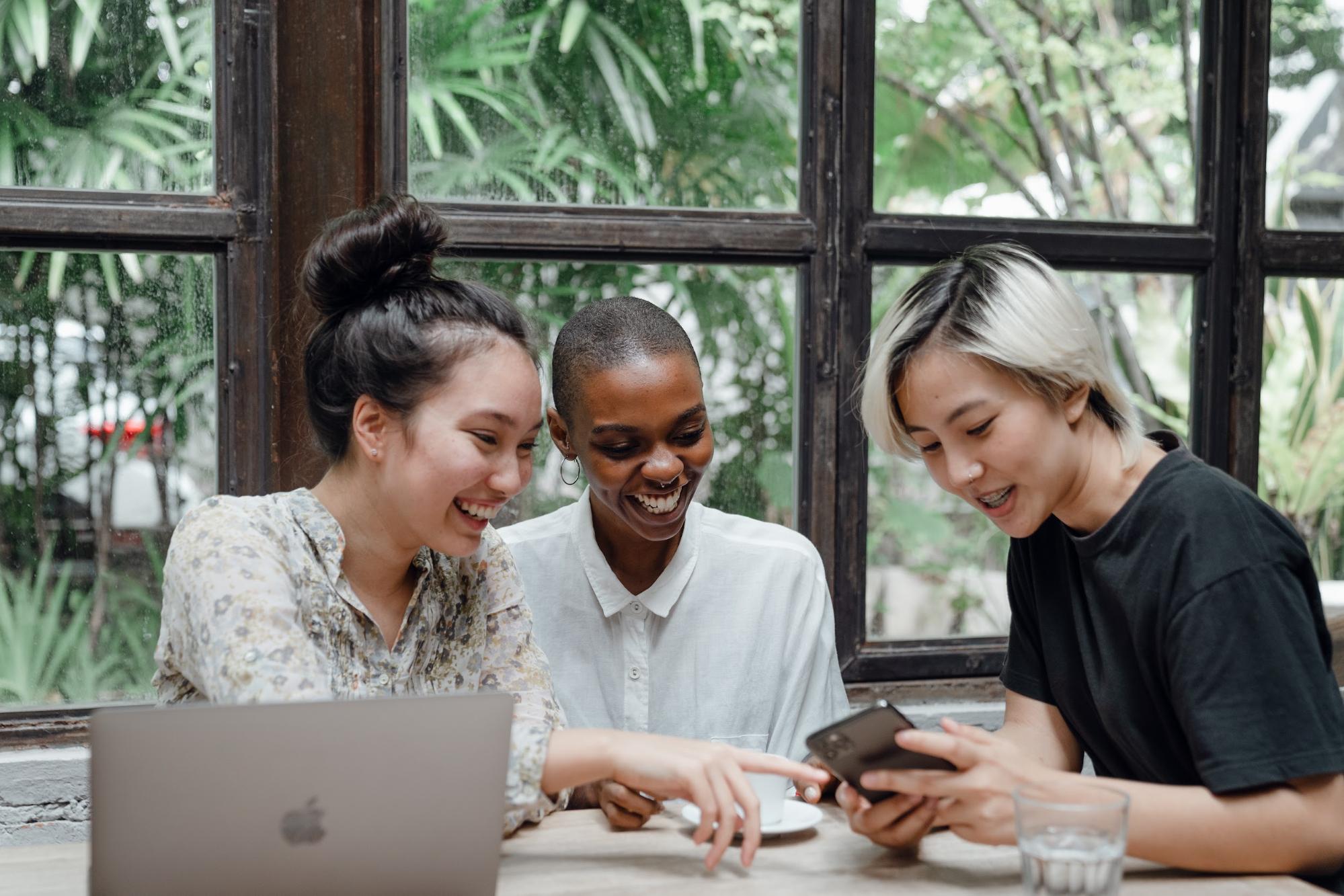 AR helps you appeal to a younger, tech-savvy audience. Source: Pexels
Increased customer loyalty
When you improve the customer experience through AR, you start to build stronger relationships with your customers and turn them from casual buyers into devoted fans of your brand.
Having a loyal group of brand advocates who tell the world about your amazing immersive AR shopping experience–and share photos of your products on social media–helps to increase product and brand awareness and encourages more customers to shop with you.
Benefits of augmented reality for in-store retail
In store augmented reality involves customers using handheld devices to interact with products. It creates an enriching customer experience that brings major benefits to your bottom line.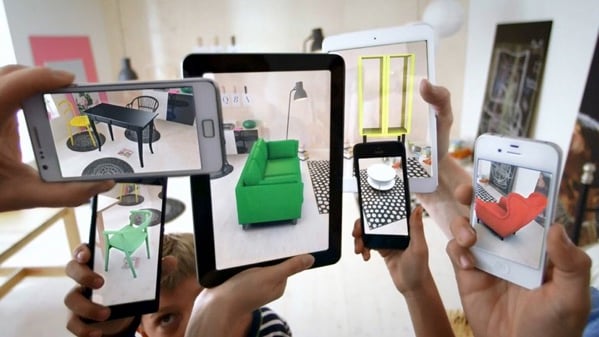 Customers using AR in a furniture store. Source: Threekit
Collect data on customer preferences
By using augmented reality in retail environments, businesses can gather data on the items customers choose to try out the most. You'll find out what their interests and preferences are, along with their patterns of shopping behavior. You can then use this data to deliver personalized advertising that targets exactly the right profile of customers for future campaigns and product launches.
Reduced staff burden
Sales reps can also use in-store AR with customers to get a deeper understanding of what shoppers want and help them design products to their liking. Your staff can see prices and stock in real time, so they won't need to calculate the cost of a particular style of product or remember which options are available—or keep customers waiting while they find out.
AR solutions for physical stores can also enable customers to view more information about products in the store. For example, a scannable QR code can help customers view how a product will appear in different settings.
Customers can scan a QR code for a faucet they are viewing in a kitchenware store and see how it would look in their own kitchen.
By providing customers with information about products and the store itself, you also increase customer autonomy. Shoppers don't need to ask sales assistants the same questions over and over, freeing up staff time for more important tasks like focusing on the customer experience.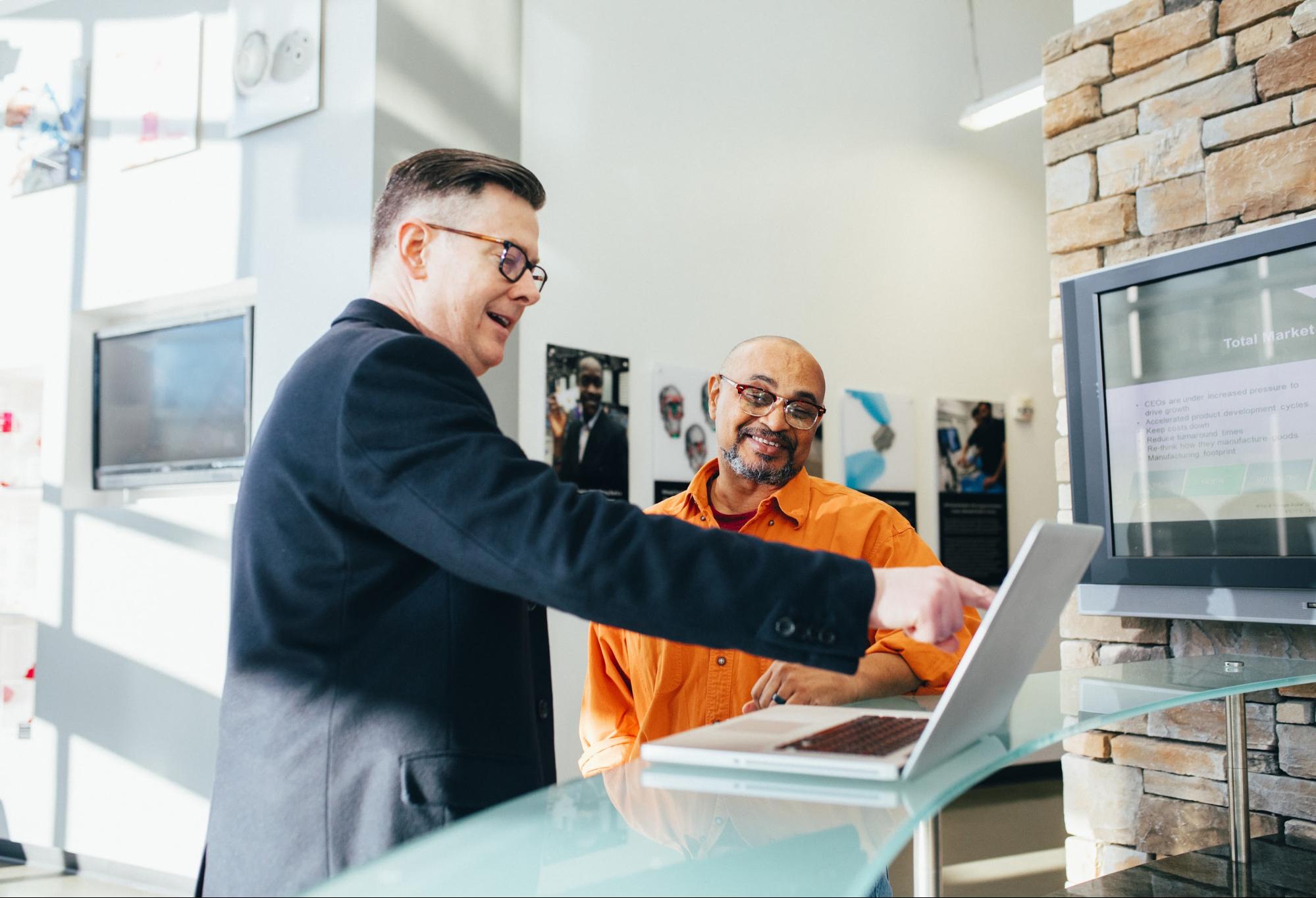 Shop assistants can use AR to support customers during the buying process. Source: Pexels
Virtual try-ons
Virtual try-ons give customers the chance to see how a color suits them or if a size fits them. Shoppers can decide which items they like the most in your virtual fitting room before trying them on in real life.
For example, Lacoste has developed an augmented reality app for users to try on every different variant and color of shoes at the click of a button. And Nike's AR app, Nike Fit, solves the problem of people buying the wrong shoe size. Using a smartphone camera, Nike measures each foot to an accuracy of within 2 mm so customers can always find the right shoe size.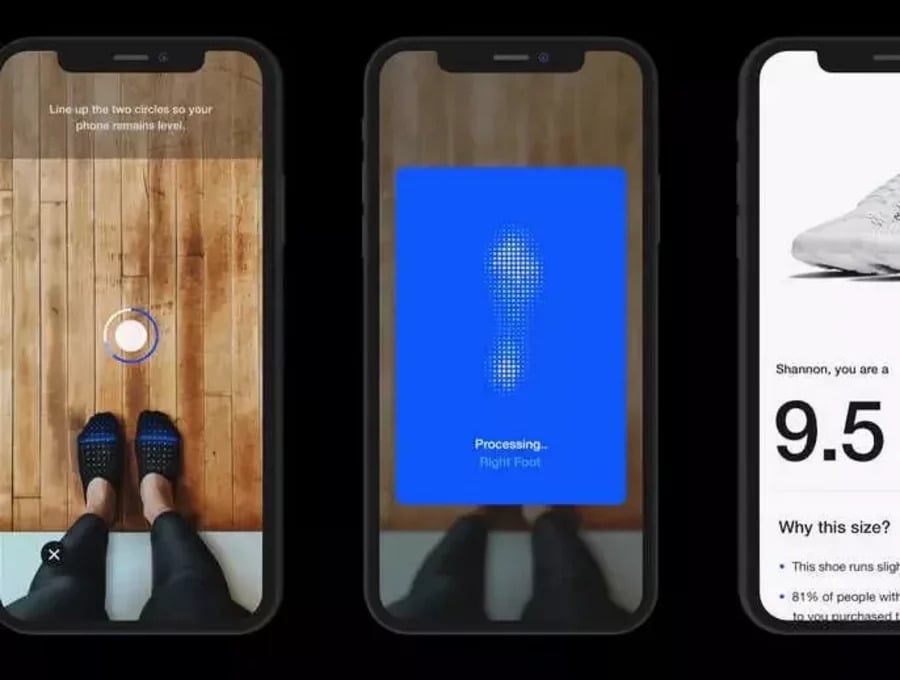 Nike reveals its new augmented reality technology for shoe sizing. Source: Technology Magazine
The beauty industry is also getting in on the AR act by letting customers experiment with makeup shades using face recognition technology. For example, Sephora's Virtual Artist app lets customers try on hundreds of makeup products using AR filters.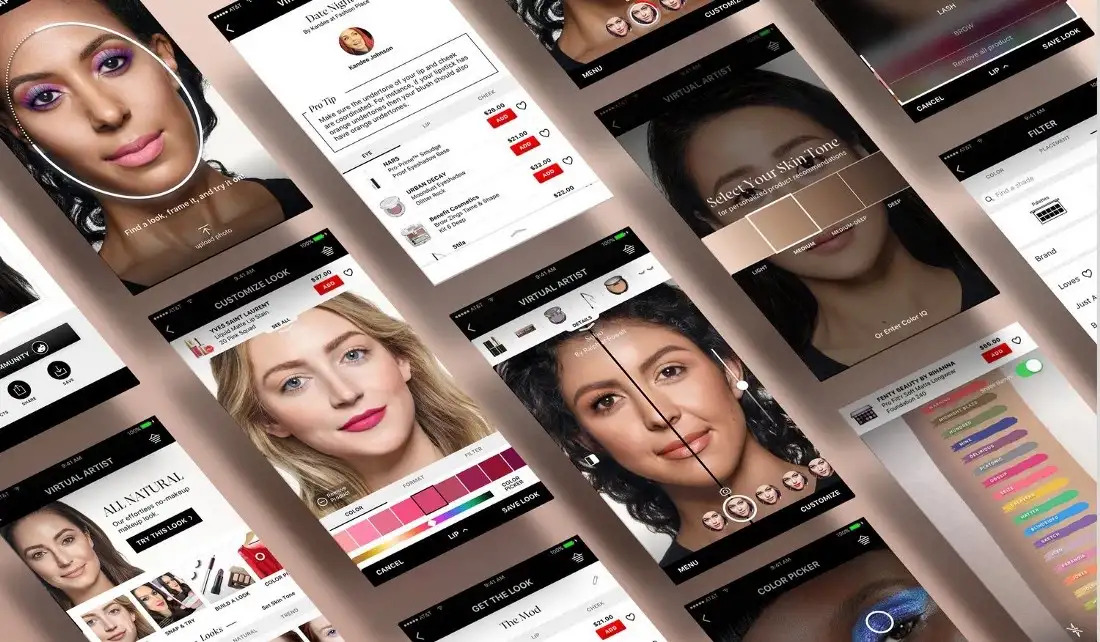 Sephora's virtual makeup artist app gives customers the chance to try out different shades and styles. Source: Medium
Benefits of using AR for online retail
Using augmented reality in online retail lets customers interact with virtual products in a fresh and exciting way that breathes new life into the online shopping experience.
It helps boost engagement and sales by creating a more immersive experience and giving customers the information they need to make a more informed decision that they won't regret.
Let's look at how investing in AR shopping solutions for retail can help you increase revenue and grow your business.
Lets customers view the product in their space
Online stores that use augmented reality give customers the opportunity to check that a product looks good (and fits) in their home before purchase.
This is especially helpful for large, highly customizable products like furniture. Rather than try to work out how a sofa or a table will look in a room, shoppers can see exactly how it will fit in their space using an AR app. Ikea has been giving customers the option to design their kitchens and configure furniture for several years. Now, more and more furniture retailers are getting in on the act.
With this in mind, Threekit has helped furniture store Gat Creek use augmented reality with a 3D configurator to support consumer research and engagement both in-store and at home.
A 3D configurator lets shoppers view a photorealistic 3D model that they can manipulate to visualize and swap out different colors, materials, sizes, and styles. When combined with AR, this means customers can explore configurable 3D product images in 360-degree views. So by integrating a 3D configurator with AR, shoppers can literally bring their own custom designs to life. And by letting customers use an AR app on their smartphone or mobile device, you minimize any doubts they have about their purchase.
Gat Creek's Vice President of Marketing and Sales, David Petersen says "For retailers, it becomes an extension of the showroom experience. A customer's biggest concern before purchasing furniture is not wanting to make a mistake. We allow them the opportunity to review all products and options at their own pace to supplement the in-store experience and make a purchase decision with confidence."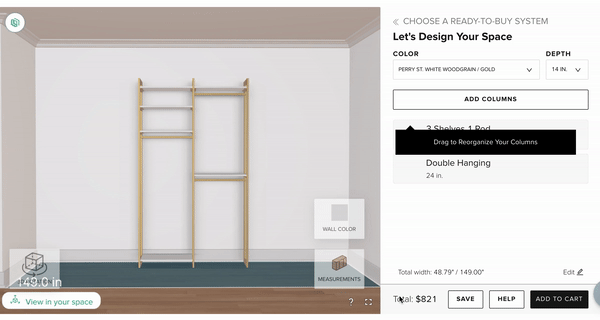 Threekit's cabinet configurator lets customers see how furniture will look in their space before they buy. Source: Threekit
Gives shoppers a realistic experience of customizable products
AR offers online shoppers a much more realistic way to interact with highly customizable products than through traditional product images and videos. When you combine a 3D configurator with augmented reality for retail, not only can customers visualize every size, color, and style of an item, like a chair, they can see how it looks in different settings.
Customers can look at their very own designs from every perspective to confirm that it's to their liking. This may give them that final push they need to complete their order.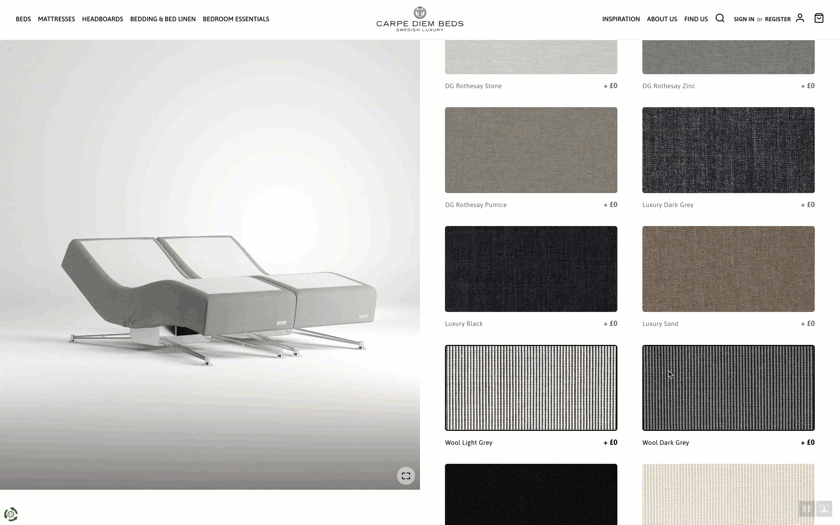 Threekit's 3D configurator lets customers view your products in detail, from different angles, and in different colors and sizes. Source: Threekit
Reduces returns
In the end, it's consumers rather than ecommerce stores, who pay the price for high return rates in ecommerce. The cost of return shipping, sorting, and storage costs is transferred to the customer, pushing up prices. By finding a way to reduce returns in ecommerce you'll be able to run a more efficient business while improving the customer experience with your ecommerce store.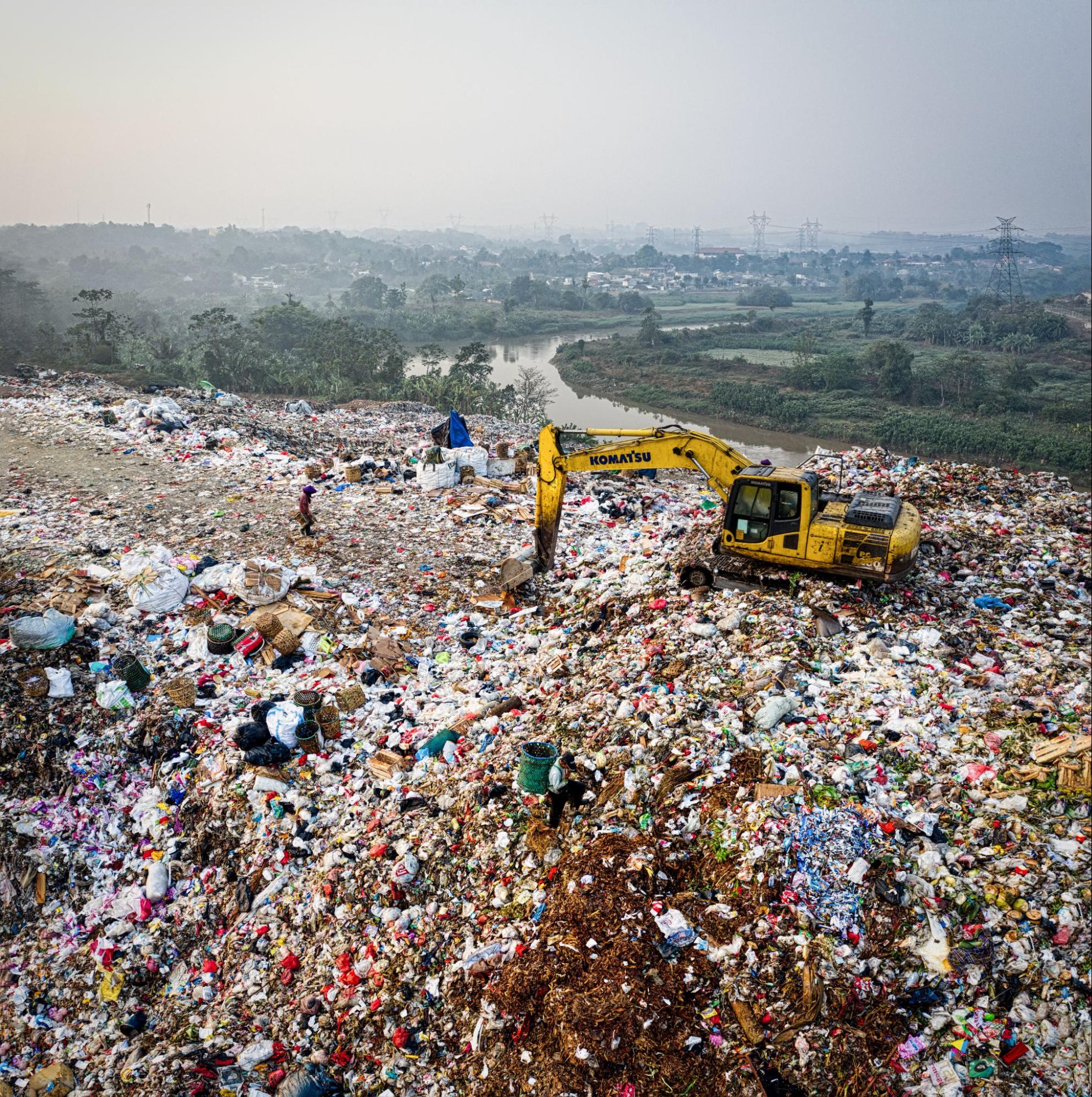 Around half of returned items are not suitable for resale, and when they can't be recycled they end up in landfill. Source: Pexels
Customers return products when they're disappointed with what they receive or when there's a delivery problem. Generous returns policies from ecommerce stores have also made returning goods free and easy to do. Combining AR with a 3D configurator can slash return rates by up to 35% by letting customers engage with your product at the checkout stage.
Boosts revenue
AR technology can have an impact on how much you can charge, with 40% of online shoppers willing to pay more for products that they experience via AR first. This "try before you buy" capability replicates the in-store retail experience by letting customers see how your products will look and feel—no matter how many combinations of colors, sizes, and finishings you offer!
Lets you run more engaging ads
When you use AR for ecommerce, you can create more inspiring ads that take your customers into the metaverse for an immersive encounter with your products. By giving your customers a QR code to scan, they can quickly and easily superimpose virtual objects or 3 models of an item into a real-world setting. As well as giving customers the kind of visual information they need to inspire a purchase, these ads often go viral.
Gucci partnered with Snapchat to launch the first global augmented reality shoe try-on campaign on the platform and create awareness of their new sneaker collection. Using Snapchat's AR platform and the SnapML feature in Lens Studio, Gucci offered users a realistic try-on experience for different pairs of shoes.
The campaign was a great success for Gucci both in terms of getting eyeballs on their product and in getting them engaged enough to make a purchase. And, unexpectedly, it resulted in a positive ROI on advertising spend that went far beyond the original aim of raising brand awareness.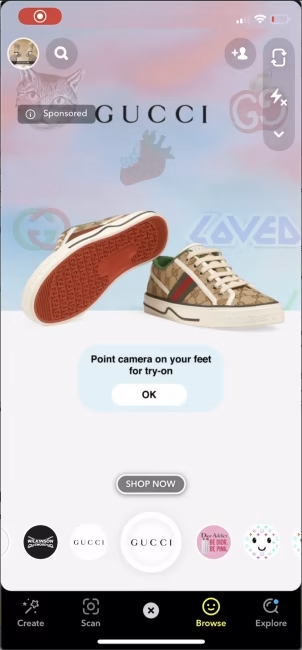 Gucci's augmented reality campaign on Snapchat prompts users to try on different styles of shoes. Source: For Business
Augmented reality for retail: the key to boosting customer loyalty and sales
The next few years will not be easy for retailers—both online and in physical stores. With a recession looming, it will get harder to maintain a healthy bottom line and some inevitably won't survive the fallout.
Now is the time to transform and future-proof your retail business, to ensure you have a loyal customer base that continues to shop with you in good times and bad.
Augmented reality, especially when combined with a 3D configurator, has huge potential to boost sales and customer satisfaction—and is likely to become increasingly in demand by consumers.
And when customers can visualize every size, color, and style in 3D a range of settings, they're more engaged with their purchasing decision, convert faster, and are less likely to return items. They'll also pay more for a tech-first shopping experience that includes AR. And it helps your business become more efficient when you don't have to deal with constant returns.
All of which positively impacts your brand reputation and bottom line.
Want to create a revolutionary immersive shopping experience?
Threekit's augmented reality solution maximizes consumer engagement and boosts sales.
Frequently asked questions about
augmented reality for retail
How many retailers use augmented reality?
More and more retailers are using AR technology in their physical stores and online. Fashion and sportswear brands like Nike and Gucci have adopted the technology, along with automobile and computer manufacturers. This means AR for retail is becoming increasingly common.
What is the future of augmented reality in retail?
The future of augmented reality in the retail industry is likely to cause a change in shopping habits. This is because customers will get used to having the chance to virtually try-on clothes and shoes in store, before making the decision to try on an item for real. So they're likely to start expecting augmented reality in their daily shopping experience.
What is augmented reality for retail?
Augmented reality for retail involves using smartphone cameras to overlay 3D models of products and custom designs onto the real world through a mobile app. Examples of augmented reality in retail include visualizing a piece of furniture in your home or trying on different styles of clothes.
What is the difference between augmented reality and virtual reality in the retail industry
The difference between augmented reality and virtual reality is that augmented reality creates a virtual experience by overlaying a virtual product on top of what the user is already seeing. Virtual reality creates the opposite effect as users become immersed in a completely virtual environment when they wear a VR headset.