7 Enterprise Companies Using AR to Sell More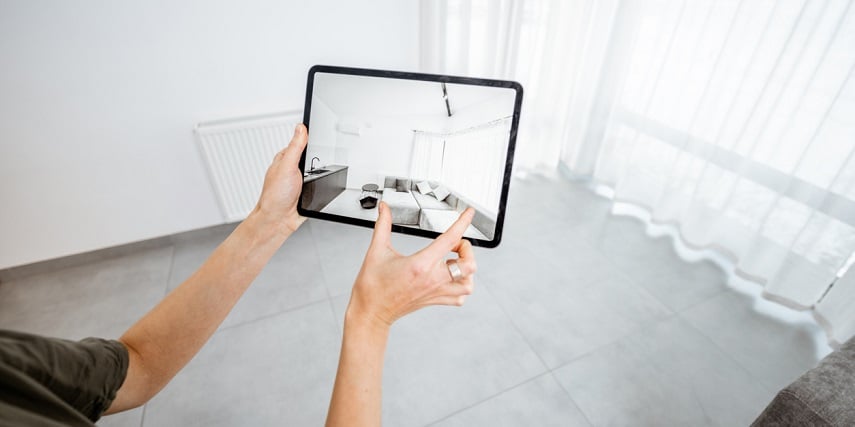 Augmented reality has moved beyond a retail-selling novelty to a strategy: businesses are using AR to sell more. In fact, a survey by Nielsen IQ found that 61% of shoppers prefer shopping with retailers using AR.
Harvard Business recently published the results of a study comparing shopper interaction between product testers and AR for 16 sample lipsticks. Their research found that shoppers using AR:
Spent 50% more time sampling lipsticks

Sampled 7.5 more products
Shoppers using AR were more likely to sample all 16 featured lipsticks rather than just two or three using product testers. They were also more likely to sample up to 13 non-featured lipsticks.
AR results in different shopper behaviors that can result in increased revenue and broader product sales. But how does that shopping behavior translate into the real world?
Let's look at how seven companies are using AR to sell more.
1. Warby Parker
The eyeglass retailer disrupted the market with their Home Try-On program, allowing customers to try five pairs of glasses in their homes. Warby Parker has now taken the program virtual.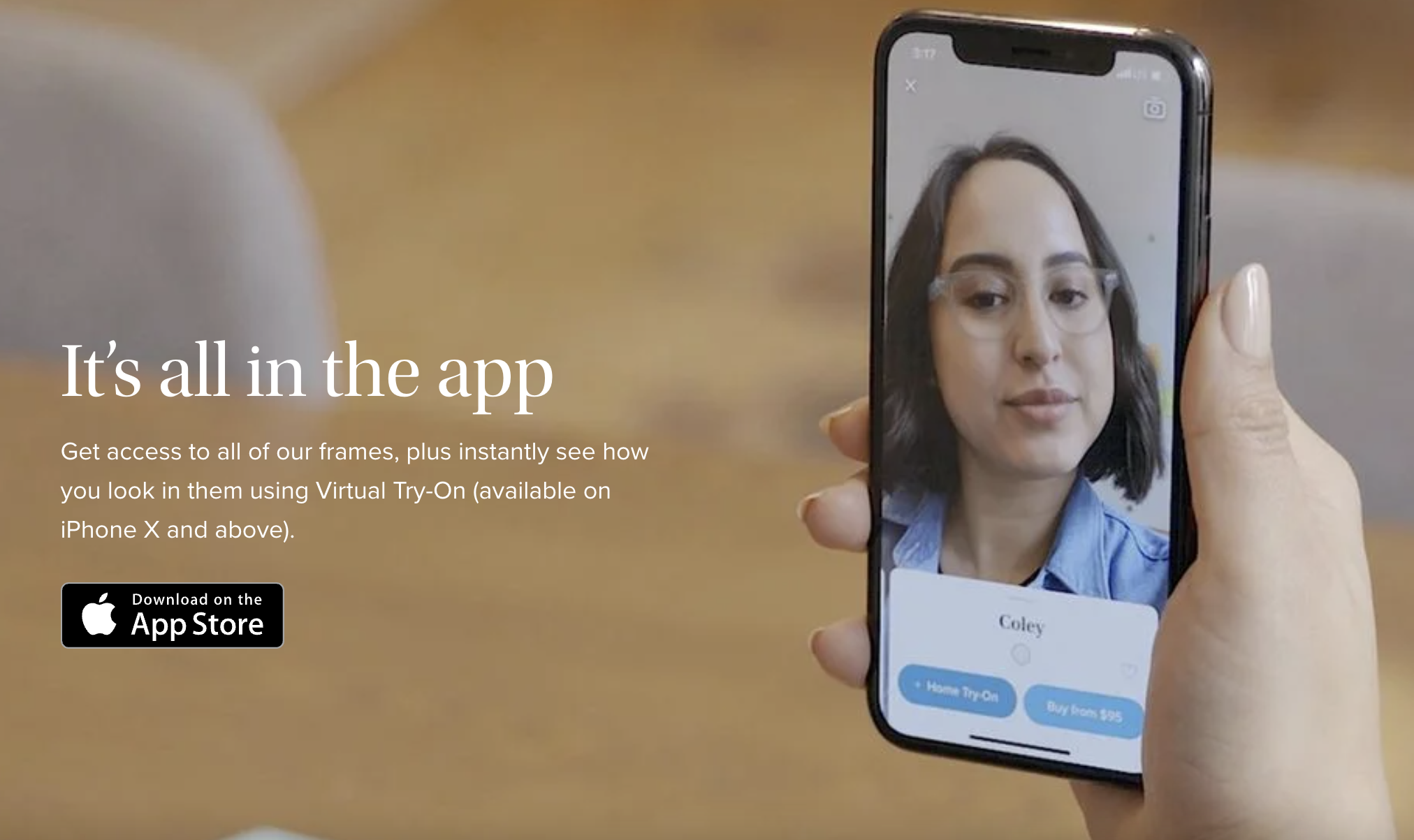 Using augmented reality, customers can try on frames anytime and anywhere. Buyers superimpose different eyeglass frames onto their faces and then rotate the image to view the frames from multiple angles.
The capability increases customer confidence and their likelihood to purchase a given frame.
2. Magnolia Market
Chip and Joanna Gaines have turned Waco, Texas, into a vacation destination for fans of their home renovation show. For those who can't make it to Waco and the Magnolia Market Silos, the couple has created a virtual in-store experience.
Using augmented reality, online customers can superimpose a product onto their physical space.
Buyers no longer need to imagine how an item might look on a shelf or wall. They can see it and feel comfortable making the purchase, resulting in increased product sales.
3. Houzz
Another company in the renovation and home design market, Houzz has used augmented reality for years in its "View in My Room" application.
If you're considering a magenta overstuffed chair but aren't sure it will fit in your space, you can view the chair in your room using augmented reality. You can even see the chair under different lighting to ensure that magenta works under sunny and cloudy conditions.
The company has added a new AR feature to its professional application that renders 3D floor plans.
For design professionals or construction firms, Houzz Pro allows you to create a virtual tour of the finished space for the homeowner. The new area is superimposed on the existing floor plan so clients can feel more comfortable with the design, and Houzz can sell more of its services.
4. Ulta Beauty
Part of Ulta's growth strategy is to build a digital ecosystem while reducing its brick-and-mortar expansion.
Ulta Beauty is so committed to digital innovation that it has acquired technology startups specializing in augmented reality and artificial intelligence (AI). AI provides personalization, while using AR will help sell more products.
AR lets online shoppers see how a foundation looks or compare different blushes without leaving home. As the HBR research demonstrated, customers using AR explore more options and spend more time browsing than in-store consumers.
AR delivers a better shopping experience, increased revenue and broader product sales.
5. Williams-Sonoma, Inc.
Williams-Sonoma acquired augmented reality software to create a 3D mobile and computer application for its West Elm and Pottery Barn brands. The application lets customers visualize furnishings in their own space.
When consumers want to see if a vanity works in a bathroom, they can overlay it in the buyer's space.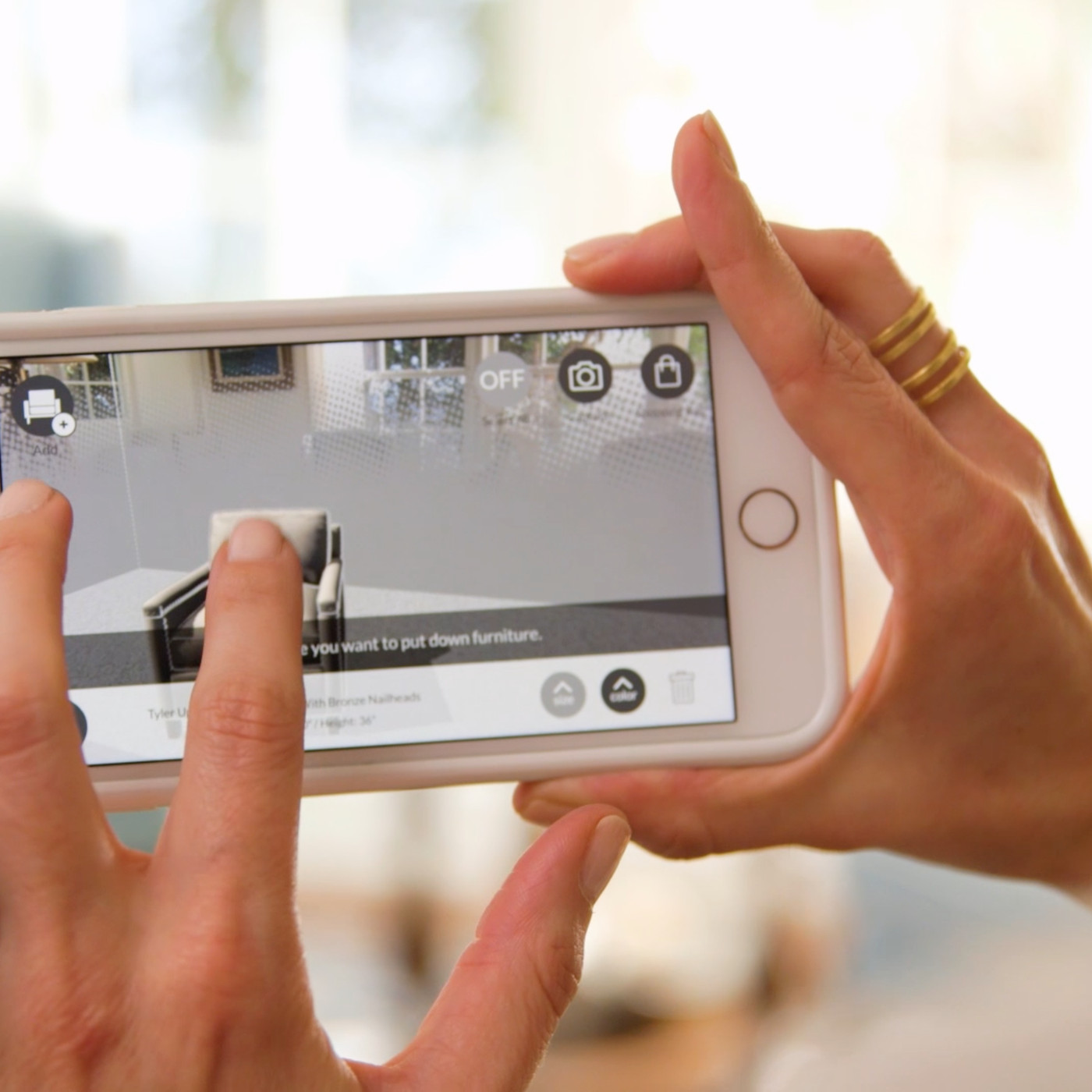 The retailer expects its strategy of using AR to sell more to improve its conversion rates for both brands.
For example, window treatments can be difficult to visualize, resulting in multiple trips to a store or numerous online returns. With AR, Williams-Sonoma expects shoppers to explore options until they find the treatment that works in their space.
6. AMC
AMC Theaters incorporates AR technology into its app as part of a marketing campaign and an avenue to increase ticket sales. Whether standing in the concession line or wandering the lobby before a show, people look at posters of upcoming films.
With the AMC app, moviegoers can scan an AR code on the poster to learn more about the film, including accessing a trailer and cast information.
If interested, people can purchase tickets for the movie from within the AR app. If the film is not released or tickets are unavailable, individuals can flag the movie, and the app will let them know when they can purchase tickets.
AMC's AR application provides convenience, resulting in more ticket sales.
7. Nike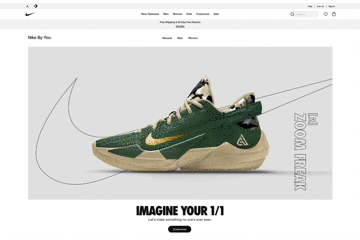 Nike has been using AR to sell more products and to improve the customer experience for years. Their latest implementation, Nike Fit, helps shoppers select the correct shoe size.
Consumers use the Nike app on their smartphones to scan their feet. Using computer vision and artificial intelligence within the AR-based application, Nike Fit displays the ideal shoe size for Nike shoes. The process takes less than a minute.
The AR application is another part of Nike's personalization strategy for buying footwear.
Threekit's Augmented Reality
Not every business can afford to spend millions developing its own augmented reality application. That doesn't mean you can't compete in an AR-based marketplace.
With Threekit's platform, your business benefits from augmented reality without a million-dollar investment.
Threekit's platform combines augmented reality with 3D configurators and virtual photography to deliver a comprehensive solution for eCommerce sales. Before shoppers view an item in the physical world, they can select configuration options such as color, material and size to see the exact item in their space.
Changing the image to reflect options doesn't require multiple photoshoots with Threekit's virtual photographer. Using imaging technology, Threekit can create multiple images from a single photograph.
The process enables businesses to show their products in every possible configuration without expensive photoshoots.
If you're ready to deliver a more satisfying consumer experience with the potential for added sales, contact Threekit today to get started using AR to sell more products.