10 Advantages of AR for Furniture in Retail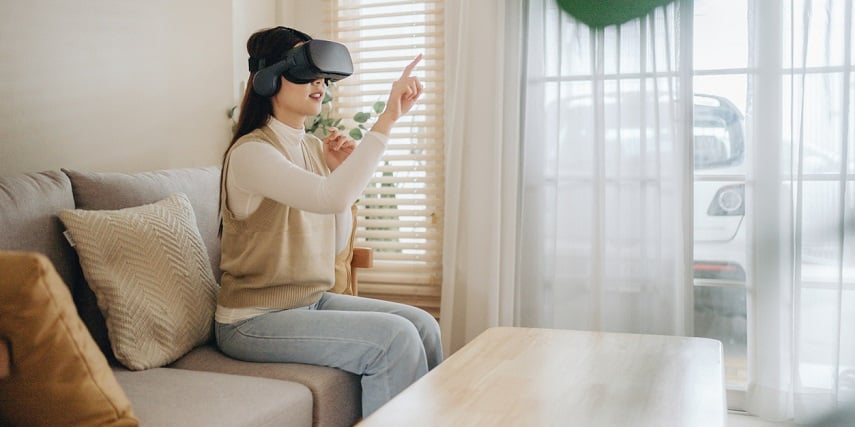 Furniture sales is a complex sector with challenges for both retailers and shoppers. VR for furniture bridges traditional furniture stores and online shopping by taking the beneficial parts of brick-and-mortar shopping and enhancing the experience with unique aspects.
Whether shopping online or in-store, it can be difficult to assess how furniture items will look in your home. Virtual technology utilizes headsets and computer technology to create a synthetic virtual environment.
When companies use this technology in furniture retail, it can create a memorable brand experience that enhances both online and in-store shopping. Both customers and retailers can gain substantial benefits with the use of VR.
Ten advantages of VR in furniture retail
Virtual reality brings a fun and immersive experience to retail, but it's also a useful research tool. Shopify found that products advertised with VR/AR content saw a 94% higher conversion rate than products without that content. Whether customers choose to press "buy" while shopping online or visit a physical furniture store after researching products online, VR in furniture can offer these impressive benefits:
Retailers can provide shoppers with a virtual showroom that's always open.

Shoppers can go beyond a typical showroom to envision furniture pieces in virtual kitchens, living rooms or bedrooms.

It removes space limitations to showcase every piece of furniture in your portfolio.

You can create a realistic experience that allows your shoppers to physically walk around a piece of furniture. They can inspect it in the same way they would in a physical store.

Enhance your virtual showroom with features that don't exist in your physical store.

Attract shoppers with the allure of new technology.

Create a memorable shopping experience that goes beyond typical stores.

Customers can share the furniture shopping experience with friends in different locations.

Retailers can demonstrate a variety of large furniture items without having to transport or store them.

VR can replicate the set-up process, inspiring customer confidence and increasing conversions.
VR for furniture use cases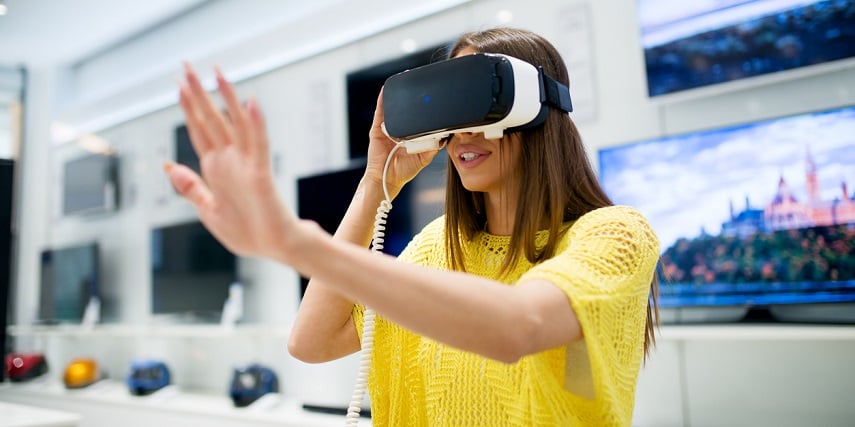 Furniture brands recognize the value of enticing customers with immersive shopping experiences inside and outside of their stores. By providing shoppers with virtual showrooms and other virtual spaces to explore, these brands allow shoppers to see furniture in different environments.
Here are three examples of VR for furniture in action:
1. Ikea
When shopping from home, customers can see Ikea furniture pieces in a variety of environments and even create entire room layouts. Ikea Kreativ is a mixed-reality platform that utilizes VR to allow shoppers to place products in furnished and unfurnished virtual showrooms.
Shoppers can choose from a furnished living room or various bedrooms to create an environment that mimics their own. Unfurnished rooms include a home office, dining room, den and an array of living rooms.
Shoppers can save and name their ideas or add products to their shopping bags or favorites lists.
2. Amazon
Amazon Showroom takes a similar approach by providing shoppers with various virtual rooms. Shoppers can choose from a series of rooms based on specific themes to narrow down furniture choices.
Available rooms include living rooms, dining rooms, bedrooms, home offices and entryways. There is also a section titled "other rooms," which includes a dorm room, enclosed balcony, garage hangout and game lounge.
3. Natuzzi
The Italian furniture brand Natuzzi takes a different approach to VR by including fully immersive VR experiences in their New York City Madison Avenue showroom. Natuzzi's augmented store enables customers to enter a digitally rendered version of their own home and decorate it with Natuzzi furniture items.
To create the environment, Natuzzi uses photographs, measurements and, sometimes, CAD files to produce an accurate 3D rendering. The process is created before the customer arrives and uses the Natuzzi product line to create a starting point for the shopper when they arrive.
Customers wear a headset to interact with the environment, move products and change patterns and colors.
AR or VR for furniture: Which technology meets your needs?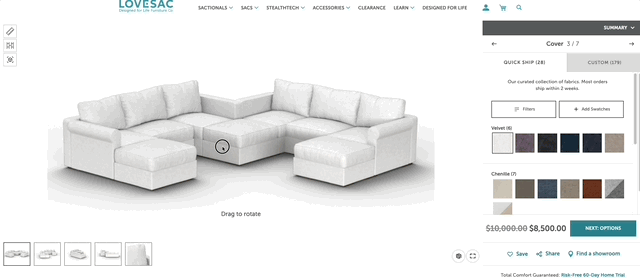 Augmented reality (AR) is a technology that is frequently confused with VR. Both AR and VR utilize modern technology to combine virtual images with real-world objects. But there are distinct differences in how the two technologies are utilized and react with the real world.
VR requires users to wear a headset and creates a completely self-contained virtual world. In furniture retail, VR often provides shoppers with the ability to view furniture in a setting that replicates an in-store experience.
The power of AR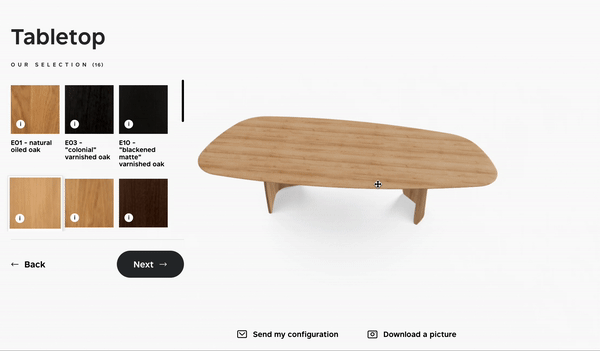 AR provides shoppers with similarly interactive experiences. However, it does not require the use of a headset. Most often, the technology is accessed through the use of an app on the shopper's smartphone or tablet.
Unlike VR, AR isn't typically used to place shoppers in a store-like environment. Instead, it utilizes engaging, photorealistic computer-generated graphics to allow shoppers to virtually place furniture items in their homes before making a purchase.
AR allows customers to "try before they buy" with accurate fit and color visuals that help improve shopper confidence in a product. While AR belongs in many sectors of retail, studies show that 60% of use cases are within the furniture sector, making it the most popular use case of AR in retail.
Furniture items are large items that represent a major purchase for any buyer. So Threekit is helping furniture companies ensure you buy the right couch the first time.
Whether shoppers are seeking products online or in a physical store, predicting how the items will fit in a user's room can be challenging. AR uses realistic images and actual measurements that allow shoppers to place items in the space they'll occupy.
Essentially, shoppers can have proof the product will work before a purchase is made. Just like trying on clothes in a dressing room, the experience provides shoppers with a sense of ownership and empowers shoppers to complete a purchase.
AR and VR for furniture create different shopping experiences that help shoppers get a clear understanding of the features of home furnishings. This knowledge improves the shopping experience for users and helps retailers avoid returns.
While VR creates a realistic, immersive experience for shoppers, AR builds shopper confidence by creating a way for users to try furniture before buying. Ready to learn how AR revolutionizes furniture sales? Get started with Threekit's innovative platform today.