Why Your Brand Should Use an SAP Product Configurator
While technological innovation has transformed the way we shop online, the lack of tactile experience is still a major challenge. Experiencing the product in person can influence a customer's confidence in the product's ability to meet their needs and expectations. So, what is the best solution to meet consumer demand for first-hand experience? Well, you need a solution that combines 3D visualization and augmented reality. This is why you should use SAP product configuration.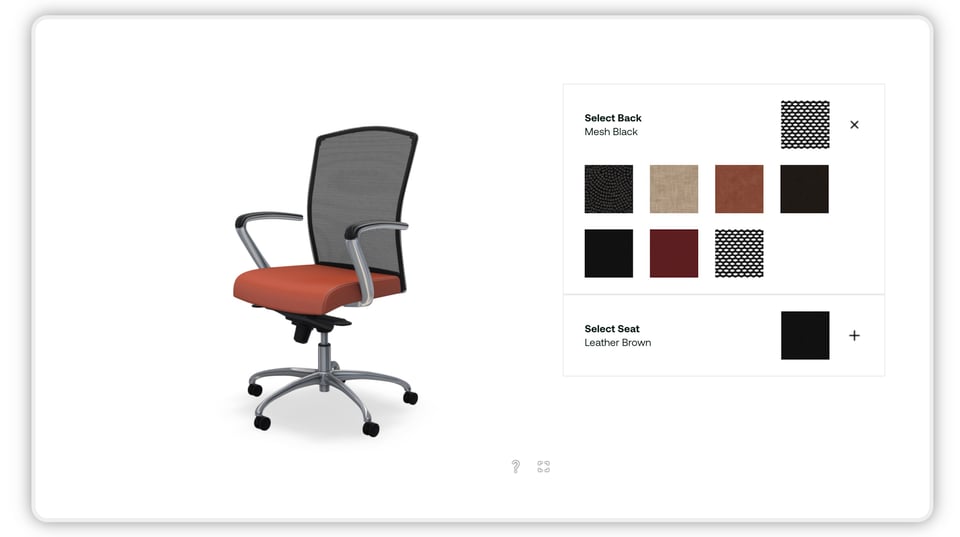 According to a recent study, 51% of consumers are willing to use AR to explore products online, and 40% would pay more for a product after exploring it using AR. The benefits of solutions that combine several technologies are not a secret. In 2020, 81% of retailers plan to deploy unified commerce platforms. With an SAP product configurator, you have access to a unified visualization platform that offers 3D configurations, virtual photography, and AR. But first, you need an in-depth understanding of how SAP eCommerce integration works, its benefits, and everything in between for you to leverage this solution more effectively.
How does an SAP product configurator work?
An SAP product configurator is a simplified, easy-to-integrate solution that allows online merchants to leverage 3D and AR capabilities simultaneously. It provides much more than the visualization of your configurable products, as it also simplifies the complex world of eCommerce product visualization by exploiting available data to streamline all processes and operations in your store through automation. The integration is designed to connect your SAP site with a unified visualization platform that supports 3D configurations and AR.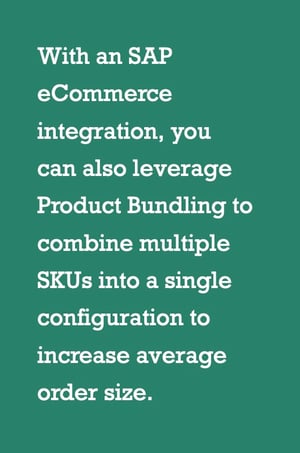 The key features of the platform include ERP integration, which is enabled by a pre-built connector for the platform to plug directly into your ERP. Seamless integration between the platform and your site enhances the accuracy of sensitive processes like real-time updated pricing for each configured product.
Another feature of SAP integration is Bill of Materials (BOM), which works with your ERP to help you generate the different product features and components to create realistic 3D models for your configurator and ensures your back-end system receives a list of materials, parts, and product specs to carry out personalized production orders. You can use the parts as custom options on a 3D configurator that enables customers to design and configure even the most complex products to meet their individual needs.
With an SAP eCommerce integration, you can also leverage product bundling to combine multiple SKUs into a single configuration to increase average order size. It also allows you to store all the components and visual representations of your products on the platform. The integration offers robust systems to manage and approve tasks, control project timelines, create tasks, and so on.
What are the benefits of using an SAP product configurator?
Implementing an SAP configurator on your website can enhance product visualization instantly. You can tweak different touchpoints, product presentation formats, and other interactions to attain effective visualization to increase conversion rates. Exploiting 3D configurators and AR offers a wide range of benefits for SAP merchants.
1. Improve communication.
Communication is a major challenge for brands that offer products online. The lack of touch and feel experience due to physical limitations can make it difficult for you to present or describe your products accurately. You can generate photorealistic images of your product using a virtual photographer and deploy them on a 3D configurator to communicate its selling points. An SAP customizer designed with a 360-degree viewer will enable customers to explore your product just like in a physical store for better. If you offer office chairs, customers can use a 360-degree viewer to rotate the chair and inspect the back and from all other angles for better understanding.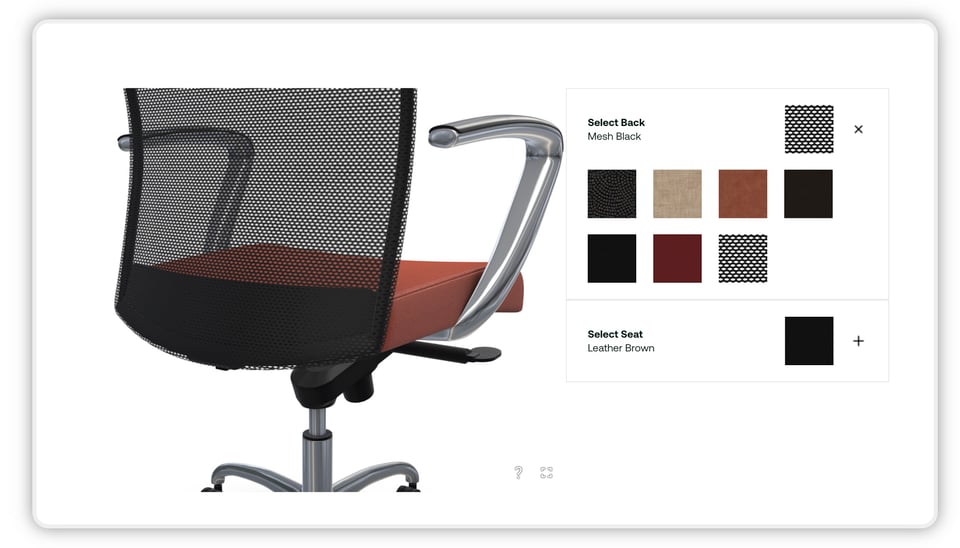 Using a 360-viewer to inspect the back of a chair (threekit.com)
An SAP customizer also gives the customer the tools they need to tell exactly what they need. They can design and customize the chair to meet their needs. You need an SAP product configuration to improve communication with your customers.
2. Boost customers' confidence.
Customers are more confident in the products they help create. Implementing an SAP customizer in your store will give potential buyers control over the design process. It allows customers to create products that meet their needs, which will boost their confidence in the product and convince them to purchase. For example, you can use an SAP configurator to allow customers to customize high-end sneakers based on their needs.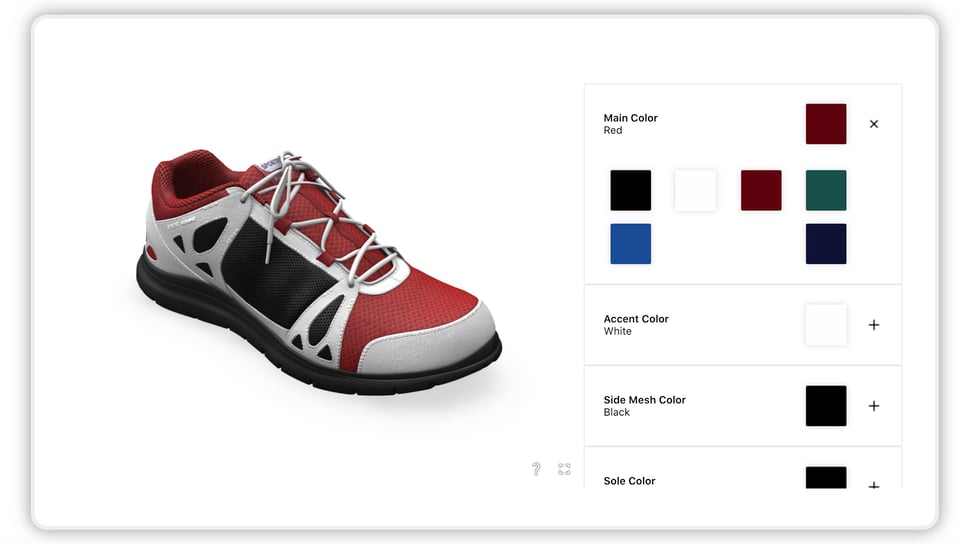 Customizing the main color of a sneaker (threekit.com)
The customer can rotate the sneaker using a 360-degree viewer and even peek inside to inspect the insole. Giving your customers control in the design process is an effective boost to their confidence in your products. You can also power 3D models with AR to bring your products to life or allow customers to place specific products in their homes virtually. They can also try out your clothes or beauty products virtually before they purchase. With an SAP product configuration, you boost customers' confidence in your products, leading to higher sales.
3. Customize your offerings.
Customizing offerings is an effective way to endear your store to customers. Did you know that 75% of consumers appreciate brands that offer customized offerings? If you offer complex and customizable products like an office chair, customers can use an SAP customizer on your site to customize the product by changing the material for the seat and the back.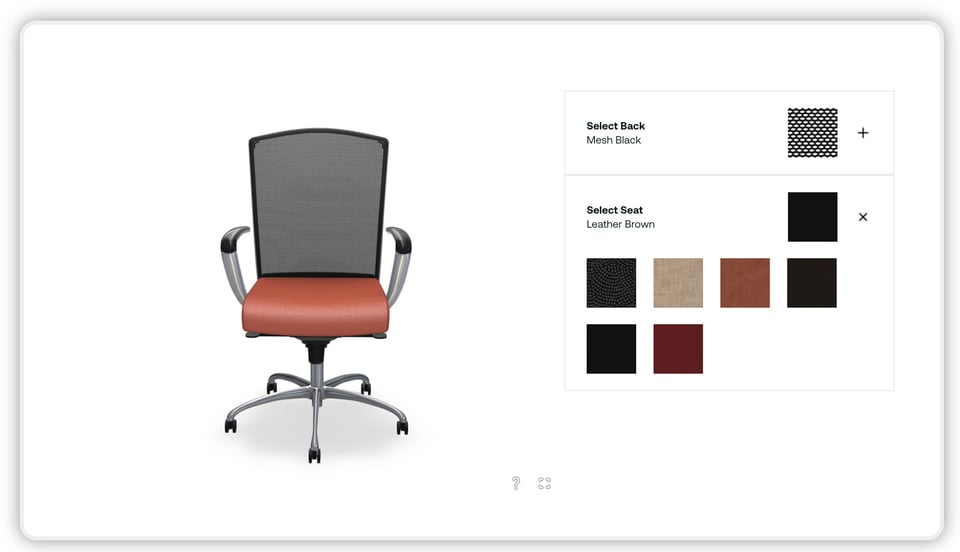 Customizing the chair with a brown leather seat (threekit.com)
An SAP configurator will enable potential buyers to create and customize their own products. There is nothing more customized than a product created by the customer themselves. Product customizer with a wide variety of custom options will empower your customers and give them the tools to tell you exactly what they need. It is an effective way to customize offerings, entice more first-buyers, enhance brand loyalty, and increase sales.
4. Enhance engagement with personalized experiences.
3D configurations are highly engaging and can entice committed buyers and window shoppers to your website. An SAP configurator can deliver personalized experiences, which can entice shoppers searching for personal items like engagement rings.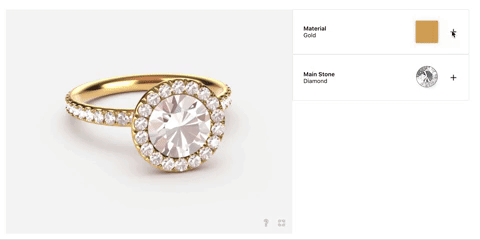 Engagement ring customizer (threekit.com)
Soon-to-be-married couples can spend hours on your website, trying different custom options to create the best wedding ring. They can choose the ring's material and even change the main stone if they wish. Once they get the best design for their wedding ring and save it, you are assured that they'll come back to purchase it when they are ready. The customization process ensures they are emotionally invested in the ring.
Configurators can also hold the attention of window shoppers long enough for you to convert them into paying customers. Also, personalized experiences can increase your sales on its own. According to Epsilon, 80% of customers are more likely to purchase from stores that offer personalized experiences. With an SAP integration, your store will benefit from enhanced engagement and personalized experiences.
5. Shorten your sale cycles and reduce returns.
SAP product configuration provides all the information the customer needs to make informed purchase decisions quickly. Configurators are powered by live 3D models with features like a 360-degree product viewer that allows customers to rotate and inspect your products extensively from all angles. It eliminates the need for the customer to engage with a sales team rep to learn about products and place a sales order. An SAP shoe customizer can offer options to allow customers to customize down to fine details like the color of the shoelaces.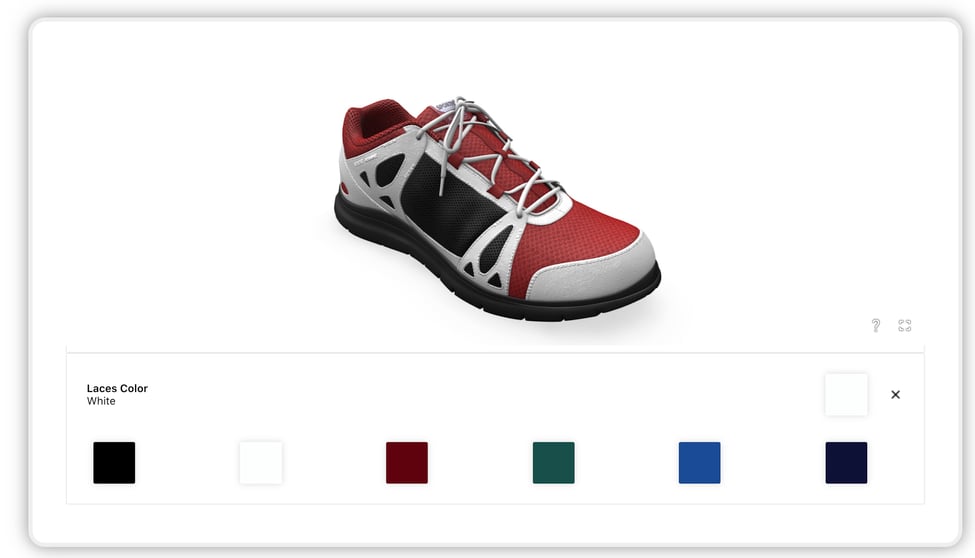 Customizing the laces of a sneaker (threekit.com)
The configurator will do all the talking and close the sale all on its own, which will speed up your sales cycles. Additionally, it ensures the customer is sufficiently informed about the sneaker before they place their order. Informed purchase decisions can increase satisfaction and reduce returns.
6. Optimize your site for mobile.
SAP eCommerce integration can also optimize your website for mobile. It can help you leverage AR to deliver personalized mobile experiences. Online shoppers using their mobiles can interact with your products extensively on the bus, at the park, or any other location. They can even walk around in their home, trying to place your high-end couch in different spaces to see how it looks and fits with existing pieces.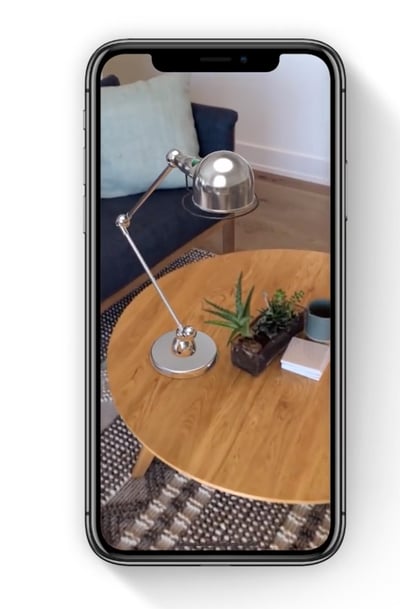 Using AR to place products in the home (threekit.com)
Optimizing your site for mobile devices will increase your opportunities to convert potential buyers into first-time buyers and loyal customers. Mobile-friendly configurations also put your store ahead of the curve, given that mobile sales will increase to 54% of total eCommerce sales by 2021.
Threekit offers an SAP eCommerce integration that enables merchants on SAP to leverage a virtual photographer, 3D configurators, and augmented reality. Our integration provides a full-featured API that you can use to create an SAP product configuration, customizer, and other custom functionalities. Contact us to schedule some time with one of our experts.