Every business that deals in tangible products can't afford not to give potential customers an up-close look at what they're selling. Today, more than ever, people are doing most, if not all, of their shopping online and they've come to expect a digital experience that shows them what they're buying. A web-based product configurator makes that possible. But what is a web-based product configurator, exactly?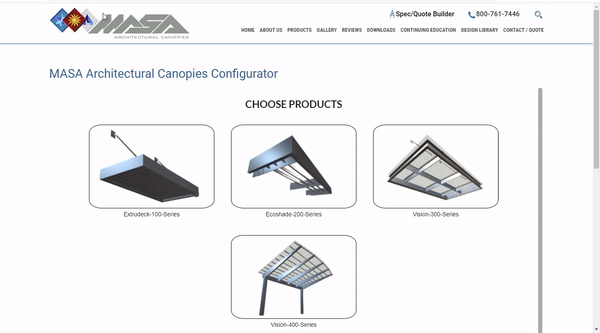 A web-based product configurator shows users a customizable 2D or 3D model of the product. they're browsing. These digital tools can take on many forms and exhibit any of a number of features. Some enable the user to adjust the angle of the image so they can see it in its entirety. Others allow users to zoom in on various parts of the product so they can get a detailed look of every design feature or function. Occasionally, they do both. Which features are right depend on the specific product being sold.
As mentioned earlier, people are doing more shopping online than ever before. This is largely due to the pandemic, but eCommerce was trending in that direction years earlier. So which came first? The existence of a "try before you buy" experience or the expectation? That's tough to say, but one thing is certain: the expectation is there today. Customers feel more confident when they're able to explore as many aspects of the product as possible while browsing at home and if they can have the product shipped that confidence is likely to convince them to click the "buy" button faster.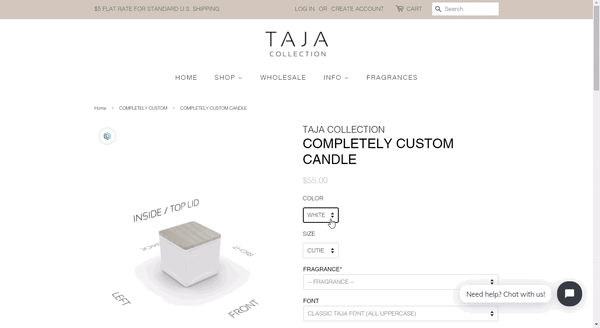 Additionally, many product configurators give shoppers a chance to customize. In other words, they get to daydream about their perfect version of the product and when people can make something their own, they're far more likely to make a purchase.
Another significant psychological factor is that consumers can use product configurators in real-time, which gives them even more confidence. It's as close as they can get to being onsite without leaving the house. Thanks to product configurators, buying something sight unseen is becoming a fading memory. When users can see every fine detail of your product, they know what they're getting into, which makes the overall experience a positive one.
Let's take a look at a few brands that have created the perfect product configurator to meet their specific needs.
Lovesac
As a high-end furniture retailer, Lovesac needed a high-end digital experience. Home furniture purchases are significant and naturally, shoppers want to know as much as possible about what they're choosing.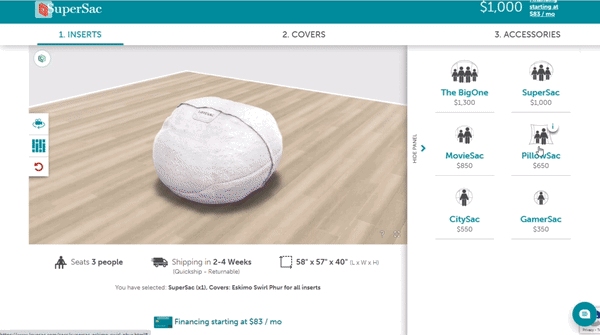 The team at Threekit designed and developed a fully immersive build your own product configurator that gave shoppers a chance to dream up the ideal furniture set. This gave them the power to turn the product a full 360 degrees giving them a detailed look at every angle. We also included a scrolling zoom feature so users could get an even closer look. In addition to the added detail, a scrolling zoom function gives the user more control as they're shopping. We also added customizable features including color, fill materials, and the option of additional accessories. Users can even adjust the flooring to match what they have so they can match the couch of their dreams with the home of their dreams.
Kashiyama
A bespoke suit clothier deserves a bespoke online shopping experience to match. At Threekit, we helped Kashiyama, a premier online menswear brand, develop a customization tool that lets users add specific features and accessories while also getting a 360-degree view that changes in real time. For example, users can select various design options on the right-hand selection area including suit fabric, material, color, and various pocket or button variations.
An online product configurator was important for a brand like Kashiyama because men take a lot of pride in their suits. They also invest a decent amount of money. The more money a shopper is spending on a product the more they're going to appreciate a thorough understanding of what they're choosing.
Pukka Hats
A hat is never just a hat. Especially when you're buying in bulk as many Pukka Hats customers do. The team at Threekit helped them build a 3D product configurator that helps designers and business owners envision the perfect hat before making a large purchase. Hats come in many forms. Mesh, fitted, and adjustable are just a few. But what if you wanted the bill to have its own color, unique from the rest of the hat? And should you go with a low crown or a high crown? And if it's adjustable, does it use Velcro, a metal slider, or classic plastic snaps? All of these customizable options were included in the experience along with a broad palette of color choices.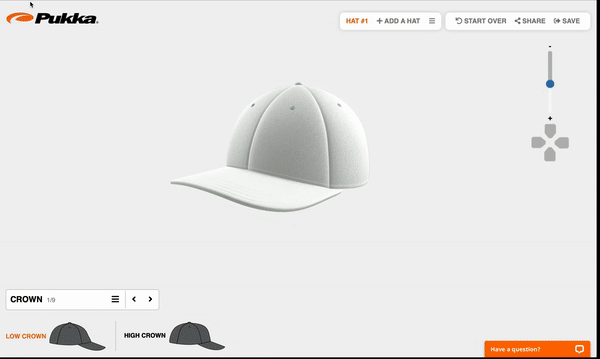 Our visual product configurator for Pukka made life easier for people seeking large orders of customizable hats by letting them explore their options in real-time. But it also made life easier for reps because their clients knew what they were looking for when the conversation started. That's another area where product configurators can help businesses save money. When customers are able to answer most questions on their own, businesses spend less on wages.
Those are just three examples of how a web-based product configurator has helped businesses own their eCommerce marketing. As mentioned briefly, the pandemic has made product configurators the expectation. Even when life returns to normal, it will be a new normal where people still do the majority of their browsing and shopping online. Businesses like yours can get ahead of the curve by working with a partner that's seen it all. And built it all. Our experienced, talented team of designers, software engineers and customer service professionals at Threekit are always hard at work learning about the next big thing in product configurators.
If you're ready to take the lead in your specific eCommerce niche, get in touch today for a consultation.
Article Categories: web based product configurator