What is a 3D configurator?
Interactive product experiences are increasingly becoming a customer expectation in today's visual economy, but there are specific applications for each variety. A 3D product configurator is especially useful to show customization.
So, what is a 3D configurator, and could it be right for your products?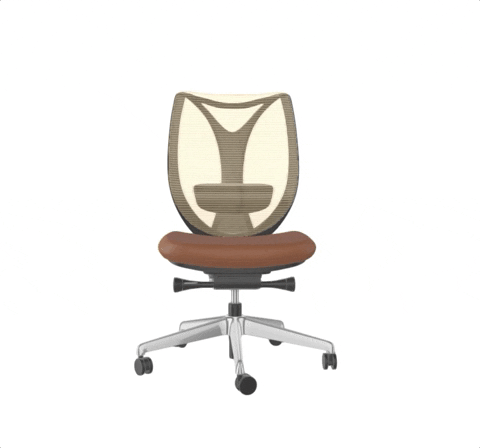 Contents
An Introduction to 3D Configuration
Why Invest in a 3D Configuration?
Two Use Cases for 3D Configuration
The Next Frontier of 3D: Product Visualization Software
An Introduction to 3D Configuration
A 3D product configurator is a way to let your customers personalize a product to their specifications. The added bonus of the 3D element is that it allows your customers to interact with your products online in real time. Plus, they can select custom options and watch them transform instantly, even if you don't have those customized products already manufactured. In other words, 3D configurators supercharge eCommerce through immersive visualization. But it's not just the ability to see various colors, components, and styles—3D configurators can also provide dynamic pricing for chosen configurations.
Immersive commerce is the new standard.
Online shopping is evolving rapidly. The tried and true model of displaying photographs and product descriptions is no longer enough to keep up with customer tastes and needs. Customers want control over the experience, as well as input into the shiny new product they are paying hard-earned money for. But before they click buy, they also want peace of mind about what they're actually getting. 3D product visualization gives them just that.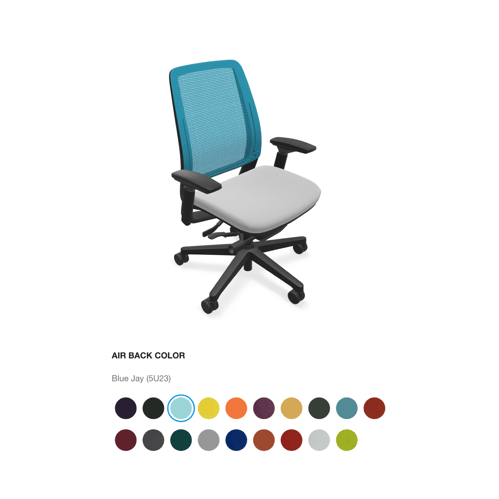 With this technology, customers can examine their creation in minute detail from all angles, knowing the real thing will be just like it. This interactivity is truly the next stage of eCommerce and before long, it will be as commonplace as 2D photographs are today.
Common Applications for 3D Configuration
Merchandising and Advertising in 3D
With 3D configuration, your customers can see how their choices affect the final offering. In this example, our customer shows off the 3D components of their product as a differentiator. What difference does it make? If you sell products online, you know that one of the hardest improvements to make is to increase conversion rates. The better your customers can understand what to expect from your product, the more likely they are to feel comfortable purchasing it online.
With today's powerful visualization platforms, your 3D model isn't limited to your web store. What better way to draw someone into an engaging customer experience than with a configurable advertisement? Engage customers from the get-go with 3D ads that preview the features of your product before they even click through to your site. Build the perfect cloud-based 3D asset to show off your products across a variety of websites, eCommerce platforms, and devices. Compared to even the highest quality imagery, your interactive displays are sure to stand out.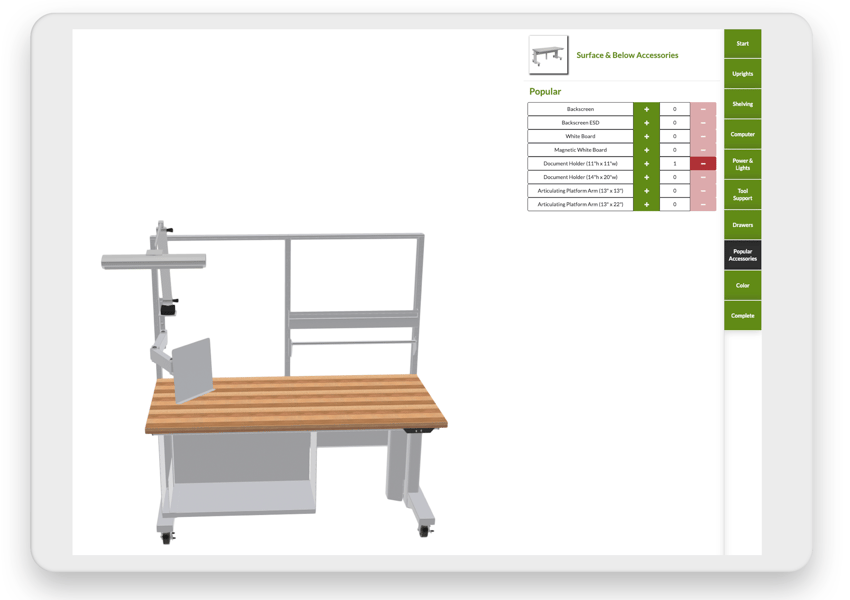 BostonTec 3D Desk Configurator
Product Catalogs in 3D
Customers may also want to use a configurator for larger projects, such as customizing a car or furnishing and lighting a room. When there are endless possible permutations, the ability to analyze product options becomes even more important.
As shoppers browse your dynamic 3D catalog with a drag and drop configurator, their larger vision for these big purchases begin to come to life. When you add augmented reality to the mix, buyers can begin to understand how your products will fit into their world.
Why invest in a 3D configurator?
It may come as no surprise that the average online attention span is now shorter than ever. Shoppers want instant gratification, and when they can't configure or customize products exactly to their liking, there are a million other distractions to take them to another eCommerce business.
Here are four reasons why customization and 3D visualization should be high on your priority list:
1. Buyers want customization.
According to the latest market research, 80% of consumers are more likely to make a purchase when brands offer personalized experiences.
When retailers let customers take control of their products, customers are more likely to engage. When your customers engage more, they have a better sense of quality. Because they've personalized it in the way they want, they also feel more ownership over their custom product–which means a higher likelihood of converting.
The research confirms this theory: one recent study shows that 32% of customers specifically mentioned the desire for brands to customize their offerings to suit their specific needs. As customization technology becomes more prevalent, customers will expect it even more. This leads directly into the second reason.
2. Seeing Is believing.
While the convenience of eCommerce is undeniable, a recent Retail Dive report showed that customers still vastly prefer brick-and-mortar shopping over online retail.
There are two reasons why: a) the trust that's established when you can see and touch a product, and b) the ability to take products home immediately.
While delivery times are constantly speeding up, there are few technologies that let customers actually touch and feel your product through the screen.
That said, advanced 3D visualizations are here now. Customers can configure complex products in hundreds of combinations of colors, textures, parts, and other elements–and then see the results instantly. With their dream product on screen, they can rotate, zoom in, take it apart, and put it back together. The presence of such a 3d configurator can be the deciding factor in converting an eCommerce customer.
3. The future of manufacturing is on-demand.
When Richard Sears sent out the first copies of his catalog, no one could have predicted the mail-order revolution that ensued. When Jane Snowball made the world's first online order, few would have said that the eCommerce industry would net hundreds of billions of dollars per year.
Where will retail be tomorrow? As the Industrial Revolution enters its fourth wave, phrases such as smart factory, the internet of things (IoT), cloud computing, and machine learning have become mainstream as the factory floor has entered the digital age.
Brands must be able to let customers be in the driver's seat. Once you know what the customer wants, you can quickly go to production and meet their demand. A 3D product configurator is an absolute must to allow the customer unparalleled freedom to bring their dream product to life.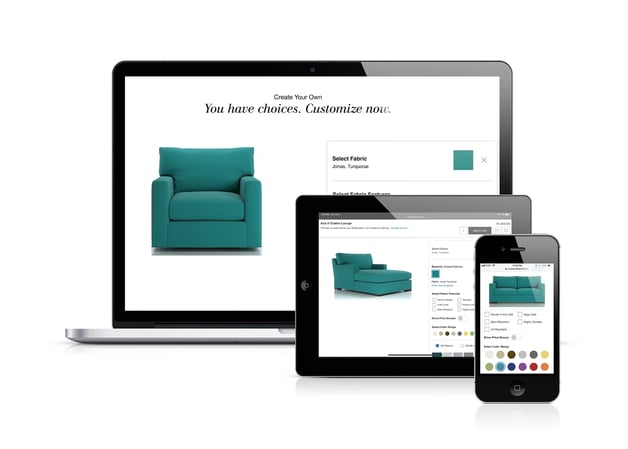 4. You need the wow factor.
In the intense competition for consumer attention, there's no shortage of digital content, and billions have been spent attempting to discover the magical ingredients that will capture and retain it.
These span the spectrum from gimmick (clickbait, anyone?) to truly industry-defining. What determines whether it sticks or flops? Of the many factors, perhaps the most important is the wow factor: that fascination a customer has that keeps them returning again and again.
As manufacturers and retailers hunt for the next wow factor, 3D product configuration is gaining traction. Customers who are repeatedly wowed will keep returning for more of the same experience, and nothing wows more than the ability to fully customize a product and then view it in stunning resolution. By putting that power directly into the user's hands, brands offering 3D configuration can deliver the experience needed to attract and amaze customers.
3D Configurators: 2 Use Cases
What do helmets, couches, and watches all have in common? Not much, except that all are part of the explosive digital commerce trend of online 3D product configuration.
While the manufacturers of these products are leading the way, most products will inevitably be sold this way before long. In fact, most customers will come to expect it as a natural part of the virtual showroom. While selecting colors and textures has been a mainstay of product customization for quite some time, the new eCommerce trend is to offer customers hundreds of options so that they can see their specific iteration come to life in intricate, exquisite detail.
Here are a couple of those examples, brought to life:
Sports Equipment: Football Helmet
Take football helmets, for instance. The buyer, whether they're a park district employee, a high school head coach, or a professional equipment manager, already knows a lot about the product.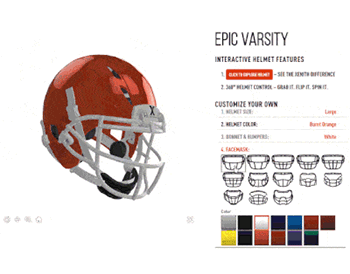 To meet the buyer's needs,
customization needs to go well beyond color or logo. The chin strap, the mask shape, the interior bumpers, and the eye-shield all play a big role in the decision, too. Having the power to adjust the options, zoom in and out on the helmet, and even rotate it a full 360 degrees makes your eCommerce website a buyer's playground. These capabilities have become indispensable for customers to truly get a feel for the purchase during the sales process, especially if the purchase is for an entire team.
Buyers have the option to explode the helmet as well, allowing them to view all the components separately or collapse them to see everything together. The team can collaborate too, with each player designing their own helmet and then putting the decision up for a vote. Even if the buyer is a parent and some of the options have been preset by the team, enough options remain to customize and deliver a unique helmet for each player.
The whole process is nothing short of revolutionary: an on-demand product maker that owes its existence to 3D product configuration technology.
Jewelry: Luxury Watch
What about a product that's much more personal than a football helmet, such as a watch? There are a wide variety of watches to choose from, with some purchased for daily wear and others for special occasions.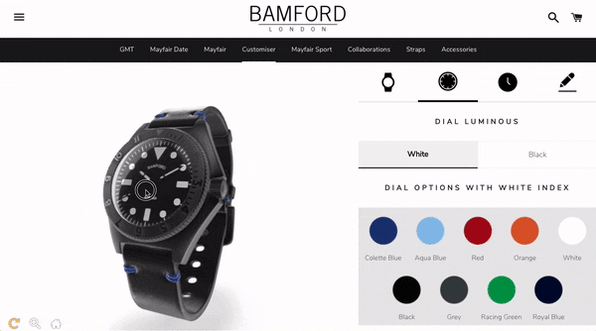 While there's no shortage of watch makers and styles to choose from, what label wouldn't benefit from adding a fully customizable model to their line-up? Even if their customers already love the brand, giving an option to fully design a unique watch they can wear will only strengthen their brand loyalty.
For new customers, a product customizer might help attract them to the brand, as they can select their own:
Strap type and color
Case color
Watch face illumination and color schemes
Number outlines
Different watch hands
The customer gets to choose and, in the end, the product worn on their wrists bears the brand name they wanted in the first place. That unique mixture of brand recognition and personalized customization is a revolutionary form of customer satisfaction. It's what customers want, even if they don't know it yet. Manufacturers who make it available to them will be light years ahead of the competition.
How We Got to 3D in eCommerce
The best way to appreciate the power of 3D configuration is to keep in mind how far eCommerce has come in the past couple decades.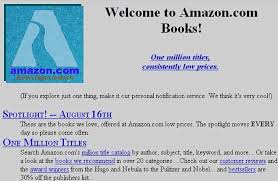 Do you remember what it was like to use the internet 20 years ago? We sure do. You would boot up your machine, open AOL, and then sit back and spin a few times in the swivel chair, all while the dusty modem revs up and transforms a dial tone into that robotic clang that tells you that you're finally in. What is even more painful is remembering what eCommerce pages looked like 20 years ago–at this point, it feels a bit like digging through archaeological ruins.
Back in the days of dial-up modems and AIM handles, the internet did not offer the speed that it does today. This meant that text and small icons was the best way to get information out on the internet quickly. This was true of eCommerce websites as well. To shop online, customers needed to read through detailed products descriptions and use their imagination to fill in the blanks. There was almost zero visual appeal; it was bulky, cumbersome, of interest only to the most dedicated online shopper. This method proved even more challenging for businesses looking to sell customizable products online and other led to a lengthy back and forth between the customer and retailer. It was not an enjoyable experience.
3D configuration is driving eCommerce forward.
Fast forward to today, and eCommerce is not only customer-friendly, visual, and endlessly convenient, online shopping is now a truly enjoyable experience for consumers. Long treks to the store have been replaced by the ability to click and scroll and have endless options at your fingertips.
Today, we face another shift in the world of online shopping that will offer a truly immersive experience for online shoppers. Just as text links have become a thing of the past, so too will today's reliance on 2D images of products. Instead, with the power of 3D product configuration platforms, online shoppers will be able to customize and visualize products to their exact specifications. With 3D product configuration, "seeing is believing" has never been more possible.
This digital solution allows the customer to decide on color, texture, quantity, arrangement, material, alignment, and a host of other factors, all with relative ease. A 3D product configurator allows the customer to interact with the product in a live 3D model and visualize their customizations in real time.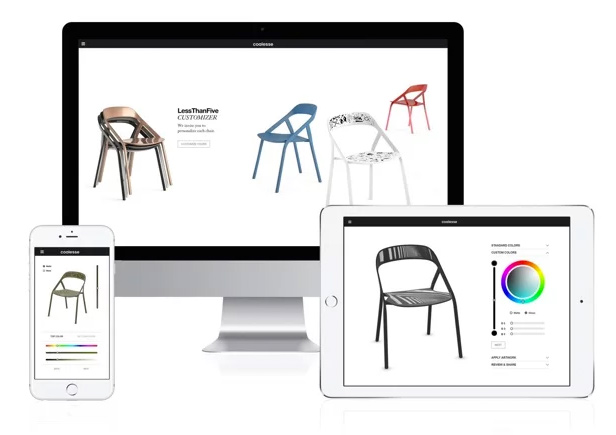 There is no longer a need to wait and hope that a product will match what the customer is looking to purchase. Instead, the 3D renderings are instant, creating beautiful, sleek, and ultra realistic visuals of the product that can then be viewed from any angle. As the speed, visual attractiveness, and interactivity of eCommerce have reached new heights, the next step is to allow the customer to have control over what they purchase and offer them products that they helped design. For the shopper, the experience is personal; for the client, it results in increased traffic, a reduced sales cycle, and an increased conversion rate.


3D configuration is putting the customer in control.
As 3D configuration becomes the industry norm, more and more manufacturers will undoubtedly adopt the technology and allow their products to be customizable. For years, the eCommerce model has centered on the customer picking a finished product from a limited list of pre-determined configurations. If the customer liked the shade of gray suede on display, a sales team's job was done. If the customer thought it could be a tad darker but didn't want to investigate the swatches, they moved on. The customer was only able to respond to availability, rather than being in the driver's seat when purchasing products.
With the ability to customize and configure products and see a lifelike visualization of their own creation, the customer has unprecedented power and control. No longer is the customer at the mercy of the manufacturer's options; they are now commanding the style, the fit, and the look of the product that will ultimately be in their hands. The ease and convenience of choice is exactly what today's buyer seeks.
How to Keep Up With eCommerce Innovation
Gone are the days of being tethered to the desktop and the landline to connect to the internet. Gone are the days of needing to be in specific places to shop, and hoping a sales rep is around to help. Today's mobile devices make it possible to be almost anywhere and to search for, customize, configure, and visualize the purchase of one's dreams, click buy, and have it waiting at the doorstep in a matter of hours or days. And innovative brands are going to be on the lookout for ways to keep up with demand.
The Next Frontier of 3D: Product Visualization Software
Online retailers are seamlessly integrating product visualization software into their eCommerce websites, providing customers with unparalleled selection. Before, customers had to pick from a list of three or four pre-made models. Even if some options could be changed, overall product availability was limited, thus turning away potential customers. However, with the power of 3D product configuration, a customer can select from and interact with thousands of combinations until they arrive at a customization that results in a purchase.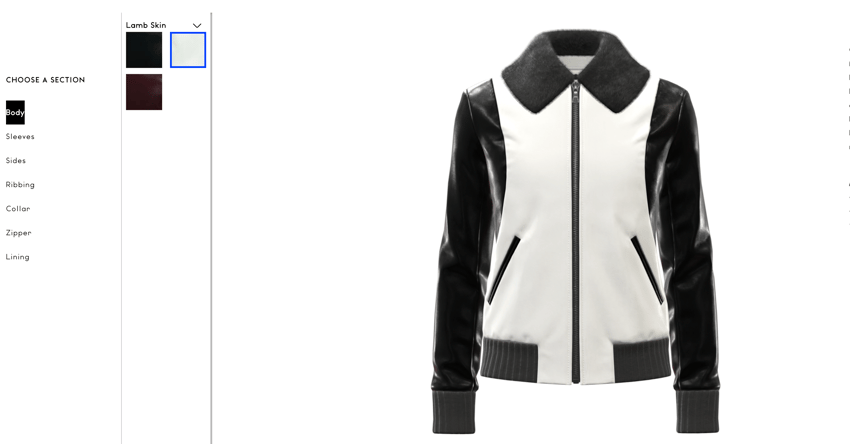 Why limit customer choices when immense freedom is possible? That freedom also delivers the security of knowing exactly what a product will look like. With 3D product configuration, the future of digital commerce has never been brighter.
With our 3D visualization platform, advanced APIs, and a team of 3D experts and 3D services, Threekit can help you transform your catalog from straightforward to sophisticated. We're bringing 3D and AR technology at scale to eCommerce so you can optimize your sales the easy way—by allowing online shoppers to explore their options and visualize your product offering in real time.
---
Threekit provides product visualization software that creates photorealistic images, interactive 3D, and augmented reality experiences that help businesses sell more. To learn more, please schedule a demo with one of our teammates.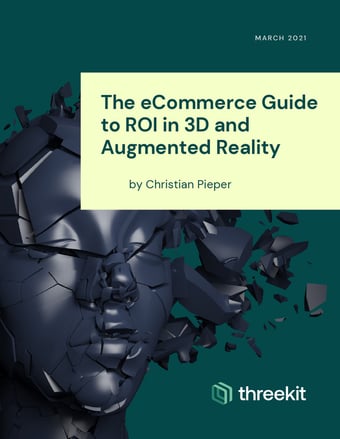 Download our eBook
If you're making the business case for 3D and augmented reality product visuals, this is the guide you need. Get real data on how this innovative technology pays off.