What Are the Types of Different Product Configurators?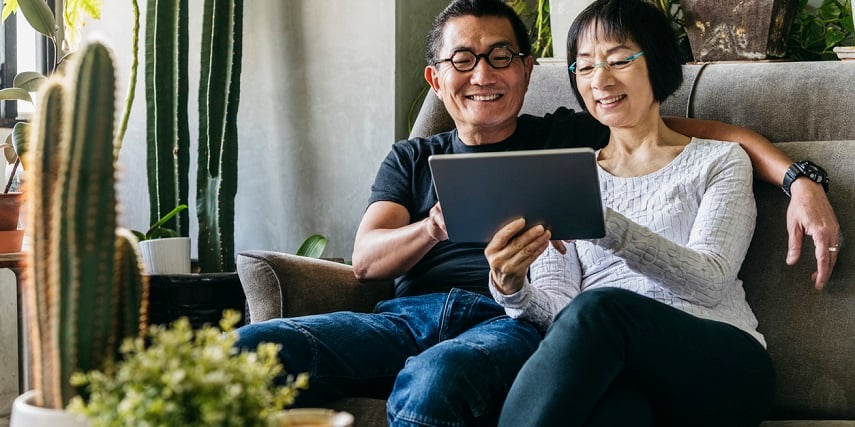 Customers want to know what they're getting before completing any online purchase. If you want to eliminate any doubt that customers might have during their buyer's journey, different product configurator tools can be instrumental in boosting customer confidence and, subsequently, sales.
There are many types of product configuration software available to businesses of all types. They offer 2D and 3D configurator capabilities to customers, which keep them engaged and moving towards a purchase.
But there are multiple different configurators to choose from, so it's important to do your research. Using the right product configurator, businesses have the chance to differentiate themselves from competitors and keep customers coming back to them.
What Are Product Configurators?
For more complex products that offer customization options, you need more than text descriptions. A product configurator can produce real-time product visualizations in 2D or 3D to show how the final product would look.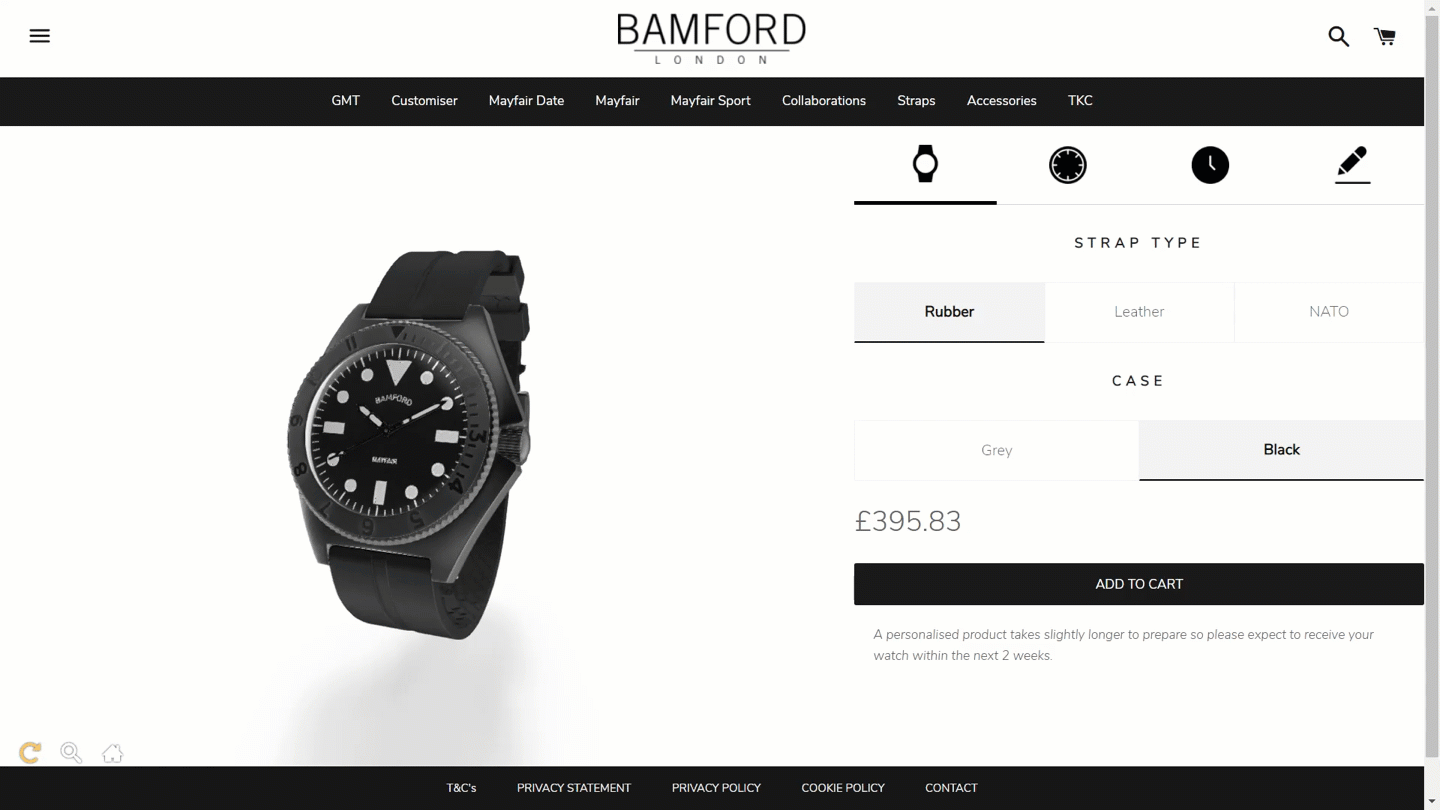 Businesses can place different product configurator tools on eCommerce platforms to offer a wide range of product options, including:
Different sizes
Different colors
Personalized text and graphics
Different materials
Many other features
At the same time, customers can see exactly what the end product would look like without the need to manufacture the product first.
It's important to keep in mind how important product images are to shoppers. One survey found that around 83% of customers rank high-quality product images as the number one influence in their buying decisions.
Additionally, user engagement increases by as much as 66% with a 3D configurator instead of a 2D tool. That makes 3D visualizations particularly helpful in attracting eCommerce shoppers.
In short, if you want to grab and hold shoppers' attention as a B2C or B2B business, you should consider implementing a product configurator for custom products. Thankfully, there are plenty of different product configurator solutions available for nearly every type of product imaginable.
To find out more about Threekit's different product configurator solutions, click here.
​Benefits of Product Configurators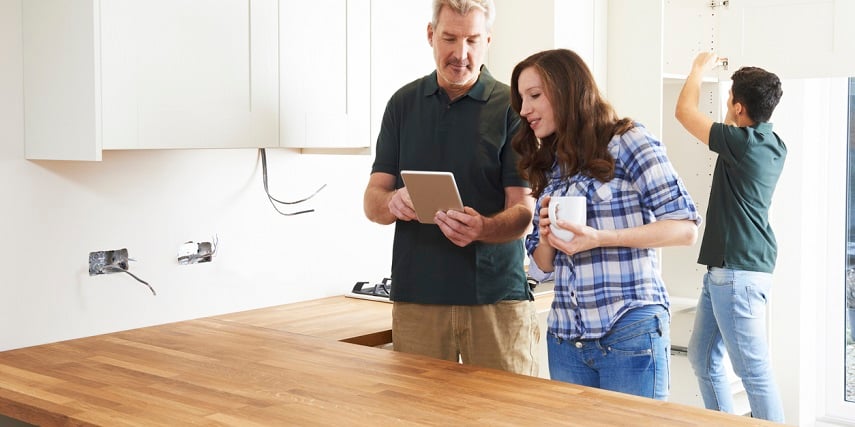 There are multiple benefits of offering a product configurator to customers. With such a wide range of different product configurator tools out there, businesses can see improved performance in multiple areas, enabling them to simplify business processes and boost sales in the long term.
The following are some specific benefits of integrating a product configurator for your business:
Increased Customer Satisfaction
Business owners need to ensure that all of their customers are happy with their orders.
A majority of shoppers love being able to choose from a wide range of product options during the configuration process. So you can easily stand out in a sea of competitors that aren't offering the same level of customization.
However, the more configurations that are possible with customizable products, the greater the chances are of something going wrong during the design and manufacturing process. This will lead to unhappy customers who expected a completely different product from what they received.
Utilizing a reliable 3D product configurator can produce high-quality, in-depth visualizations that accurately represent your products and customers' individual choices. As a result, customers will know exactly what they're buying. At the same time, you'll have a complete understanding of what types of features the customer wants.
Reduced Product Returns
Product returns are both inconvenient and costly for businesses. That inconvenience is only enhanced when customers return custom products that you can't resell.
Returns also tend to account for around 10% of total supply chain costs. This is why it's always in a company's best interest to minimize returns as much as possible. Different product configurator tools can help.
Unlike the customer experience in physical stores, online shopping limits the customers' ability to see, feel, and try out products before buying. This, in turn, increases the chances of dissatisfaction if the final product doesn't match the customer's expectations.
However, with the use of a 3D product configurator, customers will get a better sense of how the product will look and "feel" during the product customization process. Subsequently, you'll be able to significantly reduce the rate of product returns.
Streamlined Sales Cycle
Different product configurator tools also make things easier for your sales reps.
Suppose customers can try out different product configurations on their own and see how they would look with a comprehensive online configurator. In that case, they'll likely have fewer questions on their minds before purchasing.
As customers explore your product catalog and try different configurations, they'll learn the ins and outs of your products and determine what they want, simplifying the sales process.
Additionally, some configurators will show pricing via configure price quote (CPQ) solutions. This eliminates the need for customers to request a quote from salespeople.
If you want leads to submit contact info for your sales teams, you can also require them to enter their details before viewing a configuration or making a purchase, converting your configurator into an effective lead magnet.
Decreased Storage Expenses
Companies offering custom products often store pre-made versions of every possible configuration. This would require a significant amount of storage space. However, some configurations will sell more frequently than others, while a few may not sell at all and gather dust in your storage area.
By offering customers a product configurator, businesses can produce orders after they're purchased. This will save you money on warehousing and other storage solutions. Customers can see detailed product visuals that cover every possible combination, enabling them to see how a product would appear. You don't need to store and photograph each physical configuration just to help customers visualize them.
Improve Marketing Efforts With Actionable Customer Insights
Another advantage of using different product configurators is the ability to collect valuable insights into customer behavior.
For instance, you can access analytical data to see how people are interacting with your site, with details about:
Number of configurations that customers create
Options that appeal most to customers
Average lengths of time they spend on configuration
You can then determine which products are most popular and what customers want, which can help you determine what to promote in omnichannel marketing campaigns. You can also figure out which areas of your website to improve to further optimize the online shopping experience.
All of these benefits and more make it necessary for businesses to use different product configurator solutions for their unique configurable products.
9 Different Types of Product Configurators
Depending on the specific types of products a business offers, there are different product configurator software options available. Today's technology has made it possible to create interactive configurators for just about any type of consumer or industrial product imaginable.
So these tools are invaluable for businesses in any B2C and B2B vertical.
The following are some of the most commonly used product configurators and their specific applications.
1. 3D Cylinder Configurator
With a 3D cylinder product configurator, users can create custom models of pneumatic and hydraulic cylinders. These parts are used in many applications, such as manufacturing systems.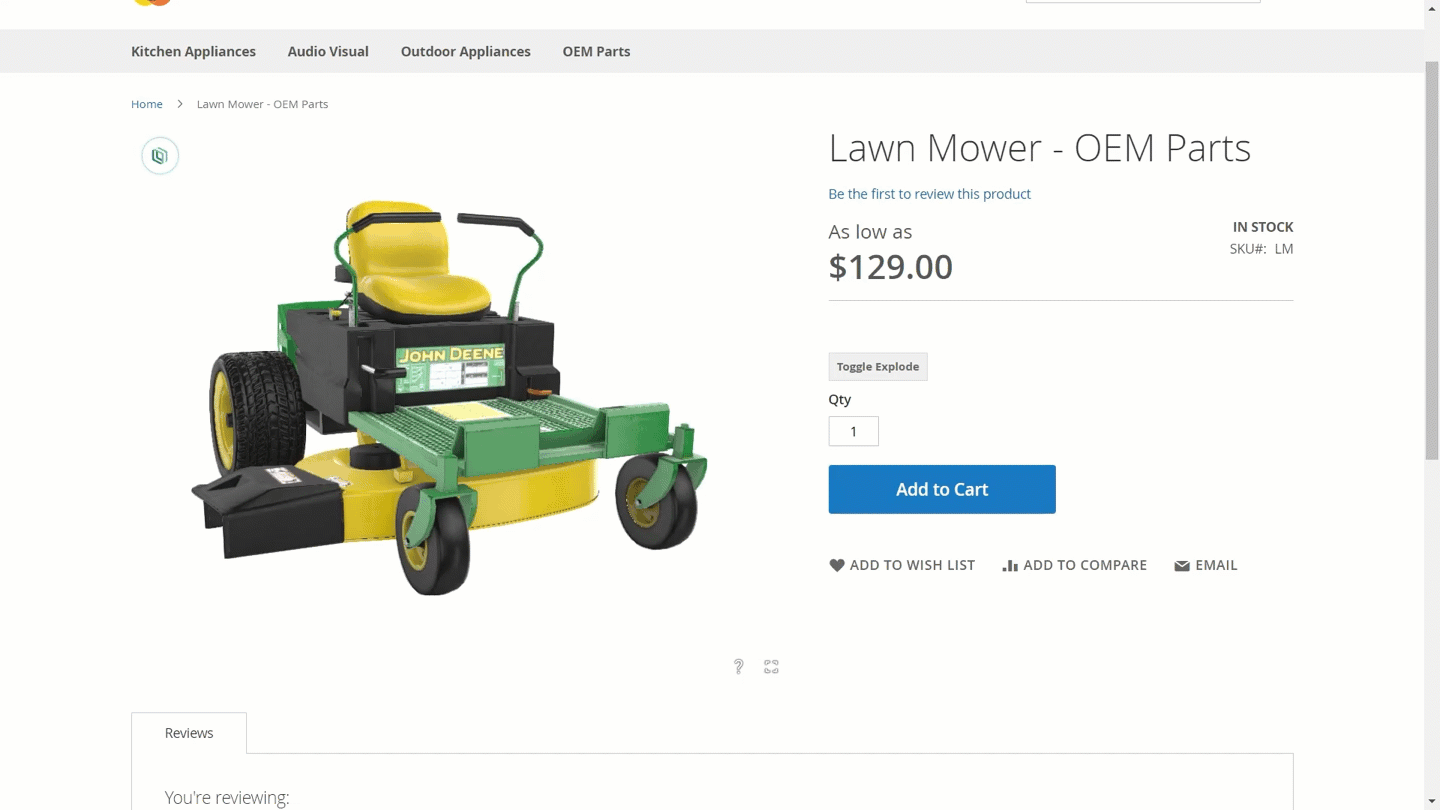 Customers in the market for a custom cylinder would be able to interact with a detailed 3D model of any type of cylinder. They could manipulate different moving parts, including extending and retracting rods. They would also be able to adjust the model based on their unique motion and dimension requirements and, helping them select the ideal cylinder for their application.
Using an augmented reality (AR) API and application on mobile devices, customers would even be able to see how the cylinder would look in the intended installation area. This would further confirm whether the cylinder has the right size and capabilities.
2. 3D Furniture Configurator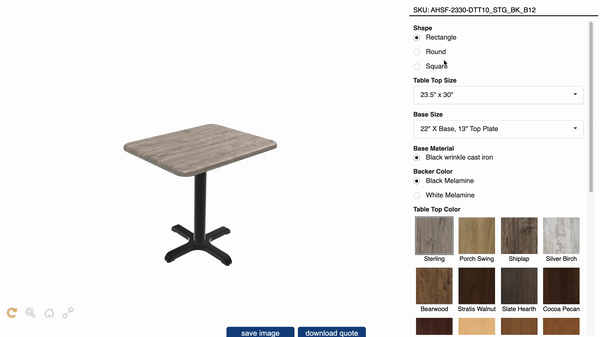 Residential and commercial furniture retailers can benefit greatly from incorporating different product configurator software into their eCommerce experience, effectively replicating the in-store experience.
With a 3D furniture configurator, customers could easily design custom furniture from chairs and couches to tables and entire furniture sets. In fact, customers' ability to see groups of furniture together could increase average cart value. How? Customers can purchase multiple compatible pieces with a single order.
Again, augmented reality can come into play here, giving customers the chance to see how furniture would look in their homes, offices, or other locations before purchasing.
3. 3D House Configurator
For construction companies, a different product configurator helps showcase custom homes. It's built to focus on specific building materials that would go into the home's construction.
An in-depth house configurator makes it easy for users to design their own building by using photorealistic 3D models that accurately represent the final construction.
As a result, clients and construction companies would be able to get a better feel for what the client wants. This ensures that the construction project goes according to plan without expensive change orders. It also keeps the client satisfied.
4. Drone Configurator
Drones are particularly complex products that involve a lot of moving parts and dynamics. A drone configurator can be a vital tool to help customers design the perfect drone and choose specific drone parts.
Using a drone configurator, customers can simulate their drone and see different stats such as the thrust-to-weight ratio and flight time. Additionally, they can choose specific parts such as motors, sensors, LED strips, and GPS technologies.
As they try different part configurations, customers will be able to see these changes reflected in real time. They can determine if the final design matches their needs.
For companies selling the latest in tech and electronics, a different product configurator that offers more customization options than their competitors can set them apart.
5. Couch Configurator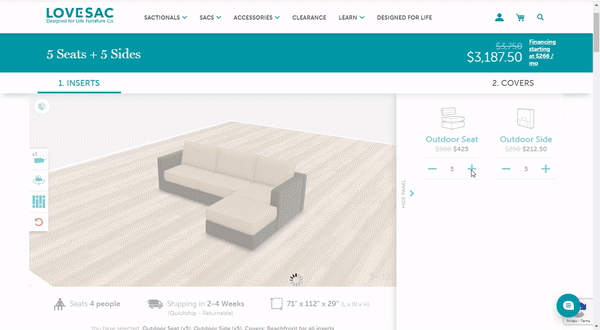 One of the most popular pieces of furniture that customers shop for is a couch. Unlike other furniture, couches are especially bulky and tend to serve as centerpieces in common areas, dens, and other recreational spaces.
If furniture companies offering custom couches want to drastically increase customer confidence and sales, it pays to have a different product configurator than those used for other furniture.
With a configurator specifically intended for couches, customers would be able to view the couch from every angle. They can also see how it changes with different custom features. Through AR enablement on your store's mobile app, they would also be able to see how it fits within their space.
6. Apparel Configurator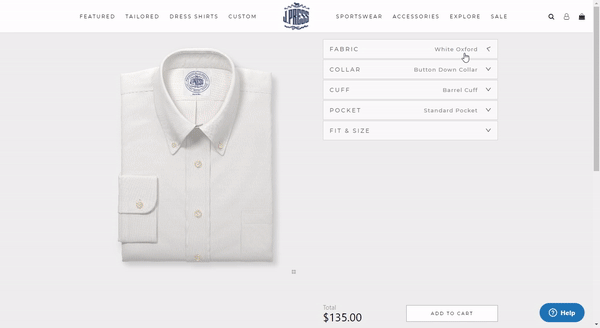 Another different product configurator tool that clothing stores can use is an apparel configurator. Whether you're selling more formal wear, sports apparel, or other types of clothing, an apparel configurator can essentially allow people to "try on" their clothes before buying.
Customers can visualize various types of clothing and shoes, showing them how their custom designs would appear as they try different outfits.
The ability to visualize apparel online is particularly crucial. Customers want to be sure the clothing will look and fit the way they expect.
Companies also benefit from the ability to automatically generate bills of materials and other manufacturing outputs for custom clothing. This streamlines the manufacturing process and reduces costs.
7. Room Configurator
Companies such as kitchen and bath renovators may want to show how an entire room would look with their products and installations. They require different product configurators for rooms, as opposed to construction-based configurators.
Using these configurator tools, customers can view everything from lighting fixtures to custom sinks in a virtual room. This will give them a good idea of how these items would look in the home. In the process, renovators and other companies can show how their offerings would truly transform a space.
In addition, augmented reality capabilities would give customers the ability to project custom components and installations in their existing space. They can then decide if new items would fit and mesh with the surrounding decor they want to keep.
8. Guitar Configurator
Yet another different product configurator that businesses can use is a guitar configurator. Music retailers offering custom guitars can allow customers to choose different design features such as:
Different body and neck sizes and materials
Fingerboard and headstock designs
Hardware, and
Many other elements
Musicians will love to use this type of configurator as they tailor their guitar design to create their signature instrument. They'll be far happier with their purchase as they select and commit to a guitar that really feels like an extension of them.
9. Vehicle Configurator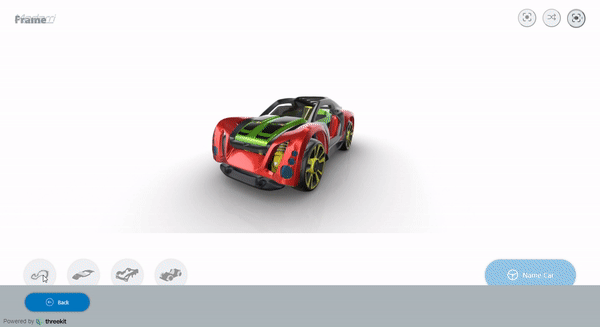 Automotive customers want to be sure they're getting the right vehicle for them. So product configuration is crucial in helping them decide on a custom vehicle.
If customers are unable to go into a dealership, that's okay — a product configurator can bring the dealership to them.
Through in-depth product visualizations and 3D models, customers will be able to view every aspect of their vehicles, including the exterior and individual internal components. Customers will be able to customize everything from their paint and interior designs to parts installed under the hood, including engines and transmissions.
They can also see how different options affect the vehicle's pricing. This creates more transparency during the sales process.
Using additional elements such as virtual reality, customers can even "test drive" their vehicles like they would at an actual dealership.
Through simulations, customers would have the chance to see how their vehicle would perform with custom parts, giving them a feel for how it handles without the need to actually drive it. This can further convince them that a vehicle is worth the purchase.
The Unique Capabilities of Threekit's Product Configurator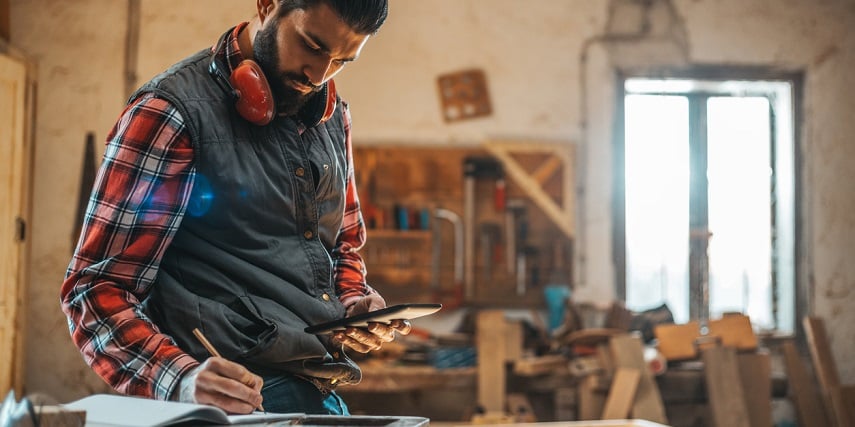 With such a wide array of different product configurators, virtually every business will benefit from including them on their eCommerce sites. Suppose you're looking for a reliable configurator that can give you the results you want with high-quality visualizations and configuration capabilities. In that case, Threekit's software suite can help you develop the perfect custom product configurator solution.
Digitize All Products With Ease Using Virtual Photography
To help develop our customers' product configurators, we begin by capturing the entire product inventory through virtual photography using our Virtual Photographer™ solution. This powerful software makes it easy to digitize products and create photorealistic 3D visuals based on product materials and existing 3D image files.
You won't have to worry about tedious tasks like setting up a photoshoot, shipping your entire catalog to a shooting location, and hiring professional photographers. Instead, simply send us base materials that we can use to create perfect representations for a configurator.
Set Up the 3D Product Configurator
Once we have converted our customers' inventory to 2D and 3D visuals, we can begin setting up the configurator. The process entails configuring each customizable feature for each product before categorizing and labeling them accordingly to keep them consistently organized.
If our customer adds a new product or makes changes to certain features for others, they'll be able to instantly update their catalog and configurators with these options.
Seamlessly Integrate It on Nearly Any Platform
After initial setup, we can help integrate the product configurator on your existing eCommerce platform. You won't have to make a daunting switch to a new website.
To facilitate this, our product configurator is compatible with most eCommerce platforms, including WooCommerce, Shopify, BigCommerce, Magento, and more. Our software is also compatible with ERPs and CRMs such as Salesforce.
With our solution installed on their various platforms, our customers can benefit from more automation in the sales process and improved customer experience.
Augmented Reality Integrations
If our customers want to harness the power of AR technology for their product visualizations, we can also facilitate this with custom augmented reality solutions. Shoppers will be able to use their smartphones and tablets to view products in their space. This helps them interact with products on another level.
Through AR, you can truly immerse shoppers in the experience and show them what your products would look like.
What makes our solution even more convenient for end-users is the fact that no app is required. Simply connect AR to your product page. Then customers can project detailed 3D models in their space right from your website. This further streamlines the customer experience and eliminates steps in the sales process.
Get Started With Threekit's Product Configuration Software Today
Want to see all of the benefits of a product configurator with a solution specifically designed for your business and customers? Threekit is here to give you everything you need to optimize the eCommerce experience and help you maximize sales.
With our innovative solution installed and integrated, you'll be able to give your customers a uniquely engaging experience that keeps them confident and satisfied with their purchases. You'll be able to stand out from less engaging competitors with a tool that keeps all eyes on your business.
Whether your business sells to consumers or businesses, we understand the needs of your industry. We can help you build trust among customers to secure more sales. You'll then begin to see higher ROI and the overall value of using this technology to support your business.
For more information about our platform and to get started on a custom product configurator for your business, get in touch with us today. We're ready to work with you to get the most from your custom products. We can help you give your customers what they want from the online shopping experience.