Virtual Photoshoots: No Camera, No Problem
For this post, we're "breaking the fourth wall" to write candidly about what we're hearing directly from customers and prospects during the past several weeks of the COVID-19 pandemic.
Suit jacket variations created in Virtual Photographer
Many of our direct contacts sit in the marketing, merchandising or even creative departments of their organizations, and they're coming to us with a pretty consistent storyline as of late.
Their backs are against the wall. They ordered their product months ago. They've already got inventory sitting in their warehouse. Their marketing campaign is slated to launch before back-to-school (or July 4th or even Graduation season). They have an eCommerce store, so they're prepared to sell the only way that shoppers can actually buy for the foreseeable future.
But they have a problem: no product images.
That photoshoot that was supposed to happen at the end of March? Cancelled. And if they can't show beautiful pictures of their products on their site (or social feeds or display ads or in print) they can't sell it.
They wind up on the phone with us through a "product images" Google search. They call hoping there is some way to do a photoshoot without actually, you know…doing a photoshoot.
We talk a lot at Threekit about the value and importance of good product visuals. The data is overwhelming.
These facts aren't lost on the people contacting us. A good photo shoot is the bedrock of a good go-to-market plan—a literal "make or break" event.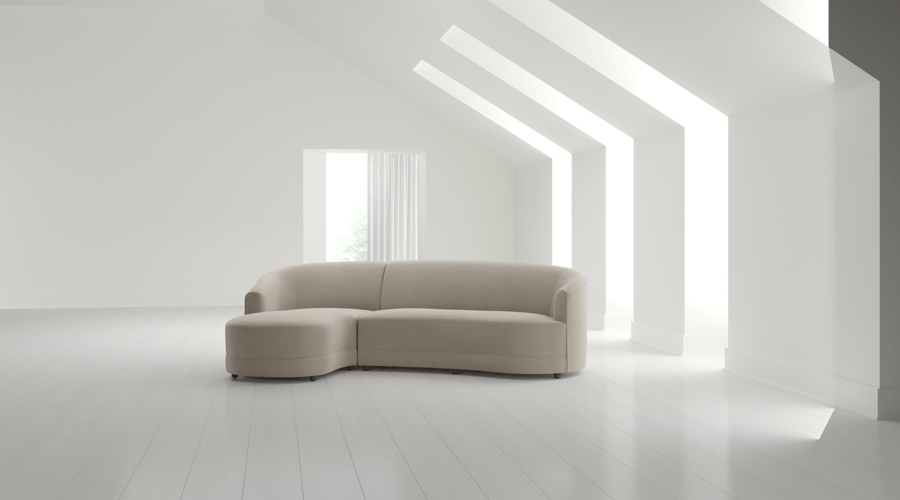 Sofa created in Virtual Photographer
So, they're relieved when we tell them: "Yes, you can actually do a photoshoot without doing a photoshoot."
You might call it a "virtual photoshoot" (we just happen to call it Virtual Photographer.)
What you call it doesn't necessarily matter, but how it works definitely does. The process is "no-camera-(or physical location)-required" because these beautiful images are generated from digital design files.
Here is the cliff's notes version:
You upload your 3D models along and any product information associated with them to our software platform. (Interesting fact: hyper-realistic 2D images actually start with 3D models. Most companies don't have those on hand, but we can help with that by using what design information you DO have to create them.)
Create configuration rules so you can produce visuals that match business requirements. (Other interesting fact: Threekit easily integrates with your ERP or PIM to help make this pretty seamless. But you can read more about those product features here.)
Render away! We use V-Ray, the world leader in visualization, to create thousands of images in a matter of hours.
In short, you can get the product images you need to meet your marketing deadlines without ever having to meet with anyone face-to-face. That's the magic of virtual photography. And if you identify with this scenario and are feeling the pressure, we want to hear from you.
Today's uncertainties are forcing every business out of its comfort zone. In some cases, that means abandoning best-laid plans and searching for alternatives. If there is a silver lining, it's that those willing to try new things may discover tools and processes that will transform their business positively and indefinitely. At least that's something to look forward to on the other side.
---
Threekit is product visualization software that creates photorealistic images, interactive 3D and augmented reality experiences that help businesses sell more. To learn more, please schedule some time with one of our teammates.