Virtual Furniture Showrooms: Using eCommerce AR to Reach Shoppers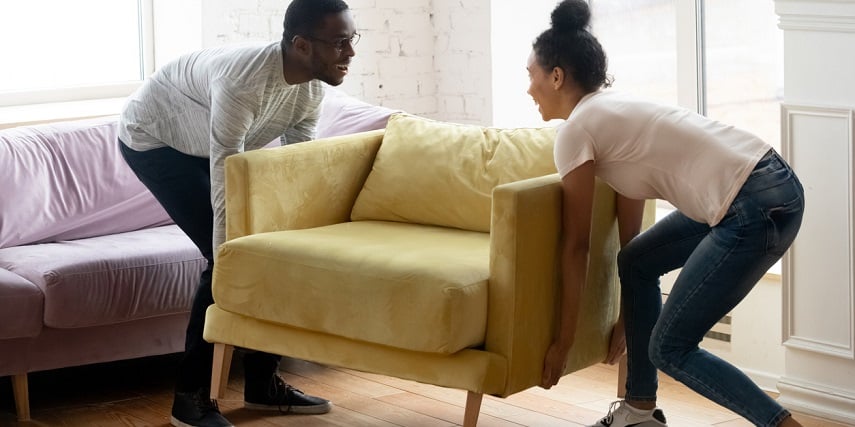 Furniture eCommerce brands realize they need to make an unforgettable impression on today's Millennial and Gen Z shoppers. This consumer demographic is critical to the future of the industry. The most successful brands realize they must provide fun and revolutionary technologies, like AR for eCommerce, to reach this consumer base.
Augmented reality is a versatile, easy-to-implement technology that allows customers to explore products from the comfort of their homes before they purchase them. It saves customers and companies an enormous amount of money. This technology also increases conversion rates for purchases.
In this article, we'll explain how AR for eCommerce can help your furniture business increase its profits.
How Younger Generations Shop for Products
Furniture resellers have had to rethink their business practices because of younger generations entering the workforce. Younger generations prefer to use a combination of online browsing and physical visits to brick and mortar stores to shop for items.
Furniture retailers had to adopt newer technologies, like augmented reality for eCommerce sites, to appeal to younger shoppers. Your business can't afford to ignore this technology since younger generations primarily use technology to inform their buying decisions.
Millennials (1981 - 1997) are the largest generation in U.S. history. This group, also known as Generation Y, accounts for 80 million of the nation's adult population. These individuals have substantial purchasing power at $600 billion each year.
According to the High Point Furniture Market Report, this generation also makes up most of the nation's furniture buyers. They are the first generation obsessed with the internet.
Experts blamed this generation for killing dozens of industries and forced retailers to adopt online-selling strategies. Younger Millennials (ages 20-23) are more likely to shop in physical stores compared to their older counterparts (ages 32-35), who prefer mobile phones.
Although this group shops online, they are more likely to visit a store to purchase these products. However, they are more selective when doing so. This generation prefers to browse products across brands rather than settling on their first option and buying it.
Generation Z (1998 - 2010) has adopted a different approach to shopping. This group grew up in a digital-only era. They have never lived in a time without a smartphone, the internet, or social media.
Their primary motivator is price, according to a Business Insider survey of more than 1,800 Gen Zers. This generation prefers to document their lives on social media and use unconventional forms of shopping, including rental and resale.
The Shift in Americans' Buying Habits
In 2020, the world experienced a monumental shift in the way people purchased items. Many young and older people started shopping from home after the pandemic began last year. Retailers, especially furniture stores, had to shift their sales to online showrooms.
According to Think With Google Report, over 90 percent of Americans use or would try Augmented Reality (AR) to shop for items. Both younger and older shoppers use AR to shop for items like furniture. These virtual showrooms provide an immersive experience for users. They also enable them to make more educated buying decisions when they arrive at a brick-and-mortar location.
What Is Augmented Reality for Furniture?
Augmented reality features an enhanced version of the physical world. During this process, technology seamlessly blends photorealistic digital elements and other sensory modifications with real-world settings.
People often confuse AR with Virtual Reality. Although they share some similarities, there are still some significant differences. Virtual reality provides users with a completely self-contained. Designers use computer technology to construct an entirely synthetic virtual environment.
VR users must use headsets to explore the synthetic worlds generated by VR technology. They can also use specialized devices to interact with these computer-generated settings.
Although VR provides outstanding benefits, this technology has several drawbacks. Businesses must purchase expensive headsets before they can take advantage of VR. Additionally, furniture shoppers must be physically present at the store's location to use it.
Augmented reality provides users with immersive experiences. It combines engaging, photorealistic computer-generated graphics with real-world settings — without the hardware requirements.
These environments have depth, perspective, and rendering characteristics that feel real. Users can also reposition these objects behind or in front of real ones.
One of the most popular uses of augmented reality is gaming. Many people heard about AR after the Pokémon GO game became popular in the world. Today's retailers, especially furniture stores, are using this technology to reach clients.
Learn more about how you can optimize your online store with tools that feature AR for eCommerce today.
How Augmented Reality Has Revolutionized Retail Shopping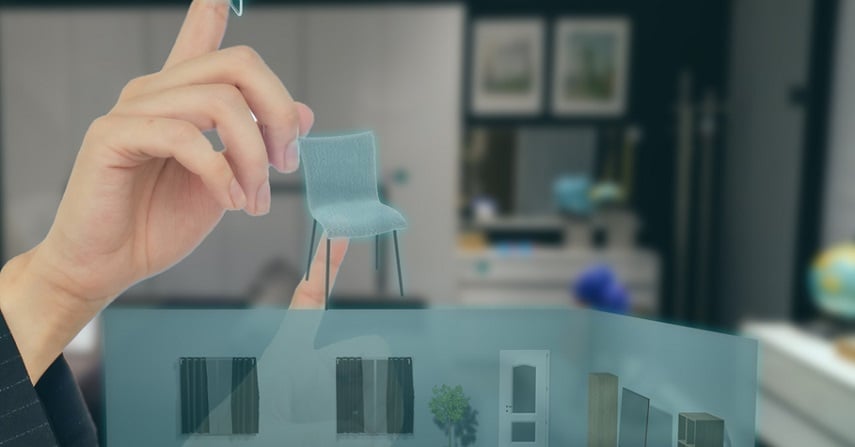 Augmented reality has disrupted the way retailers sell furniture and other goods. Researchers estimate the global augmented reality market size will reach $340.15 billion by 2028. Also, according to a report released by Grand View Research, Inc., this sector will register a compound annual growth rate (CAGR) of 43.8 percent from 2021 to 2028.
The Grand View Research study also found that industries have increasingly adopted AR-supported technology for shopping, education, social media, and other applications. These sectors have found they provide a better immersion experience.
AR for eCommerce still has low adoption rates among retailers, but this trend is changing. In the past, older AR technology required customers to shop using a dedicated app from a company based on AR technology offered through ARkit (Apple iOS) and ARCore(Android) engines.
The Impact of Integrated AR Technology
But website-based AR (WebAR) digital technology allows individuals to access AR on the internet without using specialized applications. They expect this will lead to substantial growth for the eCommerce business sector.
In 2016, Interactions Daymon released its "The Impact on Augmented Reality on Retail" study. It examined the impact of augmented reality on people's shopping experiences and preferences. They surveyed 1,062 people across the United States to learn how they prefer to engage with these new technologies.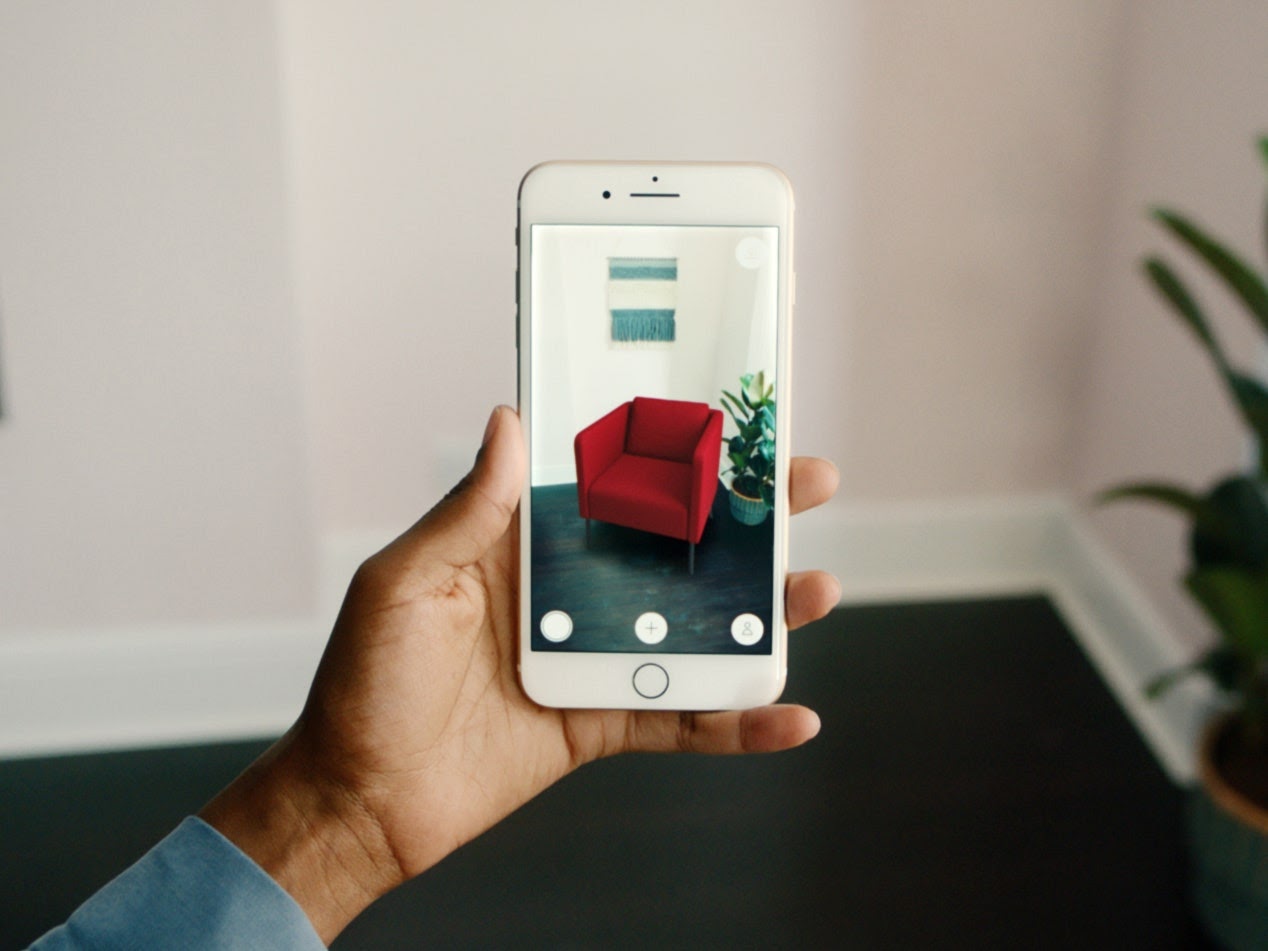 Their study found that the furniture sector was the most popular use case of AR for eCommerce, at 60 percent. Other top products included using AR to "try on" clothing (55 percent) and shop for groceries (39 percent).
They gathered additional insights from study participants about their shopping habits. The researchers learned these key takeaways about the AR for eCommerce industry:
Forty percent of participants would pay more for a product if they could experience it through augmented reality.

Sixty-one percent of shoppers prefer to shop at online stores that offer an AR experience versus ones that don't.

Seventy-one percent of shoppers would shop at a retailer more often if they provided an augmented reality store experience.
Although many shoppers prefer to use AR, only one percent of retailers are using this technology, according to a report from Mobile Marketer. Five percent of retailers are expected to adopt AR features by 2022.
Learn how businesses are incorporating AR technology in The Visual Economy. In the next section, you'll learn four advantages that AR for eCommerce provides to businesses.
Five Advantages of Using AR for eCommerce Furniture Retailers
A fundamental challenge of buying items online is trying to imagine what an object will look like in real life. For instance, pictures of a chair or sofa online can fool the customer's eyes. Depending on the angle of a picture, the size of the piece may appear larger or smaller. The color can seem different depending on the web page's background.
AR for eCommerce provides shoppers with a 3D online shopping experience from the comfort of their living room. An Interactions Consumer Experience Marketing survey shows that furniture is one of the most popular items to shop for using an augmented reality experience.
Furniture stores were some of the earliest adopters of augmented reality. This technology allows customers a "try before you buy" shopping experience on an eCommerce website with realistic product visualizations.
3D modeling allows furniture stores to develop a graphical representation of their products. Online eCommerce retailers like Amazon, Ikea, and Shopify already use AR technology. It enables shoppers to explore the functionality of different furniture pieces and other items. AR is also interactive. Potential customers can rotate these objects using their devices.
Here are several advantages that AR for eCommerce provides to furniture retailers:
1. Easy 'Try Before You Buy' Options
AR allows your customers to try before they buy products. One of the largest advantages that AR for eCommerce provides furniture stores is that they allow consumers to try different pieces before purchasing them.
Shoppers can point their mobile devices to rooms in their homes and select the furniture item they want to put there. It superimposes real-life, 3D models of the product the customer wants to buy.
It also allows them to change the piece's colors and patterns. Users can virtually move furniture around in their room. Individuals can also determine whether the style and size of the pieces fit with their motif.
Shoppers can use AR for eCommerce computer simulations of products to explore how items fit within their homes before they buy them. This process allows consumers to save money by selecting the right piece of furniture. It also helps the furniture retailer save time and improves customer satisfaction.
It enables them to:
Discover how a room will look with new furniture.

View a sofa, chair, table, or another piece of furniture from different sides.

Change the furniture's colors, styles, and patterns.

Determine whether the object fits within the room without using measuring tape.

Move a piece around the room to see where it looks best.

Zoom in on finer details like the fabric, color, proportions, and size.
AR gives customers a better idea about whether a product will complement their home. Customers can virtually see how this furniture fits within their homes without spending any money.
2. AR Capabilities at Home
It allows your company to take your virtual showroom to their homes. The furniture marketplace has changed. Most people will not only visit a furniture store's brick-and-mortar location to purchase items. AR allows your company to bring design inspiration into people's homes.
They can explore pieces and layouts in each room using a 360-degree layout.
The AR shopping experience also enables consumers to see products they may not have thought about while shopping. For instance, they find new lamps to go with their nightstand to complete the look of a room.
3. Product Customization
It allows your clients to customize products. Customers can adjust the color, fabric, and size of their pieces before they buy them. They can also see how the furniture fits in different areas of their room.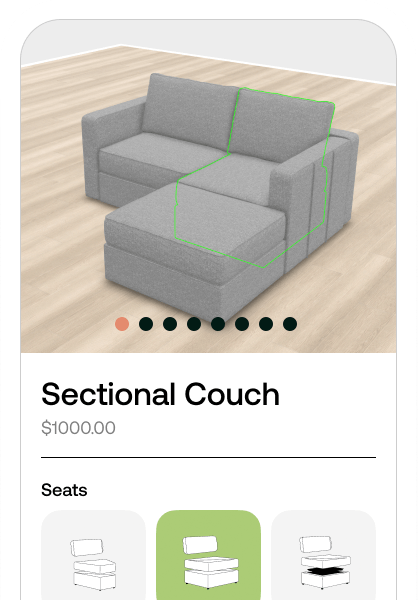 These options give clients a range of choices. Once customers have the products they like, they can change these pieces with a single click.
4. Better Experiences
AR provides customers with an informative and enhanced experience, both in-store and online. In stores, for example, this technology allows companies to overly digital information about their products throughout the store to enrich their customers' shopping experience.
AR for eCommerce also enriches at-home shopping experiences. AR attaches digital information to physical objects that allow customers to view how a couch, chair, or vanity would look in their apartment. It also provides accurate representations of your products. If a piece doesn't seem like a good fit, shoppers can search for a new item at your store.
Additionally, when users get to try before they buy, they are less likely to abandon items in their shopping cart, thus improving conversion rates. They'll be more likely to complete their purchases.
Consumers won't have to spend excess money to ship an item to their home, only to find out that it doesn't fit their tastes or complement their room. Nor do they have to pay restocking fees or the furniture retailer for restocking fees and other charges when they send the product back.
Most consumers already use their smartphones to seek information about the furniture they want to purchase. With AR, businesses can include product information, designer tips, and other relevant specs.
5. Easy In-Store Navigation
This technology provides retailers with in-store navigation. Sometimes, customers want to get into a store and purchase a product quickly. They may leave your store if they can't locate an item quickly and buy it from your competitor instead.
AR helps customers to navigate your store and find the products they want to buy immediately.
Get Started With Augmented Reality Today
Would you like to learn how to use augmented reality for your business? Threekit has AR for eCommerce solutions that can boost customer confidence. It allows them to place customized products in their space in real-time. For more information, visit this page. Visit this page to learn more.