Top 5 Brands Using Visual Configuration for Manufacturing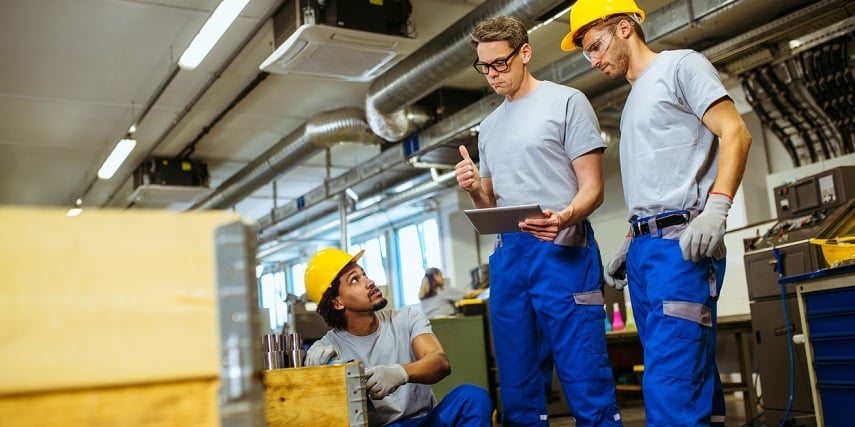 How can manufacturers create engineer-to-order and configure-to-order products in a way that doesn't create bottlenecks in the manufacturing process and slow production? Visual configuration for manufacturing that uses 3D product visualization and allows customers to make changes in real time is the only solution.
How companies use visual configuration in manufacturing
Consumers and commercial buyers don't just want personalization; they demand it. As manufacturing direct-to-customer buying transactions increase, the demands of personalization fall on manufacturers in the design process.
Many people are familiar with the use of visual configuration to personalize clothing and apparel. But the idea of personalizing the manufacturing process may seem daunting.
Visual configuration for manufacturing depends on a highly flexible configurator that helps customers create a custom product using mix-and-match selections from available options. Selections for specific measurements can be included, and augmented reality can be added to allow customers to virtually place a personalized product in the space it belongs.
Once an order is created, manufacturing files of your choice are automatically generated and sent directly to manufacturing. In other words, the customer acts as the designer, and the related CAD or 3D print designs are ready for immediate manufacturing when the order is placed.
Along with these critical files, manufacturers can receive the parts list, assembly instructions and a list of all required materials.
Finally, manufacturers can configure, price and quote in real time while creating an improved customer experience and a more streamlined workflow.
5 top brands using visual configuration in manufacturing
Visual configuration for manufacturing companies allows them to deliver product customization and an improved customer experience without slowing down the manufacturing process. When shoppers use a 3D configurator, they get engaged in the process and are 20% more likely to buy a product.
Learn more about visual configuration for manufacturing with the examples provided by these top five brands.
1. BSI
BSI is known throughout the food service industry as the "gold standard" in food shield innovation and design. But BSI has a lot more to offer than food shields. For example, customers can purchase personalized back-of-house sinks, custom counters and prep tables.
BSI uses a visual configurator to provide commercial kitchens with serving counters, carts and kiosks, food shields, etc., with different levels of customization to meet their needs. For example, serving counters can be customized by shape, size, storage options and more.
The process begins when customers choose the level of customization they prefer. Then, they can follow a step-by-step process to use a component-based approach to construct the counter, kiosk or cabinets they need.

2. Liberty Safe
America's #1 safe manufacturer, Liberty Safe, produces heavy-duty gun safes, home safes, fire safes and commercial safes. The company's goal is to produce high-quality safes that fit into the homes and offices of customers.
Liberty offers customers over 30 models of safes to choose from. Safes can then be customized with various accessories to accommodate every type of safe owner.
Customers can use a visual configurator to apply accessories to customize their safe to meet their specific needs. Customization options include:
Door panels

Covers

Velvet lined drawers

Electrical outlet kits

LED lighting kits

Dehumidifiers

Shelf layout

Anchoring kits

Locks

Electronic locking systems
3. Lovesac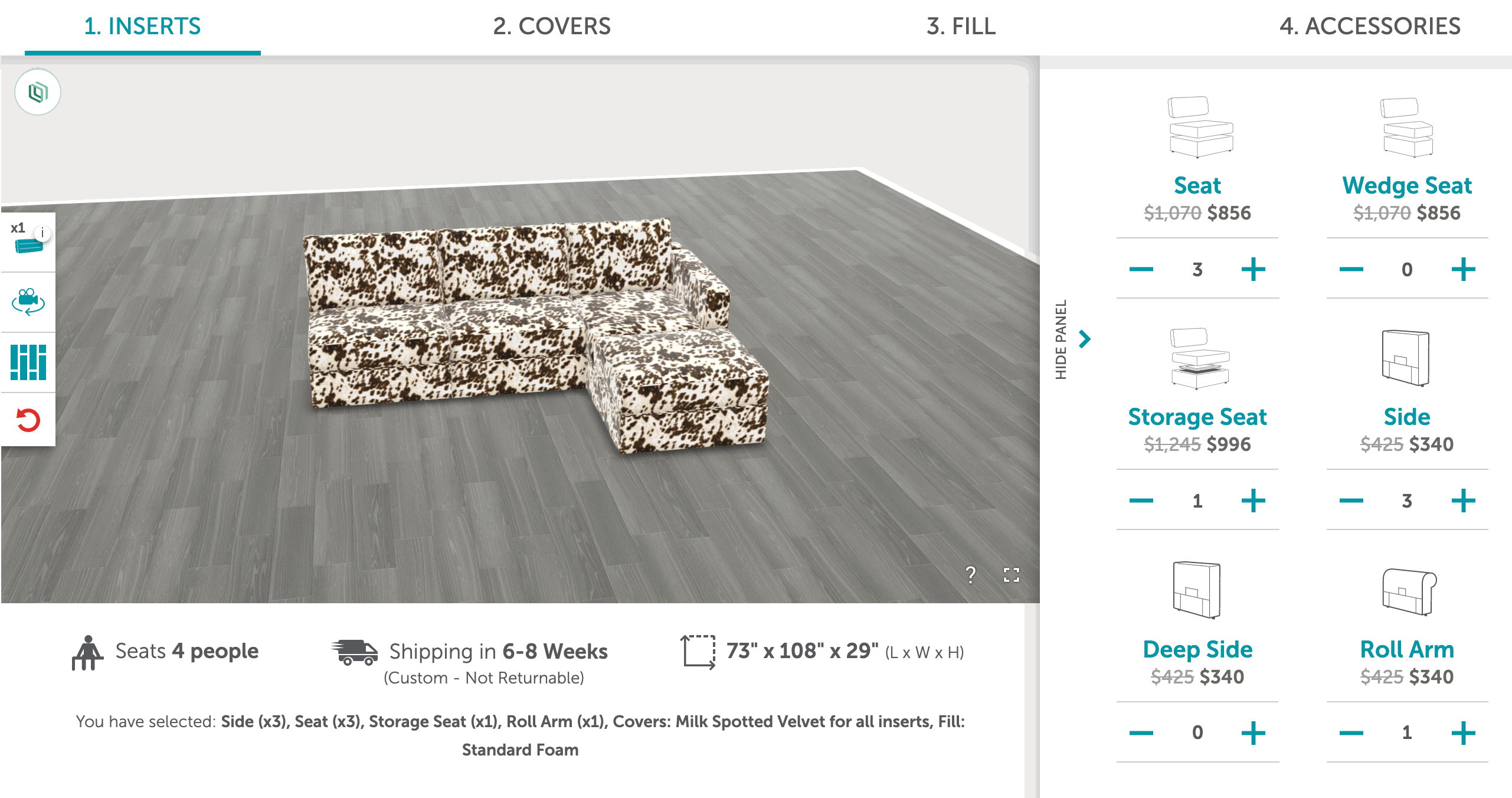 Lovesac is a unique furniture company that creates highly customizable couches known as sectionals. However, they only sell products online, so they need detailed visuals and a user-friendly interface allowing customers to configure the unique sofa that fits their needs.
Lovesac's product configurator features live and interactive 3D models that allow customers to turn the product 360 degrees to see every angle. Users can select customizable features like color, fill, materials, arms, covers, backrests and accessories in real time to see exactly what they're getting.
A drag-and-drop feature takes personalization and customer confidence up a notch by enabling the customer to try different layouts and reposition individual sections based on the available space in their home. Visual configuration for manufacturing is essential to the Lovesac business model because it gives customers the confidence to purchase big-ticket items online.
4. CTech Manufacturing
CTech Manufacturing creates customized aluminum carts, cabinets, drawers and accessories to allow customers to design their ideal shop, garage or workspace. The company's products work in service trucks, motorsports, law enforcement, specialty vehicles, garages and shops.
CTech custom cabinets are made to order. The company provides a user-friendly platform that allows customers to build storage solutions from the ground up. An easy step-by-step process enables users to choose from mix-and-match menus to select a cabinet and then customize it with:
Color options

Accessories

Doors and drawers

Dimensions of customizable interiors
The result is a cabinet that can perfectly fit in any space for any use.
Visual configuration for manufacturing allows customers to see every detail they add in real time. They can also see how each change affects the price with a simple process that eliminates purchasing doubt.
5. BOSTONtec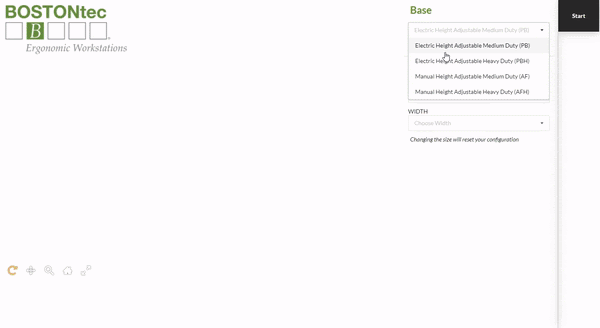 A leader in custom workbench solutions, BOSTONtec creates modular workstations that adjust seamlessly to their customers' work processes. Designed for improved ergonomics, industry specifications and individualized workflows, BOSTONtec workstations are used across all industries, from manufacturing to medical labs.
While popular workstations are available to ship on order, the company also offers an option to "Design Your Own" workstation with a 3D Workstation Builder. The user-friendly platform allows customers to choose the base, uprights, accessories, colors and measurements.
The process is simple. Customers choose the size of their bench, select a style for feet and choose an upright that is customizable with accessories and other components.
Drag and drop features allow users to move parts until the workstation suits their needs. The entire process uses interactive 3D images; customers can zoom, tilt and rotate them for perfect clarity of every detail.
Threekit visual configurators adapt to your manufacturing process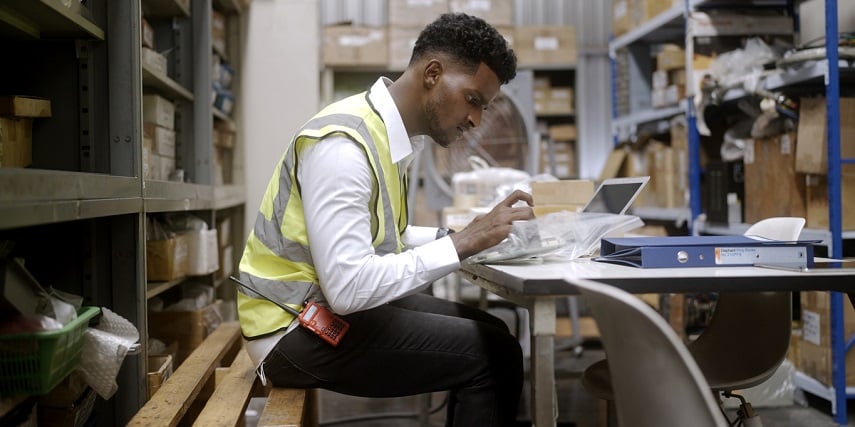 All of these companies use visual configuration for manufacturing in vastly different ways. But they each depend on Threekit's revolutionary product configuration platform.
Visual configuration for manufacturing allows different companies to bring various personalization aspects to the manufacturing process. It also improves the customer experience and provides consumers with the confidence they need to make a big ticket purchase online.
Ready to transform your manufacturing process and give your customers an amazing visual experience? Learn more about visual configuration from Threekit today.