Top 4 Customizable Options People Want in an Adidas Shoe Configurator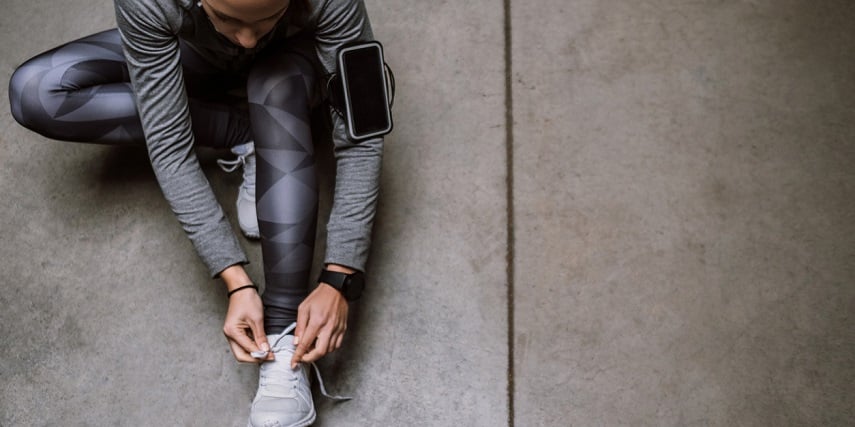 Shoppers want customizable Adidas shoes that are tailored to their specific preferences. Thanks to today's innovations, online shoppers can customize their favorite shoes using a shoe configurator for Adidas products, along with shoes from other top brands like Nike, Converse, Reebok, and more.
As people search for the perfect shoe online, there are certain features that people want to be able to easily customize with an Adidas shoe configurator. With the introduction of NikeID in 2000, customers were able to fully customize their shoes for the first time.
This gave them the chance to choose from different materials and colors. They could even personalize them with custom text.
However, times have changed. Today's product configurators allow for even more possibilities when shopping for Adidas shoes and other brands.
The following are some of the top features that people look for in product customization when using an Adidas shoe configurator.
1. Shoe Size
One of the biggest criteria for shoppers when looking for shoes is the perfect size. Some may know exactly what shoe size they are, but that's not always the case. Many configurators can include a full range of size options — along with a size guide — to help people find the right option based on their unique foot size.
In addition to configurators, some shoe companies have given customers the ability to fit their shoes using augmented reality technology. Nike was one brand that recreated the in-store fitting experience by implementing an AR app for custom shoes.
This app enables users to use their mobile devices to scan their feet and instantly calculate their shoe size. Once determined, the app then makes recommendations for shoes that match their individual size.
This eliminates the need for a size guide entirely.
Pro Tip:
When you're implementing an Adidas shoe configurator, this should normally be the first step for customers. Allow them to easily fit their shoes in an experience that's similar to an in-store fitting. Then move on to other steps.
2. Colors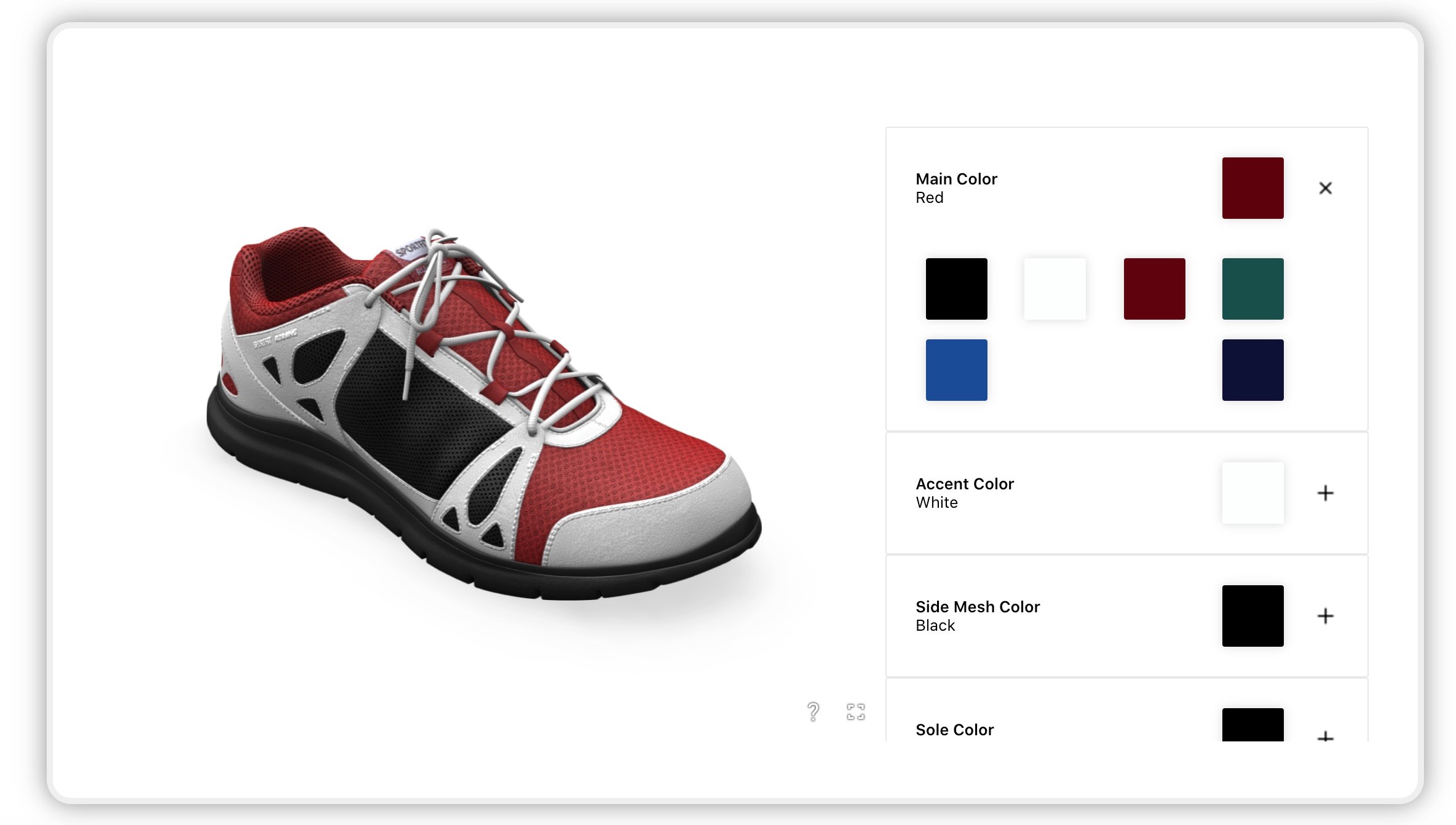 Once a customer knows that they're getting an Adidas shoe that's the right size and fit, they'll likely want to customize the shoe's surface appearance. Although Adidas discontinued its miAdidas customization platform, Nike uses another platform called Nike By You. It allows users to select one of many shoe designs and customize every part of the shoe.
Through the use of in-depth 2D and 3D models of best-sellers and other trending Nike shoe designs, customers can customize the color for every part of the shoe, including:
Bases

Tips and eyestays

Foxing

Laces

Tongues and tongue labels

Embroidery

Heel clips

Outsoles and midsoles
By giving customers the ability to fully customize a shoe's colors, they'll feel more like they're creating their very own shoes that are unique to them.
3. Text
Colors can make a shoe stand out, but customizable text can facilitate true personalization. This is why Adidas and other brands are enabling customers to apply names, numbers, and other custom text on tongue labels, heels, and other areas of the shoe.
With custom text, people can officially brand a shoe as theirs. This goes beyond simply choosing a unique color combination.
Using text such as their names, customers can truly feel as though they own the shoes they've designed. It's essentially the equivalent of slapping "Stella McCartney" or "Stan Smith" on an Adidas shoe; your customers can feel like superstar designers themselves.
4. Complete Designs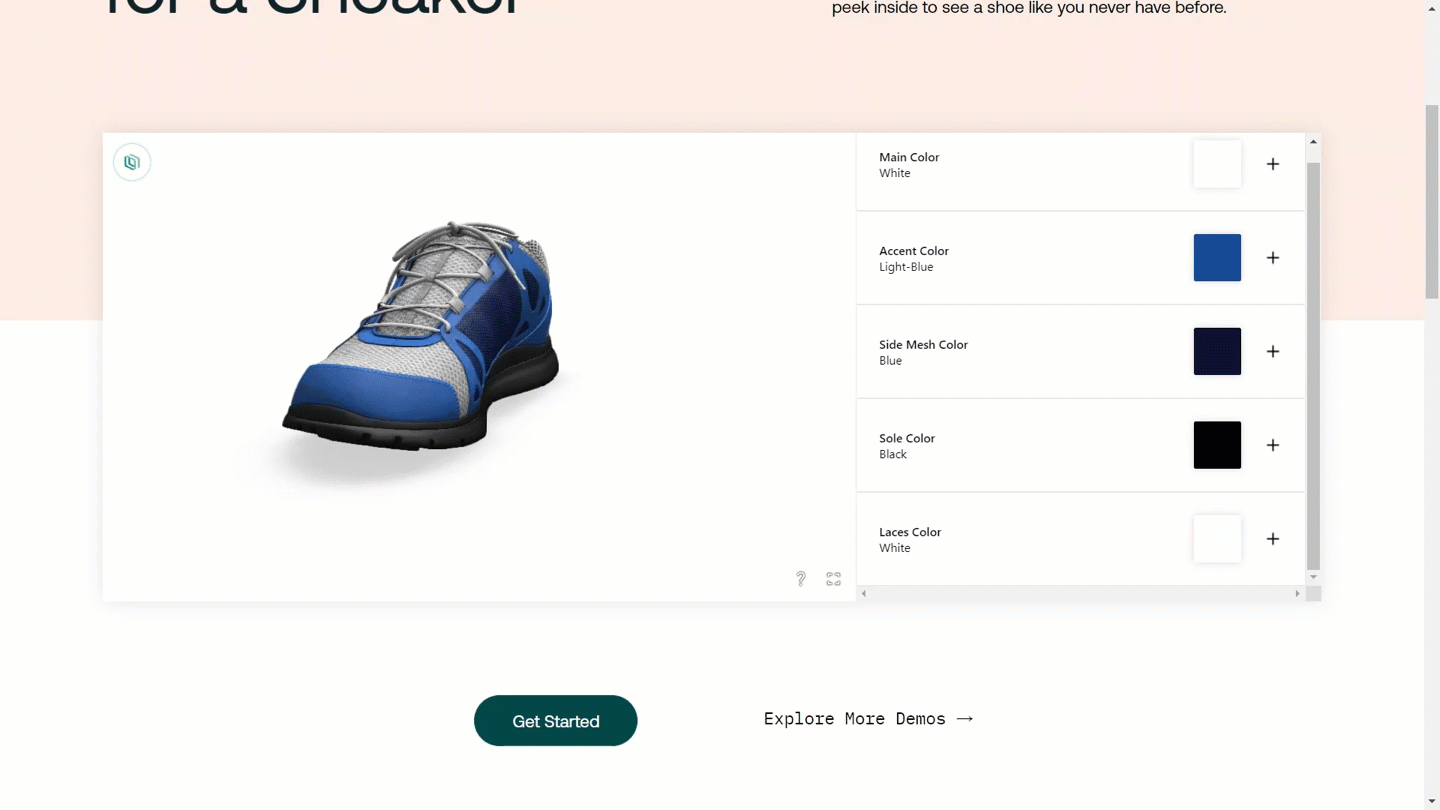 Although custom sizes, colors, and text can make customers feel fully in control of their Adidas shoe designs, Adidas shoe configurators can take this a step further by offering fully customizable design features.
People want to be able to control every aspect of a shoe design, from the outsoles and base to the laces and tongue. Through platforms like Nike by You, customers can actually become designers. They can produce their own custom shoe designs and share them with others.
Customers can choose from different materials, patterns, and shapes to create entirely new shoes that other customers can then customize with superficial color and text changes. miAdidas also allowed customers to upload their own print designs to the platform, which they could use to cover the entire shoe with an image or graphic design of their choosing.
Whether people want to design the perfect running shoes, basketball shoes, skateboarding shoes, or other designs, people want to have the chance to create a shoe that's specifically right for them and their everyday activities.
If customers can select material designs in addition to colors and text, they'll be much more likely to remain satisfied with their unique designs.
To learn more about the many customization capabilities that Threekit's Adidas shoe configurator has to offer customers, click here.
Giving Customers What They Want With a Capable Product Configurator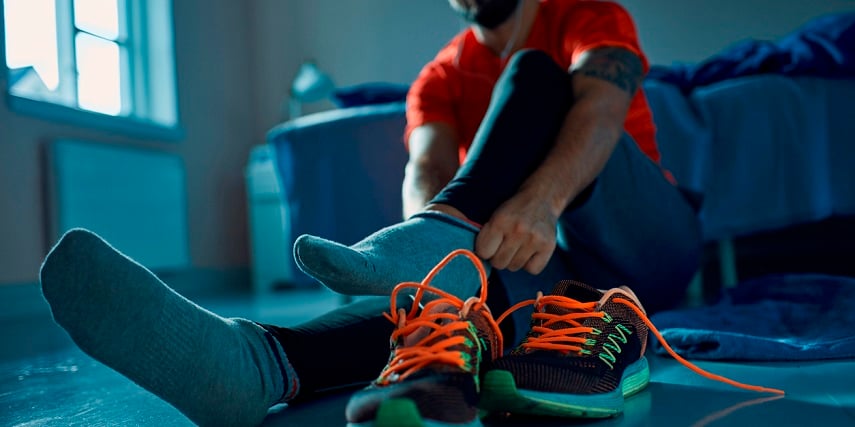 Keeping all of these features in mind, shoe companies such as Adidas are leading the way in product configuration. If sportswear and other retailers want to effectively sell their shoe products and remain competitive, they should do what they can to offer fully customizable inventory with a high-quality product configurator.
By providing customers with a tool that features custom colors, text, and other design features along with 360-degree 3D product views, companies will be able to differentiate themselves from less engaging competitors.
3D imagery and 360-degree views are particularly important features for Adidas shoe configurators and other engines. When customers are selecting different design features, they want to have a clear view of every detail, including fabrics, colorways, laces, soles, and text.
Using a 3D product configurator, customers can zoom in and rotate photorealistic 3D models. This builds trust among customers.
It also leads them to spend more time viewing products than videos and other media. In fact, recent research found that 95% of people prefer 3D views to video playback.
At Threekit, we offer a unique 3D configurator that can serve as an Adidas shoe configurator and much more. If you want to sell custom shoes or other products through a truly engaging eCommerce experience that appeals to your customers, get in touch with us today to learn more about how integrating our innovative solution can help.