Top 4 Advantages of Visual CPQ for B2B Sales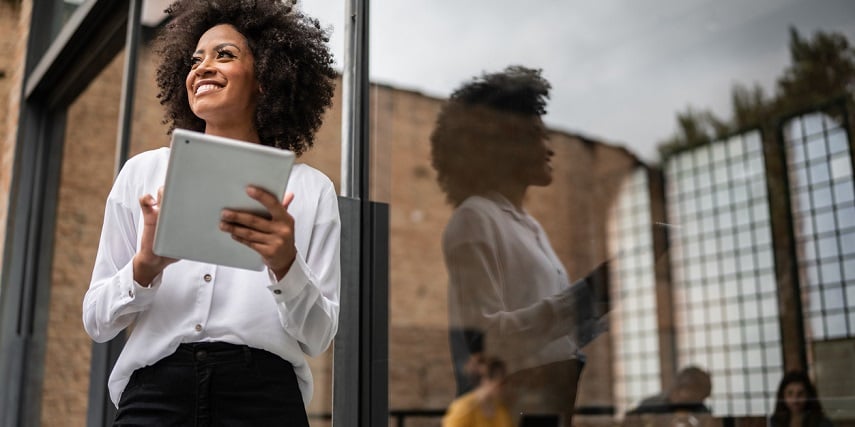 B2B companies must do what they can to connect with their customers in engaging and effective ways. One way to establish a strong connection is through the use of visual configure, price, quote (CPQ) software. Visual CPQ for B2B sales can help customers visualize even the most complex items.
This tool can influence more prospects to convert to leads and, ultimately, customers. The following are some specific benefits you'll find with reliable visual CPQ for B2B companies.
1. Simplify product configuration
If your products include many complexities, such as various color choices, components and configurations, visual CPQ for B2B businesses can make configuration easier.
With the ideal configuration tool, users can go through a guided product customization process. This helps them better understand what they're getting.
Users can easily choose various options from dropdown lists. Simultaneously, certain rules gray out or remove options that aren't compatible with previous choices.
For example, a business in need of a specific type of modular building will need to combine different building materials. When designing a building via a product configurator, the customer can have complete control over every aspect of the building's design. They can select different roofing styles, siding, doors and more with a fully visualized representation.
As a result, your customers won't be as confused or lost as they might otherwise be when making selections on their own. People will always have control over configurations; through this, they'll know exactly what to expect with the end product before requesting a quote or placing an order.
2. Update the cost in real time for accurate, transparent estimates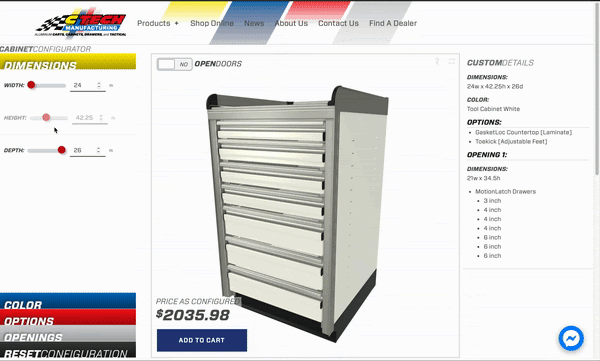 Business consumers often spend a lot of money on products for their companies. They want to know that every purchase is a worthwhile investment and within their budget.
This is where visual CPQ for B2B industries can also help.
The last thing people want is to discover that the price has changed wildly once they reach the checkout page. A good visual product configurator will eliminate this mystery and let people know how much they'll pay.
This will help more people commit to purchases before even reaching the checkout pages.
The right solution will display the price of products as users select different options. Any changes they make to certain features or designs will update the pricing in real time to maintain accuracy.
Users can then move on to the next page to complete their order. Alternatively, they can request an in-depth quote without worrying about any unpleasant surprises.
3. Streamline the sales cycle
Without visual CPQ for B2B applications, customers may need to wait for long periods before they can actually see a product visual based on their selections. In fact, the average sales cycle for B2B companies is around four months.
This can give leads more time to look at competitors as they wait for longer stretches before they become your customers.
With an all-in-one configurator, you can appeal to a sense of urgency and ensure customers see what they want early on in the sales pipeline. Whether they're designing products on their own online or speaking directly with one of your sales reps, customers can see high-quality visuals and accurate pricing that move things along.
If the customer doesn't like what they see in terms of configuration or price, both the customer and your salespeople can easily go back into the configurator and make any necessary alterations.
Ultimately, a visual CPQ solution will make the sales process painless. You'll move more people from 'interested prospects' to 'satisfied customers.'
4. Gain customers' trust through high-fidelity visuals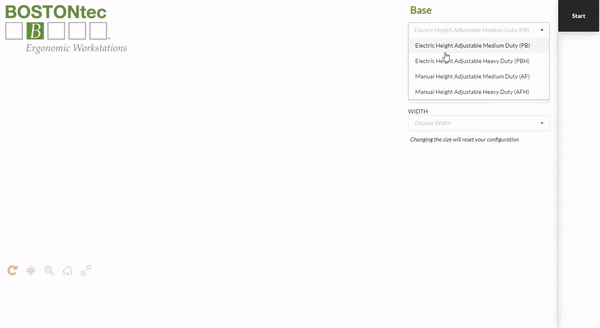 Earning people's trust is among the most important yet challenging tasks for a B2B business. One of the main advantages of visual CPQ for B2B is the ability to create great-looking visuals that best represent your products and effectively build trust among audiences.
Using a 3D product configurator with photorealistic visuals will enable customers to see and interact with great-looking images that accurately portray the final product. Not only will customers know what they're getting, but this capability alone could reflect the quality of your brand and encourage people to trust you.
When people see the care you put into representing your products online through an impressive configuration tool, you'll likely leave them with a great first impression that further pushes them along the buyer's journey.
Additionally, augmented reality (AR) capabilities can take product visuals even further. Through the use of an AR functionality in a configurator, users could use their mobile devices to view products in the real world.
People would see a 3D model of the same size and detail as the end product; then, they'd be able to fix it into place and walk around it.
This gives users a hands-on experience without the need for a physical product.
For instance, a company looking to buy office furniture could see chairs, tables and other pieces in the actual space and determine if they're the right fit.
To really stand apart and wow your customers, look for a visual configurator with top-quality visualization and an embedded AR functionality.
Turn to Threekit for a dependable configuration solution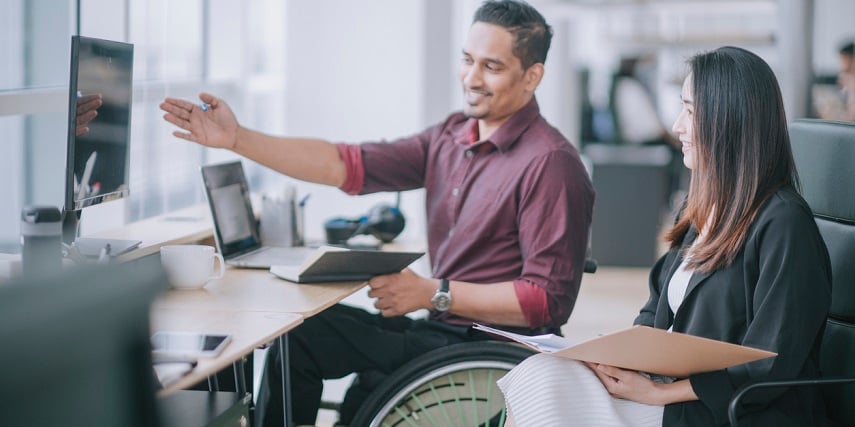 Regardless of the specific B2B industry you need it for, we'll help your business grow with a comprehensive 3D product configuration platform. You can use this tool to take your B2B sales to the next level and maximize your company's revenue.
We'll work with you to create high-quality product visualizations using state-of-the-art virtual photography that captures every detail with consistent accuracy. We'll then build each feature and configuration in a custom configuration tool that you can easily integrate into your website.
We can then integrate an AR functionality that allows for full interactivity with each visualization. Users will be able to view their custom designs in any location with an accurate, detailed representation.
With this invaluable tool behind your business, you'll differentiate yourself from less innovative competitors. As a result, you'll optimize the sales cycle at every stage.
Get in touch with us today to learn more about our solution's unique capabilities. Discover what our tool can do for you!