Your Ultimate Guide to Visual Configurators
Even if you're not sure what a visual configurator is, chances are you've used one recently. Particularly during the pandemic, when an alternative to in-person shopping became crucial, visual product configurators allowed eCommerce brands to give customers an engaging online shopping experience–and to boost sales in the process.
The following are some of the many questions our clients may have about visual product configurators and how they work.
What is a visual configurator?
A visual configurator is a type of online tool that enables customers to view products and customize them based on their personal preferences.
Many businesses can use visual product configurators to provide shoppers with visual configurations of various products. They can interact with this visual representation in real time and see how it would appear with certain specifications altered, including colors, shapes, sizes, and other physical aspects. In as little as a few simple clicks, customers will be able to see precisely how their ideal product would look before making a purchase, functioning as a digital sample.
The main advantage of a visual product configurator is the ability to eliminate any guesswork during the buyer's journey as people can be certain they'll get what they want before buying.
What does a visual configurator do?
Visual product configurators enable people to see what a product would look like based on the specifications they desire. If people want to see a visual representation of a product with a certain color, features, and other aesthetics, they can see for themselves how it would appear.
For example, a customer might want to see what a coffee table might look like in their home. Through the use of a 3D product configurator using augmented reality, the customer could project a virtual life-sized model of the table in their living room using an app on their phone. They can then view the table from different angles, change colors, and choose from different shapes or sizes. This gives them a clear picture of how the table would look in the customer's home and influences their buying decision.
The customer can ultimately avoid the need to see a product in person before buying, eliminating any uncertainty when purchasing a custom-made product.
What are the different types of visual configurators?
Depending on what's best for a specific type of product, there are two main types of visual product configurators that businesses can use: static 2D visuals and interactive 3D visuals. Both of these can give customers a better idea of what a product will look like prior to buying. However, there are some key differences between these two to keep in mind when deciding on the right solution.
Static 2D Product Visualization
2D visual product configurators use an immobile flat image to represent a particular product. Unlike 3D product configuration software, users will be unable to freely rotate the image and view it in its entirety. On the other hand, they may be able to change out various elements by clicking on various buttons. These elements may include colors, add-ons, materials, and other specifications.
Interactive 3D Product Visualization
3D visual product configurators provide shoppers with an interactive design that allows them to view a 360-degree representation from every angle. These configurators produce fully 3D images using 3D models that are configurable based on customer inputs. Users can change certain features as they would with 2D visualizations. One of the most popular uses for 3D product configurators is for furniture, as shoppers can see exactly how a customized piece would look in their home before ordering it.
What is visual configuration software?
If businesses want to give their customers the ability to customize their products in virtual representations, product configuration software makes it easy. There are different types of visual product configurator software, including 2D and 3D configurators, along with different platforms that can use it.
Businesses could install product configuration software on their websites to allow customers to visualize products right from their store. They can also allow shoppers to download an app to their phone that uses augmented reality to project a 3D model in their home. In some cases, virtual reality headsets can also give shoppers the ability to view products in a virtual setting for more interactivity.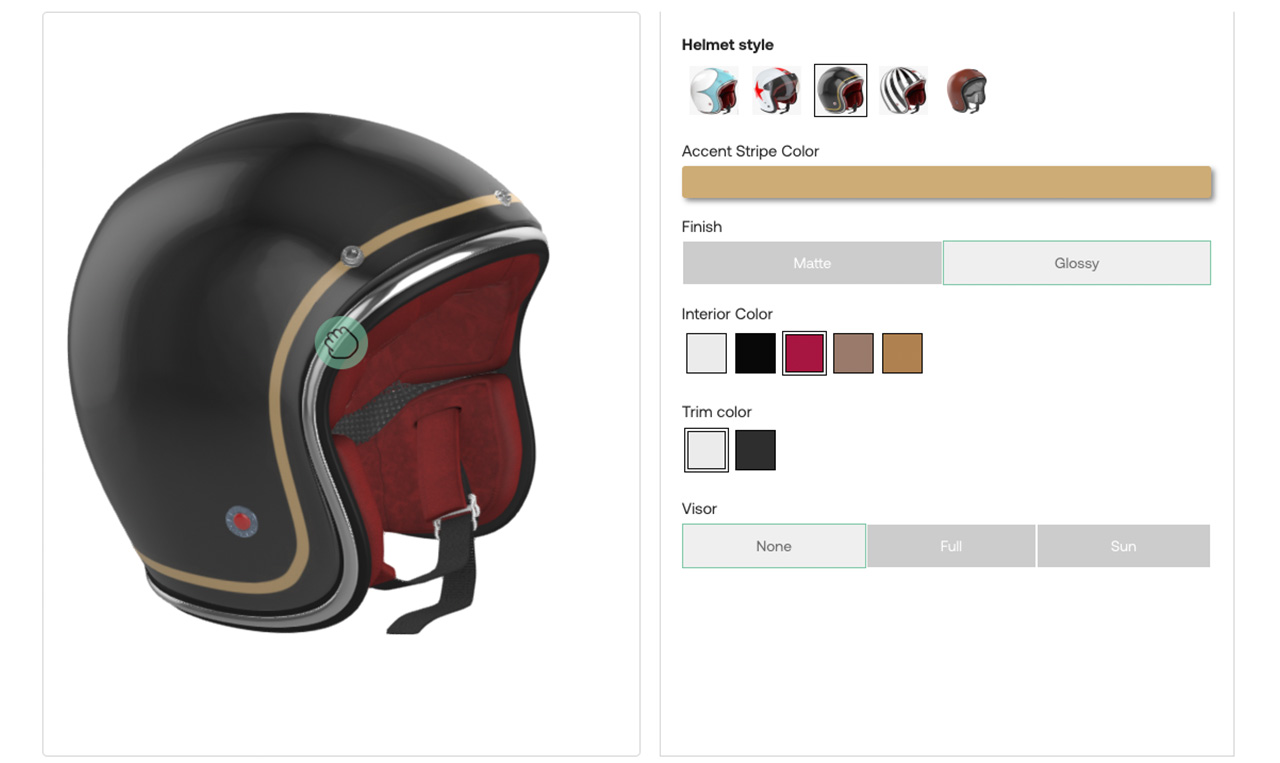 What does visual configuration mean?
Visual product configuration is a method of customizing configurable products using virtual images instead of physical product samples. Through visual product configuration, prospective customers can change certain options that are available for a variety of complex products. Regardless of their preferences, they can choose from different configurations of colors, features, sizes, and shapes to create their ideal product using a virtual model.
It's also important to understand what the difference is between configuration vs. customization in this context. While customization is constructing a product based on a single customer's specifications, configuration entails creating a feature with multiple options that are already available. Therefore, using a visual product configurator, customers can create custom configurations of the various options available to every customer to develop a unique, custom product.
What are the benefits of visual configuration for eCommerce?
There are several advantages of using visual product configuration tools for eCommerce businesses. These include:
Increased Engagement with Visitors and Shoppers
People connect a lot more with visuals than descriptions. A product description and a few professional photos from a couple of angles can only engage customers to a small degree. If you want to keep prospective buyers engaged and show them precisely what your product is about, visual product configurations can be the key to establishing a strong connection. People are also much more likely to remember your products at a later time if they can interact with them through visual content, even if they don't buy them immediately.
Increased Conversion Rates
Customers are largely influenced by visuals when deciding whether to purchase a product. In fact, 83% of shoppers say that visuals are more vital than any other element, including recommendations and reviews. 3D visual configuration leads to an average conversion rate increase of 40%, and customers who view 3D visuals of products are 11x more likely to purchase than those who don't.
Improved Scalability
Unlike static images, visual product configurations enable businesses to render images of products as a whole, along with individual components. If you rely on photos of customizable products, you may require too many images from a professional photographer to make it worth the investment. A virtual representation, on the other hand, allows you to reuse part components and show every aspect of your products in nearly any configuration imaginable.
Less Frequent Product Returns
If people know what they're going to get before actually investing in it, they're much more likely to be satisfied with their purchase. Visual product configurations have the potential to significantly reduce returns, as shoppers can see the product firsthand before buying. Subsequently, your business can save on costs associated with the processing, shipping, and handling of returns along with lost business. Additionally, your business can be more sustainable, seeing as returns are often harsh on the environment because the product has to make the same journey twice.
How does a visual configurator increase sales and streamline the sales process?
Visual product configuration can be an invaluable asset during the sales cycle. By arming your sales teams with visual configurators, they can effectively show customers what to expect when they order a particular product. Based on your sales team's knowledge of your products, they can then walk through each component with customers using a fully interactive image. As a result, customers can have a deeper understanding of a product and what it entails, and they'll be more likely to trust your brand and products. This is considerably more effective than a salesperson simply discussing a product or relying on static images to help lead a customer toward a sale.
How does product visualization improve the buying experience for shoppers?
If you're looking for a way to vastly improve the customer experience, product visualization is crucial. Most Americans only wind up buying around 58% of the products in their shopping carts every year. To convince shoppers that your products are worth buying and build more excitement around their purchases, a visual product customizer can show them exactly what they're getting and make them feel as though they have more control over their purchase. Customers will never be left in the dark at any point and can feel more confident about their order as they finalize their purchase.
How do I get started with a visual configurator?
If you want to use visual product configuration software to enable shoppers to visualize new products or existing product lines, you can easily do so by determining which type of configurator will work best.
You can select either a 2D or 3D configurator, based on the complexity and functionality of your products. The type of tool you use may also depend on your website, as Threekit's platform works with multiple eCommerce platforms including Magento 2, Woocommerce, and Shopify.
Based on your needs, you can then use our Virtual Photographer solution to generate thousands of images of your products, without the need for a photoshoot. This can capture every angle of your products in fully realized 3D images and models that customers can view.
If you want to give customers the ability to see products within a physical space, augmented reality is another key tool to implement. Augmented reality allows mobile device users to project customizable products in their homes or other spaces in real time, showing how the product would look in a real-world setting from any angle.
To determine which product visualization solution is right for you, check out our Threekit Solution Guide. If you want to begin installing a custom solution for your business, you can also contact us at any time.
How do I put a visual configurator on my website?
If you want to find out how to add a visual configurator to eCommerce platforms, there are three main platforms that are compatible with Threekit's visual configurator tool:
Magento 2
You can easily install our visual configuration software on your Magento store. Our solution is available in a flexible plugin format that plugs directly into a Magento store, with advanced configuration capabilities. You can also benefit from automation of order processing—once a configuration is complete and the customer opts to buy it, our solution automatically generates the order to the precise specifications.
You also have the ability to easily manage all 3D assets, enabling you to store your product data as individual materials, textures, and models. Automatic manufacturing outputs are also included, generating assembly instructions, cut patterns, CAD files, and bill-of-materials, among other outputs.
WooCommerce
It's easy for businesses to install Threekit's configurator on their WooCommerce platform using a simple plugin. WooCommerce customers get all the same benefits as those using Magento and Shopify, including advanced configuration capabilities like parametric and nested configuration. Additionally, users benefit from automatic order processing as soon as customers choose to buy a custom product. They can also manage all 3D assets individually and automatically generate CAD files, assembly instructions, and other manufacturing outputs.
Shopify
Our plugin is also compatible with Shopify stores, offering the same advantages as our Magento and WooCommerce plugins. These benefits include advanced nested and parametric configuration, automatic order processing, 3D asset management, and manufacturing outputs to ensure every customer receives the exact product they expect.

How can I make a visual configurator for my website?
Using the Threekit platform, you can easily develop a visual product configurator for your website. There are three main steps involved:
Import 3D Assets
The first step of the process entails importing 3D images into the platform, including materials, textures, and models of certain products that are created using our Visual Photographer tool. All users need to do is select 3D images that they've created and upload them to the platform, which organizes and makes them easy to switch out.
Assign Layers and Visual Attributes
Using those 3D assets, you can add layers of materials and textures to specific corresponding components of product models. For example, you can assign colors and materials to different parts of a chair model that shoppers would be able to change in your configurator.
Set Up Catalog Items
With all layers and models in place and organized, you can begin connecting those models with products and product options in your catalog. For instance, you can make sure that when customers choose a different color for a chair seat while browsing your store, the corresponding attribute of that model will change to that color in the configurator.
How can I create a visual configurator for WordPress?
Using WooCommerce, you can easily integrate Threekit's visual product configurator with a WordPress website. WooCommerce is an open-source plugin that you can use with WordPress, converting it into an eCommerce store. With WooCommerce installed, you can connect our configurator platform to WooCommerce, which will, in turn, work with your WordPress website.
How can I add a visual configurator to my Salesforce store?
The Threekit visual product configurator is compatible with Salesforce stores, giving your sales teams access to a reliable product customizer that can significantly boost sales. Our platform is compatible with a variety of Salesforce Clouds, including Salesforce CPQ, Salesforce Service Cloud, Salesforce Sales Cloud, and Salesforce Commerce Cloud.
How do I choose the right visual configurator?
When you're in the market for a visual Configure Price Quote (CPQ) tool, it's important to locate the right one based on your needs. You need to find a configurator that can fully immerse customers with accurate visual representations of products. Try to find a product configurator that's both easy to use and creates high-quality models that make configuration simple.
In addition to quality in terms of visual components, you should also try to find a product configurator that features live pricing via price API. This can accurately reflect the price of a product in real-time as cost-affecting components are modified or replaced within the configuration. As a result, customers can see how much the product will cost with an accurate estimate based on their input.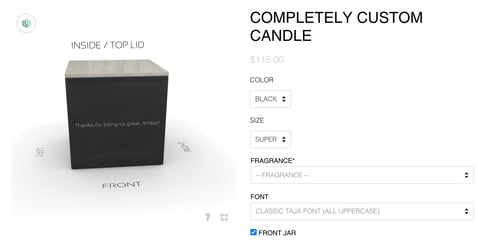 What makes Threekit's visual configurator special?
Threekit's visual configurator can produce top-quality, photorealistic 3D images that accurately represent your products. Not only can customers easily use the configurator to customize products, but we also make things easy for businesses using our intuitive platform to upload configurable models and connect them to eCommerce stores. Our platform is also compatible with many platforms, connecting to nearly any website through Magento, Shopify, WooCommerce, and Salesforce.
The unrivaled combination of quality, flexibility and ease of use makes our configurator highly dependable for any business.
Who uses Threekit's visual configurator?
A growing number of businesses have used our visual product configurator to increase sales and keep customers satisfied. Many businesses have relied on our configurator to demonstrate the value of their products through accurate 3D models, give customers ease of purchase with millions of product combinations, expand their product lines, and achieve much more.
For example, Crate & Barrel used our platform to generate over three million photorealistic product images. Meanwhile, Joseph A. Bank benefited from a custom suit builder containing more than a billion different visual permutations.
Some of our many other happy customers include:
Lovesac
Kashiyama
J. Press
BOSTONtec
Custom Fantasy Rings
PRx Performance
Modarri
Coalesse
You can read more about these customers' experiences in our case studies.
Threekit is the first product configuration software to combine virtual 2D photography, 3D configuration, and augmented reality capabilities in one place. To bring your brand's digital presence to the next level with top-tier product visualization, get in touch with our team today.