Should you create 360º product images?
If you manage an eCommerce website, chances are you've considered adding 360º rotating images to your product pages. These images, which Amazon just started allowing on listings last year, give shoppers full control to view and manually rotate a product image in 360 degrees.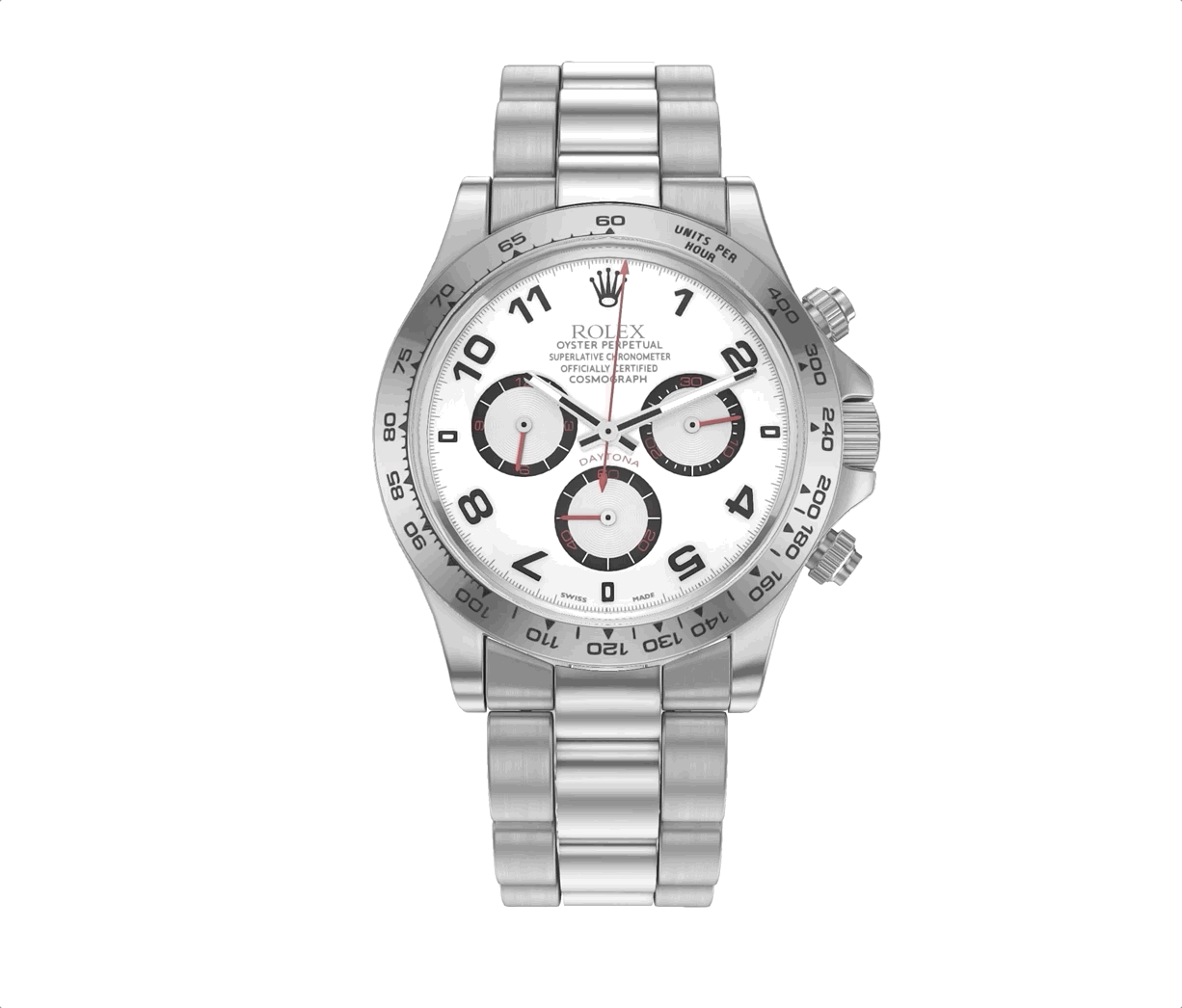 But should you actually use a 360 product viewer on your site? And what does it take to create a 360-degree product image? At a high level:
360º images can increase conversions, reduce returns, and contribute to lead generation efforts when used on social media and in email.
360º images cost slightly more than still images, but will likely more than make up for the difference in improved conversions and reduced product returns.
It's possible to create 360º images both in a photography studio and by using software. The latter is much faster and tends to work better for large inventory catalogs and those that change frequently.
Read on for the details, as well as insight into a 3D product photography alternative for situations where 360-degree product photography doesn't fit.
---
69% of customers have abandoned a product in their cart because of a lack of information or product details.
---
What Shoppers Want from eCommerce Imagery
eCommerce customers want more images than ever. A 2016 study found that online shoppers expected three images of every product they considered. That same study, conducted in 2019, found that today's online shoppers expect eight images per product.
That study also found that 69% of customers have abandoned a product in their cart because of a lack of information or product details. In other words, shoppers need a lot of information before clicking "buy."
See more 360º images in our product library.
High-quality product photos are one of the most effective and efficient ways of providing that information. 360-degree product photos are particularly effective because they can show your product from different angles, including the top and bottom (when you create a 360º image on multiple planes or use software to generate fully rotatable images).
It's important to note, though, that 360-degree images don't offer any context for your product. For this, you'll need to go beyond a standard white background and include lifestyle images, which let you establish scale and create a narrative around how, when, where, and why customers should use your products.
---
Wondering if you should use 360º images? Here's your cheat sheet: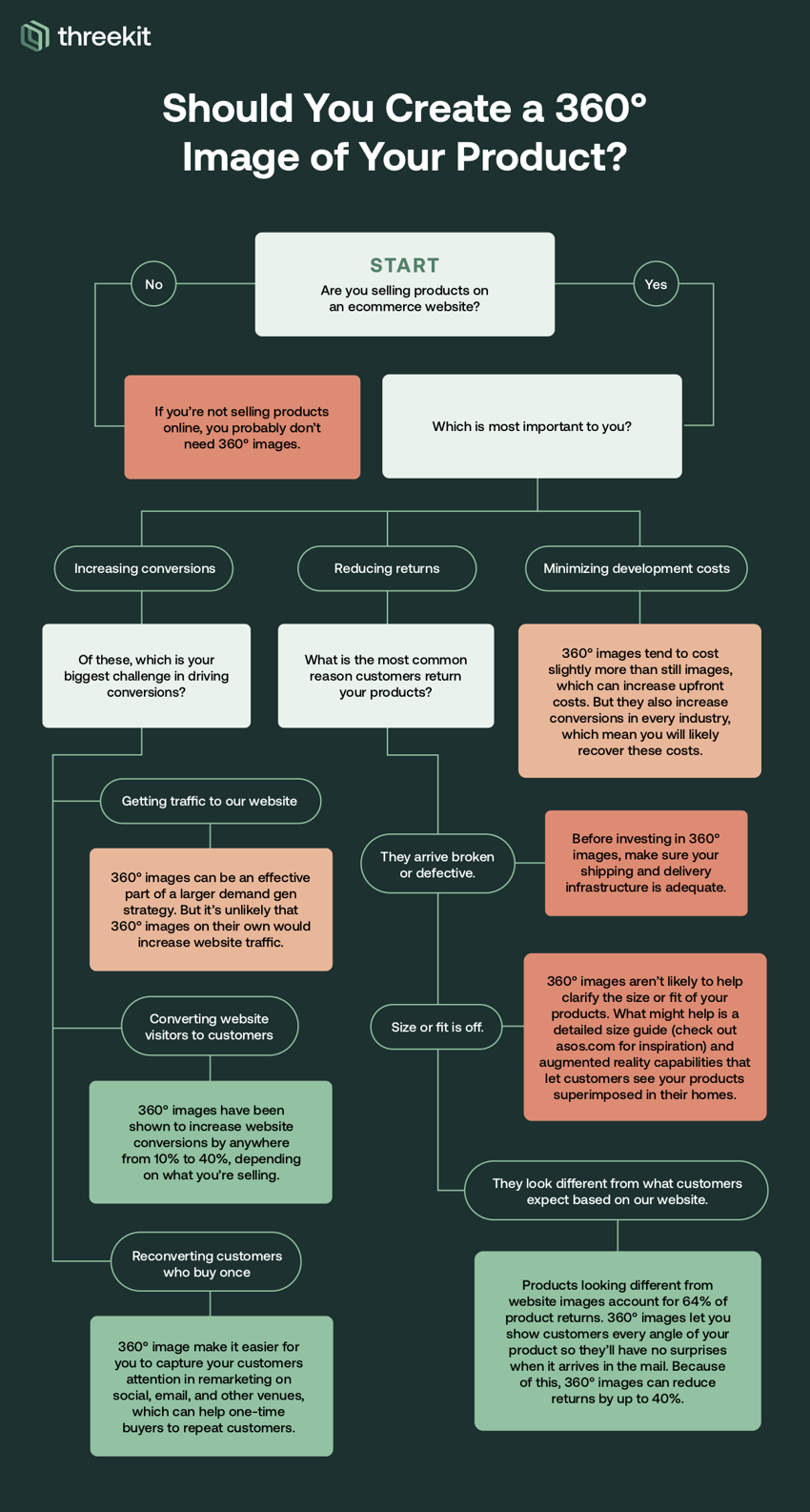 ---
Conversion Rates & 360º Images
At first glance, the data around 360º images is pretty stunning:
On Golfsmith.com, rotating images increased conversion rates by 10 to 40%.
On DueMaterinty.com, rotating images increased conversions by 27%.
Even given the cost of creating 360º images, those conversion rates would likely make the investment worthwhile.
But if you're going to invest in upgrading your website imagery, it's important to know that 360º images are no longer the only game in town for offering shoppers a full-spectrum view of your products. Before you create 360º images, consider what makes the most sense for your products.
---
On DueMaternity.com, rotating images yielded conversions that were 27% higher than what still images offered.
---
When 360º Images Don't Work
We've established that customers want to inspect your products from every angle. But what happens when what you sell is configurable?
If shoppers can customize the color, pattern, or design of your products, it's not realistic for you to create pre-rendered 360º images for every possible iteration—even with just three configurable elements and five choices per element, you'd be looking at 15 rotating images per product.
It's just not doable.
For these scenarios, interactive 3D is a better alternative. Because it renders in real time, interactive 3D can generate a visual representation of the exact product a shopper creates, which can help reduce returns and increase sales.
Learn more about 3D configuration.
360º Images in Action
Let's look at a few use cases where 360º images help a product listing stand out and what eCommerce retailers can learn from them.
Dewalt Cordless Drill
HomeDepot.com features no fewer than 12 visual assets for the DeWalt 20-Volt cordless drill , including four lifestyle photos, two videos, and a 360º image. Having a 360º product view is useful in part because this drill is in a crowded space—there are dozens of alternatives in the cordless drill category on HomeDepot alone.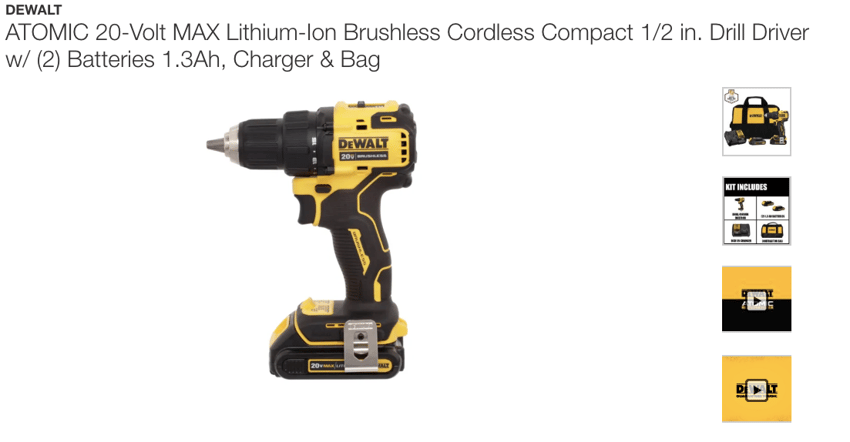 Because shoppers can both spin this image and zoom in, they can compare the nitty-gritty details that differentiate this drill from the many others competing for their attention.
The takeaway: Use 360º images to help shoppers understand a product's distinguishing features in a crowded field.
Hogwarts Lego Castle
This 6,000-plus piece Lego replica of the Hogwarts castle (of Harry Potter fame) retails for $399.99. The Amazon listing features six still images plus a 360º rotating image, which lets shoppers appreciate the intricately detailed back and sides of the structure in their full context.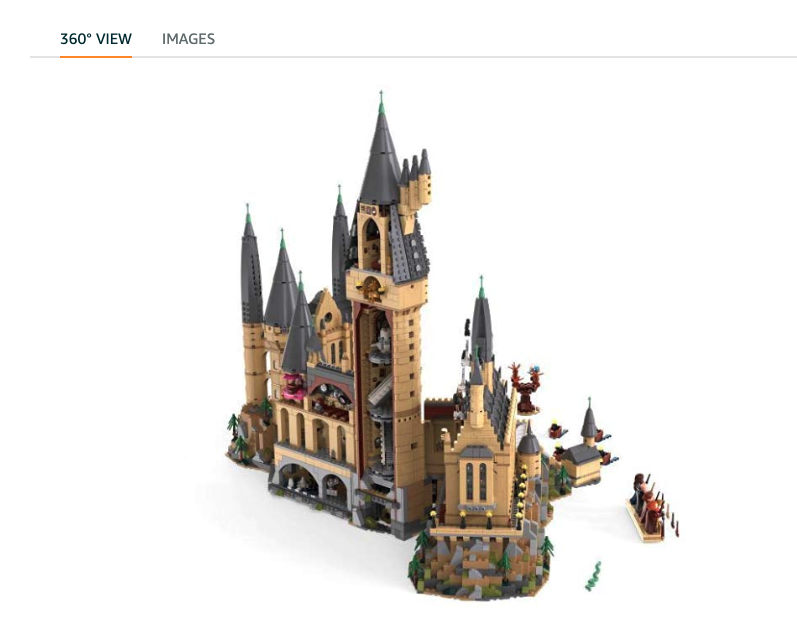 At this price point, a 360º image is a smart move: while it may be hard for most people to justify spending $400 on a toy, it's easier to understand the value this particular toy offers when you're able to see the incredible detail it contains.
The takeaway: Use 360º images for items with higher price points to illustrate their differentiating features.
Swarovski Earrings
In the early days of online retail, jewelry didn't seem like a good candidate. Its high price point meant shoppers wanted to inspect merchandise with their own eyes and hands before buying. But improved online imagery (including 360º images) is changing that.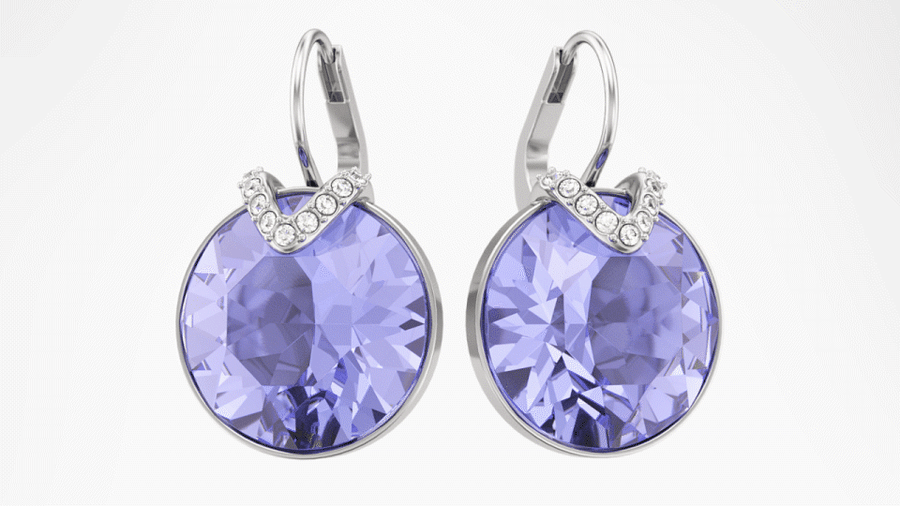 Consider, for example, these Swarovski earrings. The high resolution means shoppers can inspect minute details of an item as closely as they'd be able to with a jeweler's loupe in a retail setting. And because the image rotates, it's possible to see every angle of the earrings.
The takeaway: Use 360º images for luxury goods to reassure shoppers of their quality.
Xenith Shadow Helmet
When health and safety are on the line, it's natural to want to inspect a product closely before buying. The Shadow helmet by Xenith leverages the power of 360º images to let shoppers do exactly that. Notice that this rotating image lets shoppers look inside the helmet to see the protective lining inside.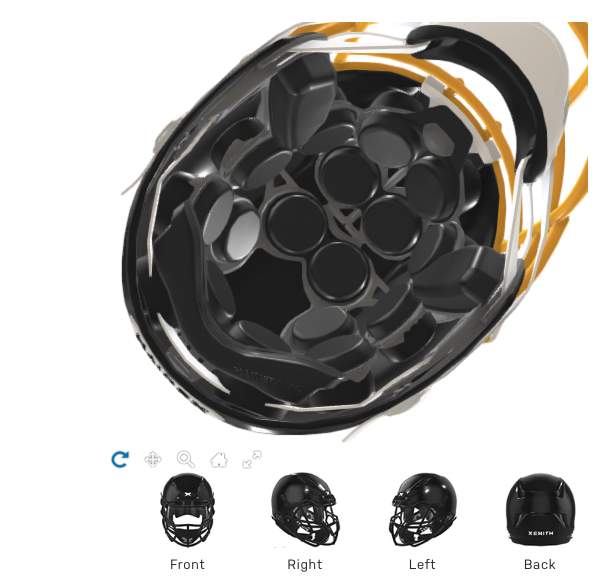 The takeaway: Use 360º images to highlight health or safety features that might not be immediately visible from standard still photos.
Creating 360º Images and Interactive 3D with Software
Until recently, the biggest hurdle to creating 360º images was the cost in time and money. Shipping products to a photo studio, paying the photographer, and shipping them back is expensive, especially if you sell large items, have a large catalog, or update your catalog regularly. With the expenses of professional photographers, product photography equipment like product photography turntables, and image editing software like Photoshop and Adobe Lightroom, even hiring an in-house photography team can be a pricy and inefficient solution.
Now, though, it's possible to create 360º images with software that combines information from 3D files with visual effects originally developed for Hollywood. Because this approach eliminates the need to have a physical product—or to ship a physical product around the world—it tends to be more affordable and scalable than the traditional method of creating 360º images and eliminates the middleman of product photography studios.
Schedule a demo with Threekit.
Fortunately for eCommerce retailers, the product photography software you use to create 360º rotating images can also create still images to use in product listings (in fact, a 360-degree spin is made up of several still images stitched together), integrating different visual processes into a single workflow. It can also generate interactive 3D and even 3D renderings of lifestyle images.
Delivering What Customers Want With Interactive Images
Regardless of which type of product imagery best suits your needs, having interactive visuals on your eCommerce platform is crucial for engaging and converting today's shoppers. If you're not sure which type of imagery can best communicate what you have to offer, get in touch with us . We'd love to walk you through your options.
---
Threekit's product visualization software that creates photorealistic images, interactive 3D and augmented reality experiences that help businesses sell more. To learn more, please schedule a demo with one of our teammates.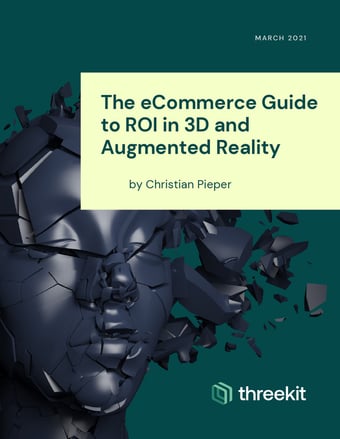 Download our eBook
If you're making the business case for 3D and augmented reality product visuals, this is the guide you need. Get real data on how this innovative technology pays off.