Threekit: Your Shopify Product Customizer... and So Much More
It's no secret that allowing customers to customize their products boosts sales (pssst... that's why they call them 'custom'ers). But the more configuration a product customizer allows, the more complicated the logistics become and the harder it gets to show customers great visuals of exactly what they'll be buying. Those problems can get even more difficult when you're integrating your catalog within an existing framework with its own rules, like a Shopify store.
But at Threekit, we don't sit around moping about complicated problems. We solve them for our customers. That's why we made a Shopify product customizer app that does practically all the work for you. Threekit has three powerful solutions that integrate seamlessly into Shopify with product customizer functionality and provide a unique and unrivaled online shopping experience.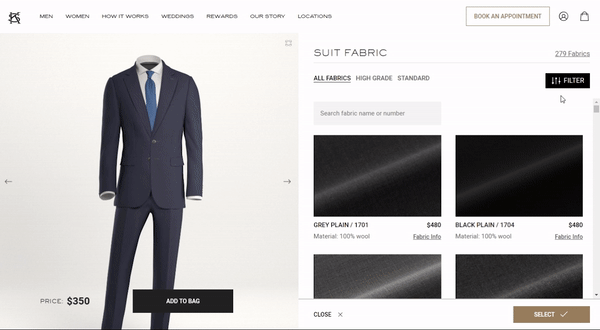 Threekit's Virtual Photographer™ uses cutting-edge tech and automation to generate photorealistic renders of your entire product catalog, including every custom variant a customer can build. Some products, like custom suits, can be customized into literally millions of unique variants, each visually distinct from the other. Without Virtual Photographer, you'd need to pre-fill your product customizer with a unique photograph of every possible variant. That's why so many retailers only display a fraction of their product lines online. Threekit solves that problem and generates a fully visual product customizer in your Shopify store quickly and affordably.
Not only can Threekit generate a full catalog of custom product photography for you, it can display all variants in 3D as well. With Threekit's 3D product configurator and customizer for Shopify, your shoppers can view their custom-built product variants with a level of detail and interaction that rivals the in-person, showroom experience. They don't have to wait weeks to see their personalized products. They don't have to imagine it. It's right there for them, on-demand, in beautiful, photorealistic 3D.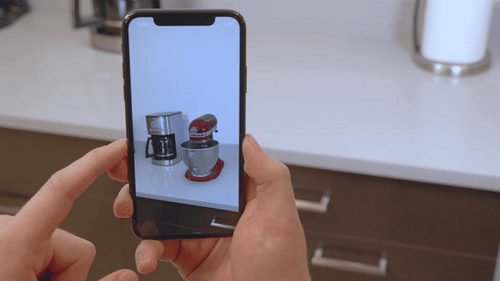 Once your Shopify customers have used Threekit's product customizer to build their personalized product variants, the augmented reality (AR) functionality built into Threekit's Shopify product customizer app can show them exactly how it will look in their environment. Not only do AR experiences increase sales and reduce the likelihood of returns, but 70% of consumers in one recent study stated that AR experiences make them more loyal to the brands that use them.
Retailers big and small rely on Shopify to get their catalogs online and streamline their digital sales. Threekit's Shopify product customizer app takes that to the next level, transforming your Shopify store into a fully personalized virtual showroom your customers will visit again and again.
Schedule a demo today to see how Shopify and Threekit work together to build the product customizer of your customers' dreams.