Product Configurator vs. Product Customizer: What's the Difference?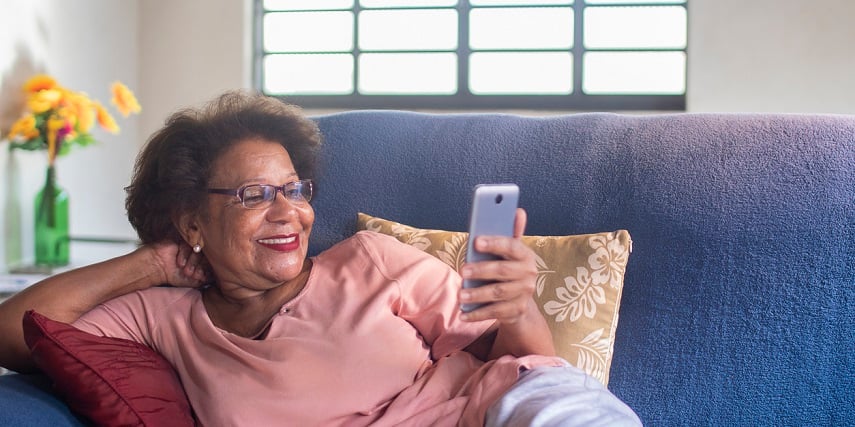 A growing number of businesses are using either product configurators or customizers to enable shoppers to fully customize products before buying. While their core functionality is somewhat similar, there are some differences between product configurators and customizers to consider. Depending on the types of products an eCommerce business offers and the options they want to give to customers, either a product configurator or a product customizer can be the key to driving sales and keeping customers satisfied.
Here we'll compare and contrast these helpful tools, as well as include some examples of when to use each one.
Both Appeal to the Increased Demand for Product Customization
Before getting into their differences, it's worth noting that both product configurators and customizers cater to customers' growing need for customization in the buying experience. When shopping in an online store, customers want to be able to see how a product will look before buying it. They also want to make it their own in the process.
Through product configurators and customizers, eCommerce platforms can increase sales by providing customers with various product options. Whether that entails personalization or different product configurations, these tools can give customers a clear picture of the final product before purchase.
In turn, they can be invaluable during the sales cycle. They're more effective at influencing purchasing decisions than static product images and descriptions. If sales reps have either a customizer or a configurator, this could be exactly what a company needs to streamline the sales process.
What Is a Product Configurator?
A 2D or 3D product configurator can enable customers to try different configurations of a modular product. These tools give customers total control over a product's appearance, texture, or even functionality to make it truly unique and made to order.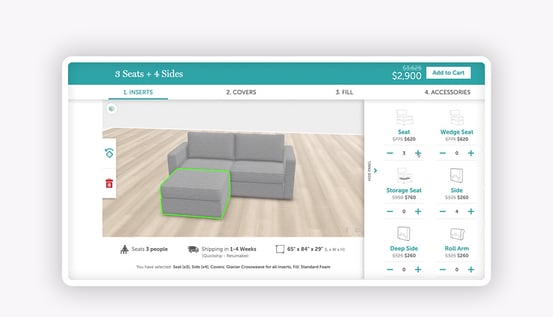 Using product configurator software and an application programming interface (API), shoppers can configure one or more options, including colors, materials, sizes, and shapes, based on their individual preferences. Ultimately, this creates a great customer experience that shows them precisely how their purchase will look before they buy it.
While 2D product configurators use static 2D images to virtually represent a product, 3D configurators use 3D models to take the experience to another level. Using a 3D configurator, customers can choose from many options for a particular product. They can view it from every angle with real-time control.
For example, a customer looking for a new couch might want to see exactly how it would appear based on custom color, material, and size selections. Based on these selections, pricing could also change accordingly.
The ability to use in-depth 3D models allows for many product visualization possibilities using different technologies. Augmented reality (AR) is one of these technologies, allowing users to project virtual items in real-world environments such as their homes.
They can then place the item in an isolated location and physically move around it to interact with the model. Virtual reality is another tool that can allow customers to view virtual objects in virtual spaces, such as a vehicle showroom.
With a 3D product configurator on a WooCommerce website or another eCommerce platform, businesses can drastically improve the sales process with a fun and easy-to-use tool for shoppers. They also benefit your sales team by integrating directly into your CPQ solution. If you want to learn more about how a product configurator works, click here.
Examples of Product Configurators
To give you some ideas regarding the opportunities available with product configurators, the following are just a few of the many applications for these tools:
Home Furnishings: Furniture is one of the most popular types of products to use with a product configurator. It allows customers to choose from many configurable features to create the perfect piece for their home or business. Using AR, customers can even see how a piece of residential or

commercial furniture

would look once installed before ordering.

Vehicles and Auto Parts: Dealerships can use product configurators to visualize custom vehicles with detailed model features. Also, merchants can use them to showcase individual auto parts.

Medical Devices and Technology: The medical industry can also use these tools for configuring complex products. The possibilities include surgical devices, lab kits, diagnostic equipment, and other technology.
Learn more about product configurators today.
What Is a Product Customizer?
Product customizers are somewhat similar to product configurators, but they're considerably more limited in their customization capabilities. Unlike configurators that instruct the entire manufacturing process for products, customizers are used to customize add-on features (as opposed to material elements).
People can easily customize items to feature custom branding or colors. But the core features normally remain the same from product to product.
Oftentimes, retailers that offer customizers function as distributors for products that a supplier manufactures offsite. For example, a company may allow customers to customize a T-shirt with text or images of their choosing. Based on the customer's order, the company would then send the order details to the manufacturer. The manufacturer would then put the shirt together.
Like 3D product configurators, product customizers can feature 3D models that allow customers to see products from every perspective. However, the customer won't have quite as much control over the product as they would with a comprehensive configurator tool. Customizers can also use technology such as AR to show what a product would look like in a physical space.
Examples of Product Customizer Applications
Many retailers may use product customizers if they offer products with certain customizable images and text. These products may include:
Posters and banners

Cups and coffee mugs

T-shirts and other apparel

Picture frames

Personal care and beauty products




Choosing Between Product Configurators vs. Customizers
Both product configurators and customizers can be integral for a wide range of businesses. They arm eCommerce salespeople with a tool that drives sales and customer satisfaction. If you want to give your sales team a means of giving customers exactly what they want, either of these solutions can be what your business needs.
If you're selling configurable products with many options that allow for total personalization, a product configurator can be the best tool for the job. On the other hand, if a business only wants customers to optimize certain superficial features, a customizer is ideal.
Want to learn more about how to get started with a 3D product configurator for your business? Get in touch with us today.