TaylorMade: Literally Tailor-Made for You
In many ways, golf is the most personal sport. Among the ten most popular sports in the world, it's the only one you can play by yourself. Every swing is different, but for far too long, everyone has had access to essentially the same clubs. Most amateur golfers test a few different brands and go with the one that works best, but the pros have essentially always relied on fully custom clubs to optimize their performance. TaylorMade is bringing that customization experience to every golfer with their all new builder for their all new SIM2 driver, powered by Threekit.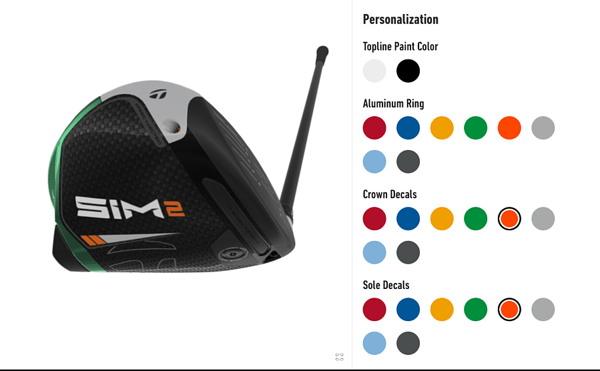 Visuals are king in the world of eCommerce. In fact, a recent study found that 83% of customers pointed to images as the most influential factor in their online purchase decisions. This becomes even more important with customized, configurable products like TaylorMade's SIM2 driver. Customers want to see their product, not just a product.
In many ways, a 3D product configurator actually provides shoppers with more to see than they would in a traditional onsite purchase journey. The My SIM2 builder lets customers see every buildable variation of the club. It would be impossible to do that in a physical showroom Rather than reading a list of possible variations or looking at stills in a catalogue, users have a chance to choose what sounds right, click on it, and experience it in its final form before making a decision.
---
Immediate Results
TaylorMade's launch of the configurable SIM2 driver has been a decisive success. In fact, as of this article's publication, mere weeks since the product's launch, you'll find a notice on TaylorMade's site that shipping on configured drivers may be delayed due to unusually high demand. In fact, the site has already seen a 2x increase in traffic to their configurable products.
Why is TaylorMade's configurator having such a big impact? Honestly, it's mostly because it's fun. People love mixing different colors and styles and manipulating the club in 3D to see it from every angle. By partnering with Threekit, TaylorMade has created a totally immersive online shopping experience at a time when people are hungry for them.
Want to see how Threekit can help revolutionize your customer experience? Get in touch today for a consultation or demo.