Turning Tables: Online Furniture Configurators and Augmented Reality
Furniture and homeware sellers were some of the first businesses to introduce product customization at scale, albeit in pretty basic ways. Modular furniture or the ability to add predefined components to items like closets or kitchen furniture gave shoppers some autonomy in the design process.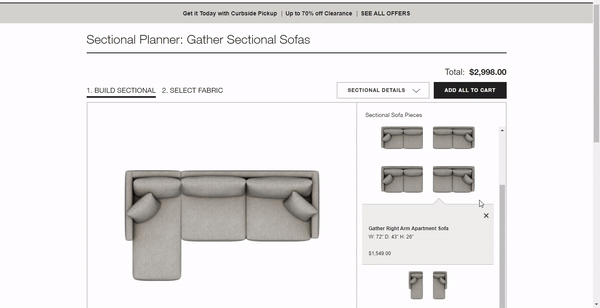 This was a smart move. Furniture—unlike more short-lived consumer products such as clothing or appliances—is a bigger financial, spatial, and emotional investment. According to Spruce, we keep a couch in our homes for between seven and fifteen years. Customers are looking for the perfect style, materials, size, and finish. They're consulting reviews and comparing prices. All this leads to a potentially long purchase cycle. To be competitive, retailers need to offer the best user experience possible. How?
Two powerful solutions are online product configuration and augmented reality (AR) and together these technologies form a powerful 2-step customization process.
An online product configurator gives customers the ability to customize a product to meet their specific requirements and design tastes. A photorealistic product image or 3D model is displayed, which is updated in real time as you make changes. Rotating and zooming in and out allows you to see the details and look of a product from all angles. Product explosion lets you see all of the components, internal and external—a great addition if you're buying configurable products with multiple components such as kitchen cabinets or work stations.
Using digital furniture visualization is a massive improvement in terms of user experience compared to the static images that so many furniture retailers still rely on. Retailers can take it one step further by placing the configured product in the customer's own home by using augmented reality.
But first let's look at how two furniture brands are using 3D configuration to improve the customer experience, reduce returns, and improve conversion rates.
Lovesac
Sactionals by furniture company Lovesac claims to be the world's most adaptable couch. Its modular system allows customers to customize the number of seats, arms, backrests, covers, fill material, and accessories, resulting in a near-endless variety of personalized product options.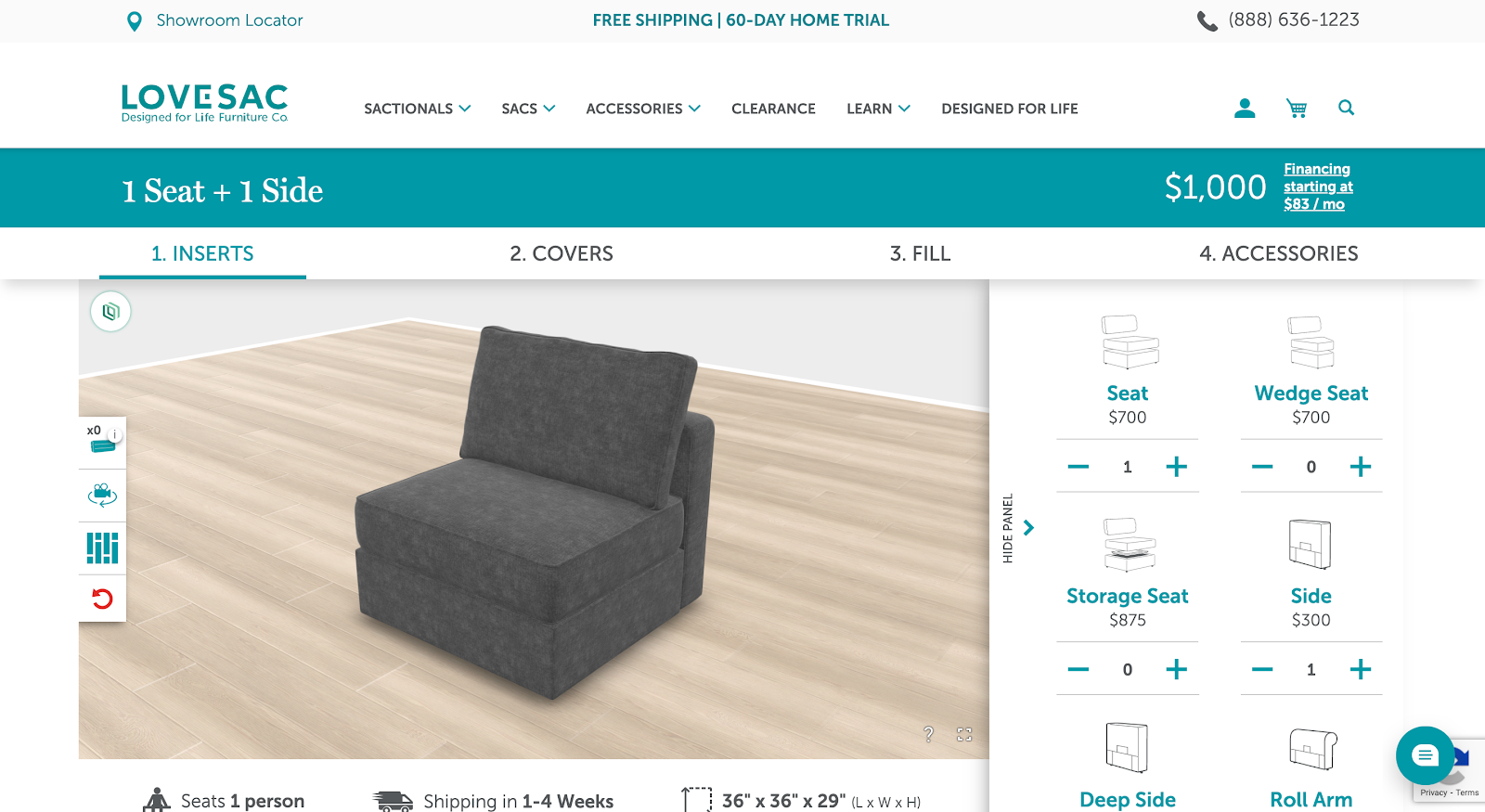 The 3D product configurator, developed by Threekit, updates to showcase the changes and the user can rotate the image and zoom in and out. A drag and drop option allows you to move individual modules around so you can adjust the shape and layout to meet both design preferences and spacing constraints.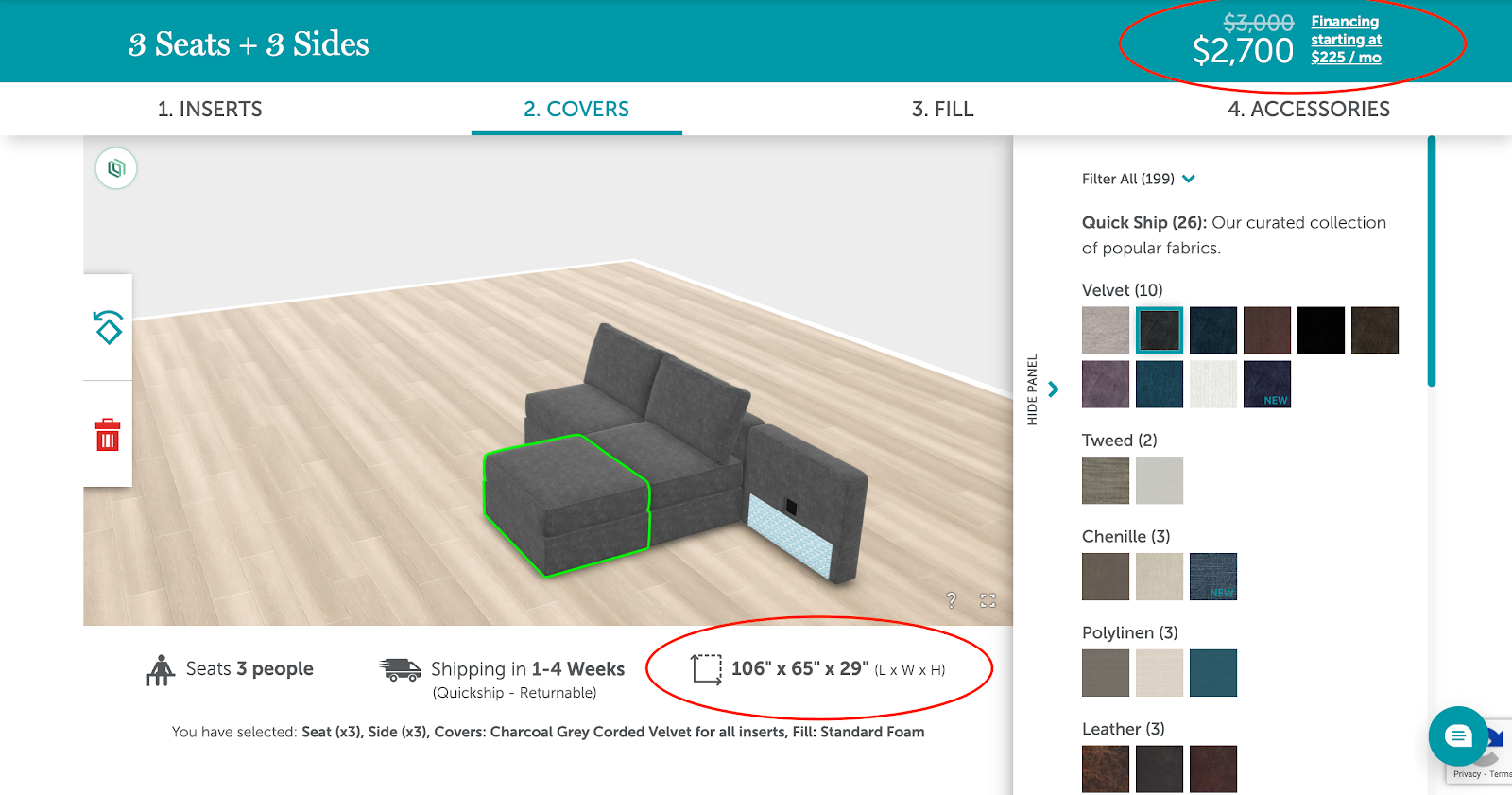 Each change updates the couch's dimensions and the total purchase price. It's far more interactive than the standard online furniture configurator, and it really does meet the specific needs of furniture buyers. Gone are the usual limitations of only customizing color and fabric.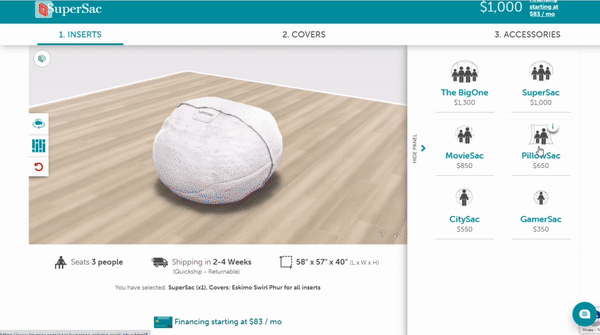 Hangout Lighting
Lighting makes or breaks the atmosphere of a room, and Hangout Lighting's business model is based on giving customers the opportunity to customize their products as much as possible. Add to this the fact that the company hand-makes their products, Hangout Lighting is combining two key factors in contemporary retail: the consumer's desire to customize and the desire for bespoke, one-off products. It's the ideal use case for an online furniture configurator.
The configurator, powered by Threekit, is simple and easy to use. Choose a product and then customize the number of pendants (individual fixtures), ceiling plate, wood, wood stain, cord type, and more.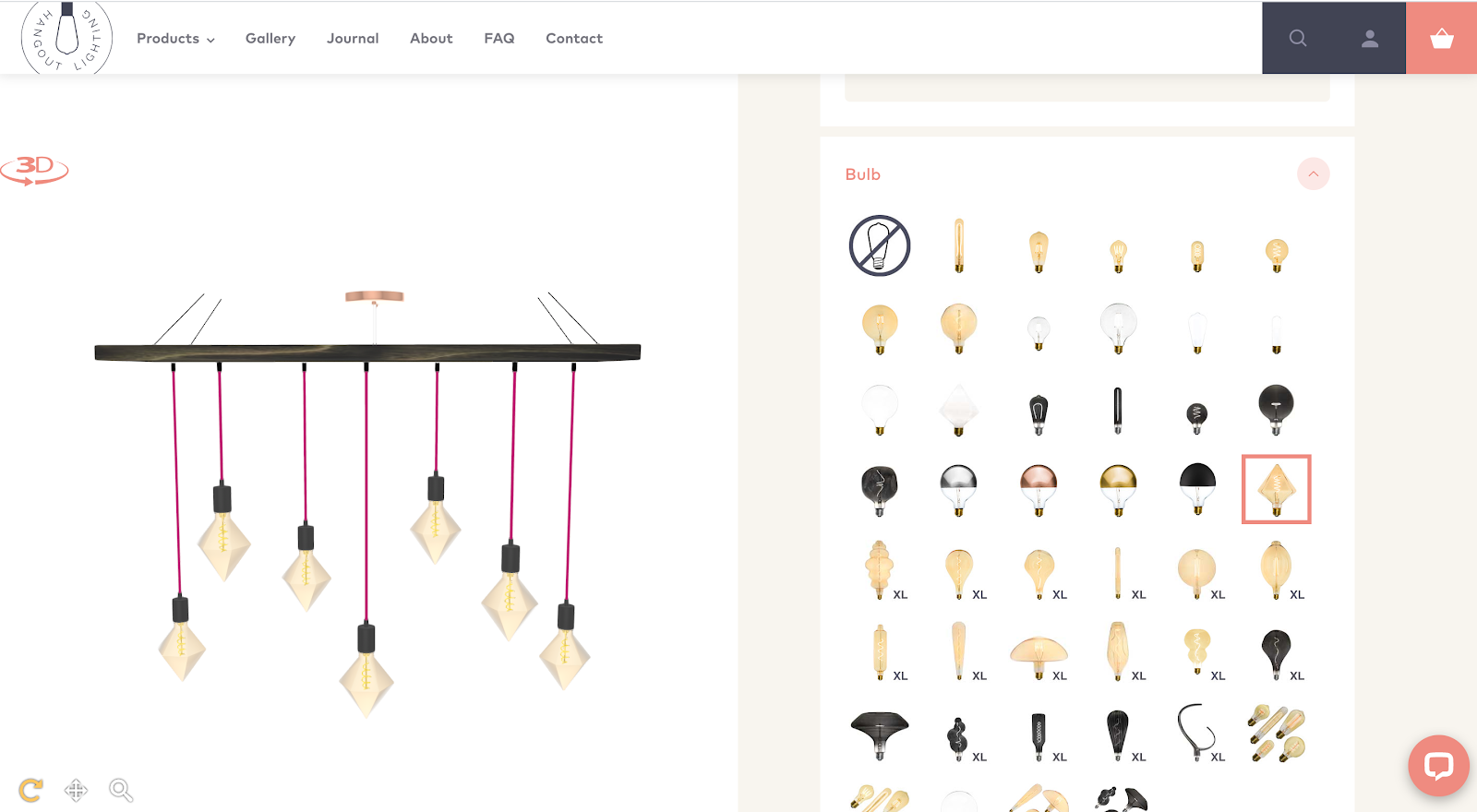 Rotate the photorealistic image to see the product from all angles including from above.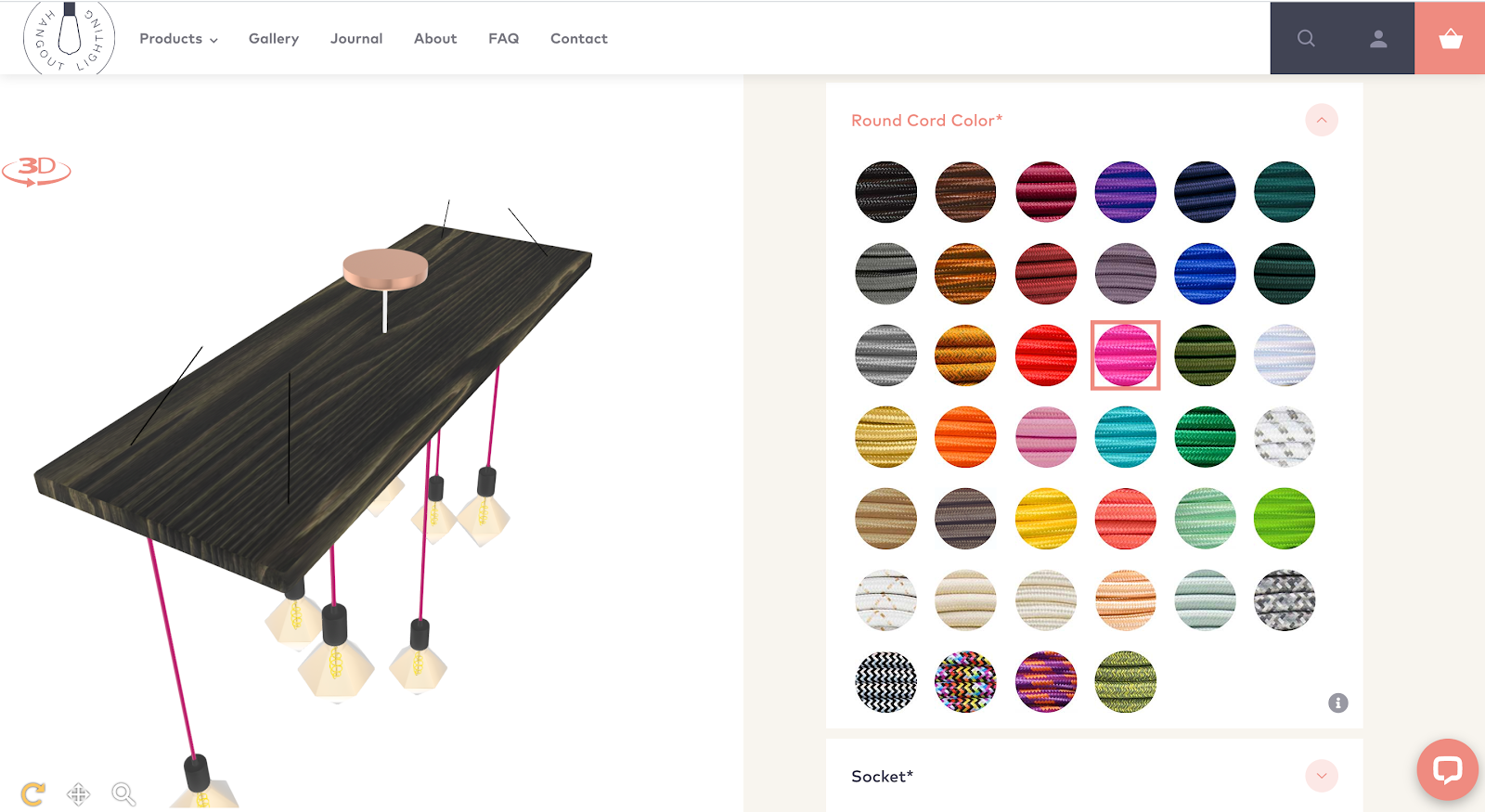 Once you've finished customizing you can add to cart, save as a shareable link, or download a PDF of your design.
Both Lovesac and Hangout Lighting do a great job of using configurators to meet consumer demand but we'd love the option of using AR to visualize the products directly in our homes, offices, or wherever else. Speaking of augmented reality, let's move on to Step 2.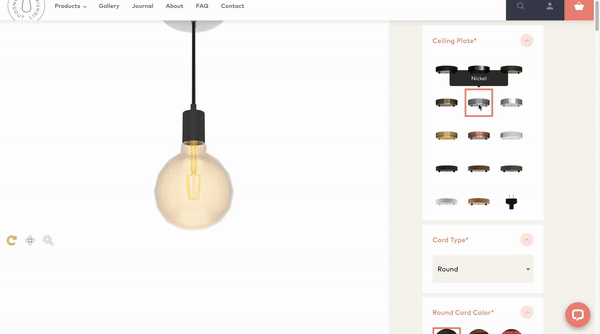 Step 2: Augmented Reality
Pokémon Go, of all things, helped introduce AR to the masses, but it's also the perfect resource for online furniture retailers. By using a phone or tablet users can superimpose an image—for example a couch or a side table—into their homes. They're able to see exactly how it'll look, whether it fits, and if and how it complements or detracts from their existing room layout and decor.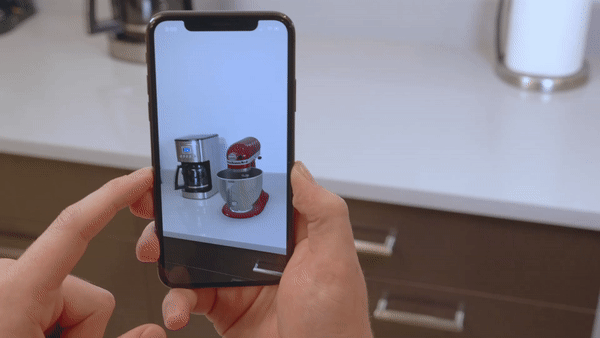 Online furniture sales are worth $44.5b and are set to increase 10% year on year. Despite this growth, customers are still resistant to buy furniture without being able to see, sit, or lie on it before committing. AR helps reduce the gap between viewing a product online and in situ product visualization.
In fact, 22% of customers are less likely to visit a traditional retail store if an AR experience is available online. If that's not enough, a massive 70% of customers prefer to use AR capabilities to preview product variations such as color or style differences. Let's take a look at how one furniture retailer is taking augmented reality technology seriously. Maybe you've heard of them?
IKEA
The app IKEA Place, available on iOS and Android, allows users to test thousands of IKEA's products in real time through photorealistic, true-to-scale 3D images. According to the furniture giant, "The app automatically scales products, based on room dimensions, with 98 percent accuracy."
It's a super simple process: choose a product and point your mobile device toward where you want to place it. The app then scans the dimensions of the room. When you're ready, click the button and the product magically appears. You can then move your phone to see the product from different angles or move in closer for a more detailed look.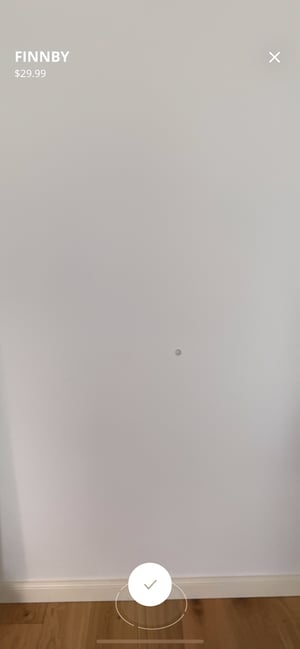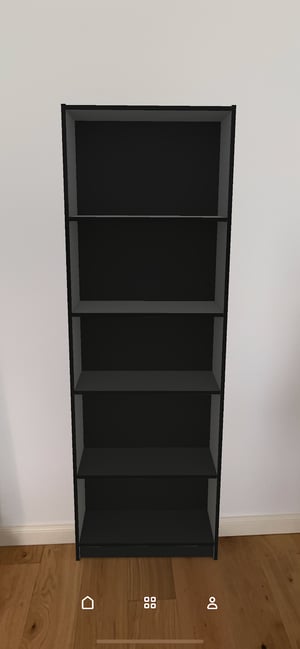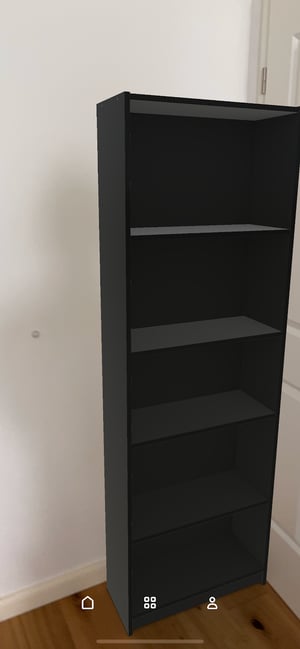 IKEA has gone further with three other AR options:
A recommendations list called "For You" provides a curated list of products. It's not much different from the standard eCommerce "you might also like…" but with the game-changing ability to hit a button and see that recommended product in AR.
Room Sets give you an entire room's worth of furniture recommendations. Define your space using your phone and the matching or complimentary products appear. A great feature, especially if you're moving into an unfurnished property and want some interior design

recs

.
Image search. Point your phone at a piece of real-world

furniture and the app returns similar products.
It's probably not a stretch to say that furniture showrooms will still be around a little longer. But as online furniture configurator software and augmented reality become a more widespread, standard part of customers' shopping experiences, furniture retailers need to start scoping out and implementing the technology to stay competitive. Contact us to find out how your business can do just that.
Want to see how other brands are utilizing configurators? Check out our article 10 Brands Using Online Product Configurators to Boost Sales.