Three Brands Breaking Through with a Magento Product Customizer
Shopping habits have been changing rapidly in the last few years and 2020 was undoubtedly the year in which e-commerce, as an alternative to in-person shopping, became the preferred choice of consumers. Product configurator technology, previously considered a nice-to-have addition to the e-commerce experience, is becoming a must-have as retailers try to recreate the in-person store experience online.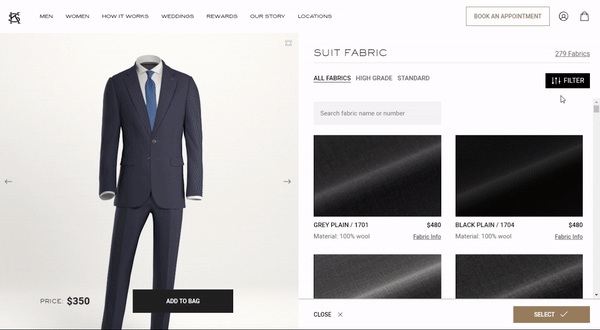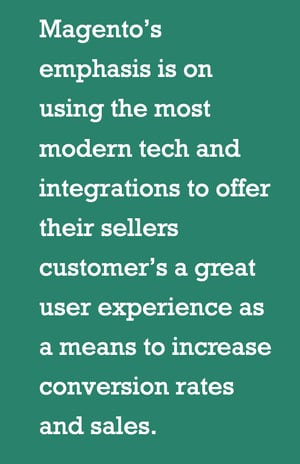 Magento Commerce, an Adobe product, is an e-commerce platform focused on creating "engaging, shoppable experiences". Magento's emphasis is on using the most modern tech and integrations to offer their sellers customer's a great user experience as a means to increase conversion rates and sales. Part of the focus on user experience is giving Magento sellers the ability to integrate state-of-the-art e-commerce technology, including 3D product configurators and augmented reality (AR).
A product customizer—often supporting 3D photorealistic, interactive images—gives customers the opportunity to make customizations from a predefined range of product components, for example adjusting materials, color, adding or removing physical components.
Most retailers still rely on traditional product photography and for good reason: According to emarketer, 83% of shoppers reported product images as the most influential factor in their purchasing decision. Configurators don't replace traditional photography, they complement and enhance it.
Compared to in-store purchases or showcasing products online with traditional static images and text, the Magento product customizer has big business benefits:
Products customized online can sell for 50% more than those purchased in store
48% of customers will accept longer delivery times if a product is customized
Retailers who implement an online configurator can achieve a 50% higher net promoter score (NPS)
33% of customers are more likely to recommend a product or service if it can be customized
Here are three businesses, B2C and B2B, that are using the Threekit Magento product configurator extension.
Steelcase
A leading manufacturer of furniture for offices, hospitals, and classrooms, Steelcase prides itself on innovative workspace design. Reflecting that focus on innovation is the business' use of a 3D product configurator.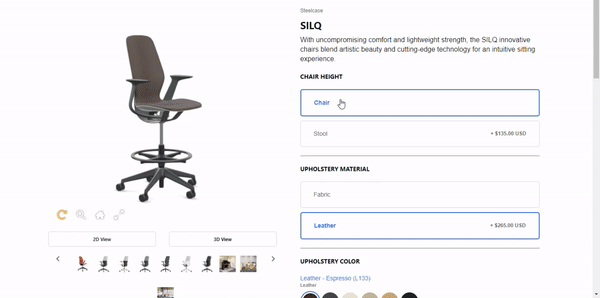 A good number of Steelcase's products can be customized to varying degrees but a great example, with extensive customization opportunities, is its range of SILQ office chairs. The configurator allows users to easily toggle between both photorealistic 2D and 3D interactive images. Customizations are displayed on both image types but the 3D product can be rotated 360 degrees and viewed from above.
The level of detail is striking: when selecting leather upholstery, the grain of the leather and the stitching are visible when zoomed in. A nice feature, rarely seen on product configurators, presents SILQ chairs in a number of CG hypothetical office settings; it helps give an impression of spatial dimensions and how the chairs would look in situ.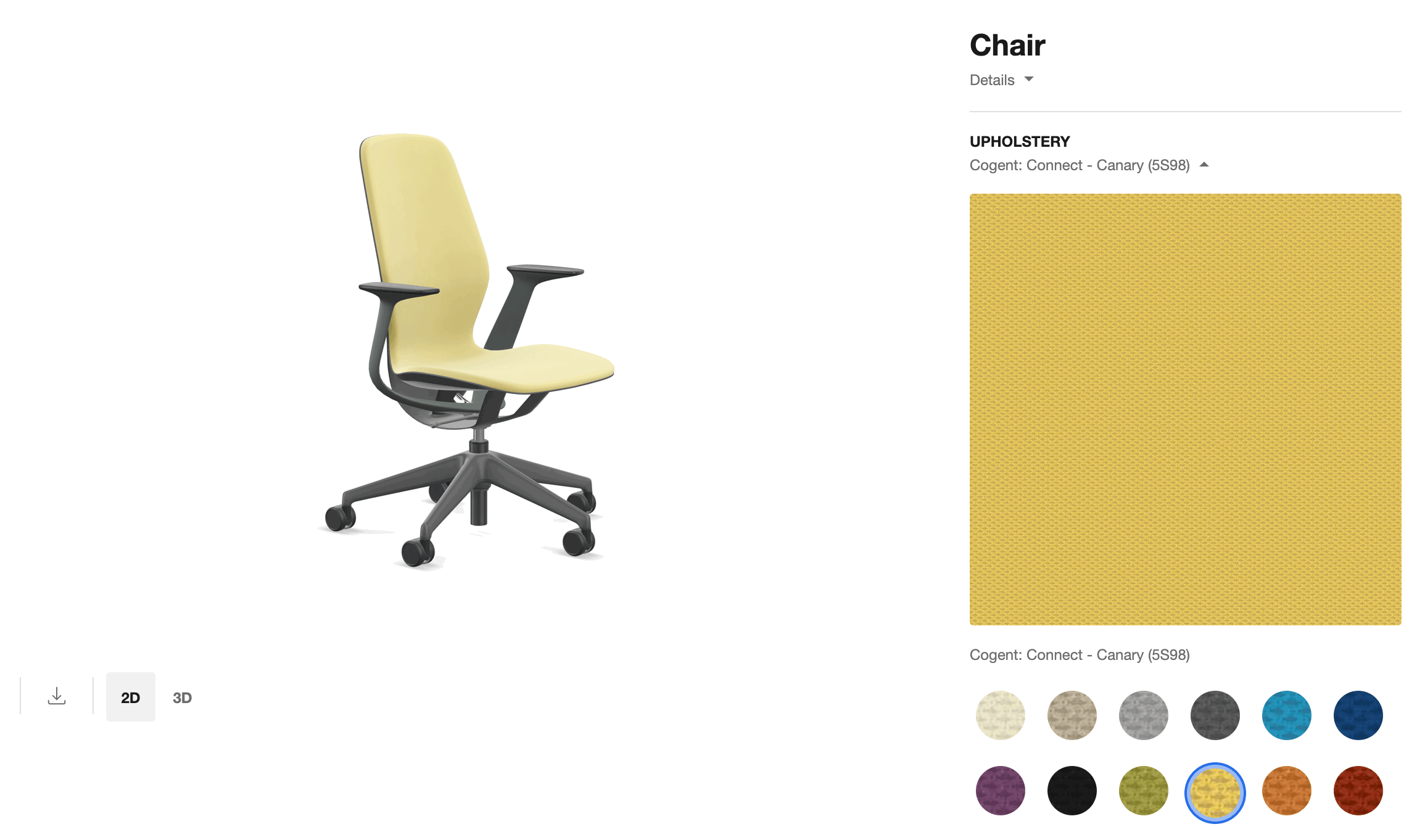 The customization options are extensive and users can choose to customize upholstery material and color, shell color, arm finish, base finish, and wheel type. The configurator provides further product details including an auto-updating cost, product overview, and a very detailed specifications list.
Lovesac
Another business using a Magento product configurator claims to sell the world's most adaptable couches—Sactionals by Lovesac. The configurator, developed by Threekit, allows customers to customize Sactionals' modular system, including the number of seats, arms, backrests, covers, fill material, and accessories.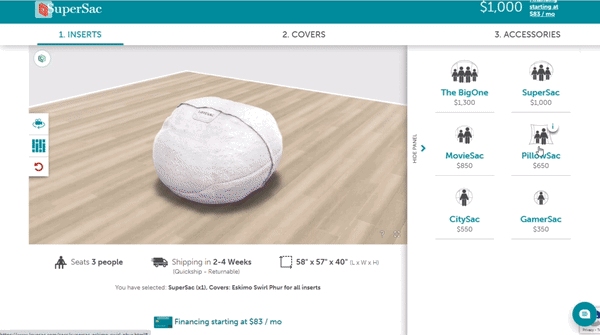 Furniture manufacturers and retailers were some of the first businesses to implement product customizers. Modular furniture, or the ability to add components to items like couches or kitchen furniture, gives shoppers the opportunity to purchase furniture that directly meets their requirements in terms of tastes and space.
Unlike a lot of consumer goods, furniture is a far bigger financial and emotional investment. According to Spruce, we keep a couch for between seven and fifteen years. Being able to design and configure a couch reduces the risk of customers returning the purchase.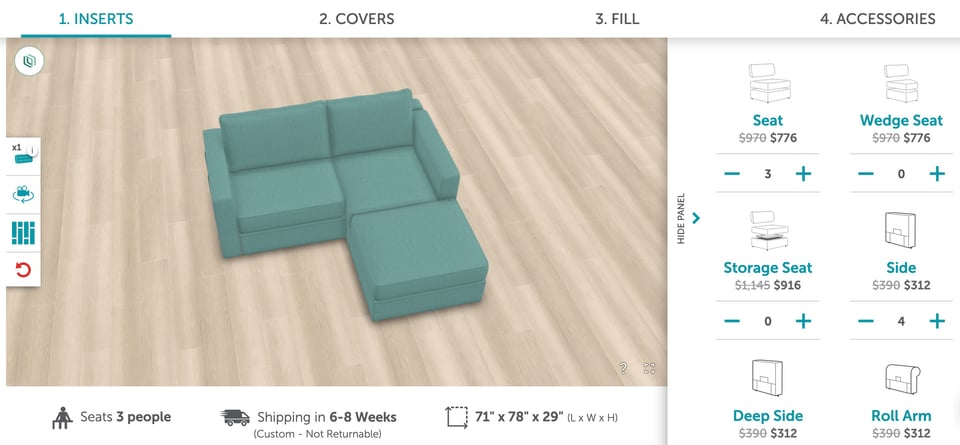 The product configurator displays the customizations on a 3D photorealistic image that the user can rotate and zoom in and out of. Uncommon on a lot of other product configurators, the individual components of the Sactional couch can be dragged, dropped, and repositioned so the user can try different layouts. The product's dimension, price, and financing options are all automatically updated as the user makes customizations.
Kashiyama
The fashion industry is one industry that is increasingly investing in product configurator software perhaps fuelled by the backlash against the environmental and social impact of so-called 'fast fashion' and the wider consumer demand for unique, one-off (i.e. customized) products.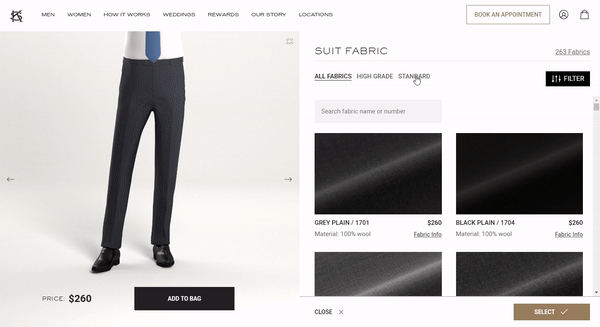 Kashiyama is a really interesting example considering it's a business that emphasizes an in-person, rather than an exclusively online, tailoring experience. Why would a business based on the personal touch implement a product configurator?
It's all about branding and customer perceptions. Even if a business portrays the image of providing a traditional luxury service—often only available to the wealthy—it feels like you're participating in the experience of having a personal stylist and tailor design and create your suit even if you choose to customize your own suit online.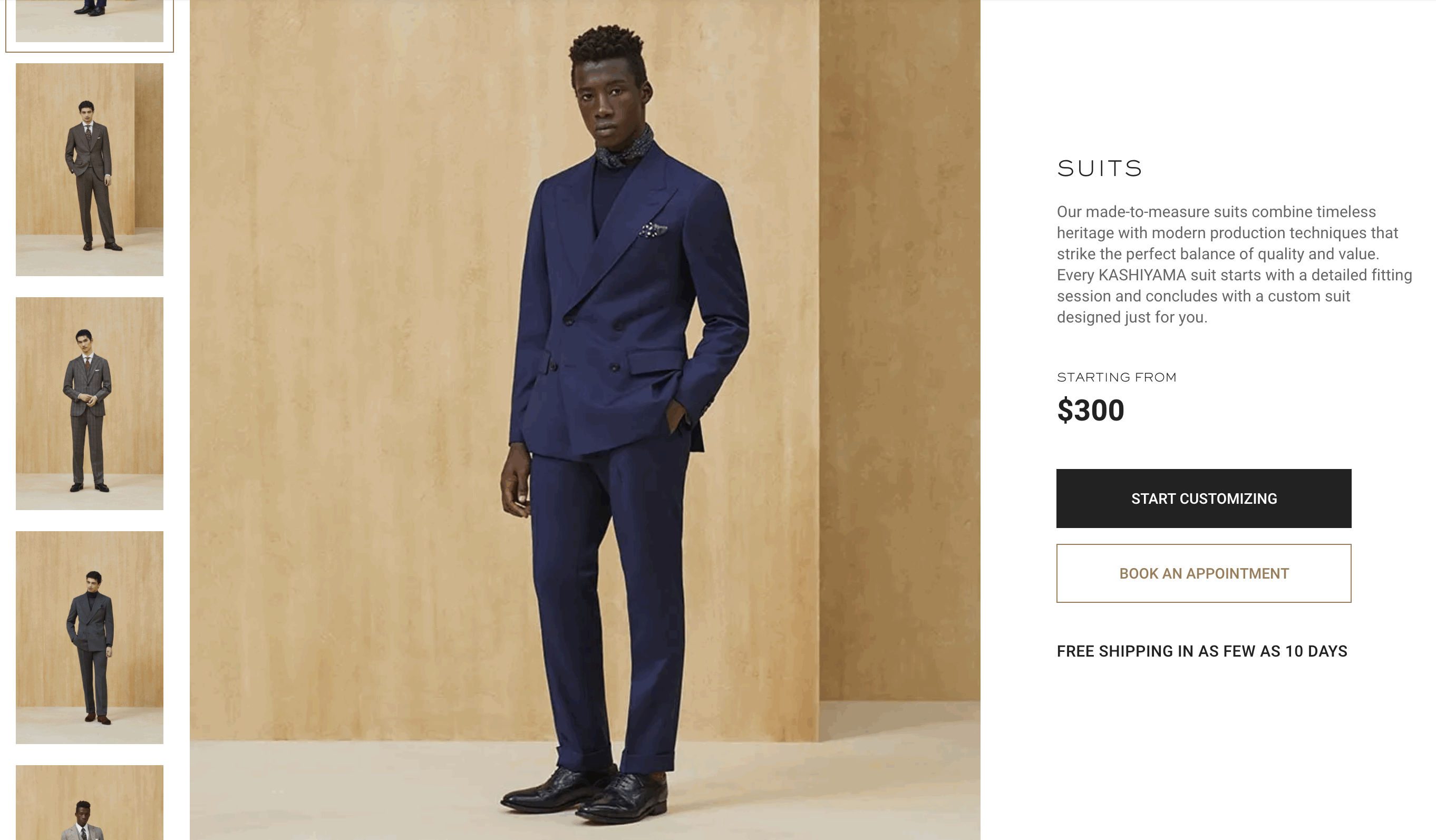 Kashiyama's Magento product customizer offers an extensive range of choices. On the suit jacket alone users can customize elements such as single or double breasted, button stance and lapel style, vent, jacket lining, check pocket, sleeve buttons and sleeve function, pick stitch, and a huge variety of buttons.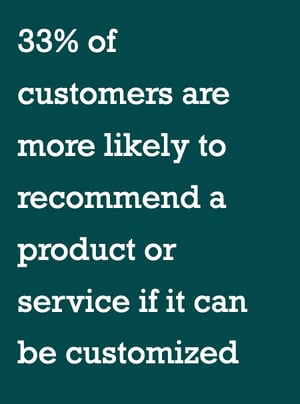 There's even the option to personalize a suit by adding 16 characters of text to the inside lining. Personalization is another trend made possible by product configurators. Although it's nothing new—think of monogrammed bathrobes!—product personalization is seeing a revival in popularity, as Zara's much-publicized Edited collection of personalized garments has demonstrated.
How to use the Magento Product Customizer
The Threekit Magento product customizer extension can be integrated into a Magento store within minutes. Simply go to the Magento extension page, install the Threekit Connector, source 3D models (with our help) and then launch and start presenting your products in 3D or augmented reality.
For more information about how to use the Magento product configurator to improve customer experience and increase sales, or to schedule a product demo, check out our dedicated Magento Commerce page.