Lovesac: The Ultimate Magento Configurator
What is the biggest challenge facing your Magento store?
The product description is a challenge for most e-commerce stores due to physical limitations online. It is difficult to convince online shoppers to purchase your product if you can't describe it clearly and accurately. The poor product description also makes it difficult for customers to tell you exactly what they want to purchase. The challenges associated with product description increase exponentially if you offer products like couches that are complex and require extensive customization. This is why furniture manufacturers like Lovesac are leveraging 3D configurations on Magento and Magento 2. Magento product configuration has helped Lovesac to demonstrate the full value of its customizable couches.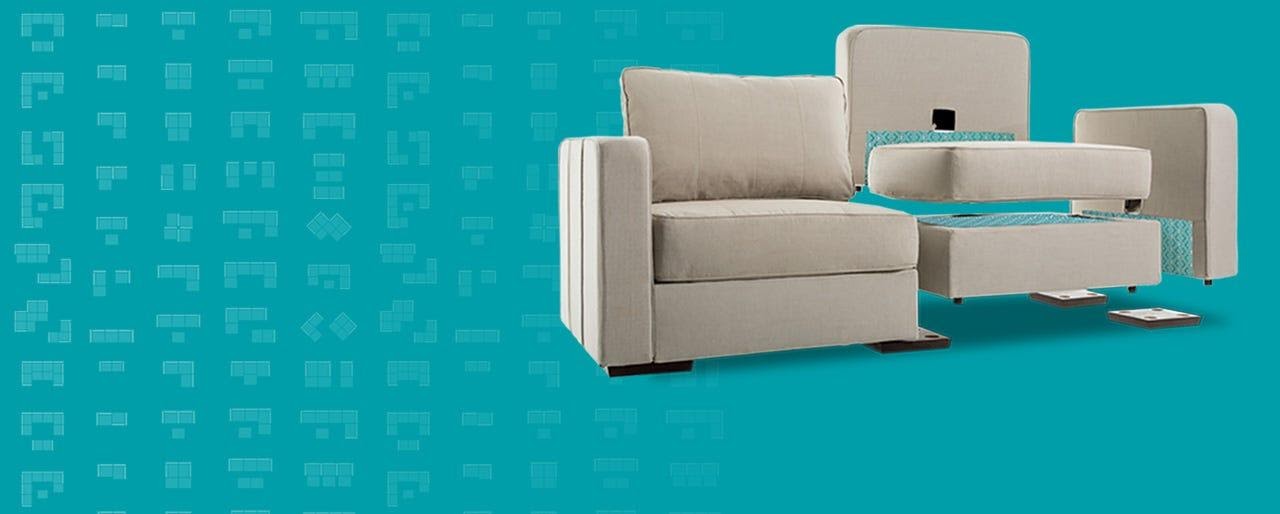 Lovesac configurator for Sactionals (lovesac.com)
Lovesac's Magento product configurator also helps customers to pick and customize couches based on their needs before they purchase. Giving the customer the tools to customize products is important because 80% of customers are more likely to purchase from brands that offer personalized experiences. Lovesac's furniture customizer is the ultimate Magento configurator.
Background: Lovesac Story
Lovesac offers a highly adaptable couch known as Sactionals. The uniqueness of Sactionals is its modular system, which allows customers to customize their ideal couch by choosing the number of seats and arms, as well as backrest, covers, fill material, and other accessories. Sactionals have a higher price than ordinary home furniture, which is a major problem since customers are cautious when it comes to big-ticket items.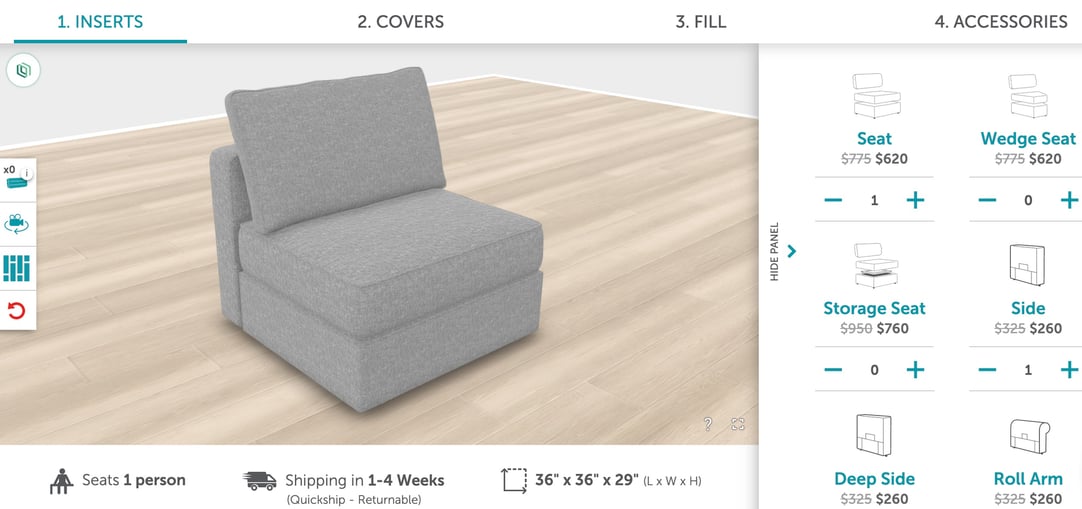 Lovesac's configurator allows for customization (lovesac.com)
Most people prefer to purchase expensive couches, tables, and other pieces of furniture in-store to ensure they pick the right item. Lovesac had to overcome this reality since it offers Sactionals online. It had to adopt the most innovative solution to convince customers to purchase its couches online. First, Lovesac needed a visualizer to display all the complex parts and features of its furniture in detail to help shoppers understand how it will meet their needs. They have to see the value in Lovesac's couches to entice them to buy.
Secondly, the solution should help customers to create furniture sets of their dreams. The most ideal solution, in this case, should give customers control over the design and customization of their furniture. Thirdly, it should provide the customer with the tools they need to choose accurately and inform Lovesac exactly what they want to purchase. Fourthly, the solution has to integrate with the Magento e-commerce platform seamlessly to help Lovesac streamline its operations and customer experience. Lovesac needed a 3D configurator to address all four challenges it was facing online.
The Solution: How Lovesac's Configurator Works
Lovesac custom-built a web-based product configurator and deployed it on its Magento website to allow customers to design furniture sets based on their needs. The ultimate Magento configurator was the only solution powerful enough to convince online shoppers to purchase Lovesac's high-end furniture. Lovesac's configurator integrates seamlessly with its Enterprise resource planning (ERP) software and Magento's e-commerce platform. The custom-built configurator adopted by Lovesac is powered by interactive 3D models of different pieces of furniture, which breaks down the couch into small parts to visualize complex features in detail and more accurately.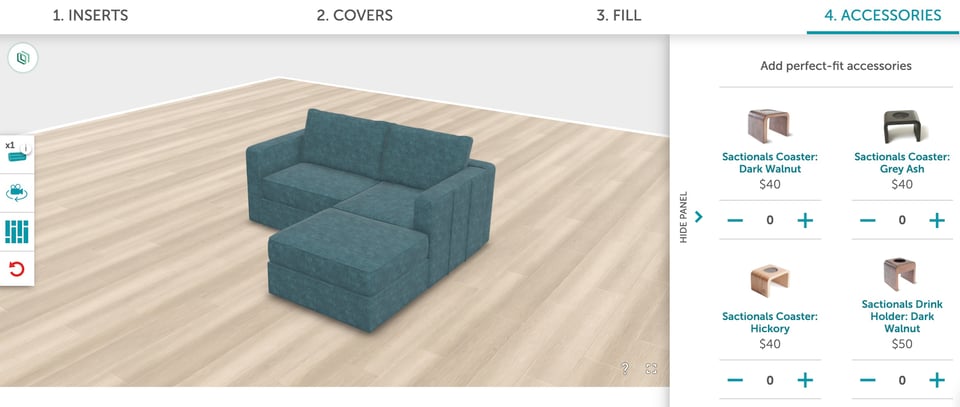 Lovesac couch configurator (lovesac.com)
Live and interactive 3D models allow customers to turn the product a full 360 degrees and explore extensively from every angle. The configurator also includes a scrolling zoom feature that enables shoppers to take a closer look. They can analyze and inspect complex parts and uniquely designed components thoroughly for better understanding.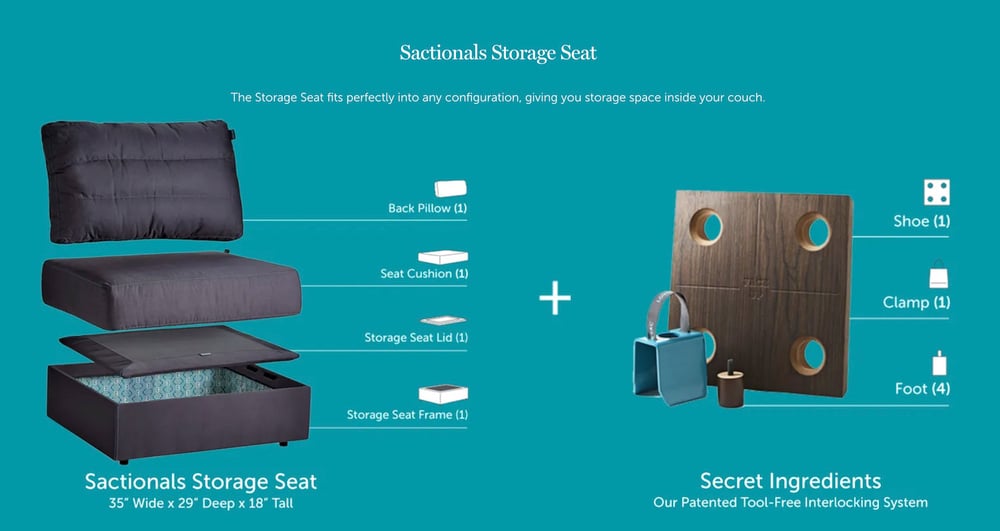 Break down of Sactionals (lovesac.com)
Customers can also use the configurator to customize the ideal couch of their dreams. It is designed with customizable features like color, fill materials, arms, covers, backrests, and other additional accessories. The options empower the customer by giving them control of the design process, which can help them make informed purchase decisions. The 3D configurator also has a drag-and-drop feature, which is uniquely designed to enable the customer to try different layouts. They can drag-and-drop individual sections of the couch and reposition them based on the availability of space in their home.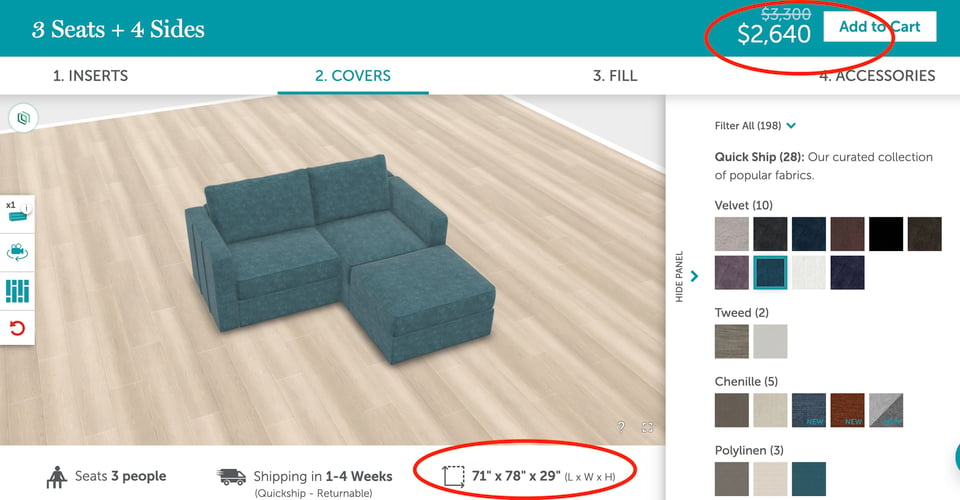 Repositioning feature on Lovesac configurator (lovesac.com)
The feature also allows shoppers to choose the number of seats they need for their couch based on the availability of space in their homes. The customizer is fully immersive with additional tools that enable shoppers to adjust the flooring to match other pieces of furniture they already have in their homes. This feature guides the customer throughout their customization to ensure the couch they design matches with their home. With the feature-rich Magento product configurator, Lovesac empowered customers resulting in higher conversions.
The Outcome: How the Configurator Benefitted Lovesac
The decision to adopt a Magento product configurator benefitted the furniture retailer on so many levels. The customizer visualizes the couch accurately and allows the customer to explore and customize the product based on their needs. It is highly efficient and easy to use. The configurator enhances customers' understanding, confidence, and online shopping experience, which increases Lovesac's conversion rates.
1. Enhances Customers' Understanding
However good your product is, the simple truth is that customers will not buy it if they don't see how it meets their needs. Helping the customer understand the value of your products is at the center of every successful business. The customizer uses high-quality virtual photos of the couch, which highlights unique features in detail.
It is designed with a 360-degree viewer and zoom feature that allows the customer to rotate the couch and scrutinize specific parts for better understanding. With a Magento product configurator, Lovesac has enabled customers to understand the products better. Better understanding leads to higher conversion rates.
2. Increases Customers' Confidence
Lovesac's Magento product configurator exploits photorealistic images along with 3D visualization to enhance the perceived value of the couch. It is designed to help online shoppers to customize couches by adding covers, arms, fill material, and so on to meet their needs. It can convince the customer to purchase since they have more confidence in their own creations. When shopping for home furniture, shoppers have to match the size of the couch with the space where it will be placed in their home.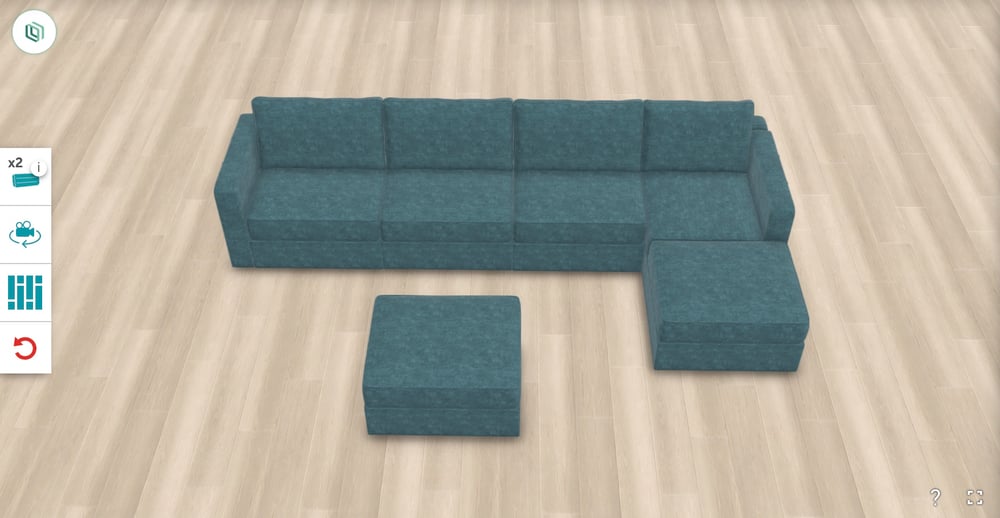 The configurator simplifies this process by allowing shoppers to reposition individual parts of the couch in different layouts to ensure it fits in the available space perfectly. The confirmation that it will fit in their home increases customers' confidence on the couch. It provides enough information to help the customer make informed purchase decisions, which can entice them to purchase.
3. Delivers Personalized Experiences
According to a recent e-commerce study, 75% of consumers appreciate brands that personalize offers for them. There is nothing more personalized than allowing the end-user to create the product themselves. A Magento customizer gives customers control of the customization process. It makes them feel empowered and important.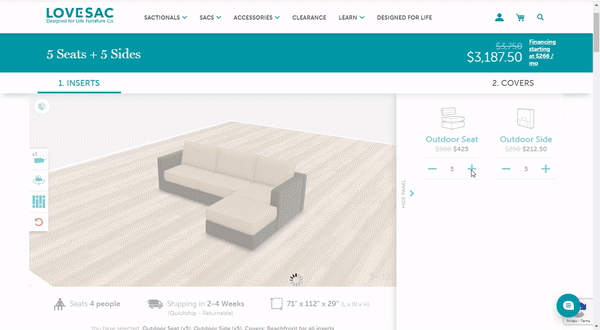 Interactive 3D models of the couch provide a great visual presentation and gamified customization. Both can entertain the customer and entice them to purchase. The customizer offers a variety of options that allow the customer to create the couch they need more efficiently. It allows for seamless customization, which enhances user experience further. This process ensures the customer is emotionally invested in their uniquely customized couch. The personalized experience influences the customer and makes them more willing to purchase.
Bottom Line
A Magento product configurator has enabled Lovesac to empower its customers and make them part of the design team. The customer understands the couch better and more confident that it will meet their needs. Its 3D configurations deliver personalized experiences. Better understanding, increased confidence, and personalized experience can entice any customer to purchase. Lovesac is recording higher conversion rates, thanks to a Magento product configurator.
Threekit offers a Magento product configurator with interactive 3D models, 360-degree viewer, and zoom capabilities. It can help online stores on Magento to increase sales. Contact us to learn more from our experts.