How to Teach Shoppers About Men's Suit Styles in Your 3D Customizer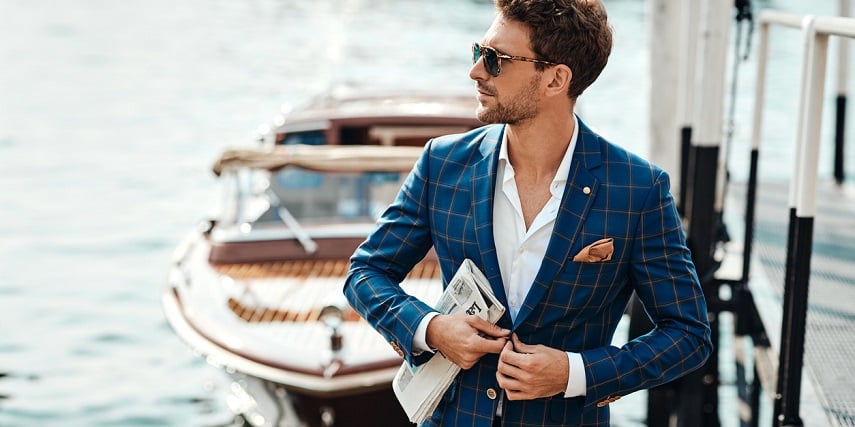 Fashion critics agree that every man should have a suit in his wardrobe (and we know a 3D customizer can make it easier). But beyond that, no one can agree.
Should men have three or five suits? Can they have double, single or no vents? Should suit jackets have one button or two? Trying to reach a consensus is virtually impossible; however, critics agree that fit is the most important element of a suit.
That's great if customers can try on suits in a store and have alterations to get the perfect fit. But what about online merchants? How can they make men comfortable enough to purchase a suit online?
Teach your shoppers what to look for in a suit using a 3D customizer.
Measuring for a Perfect Fit
Although taking measurements may be the last step in purchasing, it is the first step in finding a well-fitted suit.
eLearning studies found that students learn best when visuals coincide with text. If there's no correlation between the picture and what is being explained, it distracts from the learning process.
Merchants often use simple drawings rather than people when demonstrating how to take measurements. For example, a diagram of a man's arm may display next to text that says, "To measure the outseam of the jacket sleeve, start at the top of the sleeve cap and end at the sleeve hem, along the outside of the arm."
Hmmm.
A better alternative would be to display a 3D rendering of a suit jacket overlaid with directional arrows to demonstrate exactly how to measure the sleeve outseam.
Using the same technology, consumers can click through the measuring instructions for the entire suit while viewing the process from different perspectives. Better yet, you could create a 3D video that shows the entire process.
Finding a Suit Style With a 3D Configurator
Quality images can show the differences in the four main categories of men's suits. Using virtual photography, eCommerce merchants can display multiple 3D products from a single image, reducing the time and cost of delivering custom product images.
Men's suit styles include:
Skinny. The jacket fits closest to the body with a narrower chest and shorter jacket. Trousers are low rise with narrow hips and thighs with a narrow leg opening.
Slim. The jacket is cut closer through the shoulders, chest and waist. Trousers are just below the waist with narrow hips and thighs with a straight leg.
Modern. The jacket is slimmer than a classic jacket but offers more room than a slim fit. Pants rest at the waist with slightly narrow hips and thighs with a tapered leg.
Classic. The jacket has a less tailored fit. Pants rest at the waist with no narrowing at the hips or thighs with a straight leg.
Not everyone looks great in a skinny-cut suit. So when a shopper buys one without seeing how it fits them, it's likely to be returned.
Let them create an avatar that more closely represents their body type using predefined attributes.
Then, let the buyer view the different suit styles on their 3D model. After determining a style, the consumer can then use the model to finish customizing their suit, even incorporating it into an augmented reality feature.
Click here to learn how augmented reality and a 3D customizer can deliver a stronger customer experience.
Viewing Options With a Product Customizer
Customizing a suit requires more than picking a style. There are plenty of decisions to be made about the material, the pant length, buttons and more. Product customization lets shoppers view their options in real time.
Fabric
Suits come in all fabrics, from natural to synthetic fibers. They can be made of wool, cotton or linen. Lighter-weight materials are used in warmer climates or during the summer. Before deciding on the fabric, shoppers will want to look at the fabrics' weave, pattern and breathability.
Use the zoom feature of a product configurator to let buyers see how tight the weave is and how the pattern displays up close. 3D configuration lets them change colors and patterns — as well as fabrics — to ensure they are comfortable with their choice.
What about the lining? Having a colorful lining is one way for customers to show their individuality.
When customers select a lining, display the custom product with the suit fabric and lining. Giving them the chance to see how the lining and suit fabrics blend creates a better customer experience.
Suit jacket
Many shoppers may not realize how customizable suit jackets are. There are different pocket styles, lapels and vents. Letting shoppers mix and match the features in a 3D customizer can help solidify a purchase.
For example, front closures can range from one button to six, depending on whether the customer wants a single- or double-breasted suit. The shopper may want to add more buttons to the jacket sleeves if they're looking for an American-cut jacket.
Seeing the jacket using a 360° view can help them avoid design mistakes that result in a poor customer experience.
The 360° view is especially important when it comes to jacket vents, lapels and pocket design.
The objective of the vents is to ensure the bottom is covered at all times. That's why British jackets have a double vent: to ensure their backsides are covered even when horseback riding!
Jackets may also have no or one vent. Viewing the jacket from the back and sides gives shoppers a better idea of how the jacket will fit.
When men put their hands in their pockets, they alter the lines of the jacket's back. Adding a 3D design that shows how placing hands in pockets helps shoppers visualize what the custom product will look like in use.
Suit pants
Suit trousers typically have a break or fold just above the shoe. This break happens when the fabric is longer than the leg. Shoppers have the option of no break, a quarter break or a half or full break.
A 360° view makes it easier for potential customers to see how the different breaks look on a 3D model. Not only is the break important, but so is where the hem rests at the back of the shoe. Too long, and men walk on the pant leg. Too short, and the pants fail to drape.
Unlimited Possibilities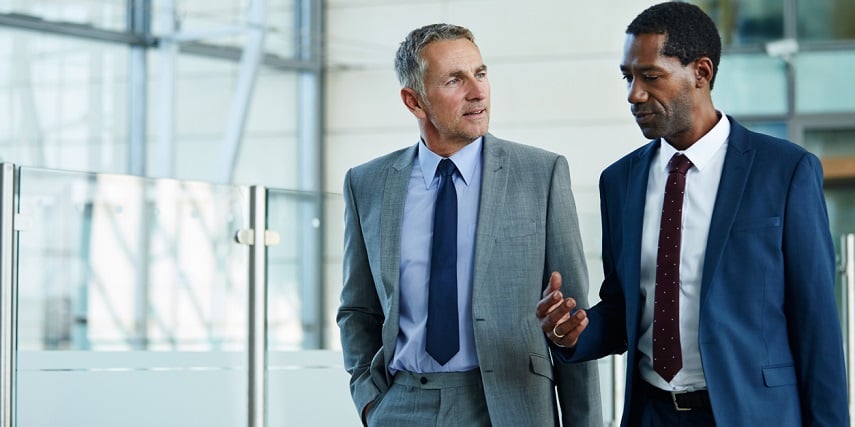 With the right 3D customizer technology, eCommerce merchants can deliver exceptional customer experiences that instill confidence in their online purchases. Adding functionality such as augmented reality and virtual photography can provide a competitive advantage over sites that use older technology.
Using customizer apps on mobile devices makes it possible to deliver the same experience no matter the channel. By including pricing changes based on selected options, eCommerce merchants can demonstrate transparency that builds trust.
Threekit offers merchants a 3D customizer, virtual photography and augmented reality from a single platform. Our solutions integrate with eCommerce sites such as Magento and Shopify for faster-to-market deployments.
Contact us to learn more about how our 3D customizer platform can drive business growth.