How One Piece of Tech Reduces Ecommerce Returns by 35%
Product returns are bad for business—and your customers. They're expensive to process, leave people disappointed with your brand, and result in millions of tons of waste every year.
Around a third of online purchases end up being returned to the retailer*—and it's the consumer who pays the price for return shipping, sorting, and storage. And when the recession starts to bite in 2023, it's going to be harder than ever to absorb the cost of returns and run a profitable business.
What if there was a single piece of tech that could reduce your ecommerce returns by more than a third—and give your customers an experience that will turn them into loyal fans?
In this piece, we'll outline how a 3D configurator can cut ecommerce returns by 35%. This helps you future-proof your company and grow revenue—whichever way the economic winds blow in the coming months.
Want to reduce ecommerce returns and improve the customer experience?
Threekit's 3D product configurator lets customers see exactly what they're buying—so they can make purchasing decisions they won't regret.
* E-commerce Product Return Rate – Statistics and Trends, Invespcro.com
Why does ecommerce have high return rates?
While typical in-store returns tend to be around 9%, ecommerce return rates are much higher at 30%.
Here's why.
Ecommerce can never 100% replicate the in-store experience—so customers struggle to understand what they're buying. According to a survey by

Invesp

, 22% of returns are down to the product failing to meet expectations.

Receiving the wrong product or a damaged item also accounts for 43% of returned items.

And, finally, easy, generous returns policies and processes can encourage serial returners.
Using a 3D configurator on your ecommerce website reduces returns by giving consumers the information they need. So they can make a purchasing decision they'll be happy with.
It won't change your returns policies or help you if you deliver the wrong product, but it can help avoid customer dissatisfaction and the reasons that fall under "other," which is the biggest category at 23%.

Consumers return products when they are damaged, when they don't meet their expectations, or when they receive the wrong item. Source: The Good
Let's look at what a 3D configurator is and how it can help your business—and delight your customers.
What is a 3D configurator?
A 3D configurator is a tech tool that lets online shoppers customize products in real-time.
While traditional ecommerce stores use static, 2D images to display products, a 3D configurator lets customers view a photorealistic 3D model that they can manipulate themselves to visualize and swap out different colors, materials, sizes, and styles.
By using a 3D configurator, consumers can zoom in and out of a product and view it from different angles or in different colors.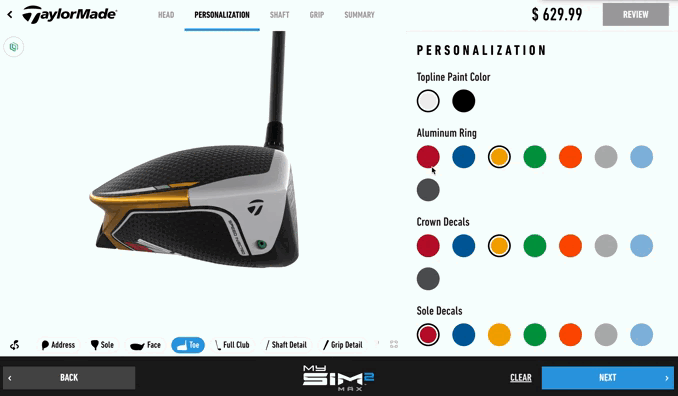 TaylorMade's golf club configurator gives potential customers confidence in their purchase as they can view the golf club from different angles, change colors, and zoom in on features. Source: Threekit
6 ways 3D configurators drastically reduce ecommerce returns
Not so long ago, if your customer wanted to buy a green couch from your ecommerce furniture store—and you haven't included one in your photo shoot—they'd have to look at another colored couch and take a gamble on whether the green will work in their space. Only to realize they hate it when it arrives and hit "return."
Nowadays, many ecommerce brands let you sort through the different color options of a product. But a single product can still have hundreds of options and combinations. For example, a couch is customizable by size, material, legs, stitching, etc.
So, if you have a highly customizable product with hundreds of different variations, how can you create a realistic representation that will show your customers exactly what they're buying? Well, by using a 3D configurator to give your customers a much clearer picture of your product.
Let's take a look at how 3D configurators help reduce ecommerce returns.
1. The customer sees
exactly
what they're buying
While a 3D product visualizer lets customers see products as a static 3D model, a 3D configurator brings an interactive element to the process, gives customers the ability to change parts of the product, and allows for more engaging product visualization. A 3D configurator provides clear and realistic images for customers to zoom in and out of, while showing them:
Every angle

Every color

Every customization and combination
This shows customers exactly what they're buying and takes the guesswork out of purchasing.
3D configurators make it possible for customers to search for and view thousands of different options, resulting in a more confident purchasing decision and reducing the chances they'll want to return the item.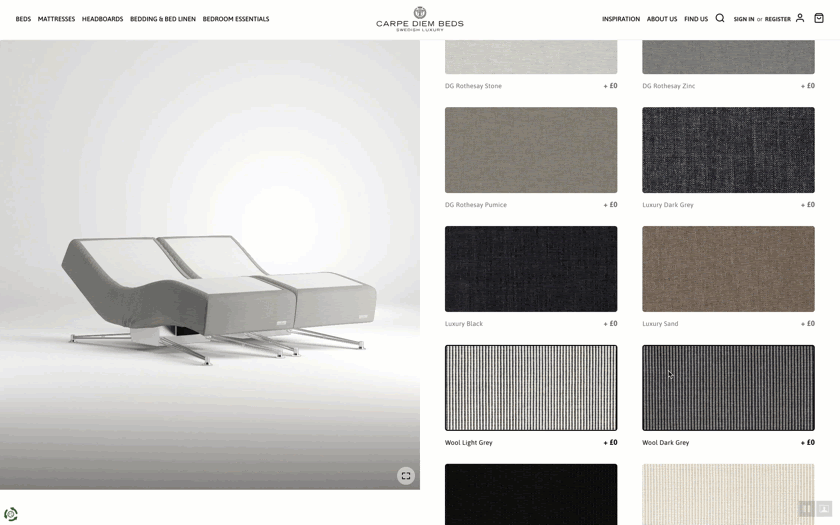 Threekit's 3D configurator lets customers view your products in detail, from different angles, and in different colors and sizes. Source: Threekit
2. Shows how items will look and fit in a space
A 3D configurator with Threekit is also an easy access point for AR, which can show customers how your item will fit in a space. Going back to the sofa example, you can use AR to add room dimensions and decide exactly which size sofa will fit in–and suit–your space.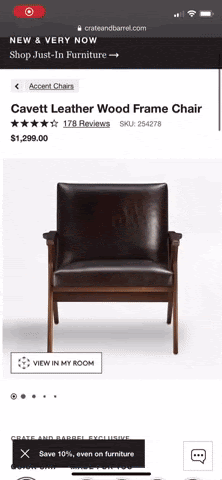 When you combine a 3D configurator with AR, customers can see how a product will fit in a space. Source: Threekit
3. Integrates with chat functions for extremely high-quality customer support
Without the help of store assistants, ecommerce brands need easy-to-access touchpoints for customers to get help when they need it.
To give your customers high-quality customer support, you can integrate a chat feature with your 3D configurator. Customers can engage with a chatbot in a one-on-one conversation that includes search filtering, product recommendations, and answers to their questions.
By engaging with customers at this point in the purchasing process, you can address their doubts and help them make an informed, more confident purchasing decision.
4. Automatically communicates delays and out-of-stock items
Producing and delivering high-quality, highly customizable products like furniture in a reasonable time is never easy, and many direct-to-consumer furniture companies are currently struggling to fulfill their orders. A range of issues relating to supply chain and staffing issues also mean some companies are overpromising and under-delivering, resulting in canceled orders and wasted resources.
By using a 3D configurator as the front end (integrated with your tech stack; e.g. ERP and CPQ) of your manufacturing and logistics process, as well as a sales tool, you can ensure predicted delivery times match your manufacturing capacity and stock.
This means you'll be able to fulfill the promise you make to the consumer in terms of fast turnaround and delivery.
5. Helps maintain an excellent customer experience for scaling businesses
As your business grows, it gets harder to maintain a good customer experience and service. Catalogs of different products expand and quickly go out of date. And inaccurate product photos and descriptions can slip through the cracks if you're not 100% on top of things.
Threekit reduces these growing pains by automating many of these processes and bringing the product—specifications, appearances, and features list—into line with what customers view when they visit your online store.
6. Increases engagement with the product
Your customers get the chance to really engage with a product and check out all the options quickly and easily. As they "create" the product in real time, It increases their engagement with the purchase process and product. The more time a customer spends engaging with the product beforehand, the greater their investment in their decision.
Why Ecommerce returns are an environmental issue
ECommerce product returns aren't just a question of profit margins, they're an environmental hazard and issue in their own right. Here's why.
Customer returns created

5 billion pounds of waste

in product and packaging in 2020

Returns create

15M tons of CO

2

emissions

annually

In 2016,

transportation overtook power plants as the number 1 producer of CO

2

emissions

in the USA

82% of consumers believe that ecommerce brands have a responsibility

to reduce the high number of returns due to the negative impact they have on the environment.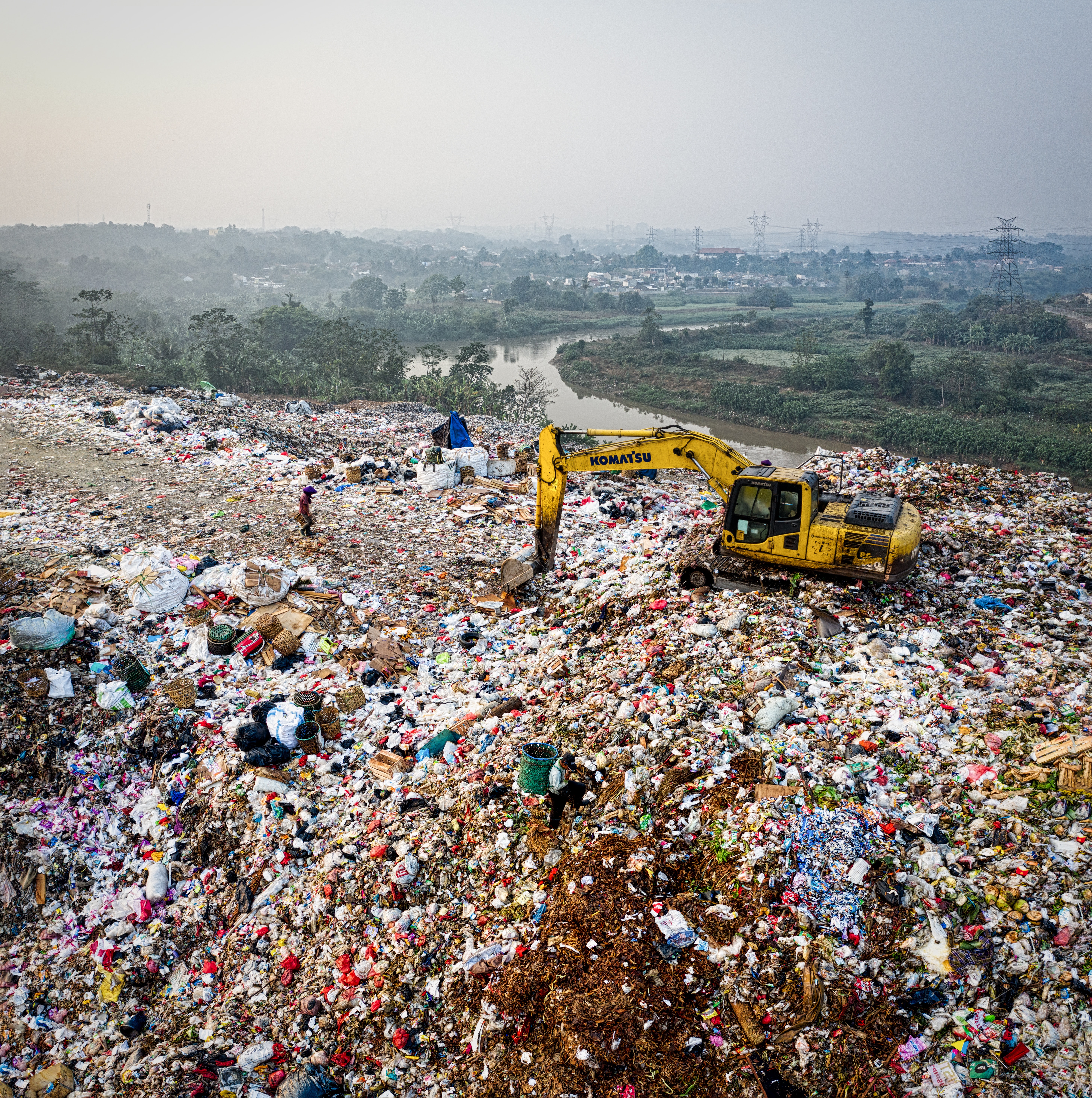 Around half of returned items cannot be sold, and when they can't be recycled they end up in landfill. Source: Pexels
Using a 3D configurator to reduce customer returns puts you in a better position to meet sustainability goals and your customers' expectations. And if you're looking to raise investment for your business, showing your green credentials can help you access funding.
Additional benefits of 3D configurators
As well as reducing returns, 3D configurators bring other benefits to your business and the customer experience.
Improved conversion rates
The more information customers can get from your product page, the more confidence they'll have in their purchase at checkout. According to our statistics, you'll see 40% higher conversions when you start using interactive 3D in your online store.
Win super loyal, passionate repeat customers
Providing potential customers with an enjoyable buying experience helps increase customer loyalty and create brand fans and ambassadors: 86% of customers say they're prepared to pay more for a better customer experience.
Relieve pressure on customer support teams
When customers receive a product that doesn't match their expectations, they're quick to contact customer support teams to express their dissatisfaction. Using a 3D configurator will reduce this pressure by cutting down on the number of complaints and returns.
Reduces the amount of inventory you need to hold
When you make your 3D configurator the driving force of your visual commerce strategy, you no longer need to store hundreds of different versions of a product.
For example, if you sell luxury bags, instead of keeping hundreds of items in every color, material, clasp style, and size in your warehouse, or brick-and-mortar store, you can use a configurator in-store to place orders with your factory. This frees up storage space for other purposes, and you won't need to destroy as much inventory if you don't sell it.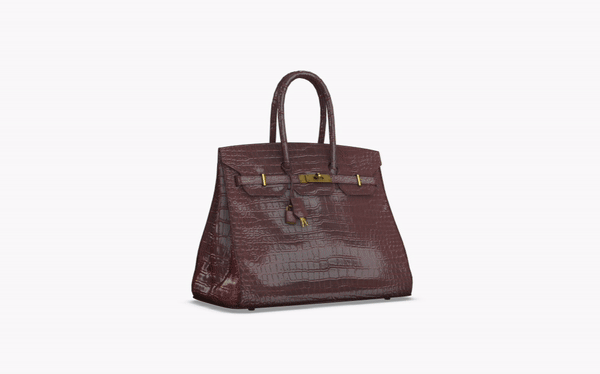 A 3D configurator can show your customers all the color, style, and material options of the same bag. Source: Threekit
Makes your sales team more effective
Using a 3D configurator to manage both the sales and production aspects of your business will reduce the pressure on your sales force. This is because they won't need to memorize or keep track of every possible configuration of your product. And sales reps won't need to keep clients waiting while they find out if they can fulfill the request.
You can also create "template" configurations to suit different customer profiles. So when they arrive at your ecommerce store, their preferences are saved and waiting for them, which saves them time on the first steps of the ordering process.
Should you consider a 3D configurator?
According to our figures, a 3D configurator can reduce returns by 35%.
So if you sell a highly customizable product online, then a 3D configurator can help your business by reducing the financial and environmental cost of returns. And, if you offer an almost infinite configuration of fabrics, colors, and trimmings, you won't need to store them all. This makes Threekit a favorite with high-end furniture, bags, and clothing retailers.
Here are some other signs it could be the right time to consider in a 3D configurator.
1. You're willing to invest in transforming your business
Investing in a 3D configurator doesn't just involve showing potential customers how many options are available. It can transform your business by enabling you to base all of your systems and processes around a customer order for greater operational efficiency.
For example, if you're selling an item of clothing with dozens of options for colors, sizes, and fabrics, Threekit will first help your customers see all of the options available. Then, when they order via your Threekit-powered online store, all of the business processes (manufacturing, shipping, sales) connect to create and deliver a tailor-made product.
2. Your business is at the right size and stage of growth
A 3D configurator is a significant investment, so you need budget, teams, systems, and other tech in place before you invest. At Threekit, we find it's best suited to well-established businesses with sizable teams (think 300-1000 employees) and around $50 million+ in revenue.
So if you're a startup, smaller scaleup, or ecommerce entrepreneur, it's unlikely to be for you.
3. You need to get a competitive edge
Customers are increasingly used to ecommerce sites like Amazon and Ikea that give them control over their shopping experience and confidence in their purchasing decisions.
The rest of us must constantly strive to gain and maintain an advantage over our competition. That means you need to constantly find ways to increase sales and customer satisfaction, as well as remove inefficiencies and waste from your processes.
If you have an ecommerce store that still relies on static or limited product descriptions and photos that users can't interact with, you risk damaging your brand image and losing out to competitors. A 3D configurator will help you get ahead—and stay ahead!
4. You want to future-proof your business
Investing in a 3D configurator gives you great potential to scale your business in the coming years and deliver a big return on investment. When you base your manufacturing and storage operations around the orders you receive—rather than adding to your inventory without knowing how many items you're going to sell—you can run a more cost-efficient business. And as the recession edges nearer, and labor and energy costs rise, the more financial savings you can make, the better.
Plus, you don't want to be left behind when the world and consumers catch on to the potential of visual commerce.
A 3D configurator: the secret to reducing ecommerce returns
Having a high return rate has a negative impact on profitability and brand image. While the thousands of tons of returned items that end up in landfill every year are an environmental time bomb.
The high rates of ecommerce returns that we're currently witnessing are more than just an issue of profit and loss—though the cost implication of organizing and shipping returned goods is huge.
Customers return products because they're disappointed with what they receive, when there's a delivery problem, and also because ecommerce stores have made the returns policy free and easy to do.
Fortunately, by investing in a 3D configurator, you can boost customer engagement with your product and confidence in their purchasing decisions, which can cut returns by 35%. You can also transform and future-proof your business so manufacturing, distribution, and storage capacity reflect consumer demand rather than trying to influence it.
All of which puts you ahead of the visual commerce trend—and the competition.
Want to reduce ecommerce returns and improve the customer experience?
Threekit's 3D product configurator lets customers see exactly what they're buying—so they can make purchasing decisions they won't regret.
Frequently asked questions about how to reduce returns in ecommerce
What is a good return rate for ecommerce?
The average ecommerce return rate is around 20-30%, depending on the product type. Amazon has a return rate of between 5-15% and a figure towards the lower end of this is good.
How do you handle product returns?
To handle product returns, and keep your customers happy, it's best to follow a clear returns management process that includes the following steps:
Approve or disapprove the product return, exchange, or refund

Pick up the product from the delivery address

Once back at the warehouse, check the product for quality and decide if it can go back into stock.

Restock the product or send it to be recycled or to landfill
What are the pros and cons of accepting returns?
The pros of accepting returns include:
Increasing the chance of a purchase since you're removing a barrier for potential customers

Comparing favorably with ecommerce stores that don't accept returns

Higher rates of customer satisfaction and customer loyalty

Meeting customer expectations of a hassle-free returns experience
The cons include:
Reduced profit margins from items that cannot be resold

Serial returners taking advantage of your returns policy and increasing your return rate

The high cost of managing your returns process, including return shipping and sorting/checking time

The environmental impact, since many returned items end up in landfill

Increased prices since ecommerce stores pass on the cost to the customer