How to Build Your Shopify Product Customizer If You're Not Tech-Savvy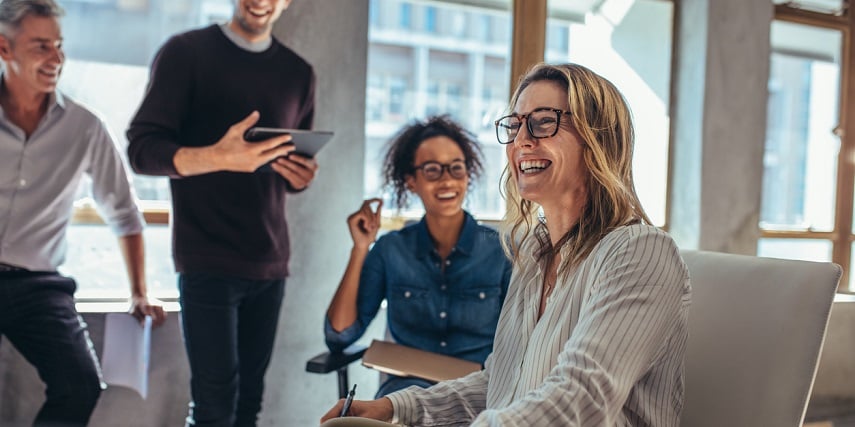 eCommerce has seen vast changes recently that make a Shopify product customizer essential, not just a priority. After COVID-19, customers shifted to online stores, but they were largely disappointed with eCommerce. They're demanding better experiences, and those who delivered quickly discovered the profitability of doing so.
Let's discuss customer expectations, the growing rise of complex digital and technical solutions for eCommerce, and why a Shopify product customizer is the perfect solution, even with zero tech skills!
Why You Need a Shopify Product Customizer
Many hesitate to get a Shopify product customizer, thinking it's unnecessary or that the hassle outweighs the benefits. However, what if we told you that the ability to customize products will soon be a prerequisite for success?
Well, that's exactly what's happening. Between changing customer expectations, the huge shift to eCommerce, and the rise in IT solutions, it's getting harder to stay competitive without a Shopify product customizer. So take a look at the data and see for yourself.
Customer Expectations Are on the Rise
As brick-and-mortar stores reopen, meeting customer expectations will be key to keeping their business. Here's what they're looking for:
Customer Desires & Expectations:
More than half want all offers personalized.

Over a third want product customization capabilities.

Nearly half are willing to wait longer for custom items.

Half don't believe

brands can make products that they want as-is without any customization.

The vast majority would accept a pricing increase for the right amount of customization.

Customers expect

eight or more

product images per product page.

Amazon only allows 6

, which could help you compete.
The Importance of Images for eCommerce Success on Shopify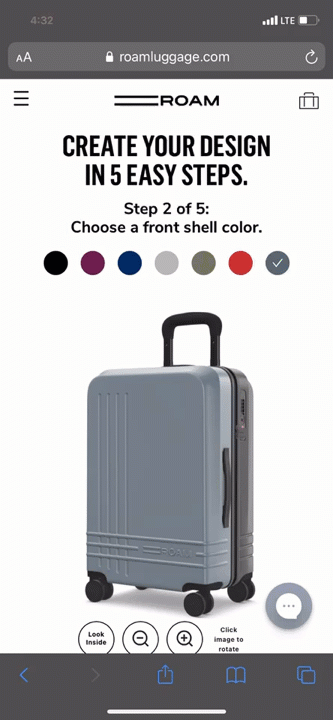 Many Shopify store owners don't take images seriously enough. Some seem to believe anything over one decent photo is extra. But here are some statistics on how consumers view product visuals.
eCommerce Product Visuals: Data & Statistics:
Proof That Shopify Product Customizers Deliver
If what your customers want and expect didn't sway you and you still think your product pages have good enough visuals, maybe these statistics will change your mind. These are the amazing results that better visuals produce, and they prove that you can't afford not to have a Shopify product customizer.
Amazing Results From Virtual, 3D, 360°, and AR Visuals:
For

80% of consumers

, a personalized experience increases their odds of a purchase.

Brands using a 3D product configurator have

increased conversions by 30% and reduced returns by 50%

.

3D and 360° visuals have shown amazing results, with one brand increasing conversions by 30% and another tripling their conversion rate entirely!

After including 360° images,

one company saw

a 61% boost in customer interaction and a more than 50% increase in sales. This company reported that this is the most significant impact any kind of product content has ever had on his business.

Our Virtual Photographer can

cut your photography costs by 90%

.

1 in 5 customers will pay 20% more for products they're able to customize in real time.
Click here to learn more about our Shopify product customizer.
How Threekit's Shopify Product Customizer Makes Setup Easy Without Tech Skills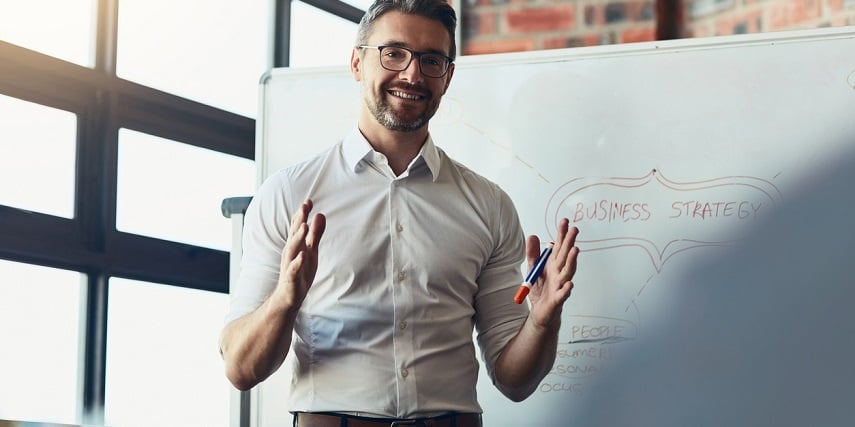 The landscape is changing fast. Anyone not moving forward will be left behind. Many worry that without tech skills, they're stuck in the latter category. But it's not hopeless. There's so much you can do without touching any code, learning complex jargon, or hiring a programmer. Here's how you can do it all yourself.
Seamless Integrations
Our Shopify app makes integration easy. Just download our app from the Shopify app store, complete the free installation, and you've got your very own product customizer app!
Don't use Shopify? Not a problem. Threekit integrates with nearly anything. We have integrations for Shopify, WooCommerce, BigCommerce, Magento, and so much more! If we don't have a premade integration for your platform, then don't worry. We have an API for just such an occasion.
No CAD Files? No Problem!
Whether you sell business cards, t-shirts, or furniture, just use a simple file upload to send us whatever product design files you have (like JPGs and PNGs), and we'll create CAD files for all your customizable products. Then, your product catalog's customizable products and available customization options become the conditional logic for your product builder.
Those are the rules dictating how your custom product designer can be used, like adding clipart and SVG images or allowing text input to write what they want the product to say in the text field.
Codeless Rules Engine
Do you love spending hours painstakingly adjusting complex computer code on your website's backend until it has the functionality you want? We didn't think so.
That's why we made our platform completely codeless. It has a simple admin panel and convenient features like templates and bulk actions to make it as easy as possible.
With simple checkbox and dropdown controls, it's easy for you and your customers. They can also create the customized products they want with a design tool that's actually fun to use. You don't have to worry about running out of stock after too many custom orders because our Shopify product customizer has a "hide option" button for when you're out of inventory.
Harness the Power of Technology, No Tech Skills Required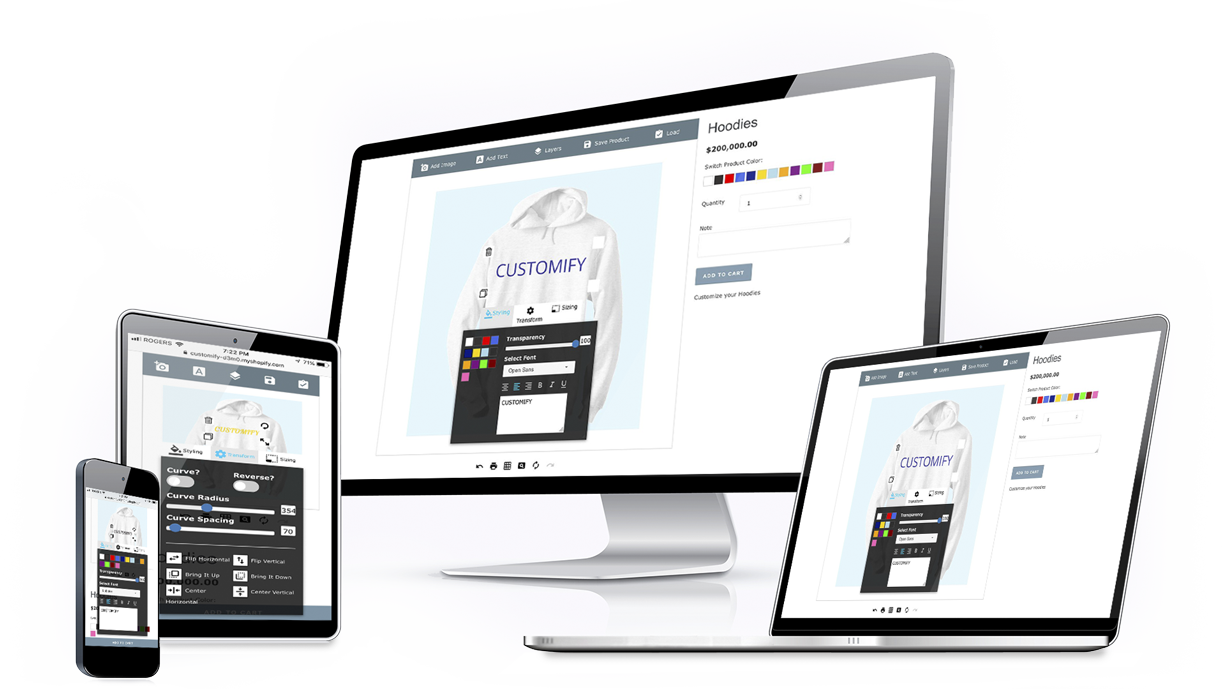 As you can see, all is not lost. It's possible to stay competitive without a computer programming degree. At Threekit, we wanted to ensure everyone had the opportunity to:
Display stunning images of their product options

Give shoppers the power of customization

Let buyers configure custom products using our

product configurator

to make every purchase an experience of molding their very own products
We didn't want this technology limited to computer programmers.
That's why we created a platform where everyone can create vivid photorealistic images without needing to know what runs the Virtual Photographer™ or how it renders them. Even the technologically challenged among us can reap the benefits of our comprehensive management tools without having any idea what SAP Hybris even is!
You can take back control of your eCommerce business. Threekit puts the power back in your hands so you can bring your Shopify store into the next phase of eCommerce on your own.
Get in touch with us to learn more about our powerful platform and what it can do for your business.