How to Build a Product Configurator
So, you've realized your company needs a product configurator. That's a great first step. Now comes the question of how you make that happen. There are many routes you can take toward a product configurator and some are more effective than others. It would be understandable to wonder if you might be able to build it yourself, and the truth is, you can. But, as with all things in business, some jobs are best left to the professionals.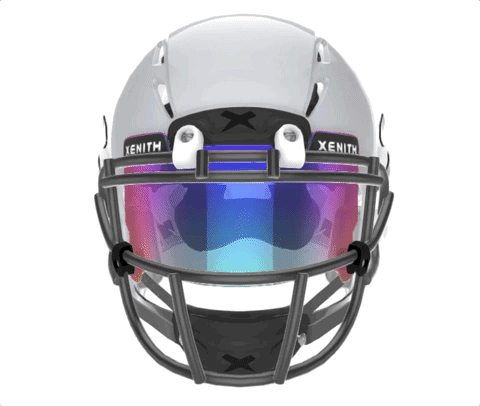 There are DIY software options and cloud-based SaaS choices on the market that can help you customize your own product configurator but it's important to explore their benefits and drawbacks before making a decision. And it's just as important to look into what a custom development with an experienced partner can bring to your operation.
Let's take a closer look at the options available to you while weighing the pros versus the cons, shall we?
Building with a Spreadsheet
Spreadsheets are still a go-to in the business world for a reason. They're incredibly effective and user-friendly for analyzing data and running numbers — both of those business needs won't be going out of style anytime soon. They can also act as an excellent CPQ solution. To a point. A seasoned Excel or Google Sheets pro can definitely build a product configurator that does the math, keeps track of inventory, and is easy to implement. But that's about as far as even the most complex spreadsheet product configurator gets. As with everything in business, you get what you pay for when you build a product configurator and while the spreadsheet option requires little upfront cost it also has limitations.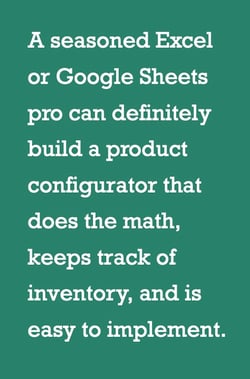 For example, a spreadsheet requires constant upkeep and maintenance, or else data will be inaccurate. They're also often boilerplate and difficult to customize, which can present serious challenges down the road. Perhaps the most significant drawback to taking the spreadsheet route is that your product configurator won't integrate to other systems
or processes. The spreadsheet option may suffice for smaller, simpler uses but if your business deals in anything complex or plans to grow in that direction, is safe to approach building your product configurator as if you've already outgrown the spreadsheet stage.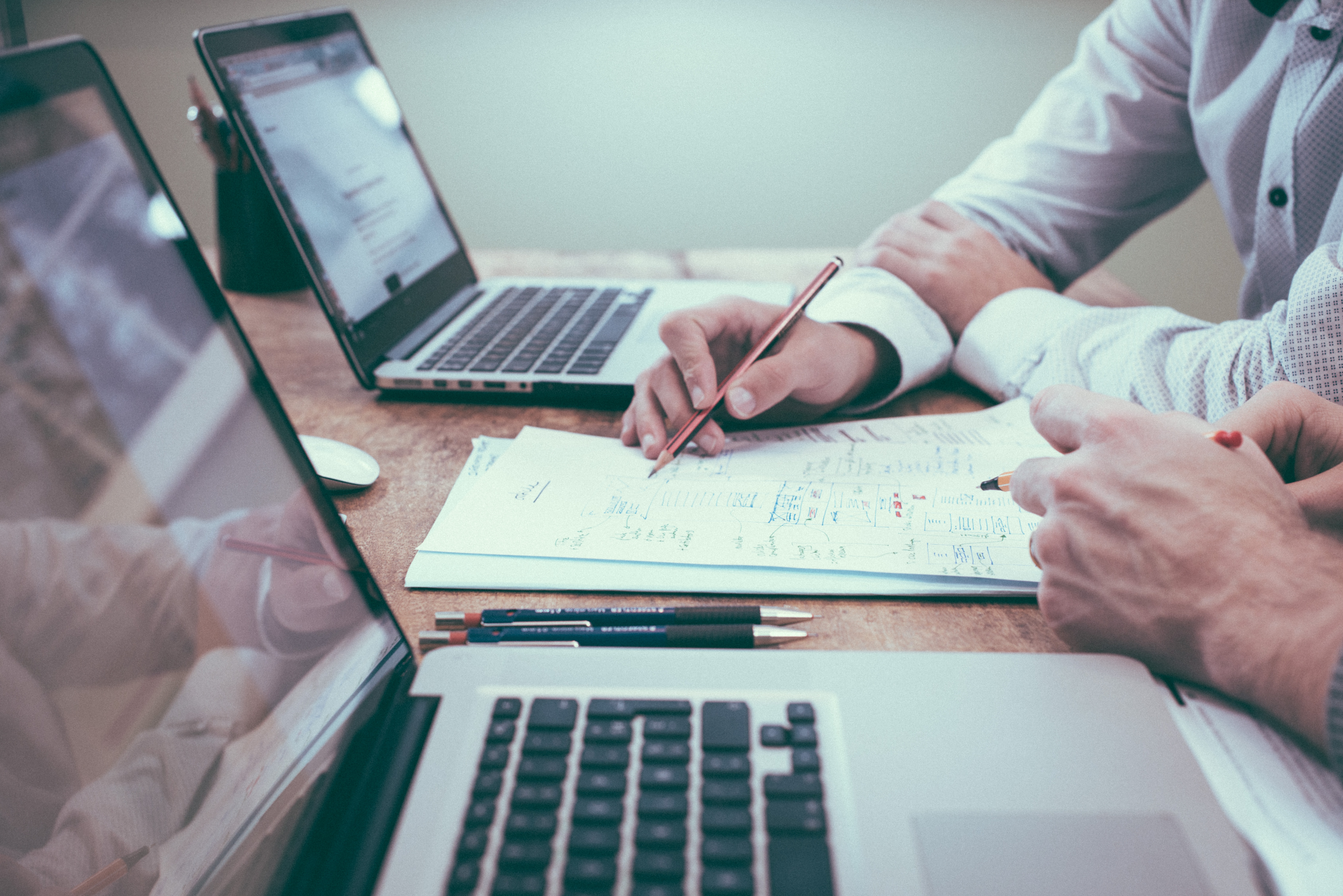 The DIY Product Configurator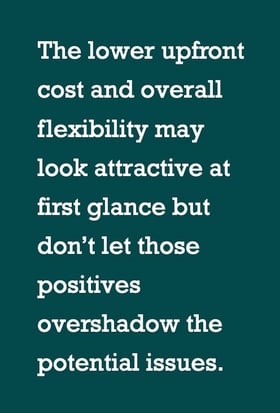 Of course, if you have an ambitious IT department there's always the homegrown coding option. It can be fulfilling and affordable to take on the product configurator development challenge in-house but it doesn't stop at the development stage. Your staff will need to provide constant maintenance and take on additional duties like system management, end-user testing, and change management are just a few. The lower upfront cost and overall flexibility may look attractive at first glance but don't let those positives overshadow the potential issues.
Custom software is incredibly complex and if your staff isn't up to the task, they're likely to become disgruntled. And, you'll be paying them more for the extra hours put toward solving problems beyond their capabilities. Also, while integrations are possible, they'll be far more difficult and time-consuming than it may be worth.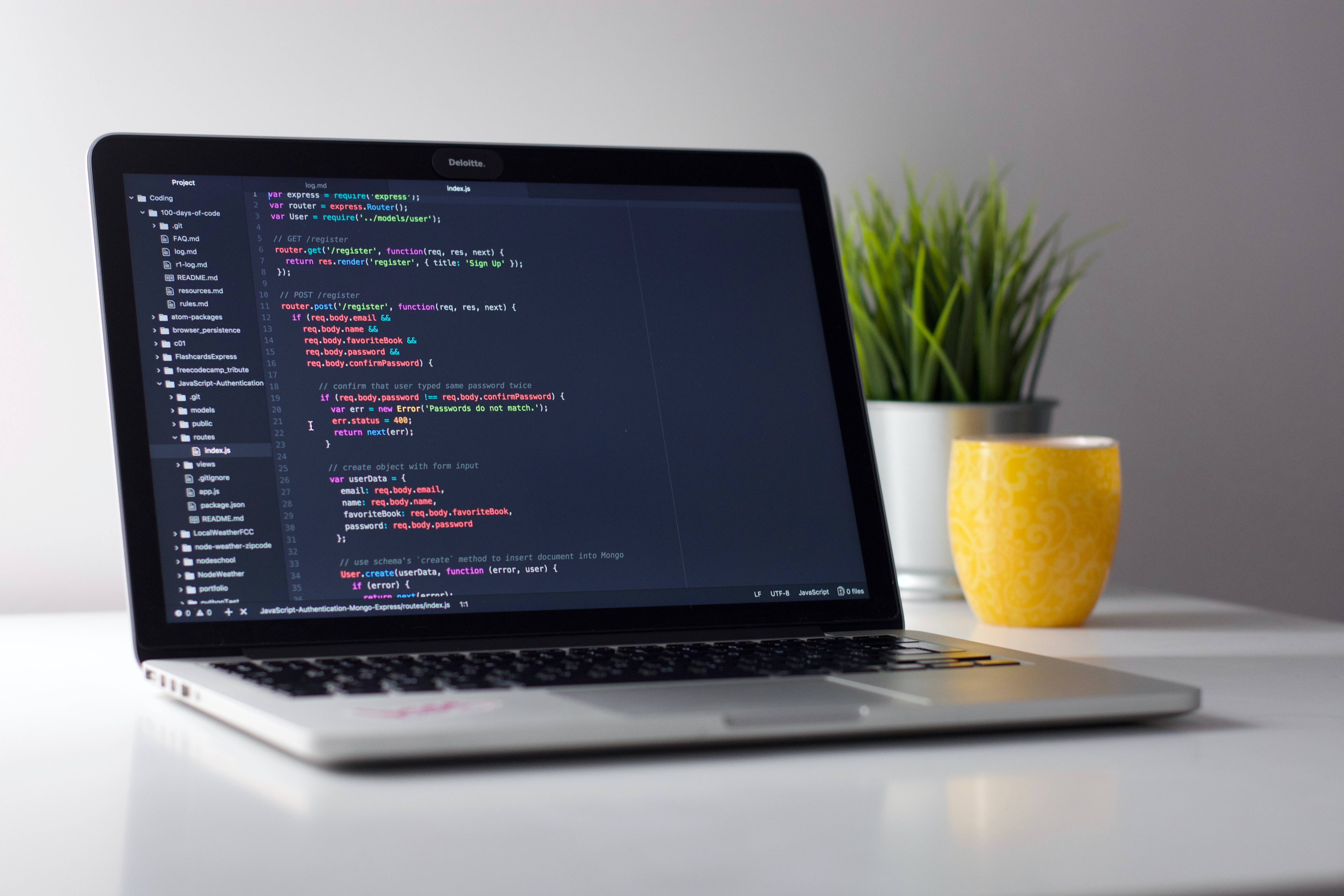 If you're 100% confident in your personnel, this may be the right route to take, but be honest with yourself. There's no shame in knowing your own limits. And sometimes, there's a lot it can gain you.
Inviting a Third Party
So maybe you've admitted that your in-house team isn't the best choice for building your product configurator. You do have the option of bringing a team of experts in to get your product configurator off the ground. This seems like a wise choice, and in many ways it likely is but there are a few possible problems to consider.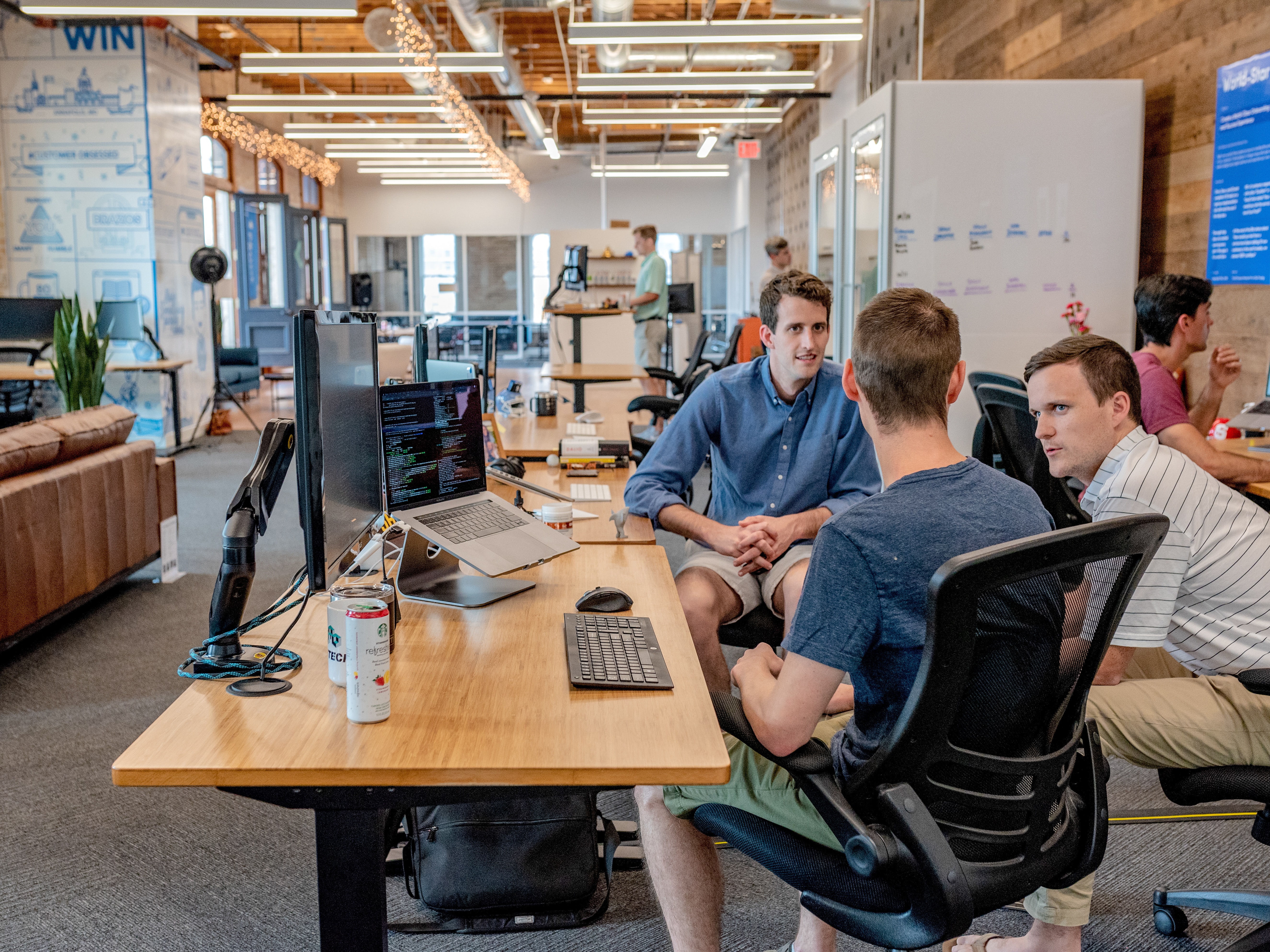 For starters, you're locked in with that team for the lifecycle of your software. If you and your vendor have a falling out, you'll have to start over from scratch meaning it will likely cost twice as much and include downtime. Also, while integrating to other processes and systems will be possible, you'll be spending an arm, a leg, and then some to make it happen.
In short, if customization is your number one priority and you're willing to spend the costs to hire a team of experts to build and maintain your product configurator, this might be the right fit.
There is a happy medium between the dirt-cheap spreadsheet option and the pay-through-the-nose third party option. Product configurator solutions like Threekit's have improved by leaps and bounds over the past decade. These SaaS solutions provide the flexibility you want and the affordability every business needs. The experts at Threekit are also available to provide support when needed meaning you won't be going it alone. When you choose Threekit products for your product configurator you're getting the best of all worlds. Ease of use. A turnkey solution. And excellent rates.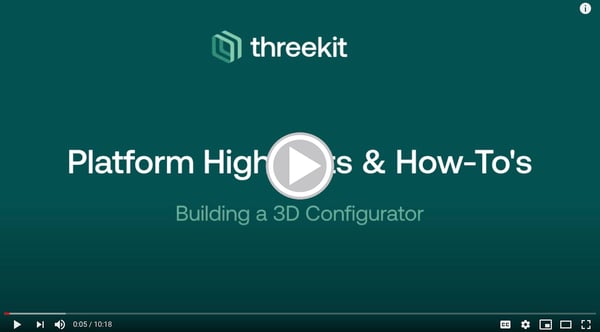 We understand that building a product configurator is a massive undertaking and want to help you do it right the first time. Our experienced team is prepared to help you find the perfect solution for your unique needs. We've worked with businesses in nearly every eCommerce industry so you know you're getting the guidance, support, and tools you need for the best possible product configurator experience. If you're ready to get started on your Threekit-supported product configurator get in touch today.