How to Build a Magento Product Configurator with Threekit
According to Epsilon research, 80% of customers are more likely to purchase from businesses that offer personalized experiences. So, delivering great personalized experiences is crucial for higher conversion rates. Unfortunately, it is difficult to streamline and improve user experience online if you don't have product configuration tools. This is where Threekit's unified product visualization platform comes in handy. With Threekit, you can build a Magento product configurator that delivers personalized experiences.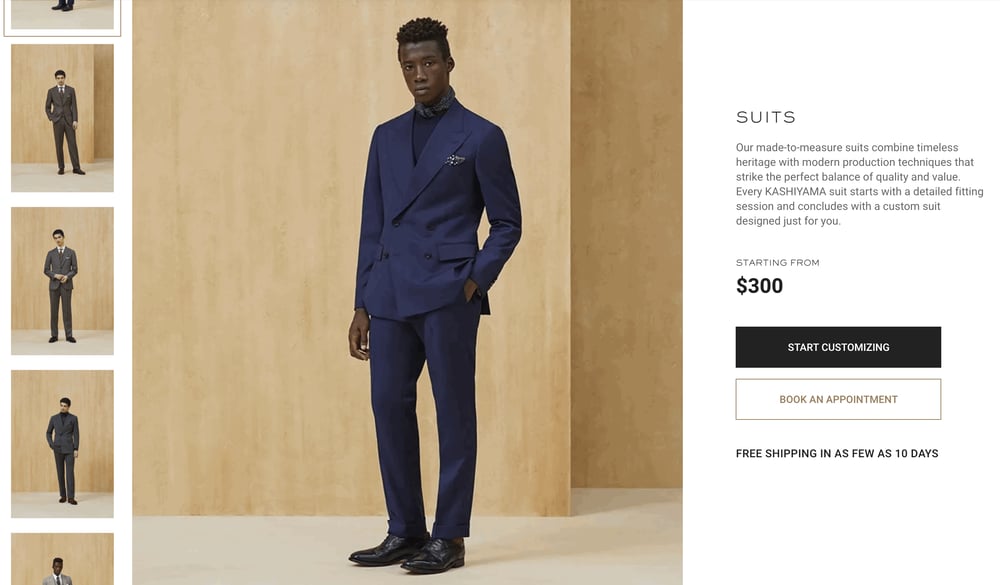 Kashiyama suit customizer on Magento (kashiyama1927.com)
A custom-built product configurator for your e-commerce store on Magento can kill two birds with one stone. It delivers uniquely personalized experiences online, which will influence your customers to purchase more products. Threekit offers all you need to build a Magento product configurator for your store.
What is a Magento Product Configurator?
A Magento product configurator allows customers to build or customize products to meet their specific needs. Nobody understands the needs of customers and can customize products of their dreams better than the customers themselves, right? Implementing a configurator in your Magento store is the best way to give customers control over their selection, product customization, and purchase decisions. It will reduce your workload significantly since customers are responsible for tailoring their products.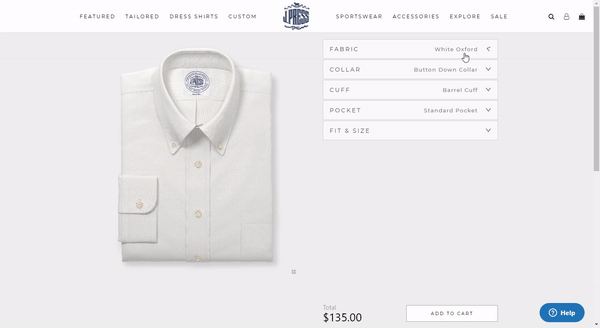 J. Press shirt customizer (jpressonline.com)
You need Threekit to build the perfect Magento configurator for your store. Threekit gives you the tools and technologies to create photorealistic virtual photos of your products and use them to build interactive customizer powered by live 3D models. Interactive configurators allow the customer to customize products in real-time using options like components, materials, colors, and so on. Magento product customization will benefit you and your customer in so many ways.
Benefits of using a Magento product configurator
A custom-built product configurator for Magento e-commerce can meet your customer's needs more effectively than a general customizer for the masses. It will give the customer control over the design or customization process, which is can boost conversion rates. The benefits of building a Magento product customizer with Threekit are infinite.
Deliver personalized experiences. Interactive 3D models are powerful enough to hold customers' attention and take them on a thrilling adventure. The customization journey delivers an immersive experience and ensures the customer is emotionally invested in the product's development process. At the end of the process, the customer is sufficiently motivated to purchase.
Enhance confidence. A Magento product configurator with a highly interactive 3D model grabs the customer's attention to highlight the value in your product, which enhances confidence that it will meet their needs. Also, customers are more confident in their own creations and willing to pay up to 19% more for products they have created. Higher confidence translates to higher conversion rates and lower returns.
Higher net promoter score. According to Deloitte, 33% of customers are likely to recommend a product if it is customizable. Building a Magento product configurator for your store will make it easier for shoppers to customize your products. It can increase the net promoter score (NPS) by 50%, according to Bain's survey.
Building your Magento configurator with Threekit will deliver the customizer you need to improve user experience and increase your conversion rates. Several brands on Magento have built unique customizers to meet their customers' needs and are already reaping the benefits.
Three Examples of Threekit Configurator on Magento
The adoption of Threekit configurators cuts across all sectors, from furniture manufacturers to retailers and custom tailors. Here are three examples of brands using Threekit configurators on Magento:
1. Lovesac
Lovesac is a direct-to-customer furniture business that offers highly customizable couches. The brand adopted a configurator developed by Threekit on its Magento store to allow customers to customize Sactionals by Lovesac based on their unique needs and layout of their homes. Customers can create the couch of their dreams by selecting parts like arms, covers, backrests, fill material, and accessories. You can also choose the number of seats you need depending on the availability of space in your home.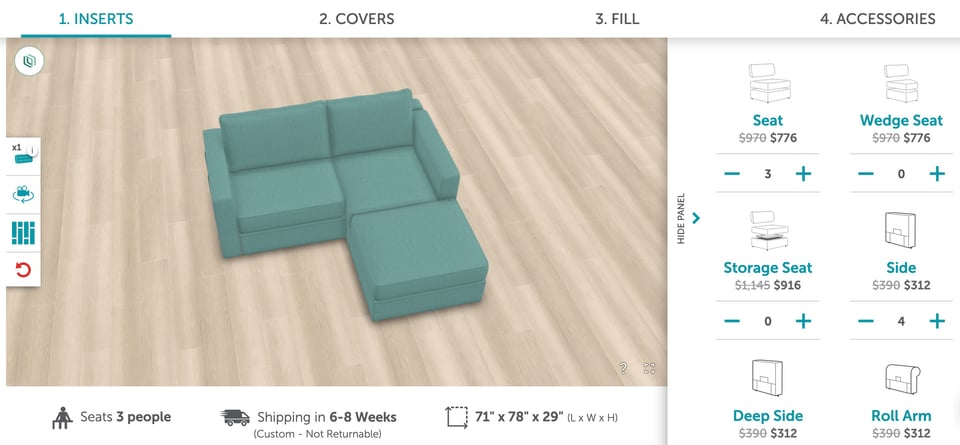 Lovesac couch configurator (lovesac.com)
Lovesac's Magento product configurator exploits photorealistic images along with 3D visualization to deliver high-quality visual displays that enhance the perceived value of its couches. The 3D customizer is designed with a 360-degree viewer that allows the customer to rotate and scrutinize the couch from all angles. It also has zoom capabilities for a thorough inspection. The uniqueness of Lovesac's Magento configurator is the drag-and-drop feature, which enables the customer to try different layouts by repositioning individual components of the couch. The customizer ensures customers are emotionally invested in their creations and are more willing to purchase. Lovesac now enjoys higher conversion rates than its competitors, thanks to Threekit's product customizer.
2. Kashiyama
Even though Kashiyama's business model is anchored on in-person tailoring experience, the brand adopted Threekit's product configurator to ensure its customers have some sense of control in their choices. Its product customizer allows the customer to their suit jacket to meet their unique fashion sense and personality. The configurator offers a wide range of configurable options from single or double-breasted suit to jacket lining, button stance, and lapel style.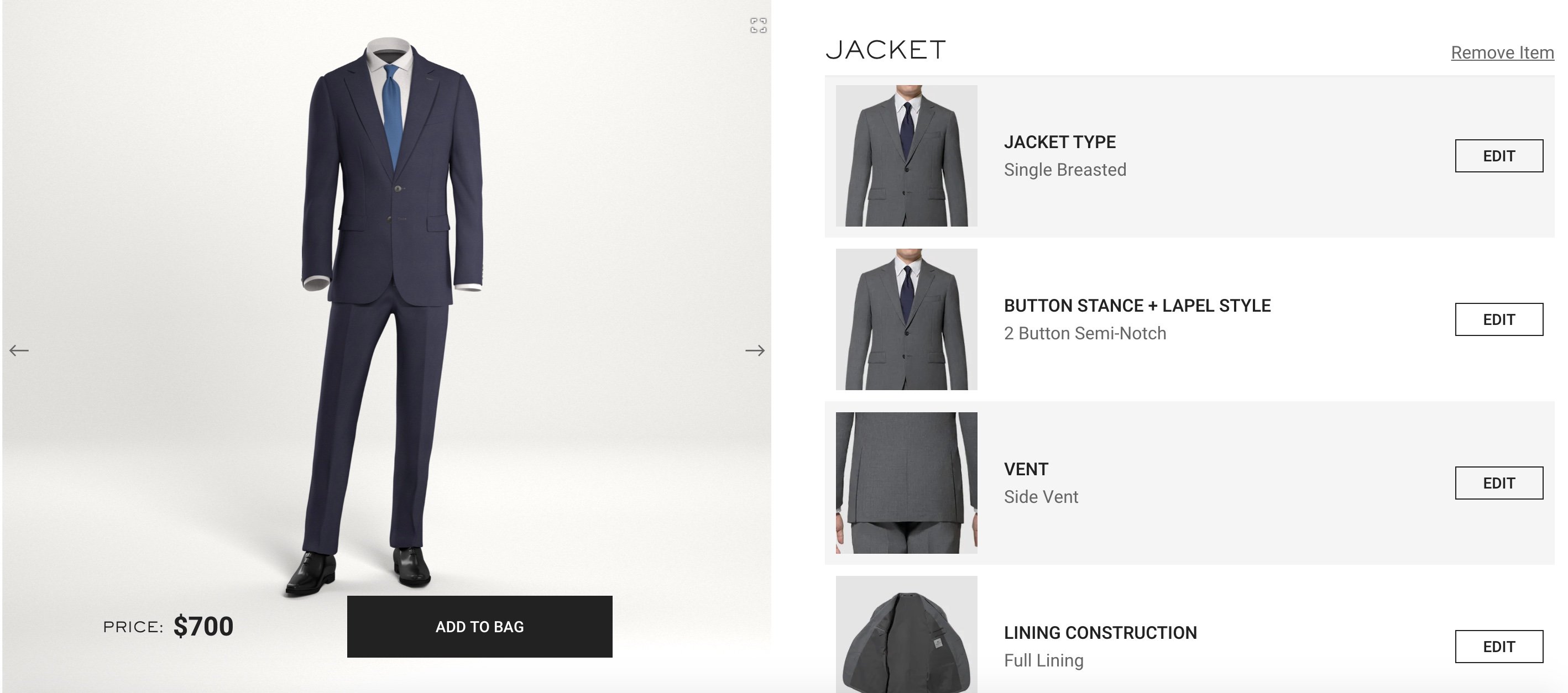 Kashiyama's customizer options (kashiyama1927.com)
It also allows for customization of fine details like check pocket, vent, sleeve function, stitching, and buttons. Customers can personalize their suits further by adding 16 characters on the lining. You can customize the pants with pleats, decorative buckles, and non-slip. Kashiyama's custom process creates the perception of having a personal tailor.
3. J. Press
Founded in 1902, J. Press has been making custom shirts in the US for more than 100 years. The brand expanded its business online and adopted a Magento shirt customizer built by Threekit to maintain the freshness and unique customization of its shirts. Its Magento product configurator exploits high-quality images (CGIs) of its shirts generated using Threekit's Virtual Photographer.
J. Press shirt customizer allows customers to design shirts to meet their personal and fashion needs. It offers close to 3,000 product combinations for unique customization down to the tiniest details. In the first step, customers choose from fabrics for their shirts from 22 options.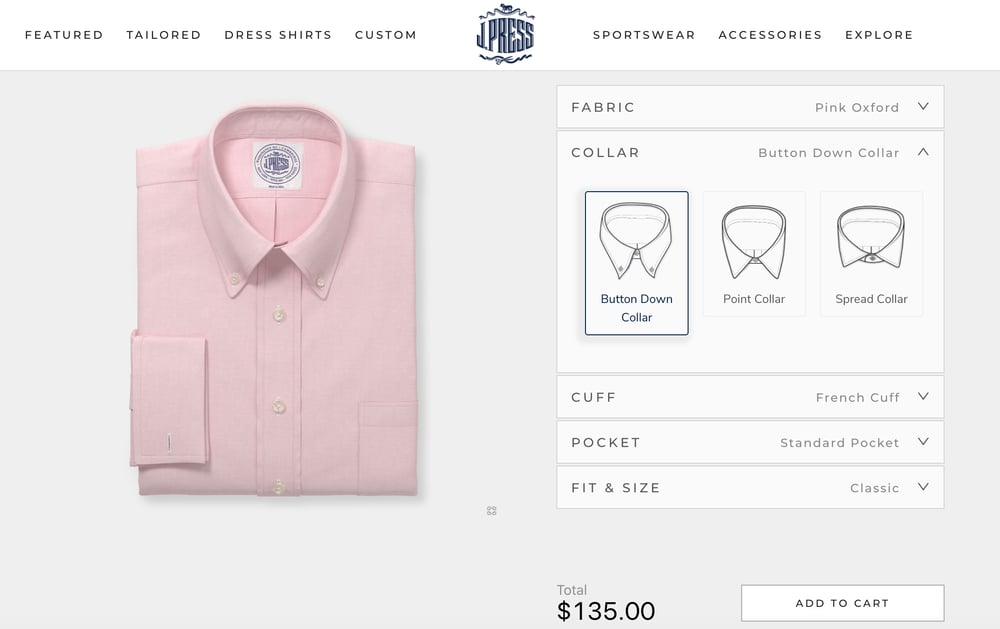 J. Press shirt customizer offers several custom options (jpressonline.com)
In the subsequent steps, they design their shirt by choosing from 3 collar styles, 3 pocket designs, 2 types of cuffs, and 2 unique cuts. Threekit's Magento product configurator has enabled J. Press to expand beyond its traditional market and grow its customer base to include younger consumers without the need to stock shirts of every size, color, and design in-store. The customizer delivers a unique experience, which has differentiated the brand from its competitors.
Bottom Line
At first glance, Magento product configurators of the three brands seem to focus only on helping their customers select the right product they wish to buy. But a closer look reveals that each brand's customizer serves a higher purpose. Each of the three customizers delivers personalized experiences by ensuring the customer feels totally in control of the design process. They blend personal touch and online tailoring experience seamlessly to allow for uniquely personalized customization. Personalization and customization are particularly important in the 21st century, where consumers are turning against mass-produced brands with me-too designs. Magento product configurator has enabled the three brands to put the design process firmly in their customers' hands. The brands have differentiated from their competitors and stand out from the crowd of mass-produced alternatives thanks to Threekit's Magento configurators.
Threekit is a visualization platform that allows brands on Magento to build product configurators for a personalized experience and higher conversion rates. The platform has a pre-built connector, plug-ins, and pricing system and integrates with the Magento e-commerce platform seamlessly, which ensures that the price changes is automatically updated in real-time during customization. To build a Magento product configurator for your store with Threekit, contact us to schedule some time with one of our experts.