How Threekit Integrates with Your Existing Technology Stack
Learn how Threekit plugs into your IT and commerce tech stack so that you get a Visual Commerce experience that reflects everything your business has to offer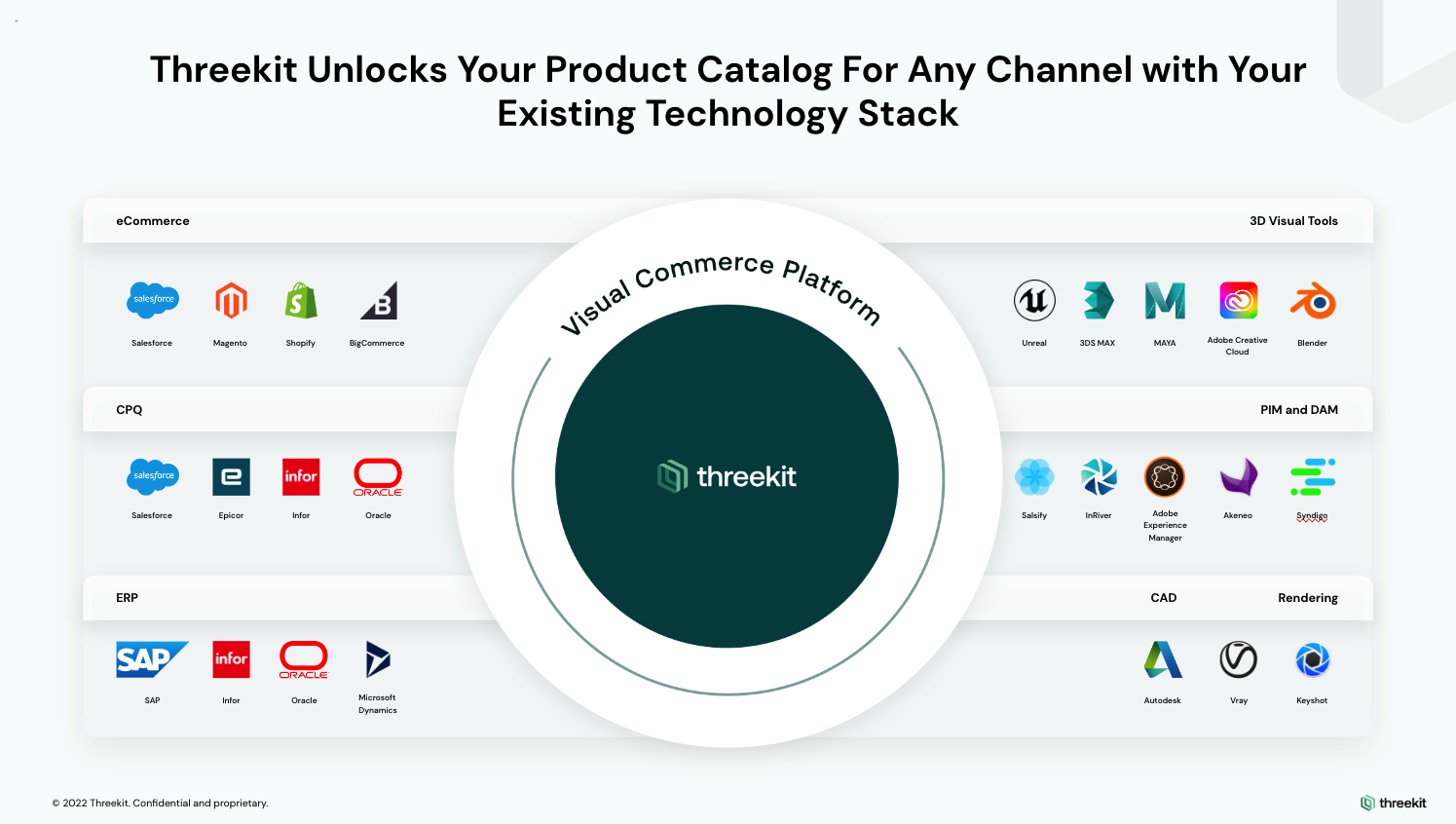 "If it isn't connected, we don't want it"
Modern businesses need modern systems. But that means complex problems. Getting your data, product visuals, and integrated systems to get along can feel a bit like conducting an orchestra of solo performers.
No single vendor can offer all the applications needed to deliver eCommerce experiences, so for every process, there's a unique system to capture, store, and disperse data to inform decisions.
How does Threekit orchestrate these disparate systems to optimize profits?
As one of our customers at a leading global brand said when they migrated from an internally built configurator "if it isn't connected to the rest of our IT systems, we don't want it."
Threekit plays well with all of your commerce systems so your business can sell more, reduce costs, and deliver a better customer experience.
Better, faster, stronger for eCommerce
Today, consumers and B2B buyers are expecting commerce to get easier, faster, and more transparent. Brands and manufacturers are expected to make it easy to find, configure, price, purchase, and understand delivery date. That's a lot to ask, even for an all-in-one commerce solution.
As business grew, your team upgraded eCommerce to Magento, CommerceTools, Salesforce Commerce Cloud, or similar. Likewise, you might now manage your product and customer data in an ERP system like SAP, Oracle or Infor. When the need to scale and automate sales and marketing came up, you probably added a CPQ system along with PIMs and DAMs to manage product data and imagery.
It's been challenging to make these systems work cohesively over the years. Large data sets stored in multiple places require manual transfers between systems, slowing schedules and adding costs with every missed delivery. New and legacy ecommerce practitioners are moving to modular, open, business-centric solutions. Today, the future of eCommerce is more customizable, more flexible and centered on your business success.
How Threekit fits into the modern composable commerce stack
Threekit is a Visual Commerce Platform that can take data from nearly any piece of your tech stack via API and use it to fuel a better shopping and buying experience:
eCommerce: Product catalog data can be translated into

Threekit's product configurator

and Threekit integrates with all shopping cart systems for checkout make it easier to manage commerce at scale.
CPQ: Product and pricing rules and logic from CPQ inform Threekit's product visual configuration rules and real-time pricing, even for complex products.
PIM and DAM: Threekit can create tens of millions or billions of visuals which are tagged and then pushed into a PIM or DAM for easy distribution to retailers, distributors, and dealers. When your partners offer a better customer experience, you sell more there, too.
CAD and Autodesk: CAD designs help you get a jump start with Threekit because Threekit can massively reduce the file size of CAD (called decimation) to create highly performant visuals without exposing any of your important designs to the world. Threekit can also export configured products into CAD models which can then be used to go straight from eCommerce to manufacturing
ERP: Product inventory and supply chain data from an ERP can inform you customers about shipping timelines and also which products are highlighted (in-stock) vs. not (out of stock)
Image creation tools (Unity, Unreal, 3DS Max, May, etc.): 3D files created in these tools can be used to jump start Threekit Visual Commerce projects to show your product in a high quality way.
Rendering tools (VRay, etc.): Threekit utilizes rendering tools in a highly optimized and massively scaled automated fashion so that you get the most out of these tools - creating hundreds (or millions) of high quality visuals at one time as opposed to doing it one by one.
Threekit connects your preferred systems to manage and share data and present products in every possible configuration, without the cost and time required for traditional renderings.
Using one set of data, rules and logic to drive the process sets Threekit Visual Commerce in a similar way composable commerce apart because it solves existing data management issues and future challenges all at once.
It's critical that your product configurator not sit outside of your tech stack.
Let's dig into two critical elements of the modern tech stack: data management and product presentation.
How Threekit helps with data management
Managing data is a monster task, and not all systems – or systemic problems for that matter – are created equally.
These processes may be taking place under one roof, but delivering them with a highly performant visual configurator like Threekit will dramatically improve customer experience and grow sales.
With Threekit's visual configuration, manufacturers and retailers can control how they merchandise products by managing how data flows from different systems to their sales teams. In turn, their sales teams can pivot quickly, selecting and bundling the best options for myriad product configurations.
Import 3D or CAD files as models, materials, and assets then apply rules from your product catalog to create configuration parameters on your Salesforce store.
Automatically generate BOMs, assembly instructions, CAD files, cut patterns and more.
Store product data as individual models, materials, and textures to enable wide-scale repurposing and more efficient 3D asset management.
Give customers the ability to create products on their own, without having to engage sales teams with questions or concerns.
Reduce the number of SKU's in your system, as there's no need to add one for every version of a product.
The value of integrating with all your sales tools is immeasurable and only Threekit can do it.
How to create a visual configurator that fits in with your existing CAD and visual tools
Presentation and customization of products to fit customer needs is now table stakes (Gartner actually named Visual Configuration and Threekit in their most recent Hype Cycle and called it "Table Stakes").
The experience of visualizing different products in various scenarios can make or break a deal. But sometimes we need to see to believe. If you are selling a highly configurable product, photos or manual renders won't get close to giving your customers a clear idea of what they're buying. Why settle for approximates when you can have it all?
If you build or outsource a visual configurator that isn't integrated to all of your systems you might have a nightmare on your hands when you go to make changes, add logic, integrate systems, or do post-order workflows.
Here is how some companies have viewed visuals before Threekit:
Creating 3D designs for each product variation is tedious and time-consuming.
Computer-aided design (CAD) models guide manufacturing in terms of functionality but are not ideal for showcasing product variations.
Image rendering (like VRay) converts a 3D asset to a photorealistic one but can't use all your data at once to create a fully realized version. Rendering tools are great until you need to scale. They don't scale.
Threekit uses all forms of configuration logic to develop 3D configuration, photorealistic images and AR with as many test renders as needed. Now you can mass produce visuals to suit specific sales cycles.
This updated process gives your teams the autonomy to create product visualizations based on pre-build assets and allows your engineers to focus on building the products your customers need, not making them look pretty on a website.
Sorting through multiple product specifications from buyers can take time away from your delivery schedule, especially with new customers. Integrating Threekit with your CMS or DAM eliminates this step, making work easier while ensuring the best buying experience.
Summary
Every sale is an opportunity to make another. We know how quickly business moves and understand the technology your teams leverage to keep pace with customer demand. Our solutions help solve data management and presentation challenges by streamlining communications and processes between your various systems. Threekit replaces manual methods with efficient integration, so your solutions work in harmony to unlock the transformative potential of composable commerce.