Gartner Predicts Rapid Growth for Visual Configuration in 2022
As the creator and current leader in the visual commerce category, we have deep insights into the untapped potential of visual configuration across a myriad of industries and sales channels. At Threekit, our teams leverage 3D and augmented reality to help customers save money and time while unlocking 100% of their product catalogs.
Now Gartner, a world leader for IT research and advice, has named visual configuration a key technology in their 2022 Commerce Hype Cycle. It's further validation that leading global brands are turning to visual commerce to sell more of their products and transform their businesses.
Visual Configuration is Now Table Stakes for Leading Global Brands
Gartner's Hype Cycle visualizes the life cycle of a technology as it moves through conception to mainstream adoption. The 2022 cycle features visual configuration in the "Plateau of Productivity", a phase where benefits are seen and accepted, methodologies stabilize and rapid adoption takes hold.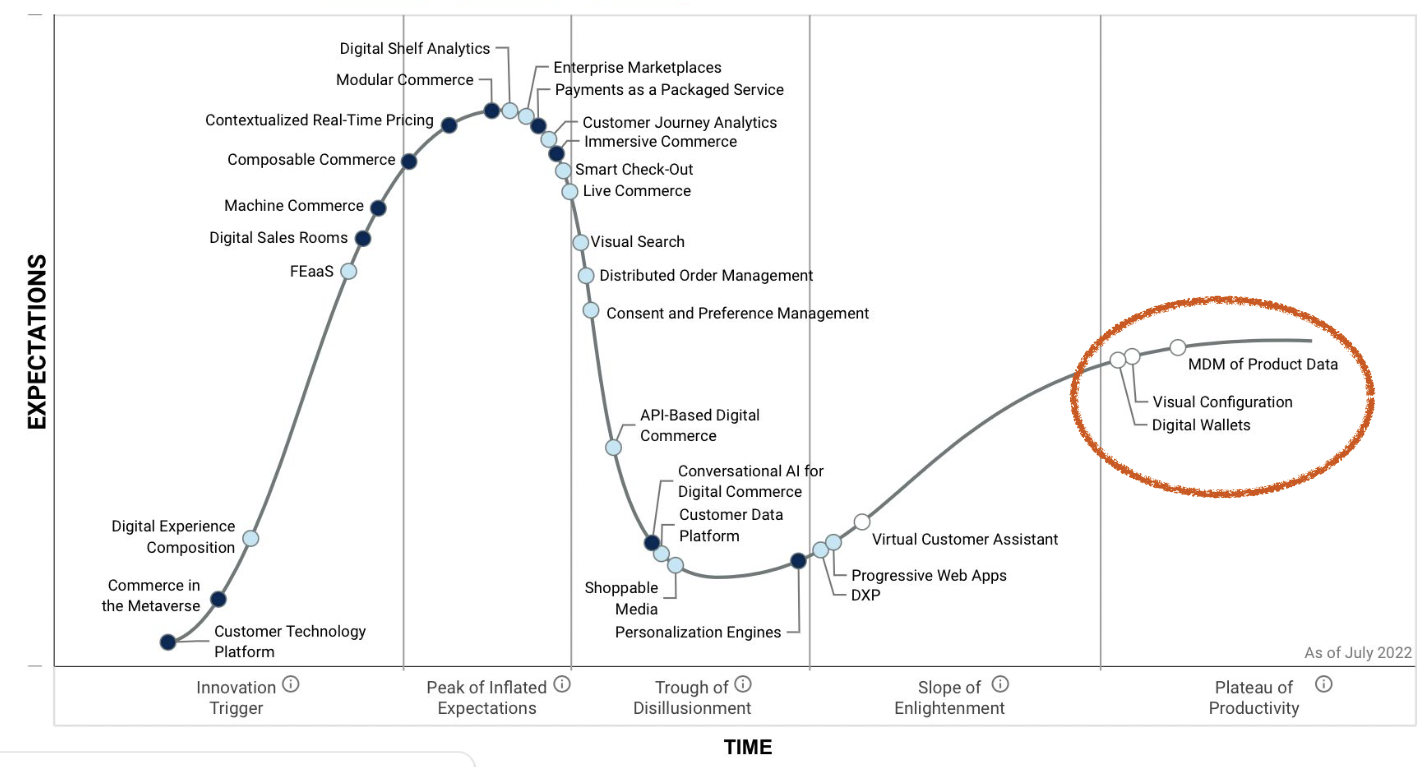 Gartner Hype Cycle 2022
With Gartner's validation, visual configuration is now considered a "table stakes capability" for a wide range of industries including building materials, medical devices, specialty vehicles, custom apparel and more.
At Threekit, we've helped leading global brands sell more with visual configuration because we know firsthand, when you show more, you sell more. This validation from Gartner further locks in the substantial competitive advantage you get when you're able to show and sell every configuration of your product.
The Built-In Benefits of Visual Configuration
Today's business environment is a complex mix of challenges and opportunities. Between rising inflation and supply chain issues, there's a steady stream of tech innovations and the siren call of the Metaverse. Dated and broken design processes will only widen the gap between you and your customers. High costs and time-consuming production cycles return low rates of conversion – not to mention a subpar customer experience -- because of the lack of visualization and product personalization.
Visual configuration is a direct challenge to the way customer experiences have been designed in the past because it affords more control around customization, inventory, costs and timing,
Personalize products to fit even the most demanding customer needs
Allow customers to see 100% of your available product catalog
See how your products perform across channels and make changes on the fly
Show your customers what is in stock and available now
Get recommendations on how to bundle solutions and promote upsells and cross sells
Reduce returns by delivering the right product, right from the beginning
Customer Collaboration Can Make or Break a Deal
The successful growth of visual configuration depends on collaboration – with your customers, vendors, engineers and designers. By giving your customers a chance to truly engage in the development process, they gain more confidence in the product and your business overall. When embedded into an online experience, visual configuration becomes a key enabler for self-service, a choice more and more customers want to make as they dive into a design project.
Change How You Sell Products
With Gartner's validation, there's never been a better time to embrace visual configuration. With Threekit, you can cut costs, unlock 100% of your product catalog, integrate with all your systems, and distribute the experience across all your sales channels. Changing the way you sell, will change how much you actually sell. See for yourself what visual configuration can do for you.