How Online Configurator Software Enables "Product Explosion" Views
Online configurator software is a technological bridge builder spanning the gap between in-store and online shopping experiences, between customer expectations and seller deliverability.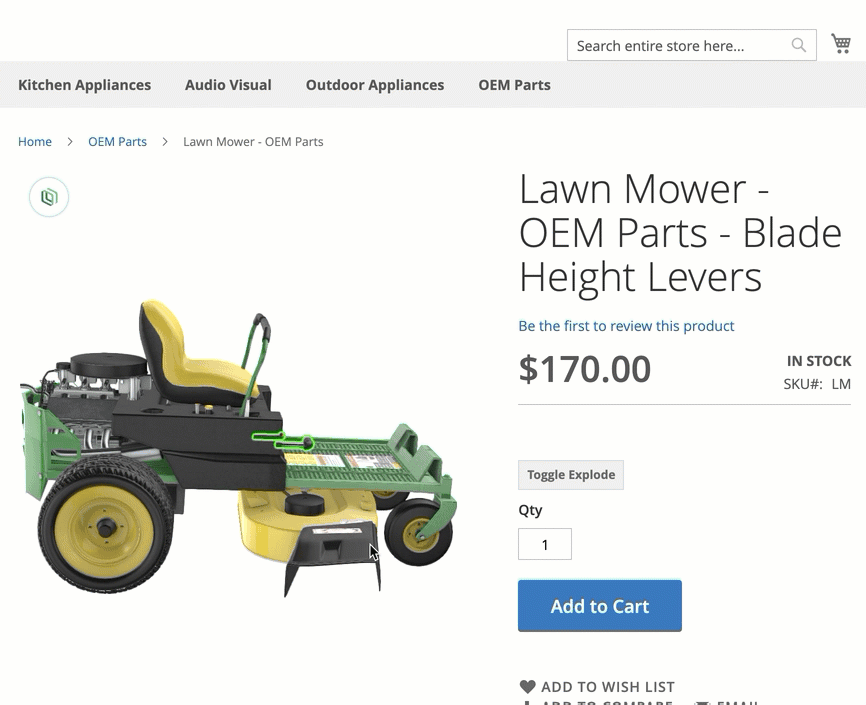 Configurator software dramatically improves the buying experience by actively involving a user in the creation, customization, and personalization of products in real time. Most configurators allow you to make real-time customizations to a whole variety of product features—for example, the color, size, or stitching of a jacket.
But what about highly complex products with multiple components? This is where "product explosion" views come in. They allow you to display an "exploded view" of a multi-component product, where you can visualize all of the individual elements within.
This allows for a greater level of customization and to see how everything you've chosen fits together. The kind of literal transparency offered by product explosion views also helps with buyer trust, especially if a product contains, for example, safety features. A product might have so many elements that users will want visualization with access to a certain level of detail and complexity.
In this article we're going to look at two brands who use product explosion views. We'll also look at an iconic brand that uses online configurator software but whose product is crying out for explosion view capability.
Use Case #1: Xenith Helmets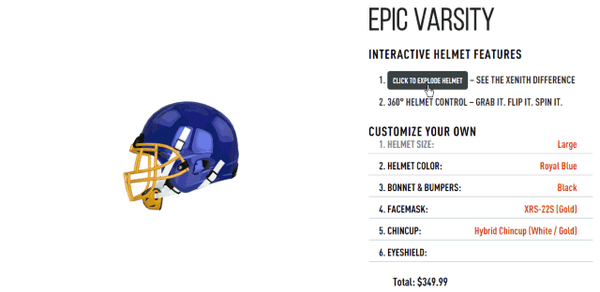 Michigan-based Xenith produces highly customizable football helmets. MD Vin Ferrara sustained several head injuries during his career leading him to found Xenith.
The company is based on two core values: safety and product innovation. Utilizing configurator and product explosion software really helps cement these two USPs. Not only does the customer have the ability to customize common elements of their helmet—team colors, for example—but the explosion view allows the user to see all of the vital safety components contained within the sum of the product.
Let's have a look at how they're using the explosion view on their product webpage.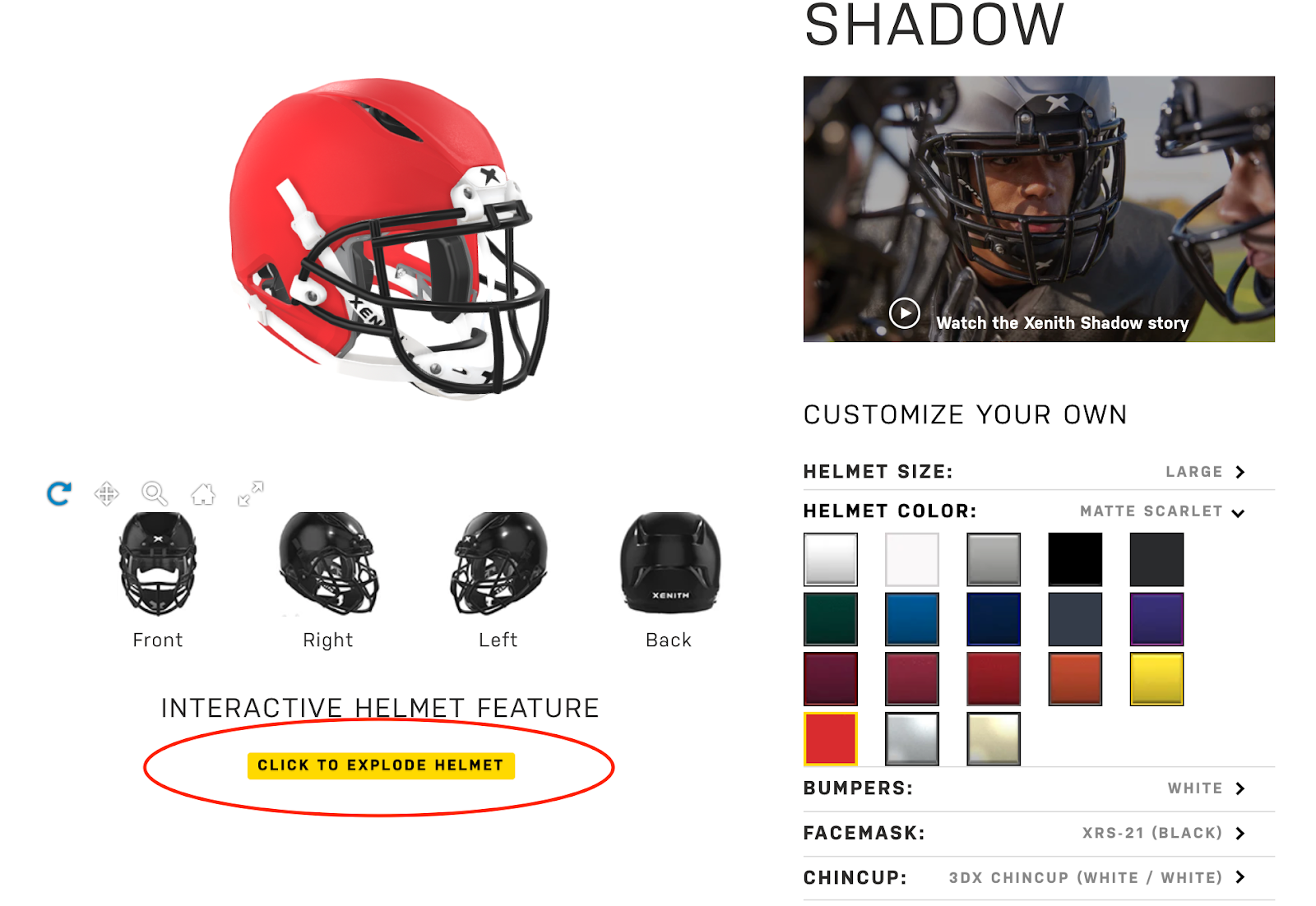 This is the standard level of customization offered by most configurators. You have the option to change various elements and view the product from various angles. Things start to get interesting when you click the product explosion button, allowing you to inspect and configure the product's internal elements:
Here's the explosion view at normal zoom—you can see the internal components, including the shock-absorbent safety features that give Xenith's helmet's 5-star rating, the highest safety standard in football helmets. Let's take a closer look.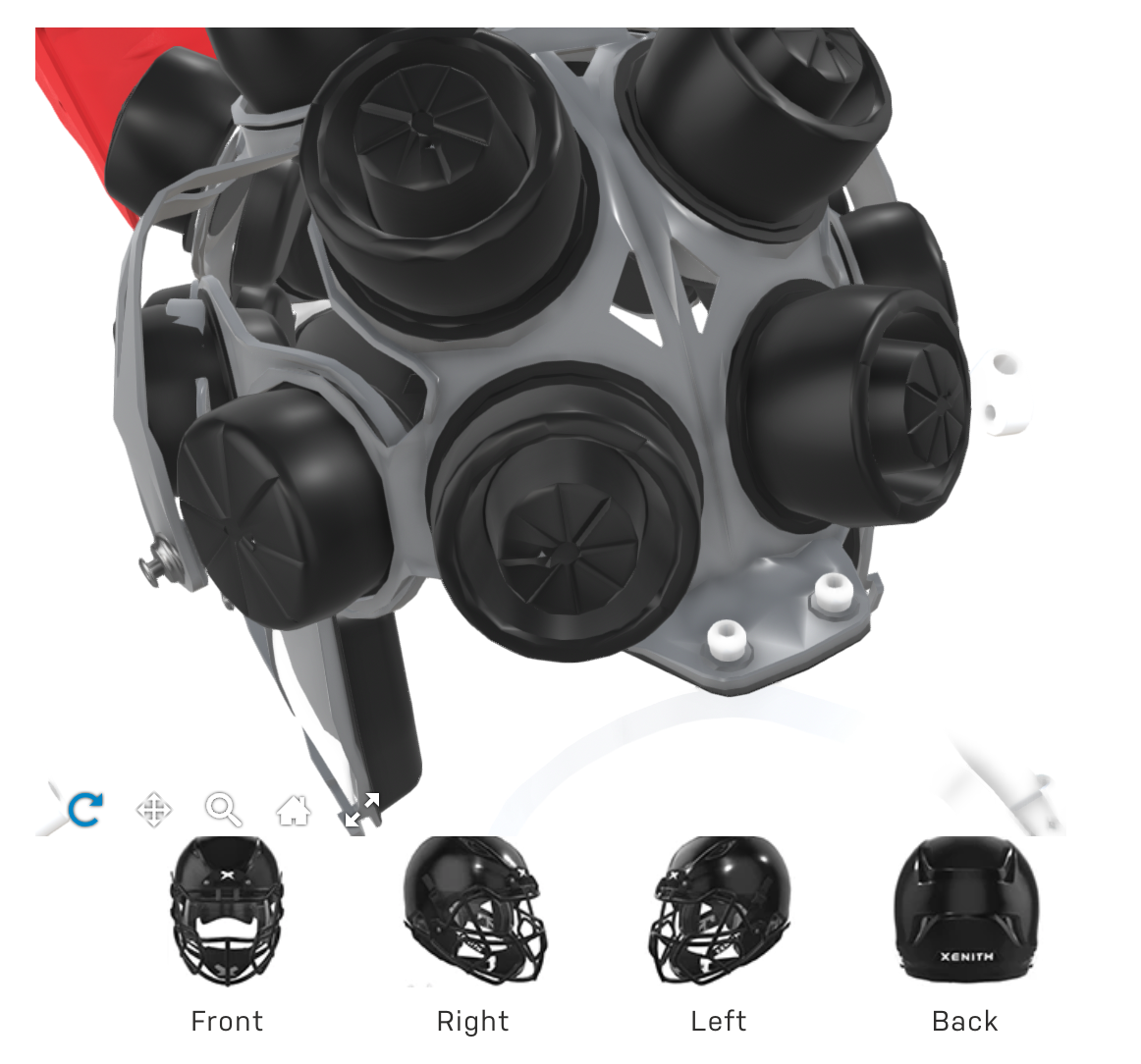 You can toggle between views while in the explosion view by clicking the options at the bottom.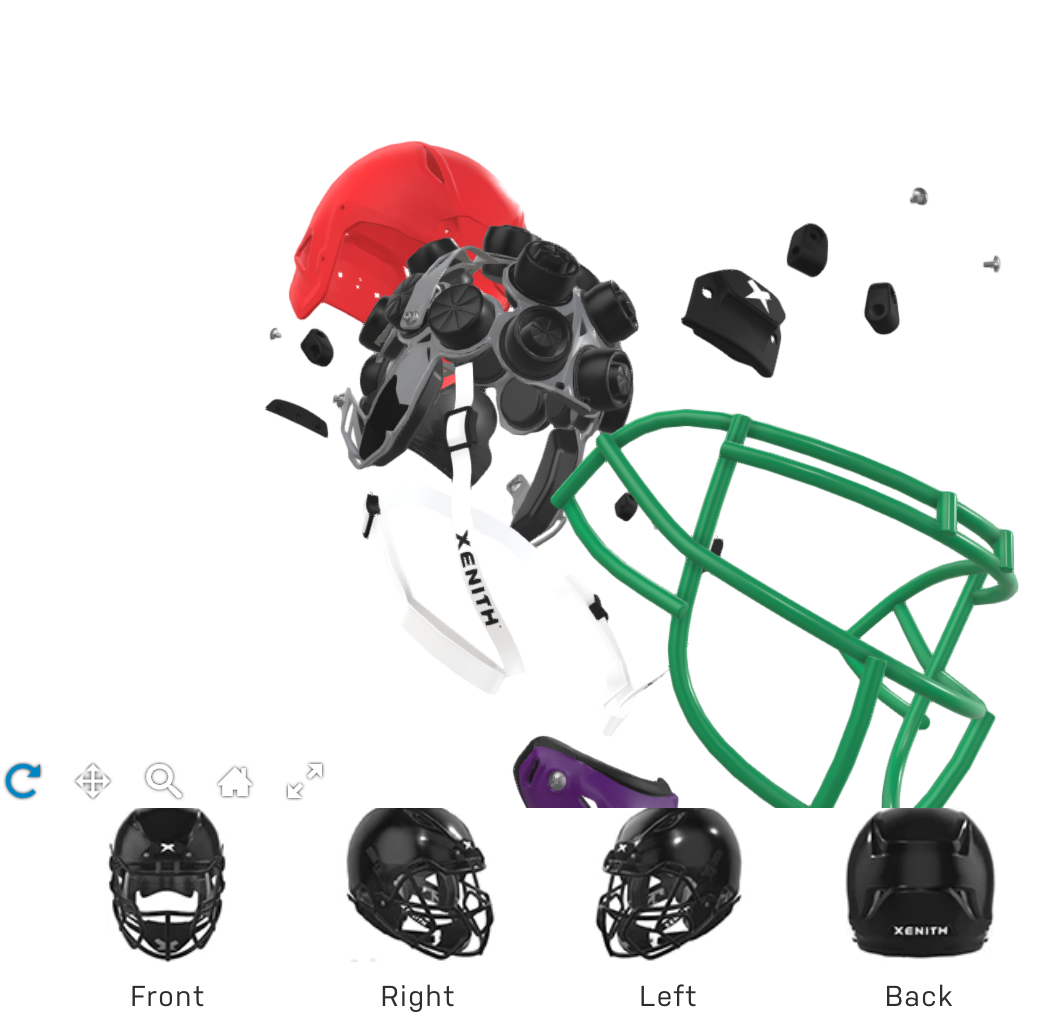 You can also zoom right inside the product. Here, we're zoomed into the main component of the helmet and inspecting the shock absorbers.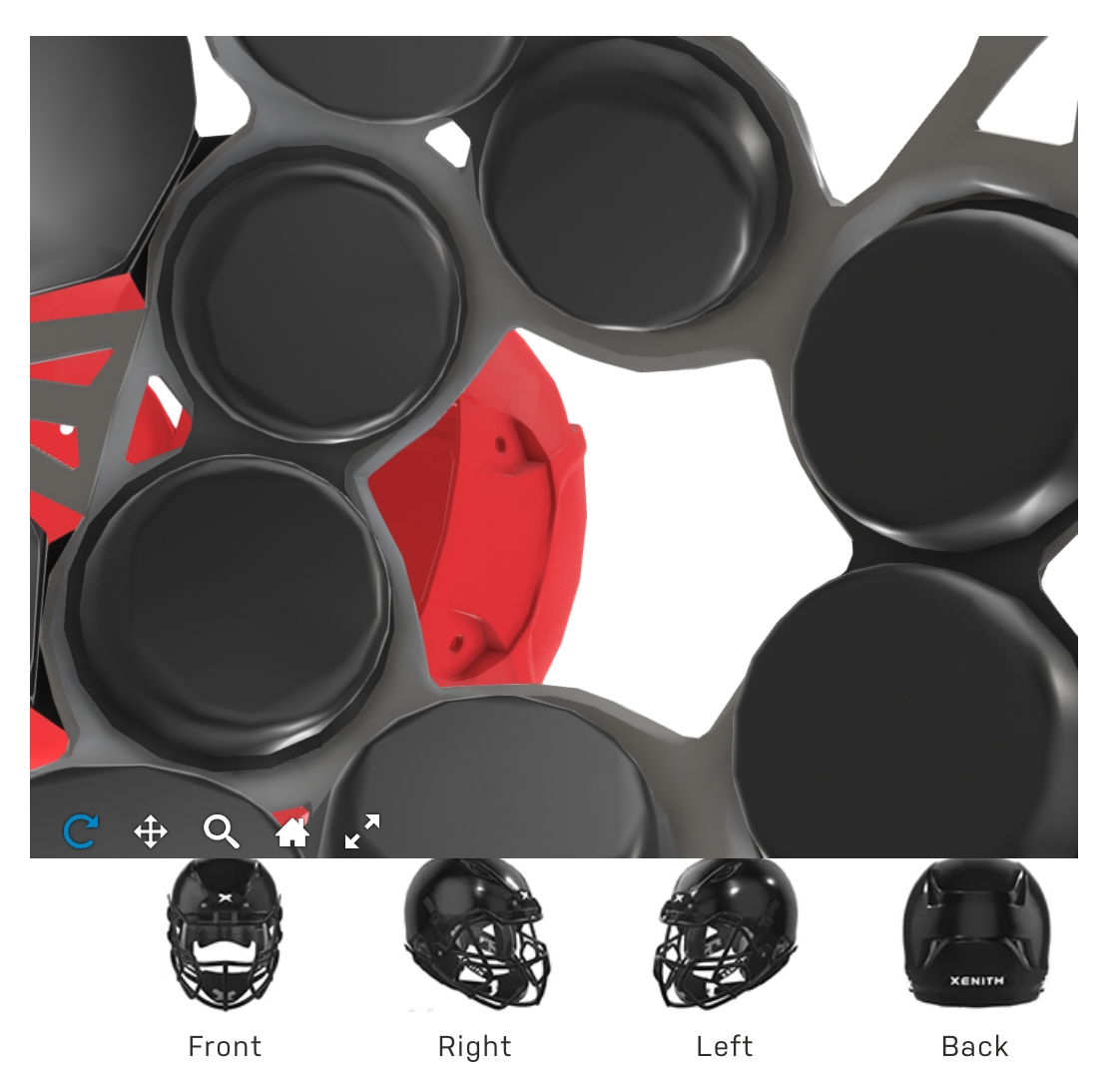 In high-contact sports like football, it's essential that potential customers can inspect for themselves the level and quality of the product's safety features. Without creating exploded views, users would either have to contact the seller—lengthening the sales process—or just hope that the helmet is good enough. The explosion view helps reassure the customer and encourages them to make a purchase.
Use Case #2: Modarri Toy Cars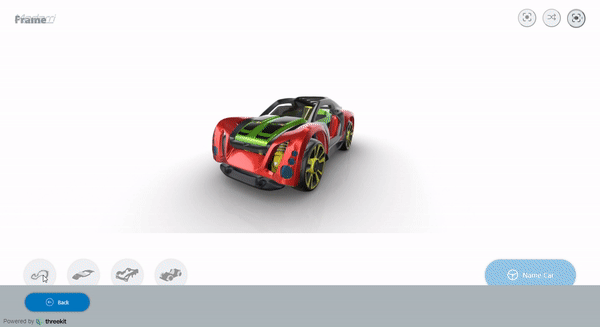 Through its Mix-and-Match Building System, this toy car maker's product is based entirely on customization. It's the perfect match for online configurator software and product explosion view functionality and we're pleased to say they're using both.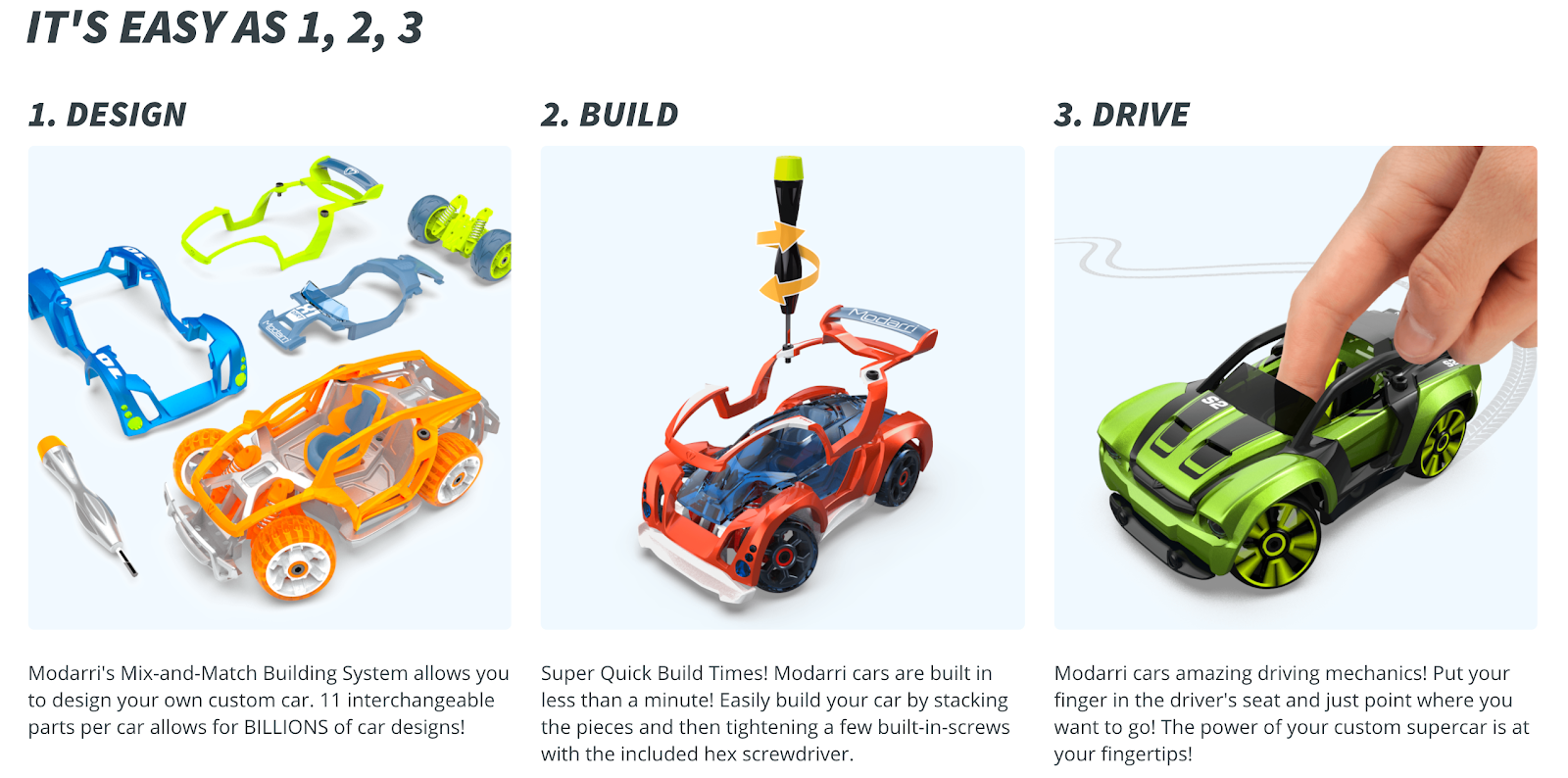 Powered by Threekit, you can choose to customize different modular elements of your toy car, including the chassis, roof, bed, and colors.
Hitting the explosion button then displays each element of the car separately. You can then zoom in and rotate to see the photorealistic CG image in perfect detail.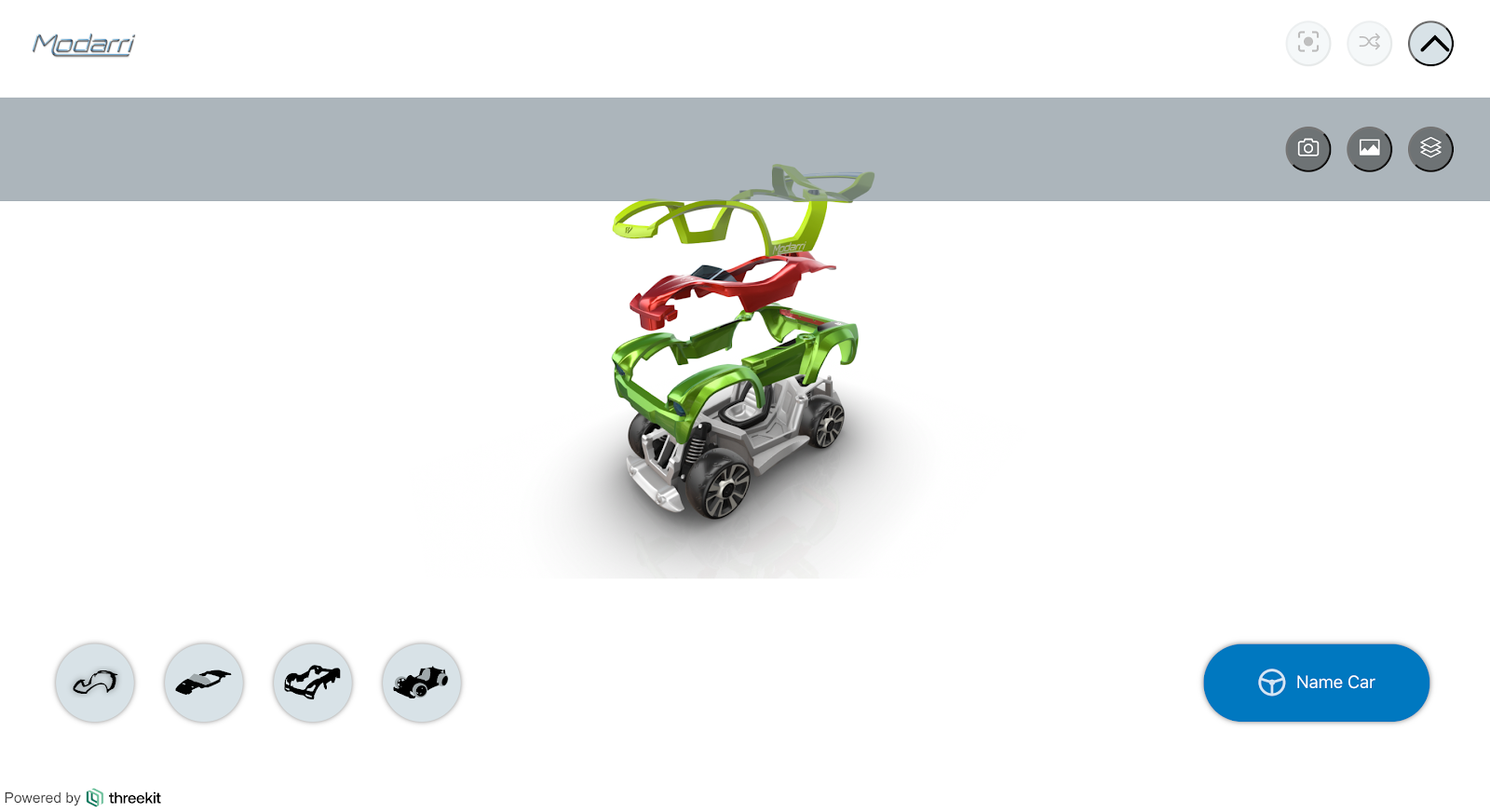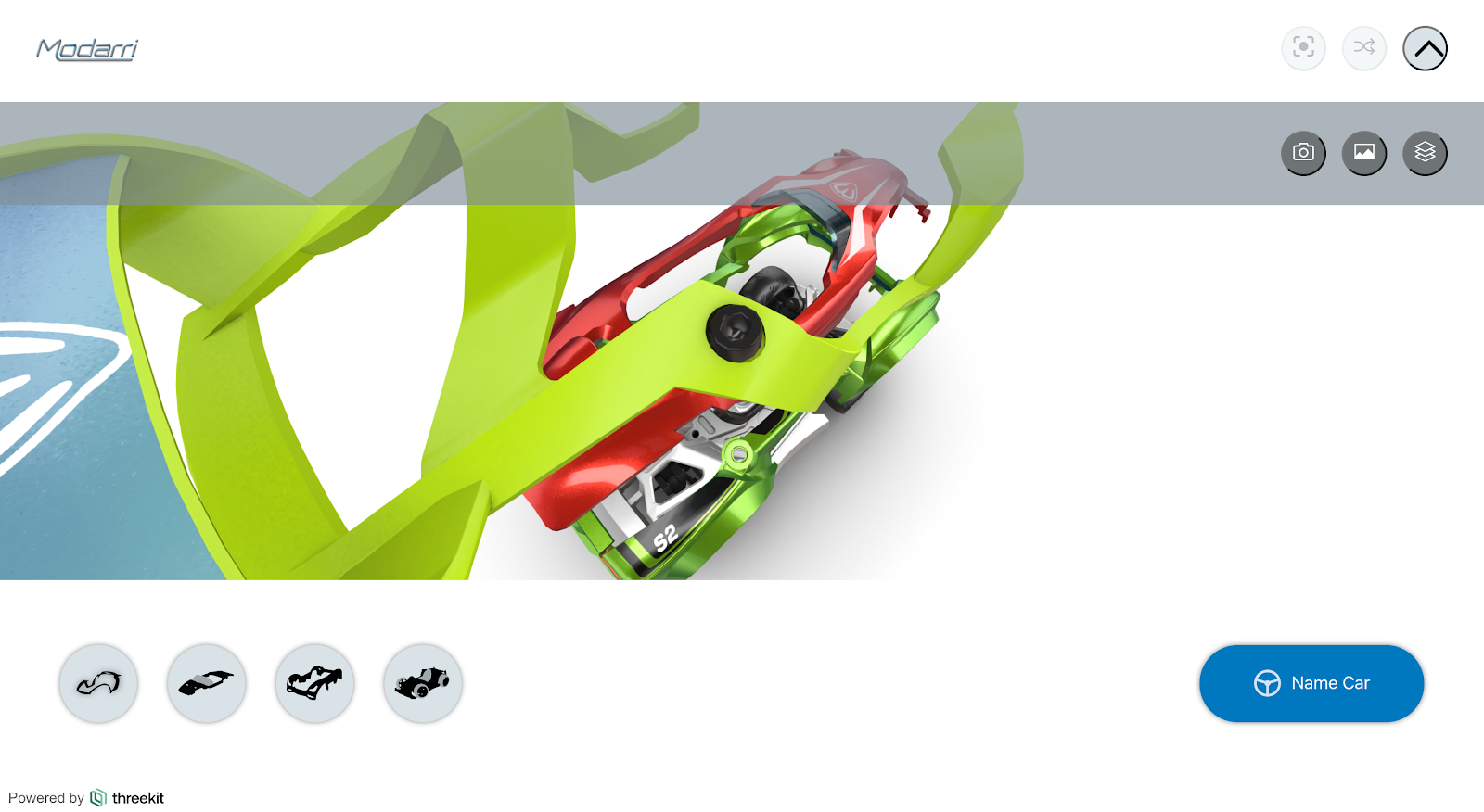 Once you've made all the customizations you need, you can download and share your image or set it against a backdrop: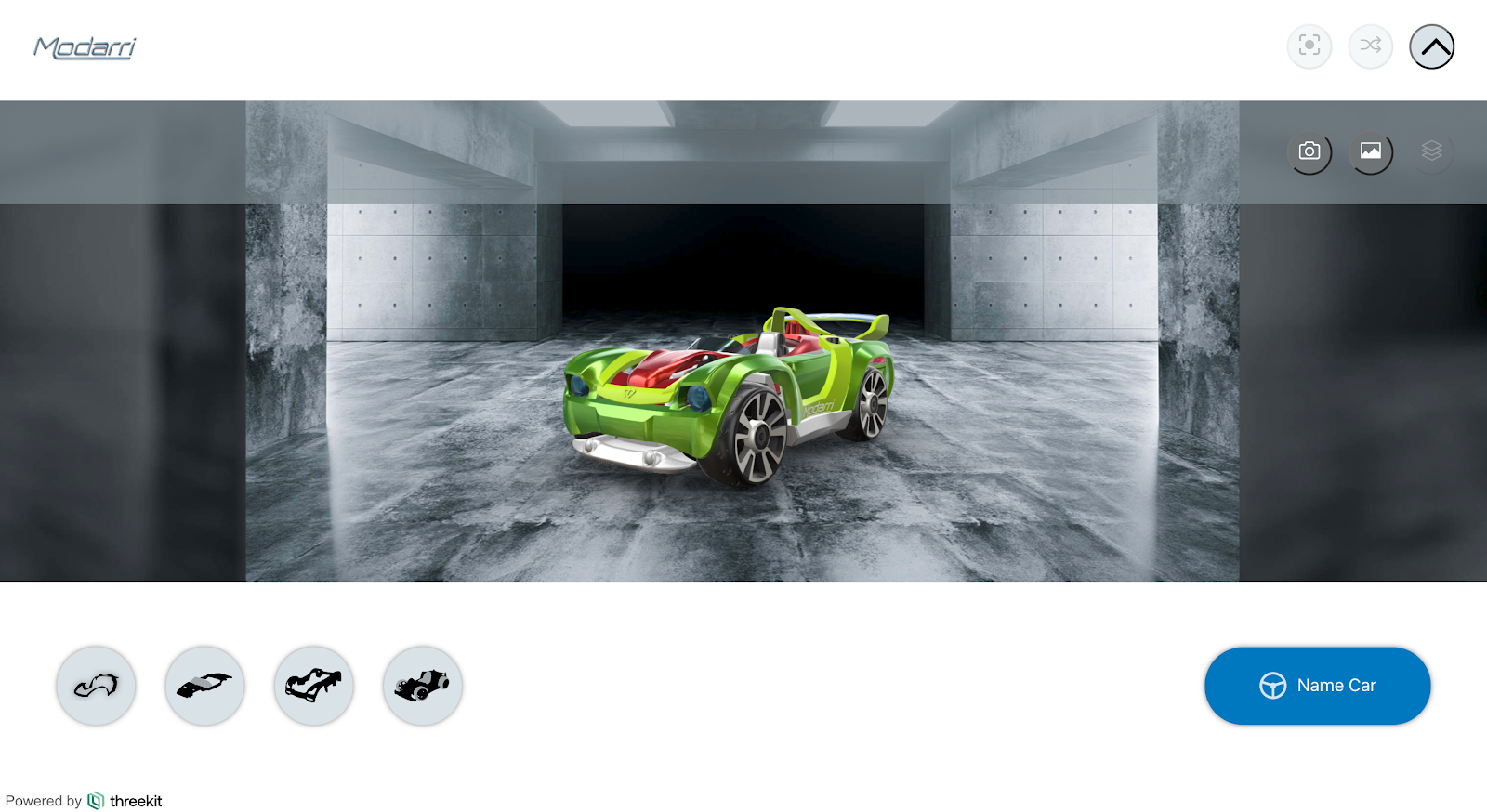 Modarri is a clever example of how to use a product configurator and the explosion view—it's kept it simple. In fact it's so simple and intuitive that the product's target audience, kids, will find using it easy and enjoyable.
Modarri's business model is based on encouraging kids to build their own toy vehicles by collecting (and buying) individual components. The copy on their site includes: "Meet the Parts" and "Have your child collect them all!" The configurator and the explosion view fits perfectly to their business model and encourages building and collecting by offering customization.
Use Case #3: Victorinox
Sometimes you see a product that seems ideal for explosion views, but doesn't leverage this capability. Victorinox is the maker behind the iconic multiple-purpose tool, the Swiss Army Knife. This kind of product, with its pleasing number of product components—knives, scissors, bottle openers, files, pliers, corkscrews—is the perfect fit for configuration and product explosion.
Thankfully, Victorinox does provide a product configurator, but it's pretty basic. A customer can choose the front and back casing color and there's the choice to add an engraving of up to 15 characters to each side. The configurator is highly usable, and the image is crystal clear.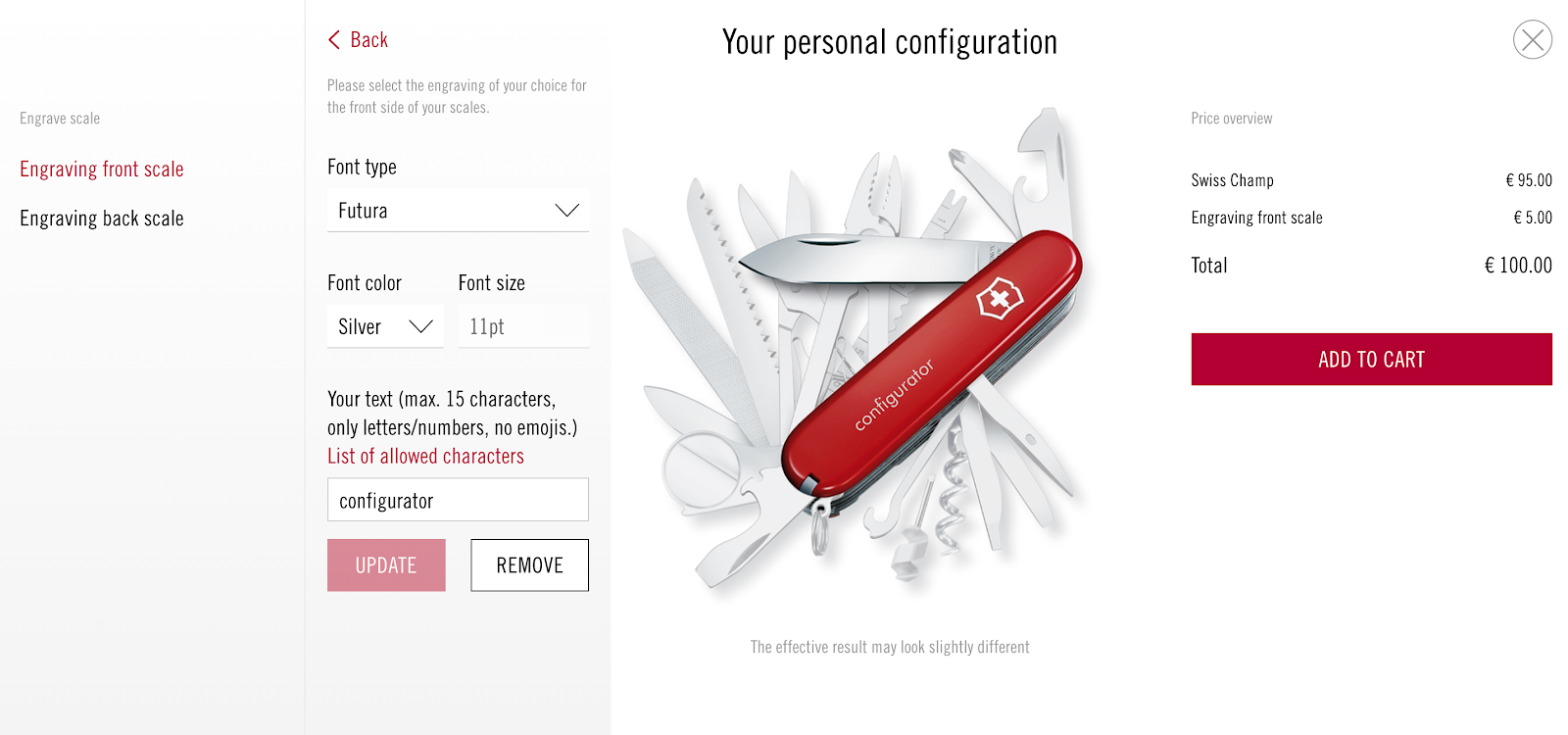 That said, an explosion view would have made the customization process even more enjoyable. We should say that you can't actually switch out any of the product's elements—the models all come with preset tools—but from a customer experience perspective, it would just be plain cool to have the ability to explode the product and see its internal structure and moving parts at various rotation angles. It might not seem advantageous to the build process, but we'd take a bet on it being advantageous to getting the customer to checkout.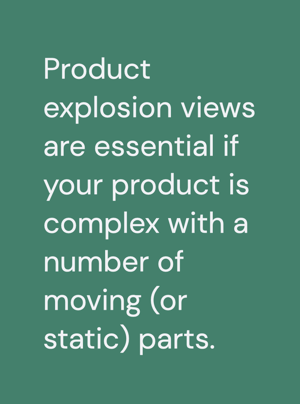 Product explosion views are essential if your product is complex with a number of moving (or static) parts. Giving users the ability to see inside a product and customize those internal elements gives a greater sense of control over the design and purchase process. It adds transparency and trust.
Even if certain elements within an explosion view aren't customizable, such as the safety elements inside the Xenith helmet, being able to see and inspect those elements reassures a customer of the quality and build of a product—it allows them to check your claims.
Customer engagement, product transparency, and fact checking are all important components in the customer's purchase journey and their decision whether or not to buy. If nothing else, explosion views are fun to use (="play with"), which helps to increase customer engagement with your brand.
To see how other brands are utilizing configurators, check out our article 10 Brands Using Online Product Configurators to Boost Sales. If you're looking to give your customers the inside view of your multi-component products, get in touch.