Five Awesome Things We Love About Crate & Barrel eCommerce Experience
Consumers are staying at home more than ever before, and many are looking for ways to improve their environment -- in this case, their homes. One of the easiest ways to make home improvements is to add new furniture. Adding just a few new pieces can help a space feel "new".
But with retail locations largely closed, consumers are having to rely on online stores to make purchases. According to Blueport Commerce, online furniture purchases were up over 300% in April.
However, for many consumers, shopping for furniture online is still a daunting task.
With a drastic increase in customers buying furniture online -- many for the first time -- it is critical for brands to optimize their eCommerce experience to make shopping delightful. But many companies don't know how to create the best online shopping experience.
We are here to help!
Today we are going to highlight Crate and Barrel. They have created an amazing online shopping experience and we hope it gives you a few ideas.
1. They offer endless scrolling
Consumers want to be able to feel as though they are browsing your products online rather than having to select products to view. By enabling endless scrolling, Crate and Barrel allows customers to take a look at all of their products on a single page without requiring the customer to click into a bunch of different pages.
To create this experience, Crate and Barrel needed to be able to have high-quality images of each product available. The Threekit Virtual Photographer made it possible.
2. Detailed product photos of each product and each possible configuration
For each product, Crate and Barrel provides several detailed product photographs, allowing customers to really get a feel for the products available online.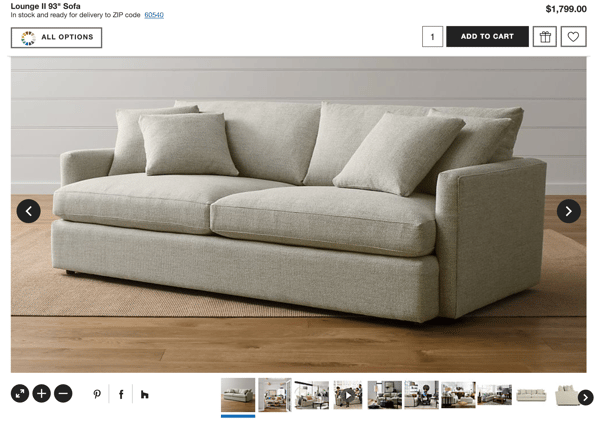 When buying online, most consumers rely on images to make a purchasing decisions and they expect about 8 images per product.
Additionally, the product images dynamically update based up the customer selections. Crate and Barrel wanted to create high-quality images for every possible product combination -- allowing customers to really see the items they are purchasing.
Before coming to Threekit, Crate and Barrel was only able to get images of about 30% of their product line. Now they are able to accurately represent their entire product line.
3. Product pricing changes dynamically based on customer configuration
For most furniture products, price changes based on fabric selection or other customizations that are available. With that in mind, Crate and Barrel combined the visual configuration experience with pricing logic to dynamically updating the price point as customers configure.
4. The website includes interactive elements increasing customer engagement
Crate and Barrel created an interactive sectional configurator allowing customers to visually configure the exact sectional they are looking for -- they even included measurements so that customers can easily understand if the sectional will fit well in their space.
5. Product Imagery Carried Into Shopping Cart
In a typical shopping cart, you might see a small, stock photo of a version of the you are purchasing. Crate and Barrel decided to add dynamic, high-quality product images to the shopping cart experience - this helps customers feel confident enough to complete the purchase.
Optimize your eCommerce Customer Experience
Crate and Barrel was able to improve their online customer experience by adding detailed product imagery and interactive elements to drive engagement and conversions online. Creating this amazing experience turned their eCommerce store into their main sales channel - generating about 45% of sales.
We hope this gave you a few ideas for ways to optimize your eCommerce presence. If you have ideas that you would like to discuss with an expert on our team, feel free to request a personalized demo here.