Can you Customize Products on Shopify? Yes, and You Should.
Product customization is critical for eCommerce. Why is product customization important? The answers are too many to count but here we'll take a deep dive into a few of the most significant benefits to enabling consumers to find exactly what they want.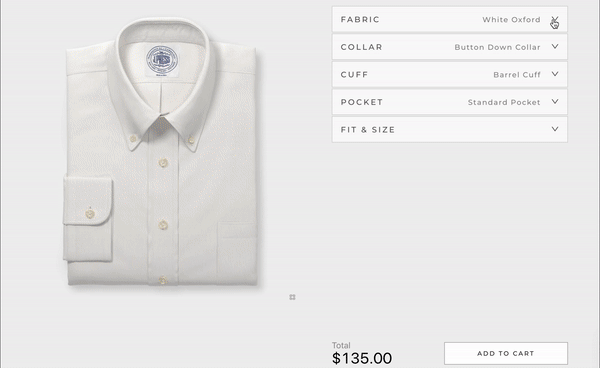 Online shopping expectations have seen a dramatic spike since the pandemic. Even in the decade leading up to lockdown, the bar was rising fast for online shopping experiences. Beyond highly engaging experiences, consumers now want the products themselves to be highly configurable. Since we're no longer limited to the inventory a brick-and-mortar store might keep onsite, brands can offer far more than was previously imaginable, and many are.
Shopify is the perfect online retail platform to showcase a broad catalog of offerings. It's flexible, robust, and integrates seamlessly with some 3D visual platforms. Also, when customers have the freedom to build what they have in mind in real-time they're far more likely to go from browsing to buying. Giving people the power to take a self-guided journey gives them the confidence they need to make a decision. And they've been conditioned to expect highly configurable experiences that feature high-quality visuals that are easy to navigate.
There are a few obvious candidates for product customization on Shopify like T-shirts, coffee mugs, and koozies, but really any brand manager in any category would be wise to consider highly configurable experiences to broaden their offerings and give users the personalized treatment they'll appreciate. For example, when people are shopping for big ticket categories like furniture they naturally want to get the best look at what's available. And if they can try out every available permutation right online they'll feel like they're getting that personalized experience. Also, offering more configurations lets them explore more than they ever could in a showroom. With a configurable product customizer on Shopify, a brand can provide every color and fabric combination available for the shopper to select and see right on their screens.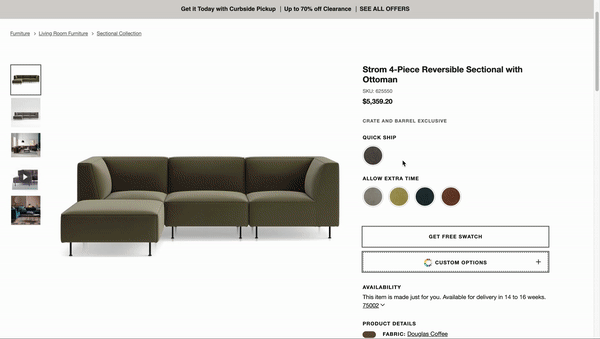 While customized furniture can help homeowners find the perfect complement to their design scheme in the home, consumers today also see much of what they purchase as a statement about who they are. Let's take a look at a real-world example of customized luggage on Shopify.
Case Use: ROAM Luggage
ROAM Luggage offers a wide variety of premium travel products and wanted to show potential buyers versions of what they have to offer that are unlike anything else out there. They partnered with Threekit, a leading 3D platform to design and build a robust, highly visual, highly configurable shopping experience that gave shoppers a chance to browse and build their perfect suitcases or luggage sets. Users start by selecting their base model, then have the power to look through a broad range of colors and styles. Beyond the product itself, the experience gave users an up-close look at the finer details of their custom build from every conceivable angle with a zoom tool and 360-degree product viewer. Part of traveling in comfort is traveling in style, and ROAM luggage boosted their overall sales significantly by providing customers with personalized products they could tote with confidence.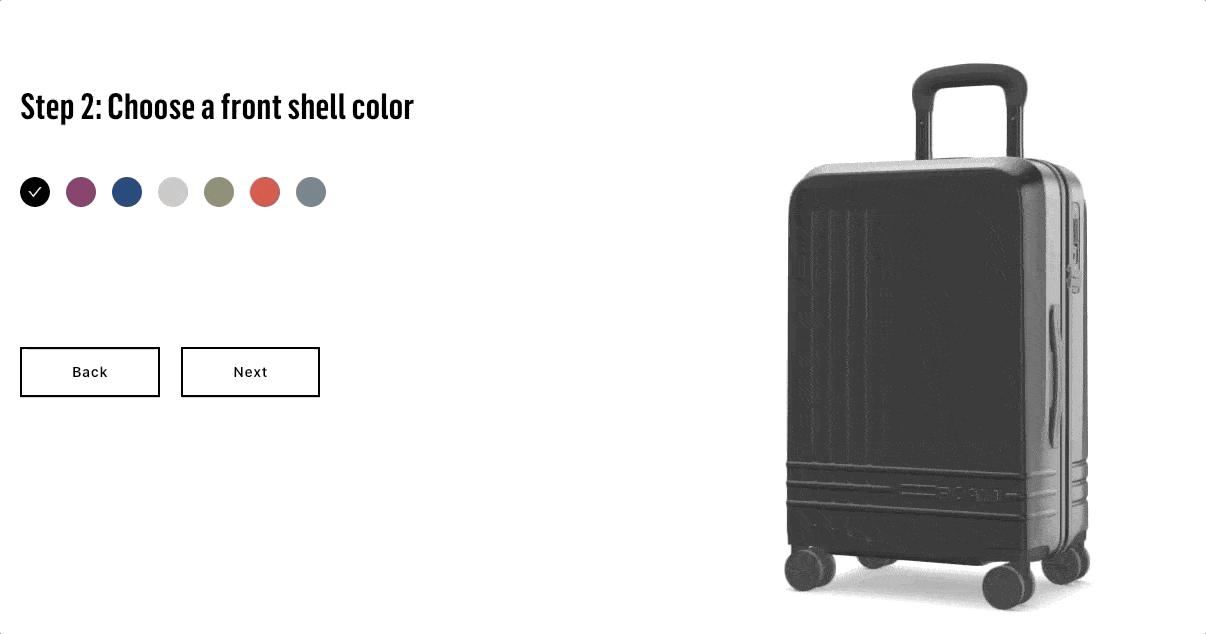 Another category that lends itself to product customization on Shopify is fashion. It's not good enough to merely serve up off-shelf fashion products anymore. When people are shopping for their look, they're shopping for an extension of themselves and as we've all been told, we're unique. Our presentation should reflect that. Let's take a look at an example of a fashion brand owning it with product customization on Shopify.
Case Use: Bamford Watches
Bamford is a premium watch manufacturer based in the UK. They were in a perfect position to take advantage of product customization just like any jewelry manufacturer. High-price items like watches are easy to ship but shoppers are often spending a large sum of money so they want to know they're getting precisely what they're looking for. The team at Threekit helped Bamford build a product customizer that enabled shoppers to try out various materials, colors, and overall styles providing a watch that was unlikely to find a match anywhere else in the world. This highly configurable experience resulted in a huge boost in sales along with an increase in brand loyalty.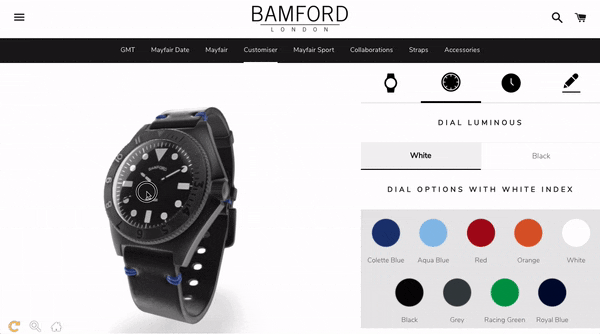 Beyond watches and jewelry, apparel brands deserve a product customization experience. From tailored suits, to designer dresses, to premium denim, these products are the foundation for every overall look and every shopper deserves to find and build what they want. And today, they're getting that option from countless fashion brands on Shopify.
Athletic shoes have also upped their customization game. It's no secret that there are athletic shoe fanatics out there, and leading brands like Nike have been providing nearly infinite color and style options for years. It would be wise for any athletic shoe brand on Shopify to provide potential buyers with the same, and as technology has evolved, the platform's product customization options have evolved too.
While the product customization expectation is building in popularity in Shopify, not all brands are prepared to make the shift. Luckily, there are platforms created specifically to help their partners stay ahead of the curve in all things eCommerce, including product customization. Threekit seamlessly integrates with Shopify, and has been helping brands find their next niche in the digital space for years. In fact, the experienced digital photographers at Threekit got their start in Hollywood CGI effects, so they've been holding themselves to a high bar since before 3D imagery was available in eCommerce. They work closely with clients to design, develop, and execute exactly what they need for their specific business. You might say they offer product customization for product customization. And as user experiences continue to evolve at a breakneck speed, Threekit is there to help clients keep up by teaming up with some of the world's leading digital marketing agencies. If you're ready to provide your Shopify store with the leading-edge product customizer consumers want, get in touch with us today for a consultation or demo.