5 of the Best eCommerce Customer Experiences in 2021
The world of eCommerce is more competitive than ever before. With countless brands vying for customer attention on their laptops and mobile devices, it's critical for every player in the digital marketing space to be on their A game at all times, in every medium. While this may sound like a monumental challenge, it's also one of the most exciting times in marketing history. New technologies, approaches, and tools are popping up every day, promising an endless future of innovation to look forward to.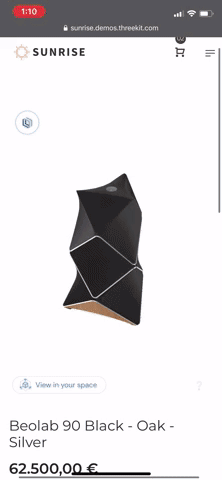 The pandemic sped up that innovation by inspiring the competition to up the ante in nearly every category. Although eCommerce has been under a massive stage of growth for more than a decade, quarantine forced people to shop exclusively on digital platforms and their expectations spiked. While consumers were no longer able to peruse a brand's inventory in person at a brick-and-mortar store, they still craved a shopping fix and expected an eCommerce experience that both surprised and delighted them. Some brands stepped up to the task by creating, designing, and deploying first-of-their-kind shopping tools, and with each new addition that caught on, the bar was raised higher.
Some of these recent innovations are the simplest, best-looking online shopping user experiences out there. Others are bringing augmented reality to new heights by expanding on what we previously believed to be possible.
Let's take a close look at five of the best eCommerce customer experiences online and explore what qualities make them perfect for specific business needs and how they've driven digital marketing forward.
MOOOI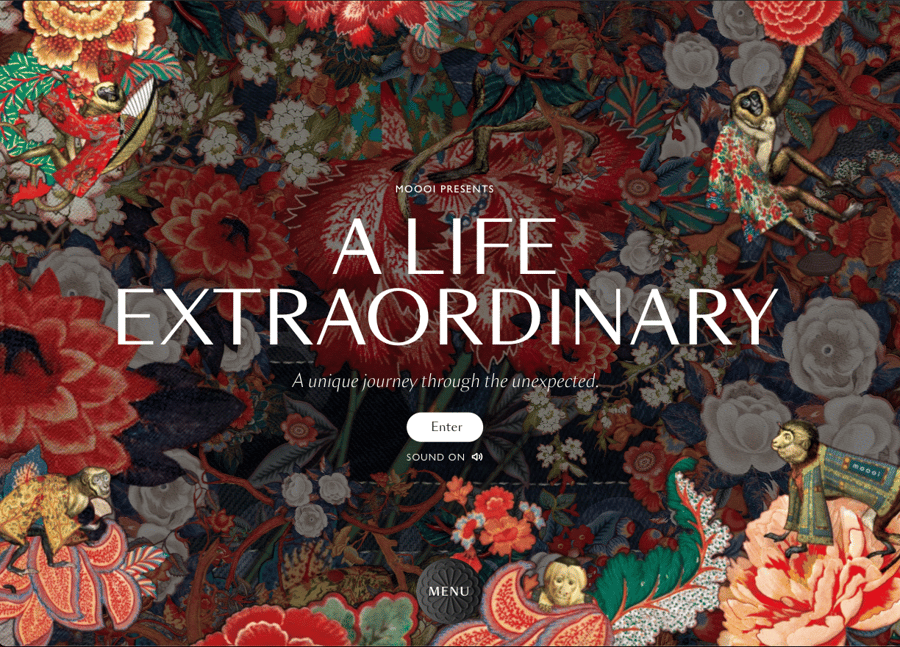 Moooi is a luxury interior lighting brand that draws on the human truth that appealing to all five senses, including sight, can inspire a magical, self-guided journey.
They designed a multisensory experience called A Life Extraordinary, which takes the idea of a parallax website to an entirely new level. Users are greeted with a beautifully designed title card and instructed to scroll to continue. Scrolling initiates a 3D experience that pushes through a multitude of gorgeous animations and into a series of scenes, all lit by high-quality 3D renderings of Moooi lighting sources. The lamps and products, however, aren't the focal point of the journey – they simply provide the dramatic lighting to illuminate other props like tape recorders, snakes, and spilled drinks, which all lead to clues and short films. From space adventures to murder mysteries, each scene draws the user deeper into A Life Extraordinary.
The smartest part of the experience from a business standpoint is that links to Moooi products are positioned at the bottom of each story and feel completely natural.
NALEN AYURVEDA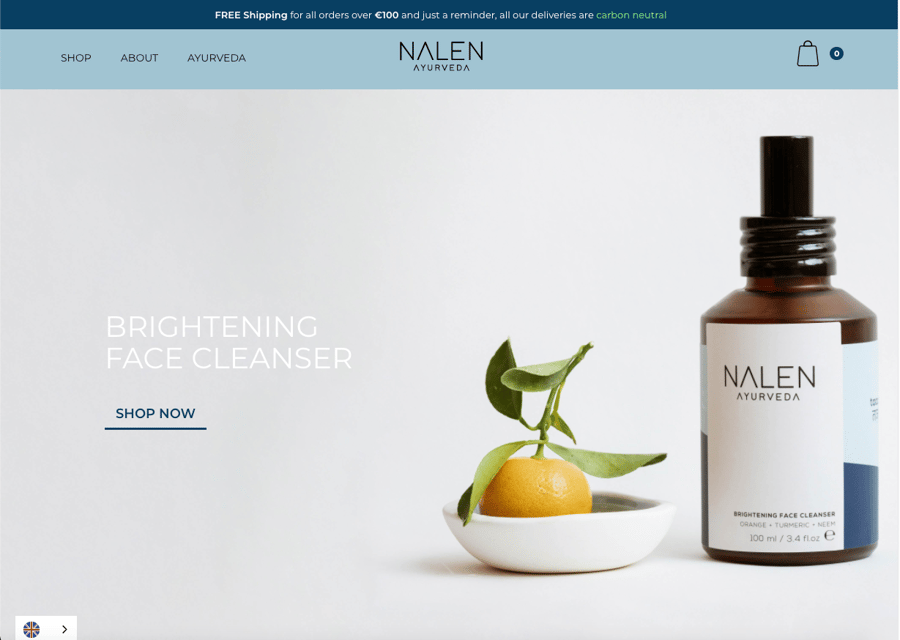 Nalen Ayurveda is a premium skincare brand that created a near-perfect online shopping website without overthinking the solution. The design has a simple, effortless feel with soft, earthy tones while the overall layout is open and roomy. Clean, product-focused modules make the site scannable and easy to navigate, and users have a chance to click deeper into offerings throughout the site. They also gave as much attention to copy and product descriptions as to the visuals and user experience, making for a well-rounded overall eCommerce solution.
NIKE
Perhaps no brand has led the charge in marketing innovations more than Nike. This athletic shoe powerhouse held their position as an eCommerce leader with the introduction of Nike Fit, an augmented reality experience with a first-of-its-kind solution for an age-old problem: how to ensure a perfect fit. Shoes come in more sizes than most athletic wear, and it's critical that they fit just right to provide comfort and support, especially shoes for active use. Nike Fit is a scanning solution that gives users the opportunity to check their true foot size using machine learning, artificial intelligence, and a host of other proprietary digital data science. That sounds highly complex, but the experience for the user is incredibly simple. All they have to do is access the app on their mobile device, hold it over their feet while standing, and let the camera provide them with an amazingly accurate shoe size. A useful digital tool like this helps an already trusted brand get even more cred with their customer base.
UNITED SODAS OF AMERICA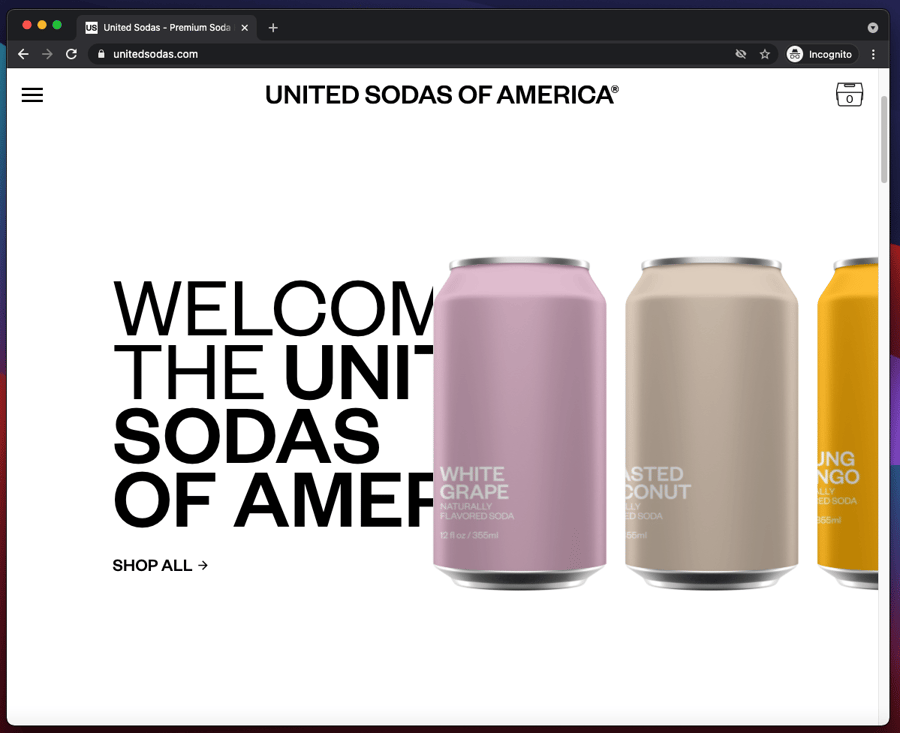 Most of us don't think about ordering soda online, but when we do, we'll love the experience United Sodas of America created. Their can design is bold, bright, and simple, and their eCommerce site builds on those qualities. Users are greeted with a fun animation introducing the entire line of soda flavors, each represented by a single, distinct color. They can then click any of these large, sleek product visuals to learn everything they could hope to know about a soda flavor, from calories to taste notes to how to buy. Their team also used 3D product visuals for their cans, which users can spin to get a full look at that specific flavor from every angle.
KASHIYAMA
Menswear is the perfect category for a highly visual eCommerce experience that shows users a broad variety of colors, fabrics, cuts, and accessories. When customers shop for suits, they're looking for more than clothes – they're looking for a professional, precisely tailored look. Japanese custom suit brand Kashiyama designs and tailors thousands of permutations of suits, ties, dress shirts, and more.
They partnered with Threekit, the premier 3D product configurator platform, to give menswear seekers an online experience that shows every possible product configuration in rich detail. The virtual photographers at Threekit created high-quality 3D models of every product in their vast catalog, then added digital layers to cover every option an eShopper might desire. Users have the option to select from countless colors, fabrics, and styles while also turning the 3D visual for a full 360-degree view and utilizing a zoom tool to get an up-close look at the finer details.
Another invaluable tool they introduced during quarantine incorporated in-person visits to their stores that required little to no physical interaction. Customers could select precisely what they had in mind, enter their measurements with the help of a digital app, and stop in for the tailor-cut suit equivalent of curbside pickup.
Elevate Your eCommerce Experience
In addition to menswear, Threekit has helped brands in nearly every category improve their eCommerce experiences tenfold. Their deep history in high-quality 3D visuals is rooted in Hollywood CGI effects and has been raising the bar for eCommerce visuals ever since. Threekit's Virtual Photographer provides super high-end product imagery that can be deployed across all digital channels. And with its flexible product configurator platform, Threekit can keep customers searching for more product variations until they're fully confident in their decision to purchase. When brands choose to work with Threekit, they save massive amounts of money and time by sidestepping long, expensive photoshoots and production. They also have a chance to show customers product variations that aren't even in production yet to get a feel for their popularity while gathering data to inform other digital ad success and boosting revenue.
Ready to give your eCommerce experience the premium treatment? Get in touch for a consultation or schedule a demo today.