4 Ways to Streamline Inventory and Sales With a Shoe Configurator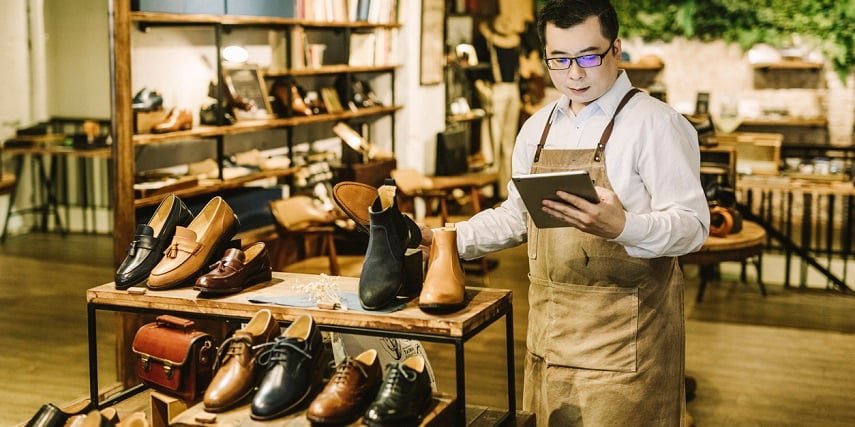 Simple product pages are becoming a relic of the past, particularly if customers can customize those products. Online shoppers want to be able to easily configure and view their custom shoes and more, which a shoe configurator can let them do.
In addition to making customization easier for customers (and leading them toward a faster sale), a configurator can also make it easier to manage inventory and connect with leads through sales teams. Ultimately, there are many advantages that come from implementing a shoe configurator instead of basic product pages.
Here are some of the specific ways in which a shoe configurator can streamline both inventory and sales for your business.
1. Easily Keep Track of and Update Your Catalog
One of the main benefits of a shoe configurator is the ability to more easily manage your entire product catalog and inventory. With traditional product pages, you would need to manually update configurations and keep track of corresponding SKUs and other specifications.
If you're working with a few products with limited variations, this may not be so difficult. However, if your inventory contains hundreds or thousands of shoes or other products, along with nearly infinite combinations of custom options, inventory management can quickly become overwhelming.
With the help of a shoe configurator, you can completely digitize your entire catalog and make it easy to manage. If you make a sale, this is instantly reflected in the configurator and your inventory.
Suppose you need to make updates such as adding products or making changes to certain options. In that case, you can also easily make these changes without the need for manually uploading new product images and details.
This takes the hassle (and much of the possibility for human error) out of inventory management. Click here to learn more about how Threekit's shoe configurator can effectively simplify inventory management.
2. Increase Visitor Engagement From the Start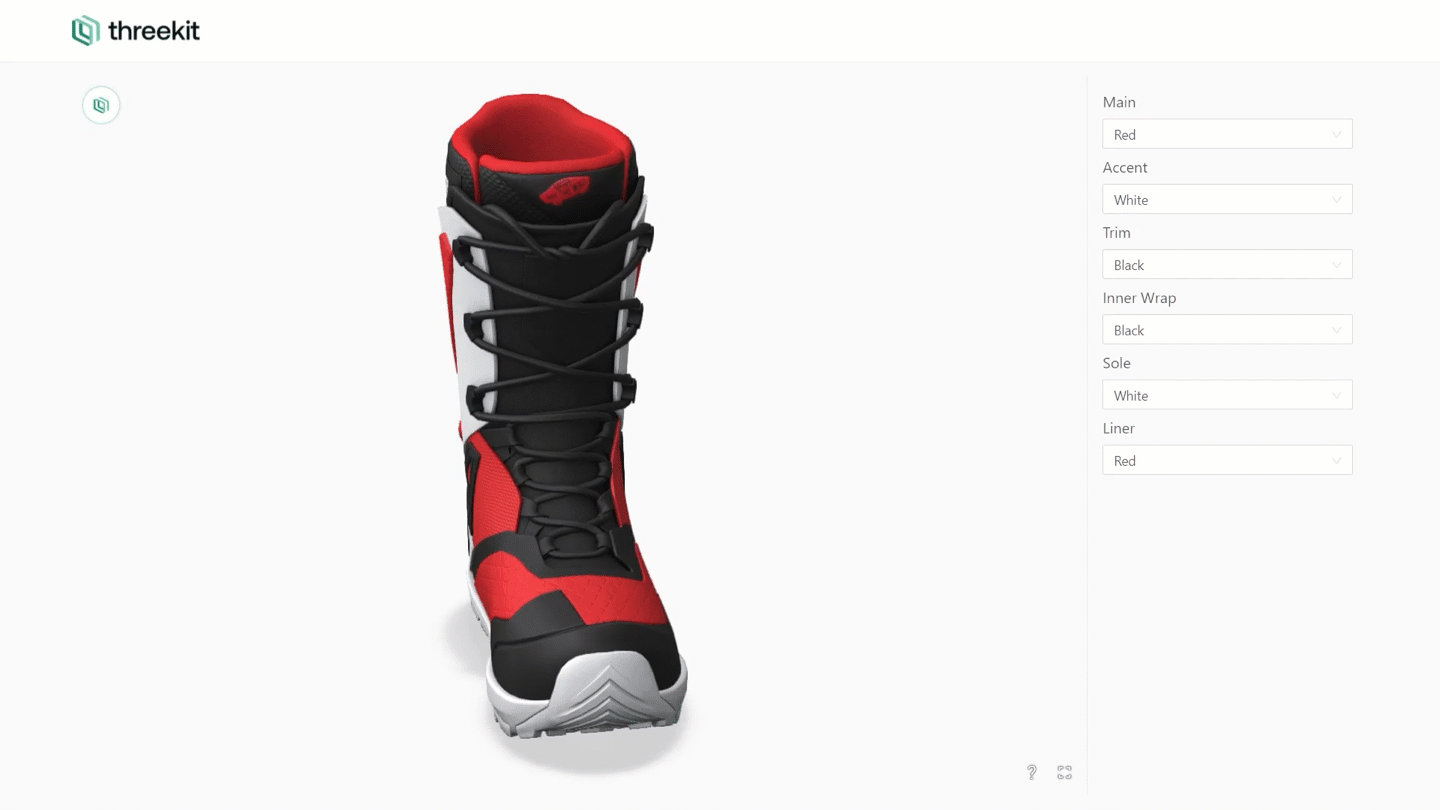 If you want your eCommerce experience to stand out from the competitors' when people visit your product pages, you can instantly grab people's attention with a product configurator. 3D product configurators stand apart from ordinary product pages in a big way.
Auto manufacturer Audi saw a 66% increase in user engagement by offering 3D configurators to its customers, showing just how powerful these solutions can be.
Nike and Adidas have also experimented a lot with shoe configurators. For example, the Nike by You configurator allows people to design custom shoes and see in-depth visualizations that show exactly how they'll look.
Customers can customize colors for every part of the shoe, from the midsoles and outsoles to the laces and heels. They can also add custom text and graphics. The possibilities with this configurator alone can keep customers occupied for a long time as they create the perfect shoe.
People generally love to play around with 3D models of products. This trend includes sneakers, slip-ons, and running shoes, among many other footwear products.
When designing their own shoes, customers can rotate a 3D visualization and zoom in on various features. Not only does this increase customer confidence in the product, but it will also increase visit duration.
3. Instill Confidence in Online Shoppers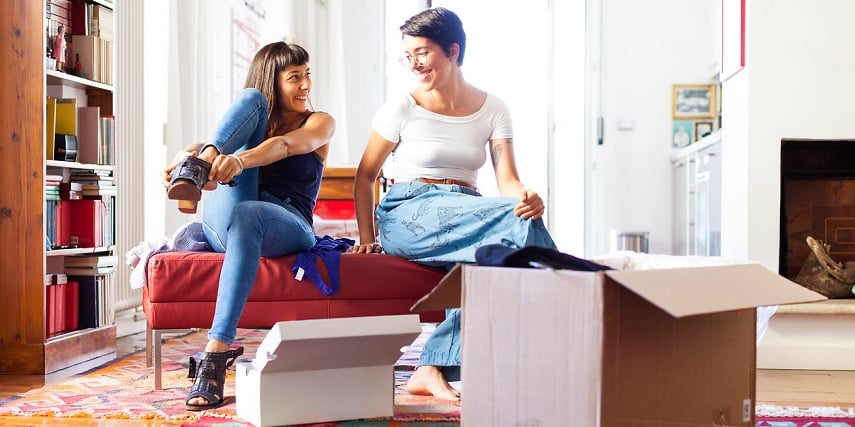 Apart from increasing user engagement, a shoe configurator can more efficiently lead people toward a sale. Using a configurator, customers can see exactly what their purchases would look like without the need to see them in person.
While a few product pages may help customers see what different features would look like, an explorable 3D model can truly let them know what to expect. This makes them considerably more confident in their purchases. In fact, 3D visuals make people 11 times more likely to buy a product than their 2D counterparts.
Shoe configurators could further inspire confidence in customers by showing them pricing in real time with a configure price quote (CPQ) tool. Based on the size of the shoe and other options that they select, they'll know the price every step of the way before they reach the checkout page.
Augmented reality (AR) is also making waves in the footwear industry.
Apps enable customers to "wear" their shoes before buying them. They achieve this by projecting virtual models in the real world through their mobile devices.
Customers want a clear idea of what they're buying and the craftsmanship behind their custom shoes. Once they have that information, they'll be far less likely to abandon their shopping carts. They'll also be less inclined to return a product due to the diminished risk of disappointment in the final product.
In fact, 360-degree product views and 3D photography have been shown to reduce returns by as much as 35%. This eliminates the hassles and costs of dealing with free returns from dissatisfied customers.
4. Empower Your Sales Teams
Your sales teams can also benefit greatly from the use of a shoe configurator on your product pages. There are several ways your shoe design tool can boost sales efforts.
For instance, you could turn your shoe configurator into a lead magnet by requiring people to submit some personal data for you to contact them before they can purchase their shoe or view the completed design. This gives people an incentive to enter the sales funnel and go from interest prospects to leads.
From there, sales teams can get a feel for what leads want in the perfect custom shoe. Then they can personalize the customer experience and marketing outreach. Sales reps in physical retail stores could also use product configurators to help in-store customers design or look for the ideal shoe for them. The real-time pricing built into the tool makes quoting even easier.
Make Inventory Management and Sales Easier With a Reliable Shoe Configurator
All of these benefits make it important to integrate a shoe configurator into your online shoe store. With the right solution, you can simplify inventory management. You can also significantly increase sales as you appeal to audiences and convert them into satisfied customers.
For a high-quality 3D shoe configurator solution that boosts efficiency and sales, consider implementing Threekit's innovative platform. Learn more about our solution's capabilities and what they can do for your business — reach out to us today.