4 Industries Using 3D Visuals to Boost Sales (+ Video Examples)
For many product salespeople, the pandemic has put a hard stop to on-site, face-to-face selling.
Even as businesses begin to reopen and return to old processes, sales leaders should be aware of a powerful remote alternative that unlocks new selling opportunities: virtual sales through 3D content. A 3D product configurator equips salespeople with a powerful visualization tool that can often illustrate more than the actual product ever could.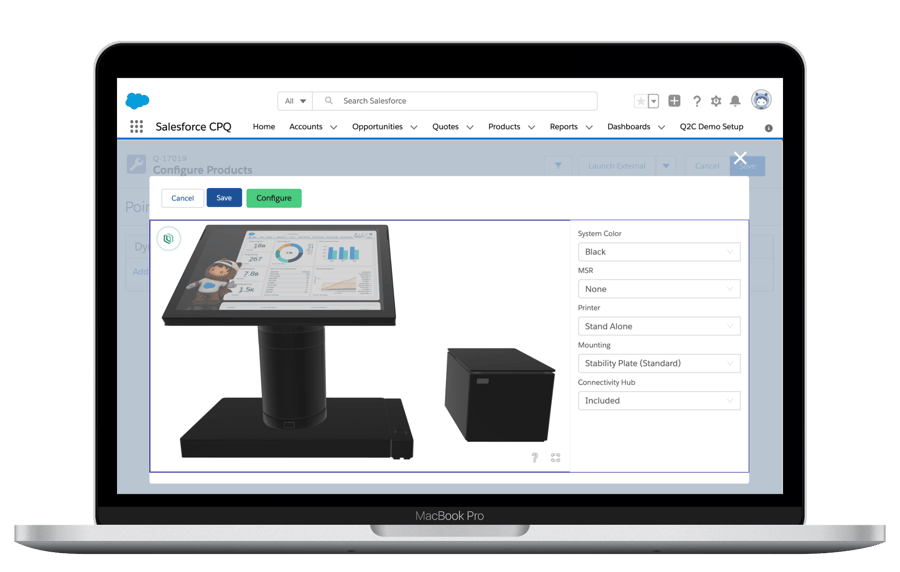 Not sure if that's possible for your industry? 3D content boosts sales enablement for a range of highly configurable, complex, custom-made products in these four industries, so chances are it can in yours, too.
Sales Enablement Content in 3D: An Overview
A 3D configurator takes product design files to create three-dimensional, interactive images of just about any product imaginable.
While 3D content might be more familiar in the realm of jewelry or clothing, for instance, 3D configuration can make visuals out of even the most complicated manufacturing devices or building materials. In a sales setting, that means sales reps can bring the sleek visual experience of online consumer shopping into their conversations with potential buyers.
Plus, a 3D configurator like Threekit's is easy to use – no technical 3D knowledge required. That means salespeople who want to employ 3D content in the buyer journey won't need any special training. They just need access to a platform that can do it all for them.
Here are the key benefits of 3D product configuration in the sales process:
Real-time configuration for customers. Sales reps can use a 3D configurator to draw up custom solutions instantly, while they're talking to a customer.
Infinite product inputs for customization. 3D assets are endlessly configurable, which means you can update product features or add requested customizations at any time.
Visualization for products that haven't been manufactured yet. Sales reps don't need to wait to get their hands on the physical product — they can just show it off in 3D. This also means they can provide customers with 3D models of custom-made solutions that haven't been produced before.
Instant quoting. You can generate pricing information as fast as you build products with bill-of-materials (BOM) integrations.
Shortened sales timeline. A 3D configurator eliminates the back-and-forth between salespeople and product, design, and engineering teams, and it also eliminates back-and-forth between salespeople and customers.
Precise rendering with parametric configuration. This is crucial for customers who have very specific requirements for product parts and dimensions.
Nested configuration capabilities. You can configure a product within a configured product, like custom-designed furniture inside a custom-designed cubicle.
Now here's a look into what 3D content can do for sales of building materials, furniture, case goods, millwork, manufacturing products, and medical devices.
3D Sales Enablement Content for Building Materials
A 3D configurator can render highly configurable building materials for doors, windows, flooring, and more in real time.
Building materials sales often hinge on the quality of custom solutions, so customers want to see how their specific requests will look when completed. With a 3D configurator, a salesperson can easily update styles, dimensions, and finishes according to the customer's inputs, even if they change their mind after an initial consultation.
Threekit integrates with industry platforms like BOMs and ERP systems to facilitate production visibility and order tracking and reduce manufacturing errors.
3D Sales Enablement Content for Contract Furniture, Case Goods, and Millwork
Contract furniture salespeople can easily quote and configure any item from their product inventory.
A 3D configurator can generate visualizations of products ranging from contract office furniture, custom seating, custom cabinets and case goods, and retail displays and fixtures.
3D Sales Enablement Content for Manufacturing
The flexibility of a 3D configurator allows sales reps to generate and export critical manufacturing outputs, including production-ready models, CAD files, BOMs, assembly instructions, cut patterns, and more.
If a customer is worried about the product fitting within their production facility, a salesperson can leverage augmented reality to simulate exactly what the product would look like in the space.
3D Sales Enablement Content for Medical Sales
3D configurators can also capture the high level of complexity of medical machine and supplies sales.
The efficacy of life-saving medical devices like ventilators or imaging machines lies in the details. Customers want to see how they look in action, not just in a single 2D photo. Now that most won't be able to see physical products at in-person demos, 3D visualization allows customers to evaluate just as thoroughly all the components and features they care about.
Sales reps can also use AR to show products in their intended setting, such as an operating room. Nested configuration capabilities will also help sales reps deliver more accurate pricing for medical device add-ons or bundles.
Leverage 3D Sales Enablement Content to Sell with Visuals, Not Just Words
In industries like manufacturing and medical sales, salespeople have often relied on written content to persuade. Even if they did have physical products, it could take weeks or months to draw up a rendering for a lead, but it might have been missing special inputs or customizations.
With a 3D configurator, salespeople can focus on answering questions and having meaningful conversations while letting the product speak for itself. A 3D view in real time captures all the unique details of a product that make a deal. See how for yourself in a demo.